(2nd UPDATE) The red and yellow alerts are lifted ahead of schedule on Wednesday, June 2, due to low demand and the early synchronization of the Sual coal plant's Unit 2 to the grid
Rotational blackouts again hit Luzon on Wednesday, June 2, as the grid was placed under red alert for the third straight day.
In its initial advisory, the National Grid Corporation of the Philippines (NGCP) raised the red alert over the Luzon grid for a total of 13 hours – from 9 am to 5 pm and 6 pm to 11 pm. Rotational blackouts are expected when the grid is under red alert.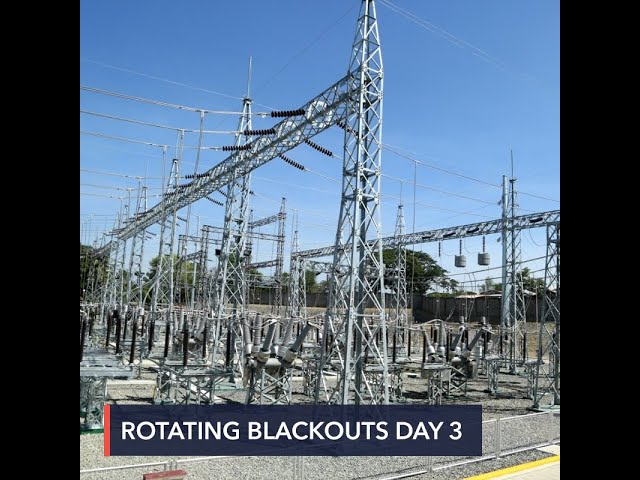 The NGCP also initially raised the yellow alert from 8 am to 9 am, 5 pm to 6 pm, and 11 pm to 12 am. A yellow alert is raised when reserves fall below the capacity of the biggest plant in the Luzon grid, but blackouts do not necessarily occur.
But the Department of Energy (DOE) later announced that the red and yellow alerts were lifted ahead of schedule at 3:12 pm, due to low demand and the early synchronization of the Sual coal plant's Unit 2 to the grid.
The low demand could be due to the rainy Wednesday in Luzon, as Tropical Storm Dante (Choi-wan) was crossing the island region.
Meanwhile, Sual 2 was fired up at 5:30 am on Wednesday after being down due to an unplanned outage since May 16. It was originally expected to fully synchronize to the grid by 4 pm, providing an additional capacity of 647 megawatts (MW).
The updated projected capacity for Wednesday was at 10,746 MW, while peak demand was expected to reach 10,505 MW, as of 1 pm.
However, the DOE said the TPC Pagbilao Unit 2 coal plant, rated 382 MW, went offline at 12:12 pm due to a boiler waterwall tube leak. Target resumption of operations is on Sunday, June 6.
Rotational blackouts
When red alert was raised earlier on Wednesday, the available capacity was 11,260 MW against the projected system peak demand of 11,515 MW. The DOE had said demand needed to be reduced by 716 MW.
The following areas experienced rotational blackouts on Wednesday:
10 am to 11 am
La Union
Pangasinan
Quezon
Camarines Sur
Meralco areas
11 am to 12 pm
Cagayan
Pampanga
Albay
Meralco areas
12 pm to 1 pm
Cagayan
Isabela
Pampanga
Quezon
Sorsogon
Meralco areas
1 pm to 2 pm
Cagayan
Kalinga
Apayao
Cabanatuan City
Pampanga
Angeles City
Camarines Sur
Meralco areas
2 pm to 3 pm
Baguio City
Benguet
Cagayan
Apayao
Cabanatuan City
Pampanga
Angeles City
Camarines Norte
Meralco areas
3 pm to 4 pm
Isabela
Pangasinan
Tarlac City
Bataan
Batangas
Albay
Meralco areas
On Tuesday, June 1, the NGCP said rotating blackouts may last until June 7. GNPower Mariveles Energy Center coal plant Unit 2, the latest to go down in a string of outages, is expected to be back online by June 8.
So far, the total forced outage has reached 1,579 MW in lost capacity.
Regulators have started implementing the secondary price cap given the shortfall. Spot market prices are capped at P6.245 per kilowatt-hour.
In a statement, the Energy Regulatory Commission (ERC) said it has issued a notice of non-compliance to generation companies whose plant downtime breached the maximum allowable outage days.
"Based on the examination of our technical group, there are [generation companies] that have breached the maximum allowable unplanned outage days as of April 2021," said ERC Chairperson Agnes Devanadera.
The ERC asked the companies to submit an explanation within seven days of receipt of the notice. It did not name the companies involved. However, DOE data shows that the Sem-Calaca Unit 2 and GMEC Mariveles Unit 1 coal-fired plants have been offline since December 2020 and February 2021, respectively.
According to ERC Resolution No. 10 in 2020, unplanned shutdowns should be resolved within the allowed days of outage. In the case of coal-fired plants, forced outages should only be up to 16.8 days.
Last April, the commission said generation companies may face penalties for extended outages. – Rappler.com