This is AI generated summarization, which may have errors. For context, always refer to the full article.
Exports drop by 13.3% and imports decline by 24.5% in June, reflecting weak global demand for goods
Philippine merchandise trade continued to contract in June, but at a slower rate, as the economy began to reopen after hard lockdowns due to the coronavirus pandemic.
Latest data from the Philippine Statistics Authority showed total merchandise trade declined slower in June at 19.9% from a steep 35.3% contraction in May, still reflecting weak global demand and a domestic economy falling into recession.
Exports declined at a slower rate of 13.3% from 26.9% in May, as shipments of mineral products, manufactured products, and forest products somewhat improved.
Imports registered a 24.5% decrease in June from a 40.6% contraction in May, as the country was able to import more unprocessed raw materials.
"This slower decline in the country's trade performance signals the resumption of economic activities," said Acting Socioeconomic Planning Secretary Karl Chua in a statement on Wednesday, August 5.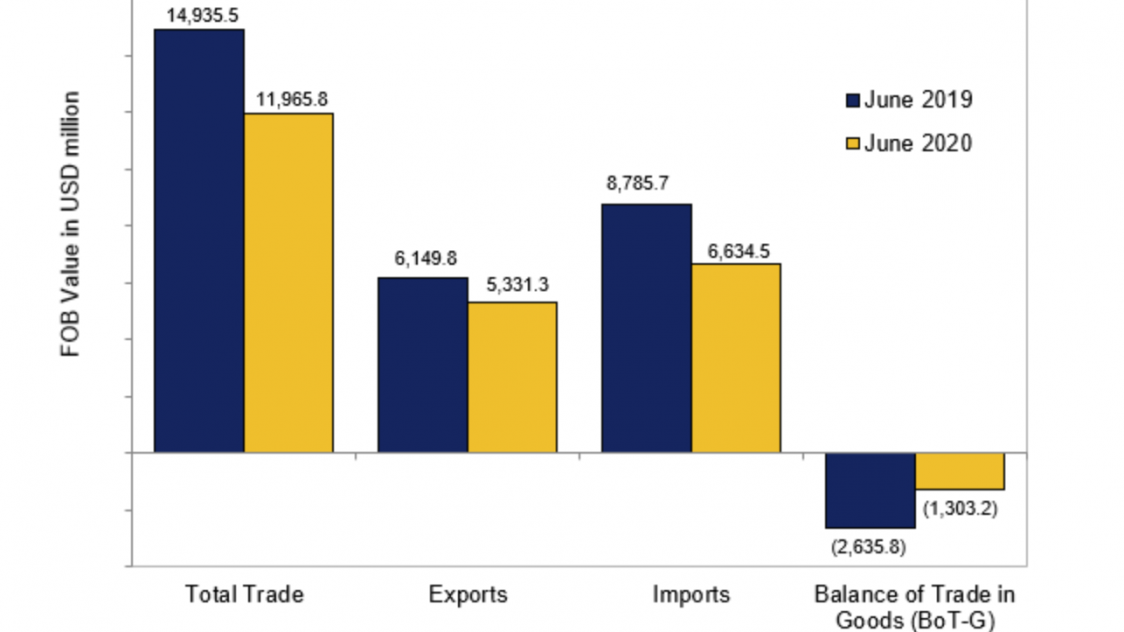 The country's trade gap narrowed at $1.3 billion, 50.6% lower than the $2.64 billion in the same month last year, as imports fell faster than the drop in exports.
Movement of goods due to mismanaged entry and exit points caused economic paralysis during the enhanced community quarantine (ECQ).
State planners have urged the government to improve protocols, as a return to modified ECQ (MECQ) was recently ordered to contain COVID-19 infections.
"The two-week MECQ will allow the government to reassess approaches, procedures, and response protocols and capacities that may need to be improved to better contain the spread of the virus while ensuring that the gains from reopening the economy are not fully reversed," Chua said. 
The National Economic and Development Authority noted that the decline in merchandise exports can also be partly due to the overall regional economic weakness.
"With restricted mobility and economic activity due to the global pandemic, GDP (gross domestic product) growth is negatively affected. Our major trading partners' GDP has declined in the 2nd quarter of the year, resulting in a reduced appetite for imported goods. This has led to lower demand for Philippine exports," Chua said. – Rappler.com