The vaccinations will take place through a partnership between local government units and 5 private healthcare providers. Megaworld and SM mall sites are also offered to boost vaccine efforts.
A private sector-led initiative in collaboration with the government is targeting to boost the Philippines' coronavirus vaccine drive by administering 150,000 vaccinations in about a month's time. 
Former health secretary Dr. Manuel Dayrit, who works with the Taskforce T3 public-private sector pandemic partnership, made the statement on Friday, May 14, during the virtual launch of the group's Ingat Angat Bakuna Lahat program. 
"Vaccination is really our way out of all of this and the faster, quicker, more coverage we are able to do, the faster we will be able to get out of this (health crisis)," Dayrit said. 
"The commitment of the private hospitals and malls will help augment the vaccination administration of the LGUs (local government units) for their constituents," he added.
Under the partnership, five private hospital partners will set up a total of 25 vaccination sites and will provide additional manpower in their respective LGUs to speed up vaccination efforts in communities. Private hospital partners include the following:
Ayala Healthcare Holdings, Inc. (AC Health)
Metro Pacific Hospital Holdings, Inc.
Mount Grace Hospitals, Inc.
St Luke's Medical Center
The Medical City
In addition to this, Megaworld and SM Supermalls committed to provide additional mall sites to further support LGU vaccination efforts. On Friday, Megaworld listed 11 of its malls while SM allotted 37 of its malls nationwide. The additional sites to be used in the LGUs' vaccination efforts are not included in sites that are part of the private sector's target to complete 150,000 vaccinations in 30 days.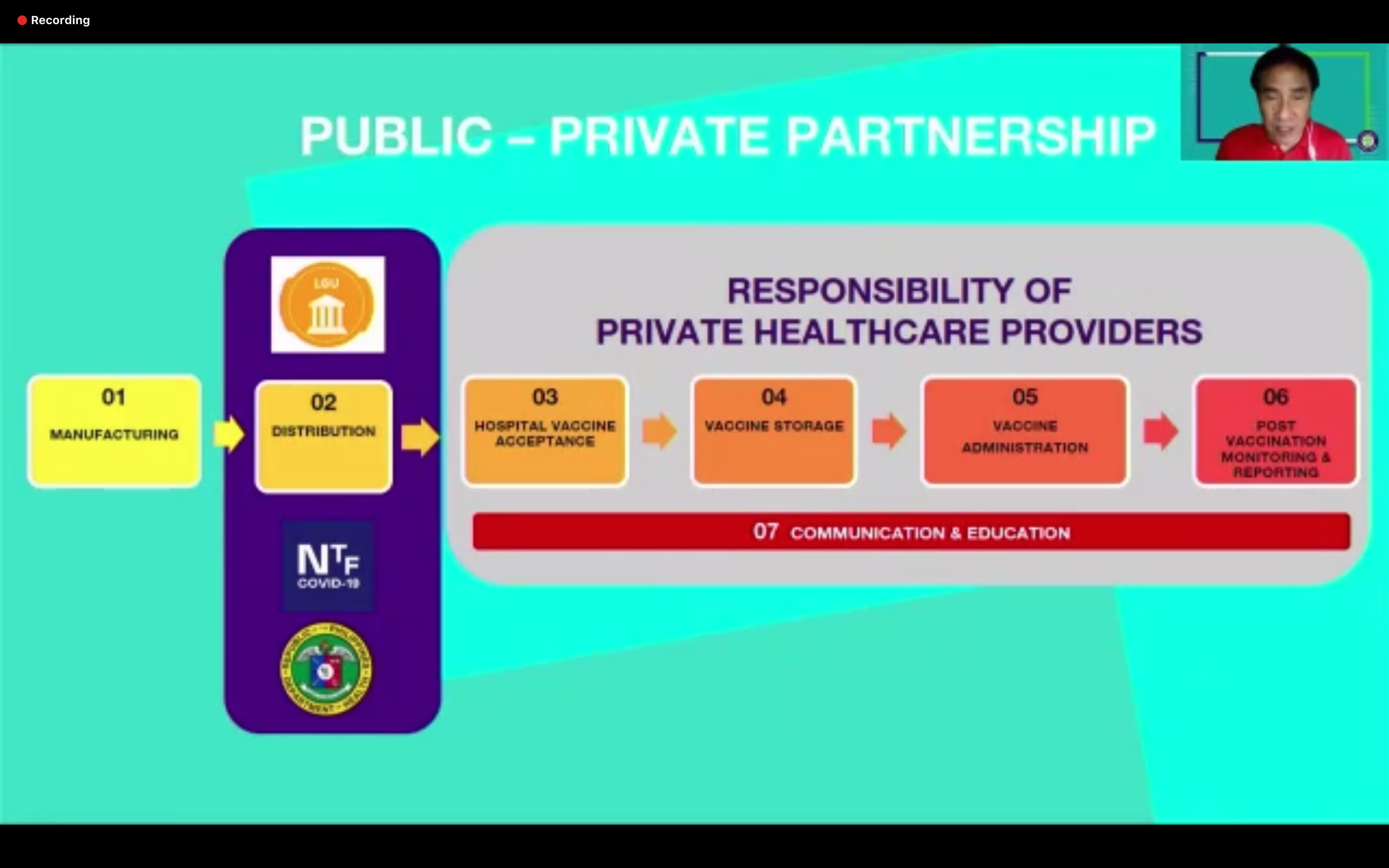 What to expect
Dayrit explained that the five private hospital partners will provide the additional sites and manpower to supplement LGU vaccination efforts in their respective localities. The five partners are expected to provide a total of 25 more sites and 48 vaccination teams to achieve at least 5,000 vaccinations per day. 
In 30 days' time, the goal is to reach 150,000 vaccinations. 
While private healthcare providers will shoulder the cost of administering the vaccines through venues and manpower, the government will provide vaccines, ancillary supplies, and personal protective equipment for the medical staff on-site. 
Hospitals were likewise in close coordination with LGUs and the Department of Health for the rollout, with several facilities already tapped to start vaccinations of priority sectors, including health workers, senior citizens, and persons with comorbidities. 
Philippine Disaster Resilience Foundation chief resilience officer Bill Luz said there would be staggered starting dates for private hospitals to start vaccination efforts, depending on needs and coordination with LGUS. 
While the duration of the operation is pegged at about 30 days, Dayrit said it would be the prerogative of private hospital partners to extend the partnership with LGUs beyond the program period.
During the virtual launch, St Lukes Medical Center-Quezon City head Dr. Benjamin Campomanes said some 600 total jabs could be done on-site daily, and that the hospital was willing to provide its facilities and assistance to the city "as long as there is a need."
The Medical City president and chief executive officer Eugene Ramos likewise committed to extending the assistance of its hospitals beyond the 30-day operation. 
AC Health chairman Fernando Zobel de Ayala committed at least seven vaccination sites across several communities, with 18 vaccination teams to complete 1,800 jabs per day for the operation. AC Health's sites are set up in select QualiMed Hospitals, Ayala Malls, and Healthway Medical clinics. 
Metro Pacific Hospitals chief operating officer Dr. Jeff Staples said the group committed to deploy seven vaccination teams to complete 21,000 jabs in 30 days across two mega-vaccination sites.
Dayrit shared a detailed breakdown of targets below: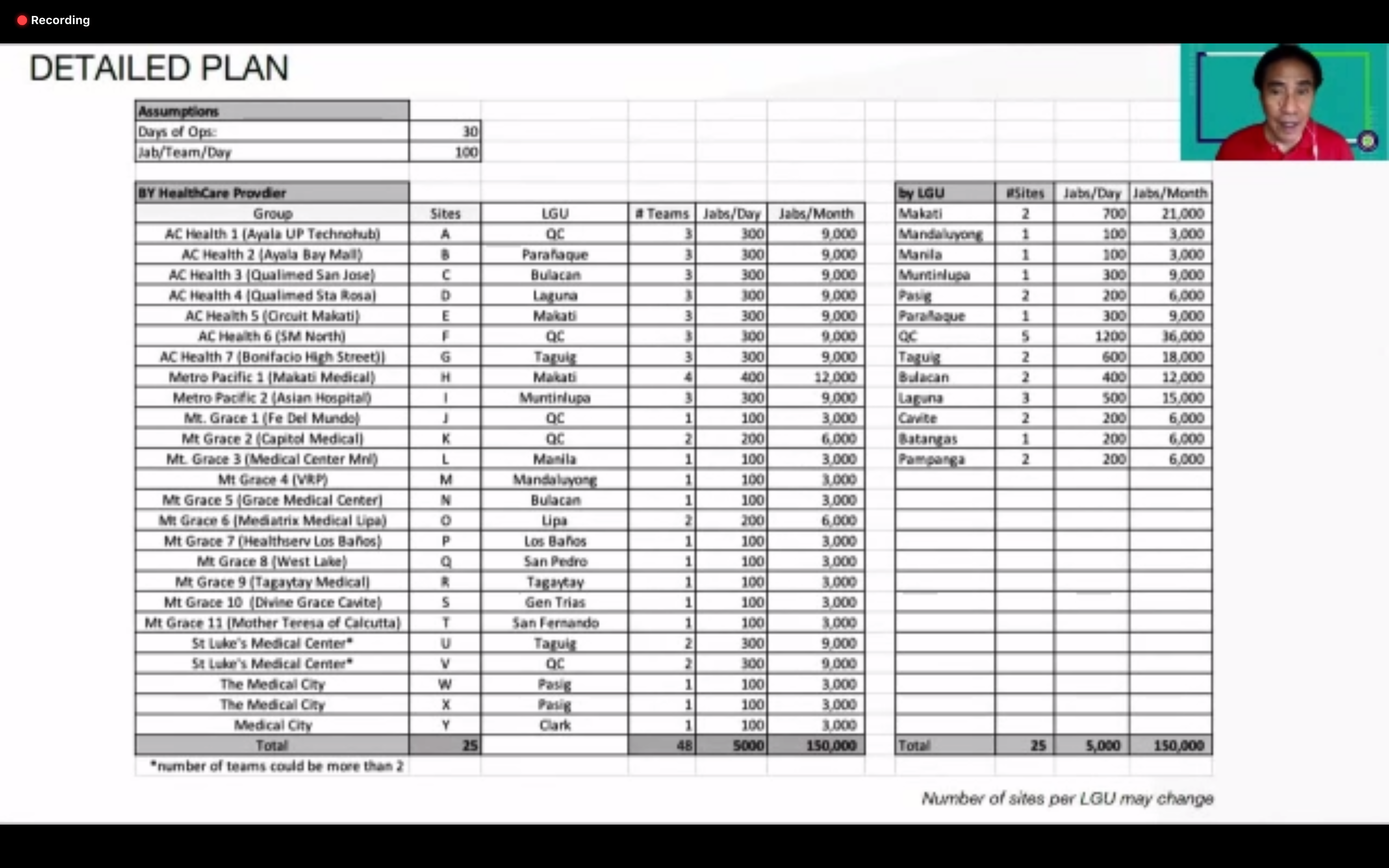 Like in other efforts to respond to the pandemic, the private sector has played a big role in the Philippines' vaccine program. From funding the purchase of millions of vaccine doses, business groups were also expected to be tapped to hasten and scale up the rollout of shots.
Since launching its vaccine drive on March 1, around 1.86% of the country's population have received the first of two doses of the vaccine. Those who have taken both jabs represent around 0.47% of the population as of May 11.
Additional efforts
Along with providing support for the distribution and administration of vaccines, the private sector unveiled a campaign to increase vaccine uptake and demand for COVID-19 shots in the Philippines.
Led by McDonald's Philippines' Margot Torres, the group produced TV, digital, and radio advertisements in a bid to boost vaccine confidence and is expected to develop a communication toolkit for businesses to use freely. 
Torres said business groups were also eyeing to launch a Bakuna Benefits (vaccine benefits) program that would offer discounts in restaurants and retail outlets for individuals who have been vaccinated. For this, Torres said vaccination cards provided by LGUs would be used to avail of benefits which may be available in restaurants as soon as June 2021. 
Companies supporting the campaign include BDO, Cebu Pacific, Food Panda, Globe Telecom, Goldilocks, International Container Terminal Services, Inc.,  Jollibee Foods Corporation, McDonald's Philippines, Megaworld, Philippine Seven (7-11) Corporation, Smart Communications, SM Supermalls, Unilab, Zuellig Pharma, and Restaurant Owners of the Philippines. 
The private sector has played a big role in the Philippines' pandemic response. From donations of various goods to testing employees and poor households, conglomerates have stepped in as the government has drawn flak for how it is handling the crisis. – Rappler.com