Transportation Secretary Arthur Tugade says he has 'nothing to hide'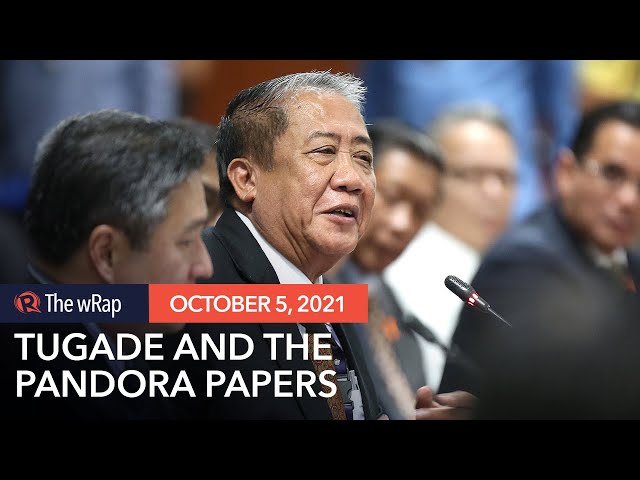 Transportation Secretary Arthur Tugade, whose investments were revealed in a global investigation into leaked offshore holdings, maintained that these assets "barely moved" as he held government positions.
In a statement on Tuesday, October 5, a day after the Pandora Papers were published, Tugade said that his offshore investments had been consistently disclosed in his State of Assets, Liabilities, and Net Worth (SALN) from 2012 to 2020.
"In the said period, the account barely moved," the transport chief said.
Tugade was the president of Clark Development Corporation under the Aquino administration in 2012, until he left his post to help the presidential campaign of Rodrigo Duterte, his law school classmate. Duterte later appointed him as transportation secretary.
According to the investigative report done by the Philippine Center for Investigative Journalism (PCIJ) in collaboration with Rappler and the International Consortium of Investigative Journalists, Tugade disclosed P57 million worth of offshore investments in his SALN every year since 2012. There were no additional details on the asset, except that it was acquired in 2003.
Tugade said Solart Holdings Limited, a British Virgin Islands-based firm, was created in 2003 to hold a portion of his family's cash assets.
These investments, he said, were part of his family's attempt to grow their financial portfolio "like what any astute and judicious entrepreneurs would do to diversify their investments."
Former Bureau of Internal Revenue chief Kim Henares said in the report that, if Tugade's offshore investment means cash deposits in banks, then there should not be a problem. However, if it means that he has an offshore company, then "his SALNs are lacking."
On Tuesday, Tugade also maintained that investing his family's savings outside the Philippines was "valid and legal."
Tugade, however, has not declared Solart as a business interest in his SALN, aside from the multimillion-peso offshore investment.
Experts interviewed by the PCIJ said such disclosure was insufficient.
Mere disclosure of "offshore investments" in his SALNs was "meaningless," Right to Know Coalition co-convenor Eirene Aguila was quoted in the report.
"It is a vague declaration, and SALNs are supposed to show where our public officials' wealth comes from. By declaring the offshore company, we can get a better understanding of his background. But, by omitting that, we keep guessing [what his offshore investments are], and that does not inspire trust," she added.
Tugade failed to respond to PCIJ's interview requests, which the transport chief said was due to "administrative oversight."
"I was not made aware of the interview request letter sent by the [PCIJ]. Had it reached my personal attention, I would have acted on the same swiftly," he said.
"Wala po akong 'tinatago, at sasagutin ko ang anumang paratang at katanungan in appropriate forums and manner," he said. (I am not hiding anything, and I will answer any allegations and questions in appropriate forums and manner.)
Millions of leaked documents scrutinized by 600 investigative journalists from 117 countries uncovered financial secrets of the world's elite, politicians, fugitives, con artists, and murderers.
Tugade is among the more than 940 individuals and companies with Philippine addresses in the leaked files.
Tugade has been nominated as part of the senatorial slate of the divided PDP-Laban. He has yet to announce if he will run for the Senate in the 2022 polls. – Rappler.com