'Maine, happy 15th weeksary. Sana magtuloy-tuloy na ito sa forever.'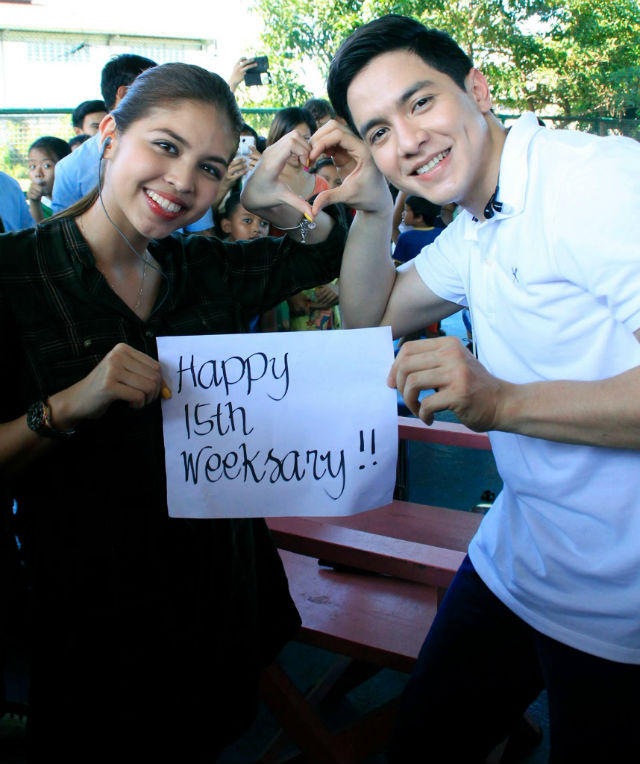 MANILA, Philippines – It's AlDub's 15th weeksary and Alden Richards celebrated by surprising Yaya Dub (Maine Medoza) at the barangay that she and the lolas (older women) visited for the sugod bahay portion of Eat Bulaga's "Juan For All, All For Juan" segment.
Since its formation last July, the AlDub tandem has been consistenly trending worldwide. Twitter recently announced that the hashtag for Eat Bulaga's October 24 episode, #AlDubEBTamangPanahon, pulled in 41 million tweets.
But the story is far from over. Here's what happened so far.
On Monday, October 26, Lola Nidora, Yaya's grand-aunt, read an entry the secret diary that she previously recovered. The entry was from her mother, and it said that aside from having 3 daughters and an adopted child (Isadora, Yaya Dub's grandmother), a young man (Alden) will also play a special role in their lives. The entry revealed that they must go to a big house, where they must try to understand the true meaning of love.
On Tuesday and Wednesday,  October 27 and 28, Yaya Dub and the lolas continued to search for the keys to the house. Lola Nidora was upset when she found out that Rihanna, the head of her household, threw out the broken pots that had the keys. Thankfully, Alden was able to recover it later. 
On Thursday, October 29, Lola Nidora and Yaya were still frustrated about finding the big house. Lola got scared when someone grabbed the diary from her, but it turned out that it was just Alden, who wanted to surprise Yaya in celebration of their weeksary. Last Sunday, October 25 Yaya Dub surprised Alden too, on Sunday Pinasaya by calling him during the DJ Bae episode as Maine Mendoza.
Maine did not hide her surprise and everyone was giddy when they made contact again after last Saturday's "Sa Tamang Panahon" event. Alden then greeted and gave her the flowers he was not able to give last Saturday. 
But there was one more surprise: Alden then took her to a small table and presented a special lunch, including a plate of isaw (intestines), her favorite. The two shared a sweet moment in front of the lolas, then Alden gave the keys to Lola Nidora. 
Asked if she was surprised, Maine replied, "Nagulat po ako. Salamat (I was surprised. Thank you.)" 
After the sugod bahay, the couple was asked for their messages for each other. Alden said, "Maine, happy 15th weeksary. Sana magtuloy-tuloy na ito sa (I hope this will continue) forever."
Maine, on the other hand, shyly said: "Alden, happy 15th weeksary. Na surprise talaga ako… sana tuloy-tuloy na ito (I was really surprised… I hope this will continue)." 
When the 3 lolas urged her to continue, Maine said: "Alden thank you sa surprise. Sobrang happy ako s'yempre. Sana magtagal pa ang AlDub, tayo… (I'm really happy of course. I hope AlDub, we, will last)" which got everyone in the audience screaming even more. 
The lolas then asked what will the two will do if one of them changes from all the attention they're getting. Alden was said firmly that nothing would change. Maine joked that what would change for her might be her family name.
PINKY SWEAR BI BAE ONE #ALDUB15thWeeksary pic.twitter.com/ABVJO7wM1q

— MaiDenTHEphilippines (@MaiDenPILIPINAS) October 29, 2015
Nidora reminded them about starting as friends, saying it will make their relationship better. "Maging magkaibigan para sa matibay na pagkakaibigan (Become good friends for a strong relationship)," Nidora said.
Soon after, the gang found out the address of the house that they're supposed to visit.
What adventure awaits Alden, Yaya and the lolas, now that they have the address? The story continues this weekend. 
What did you think of Alden's surprise for Yaya? Let us know in the comments section. – Rappler.com
AlDub's big day: