The lolas and Yaya look for a new place to stay after an order comes for them to leave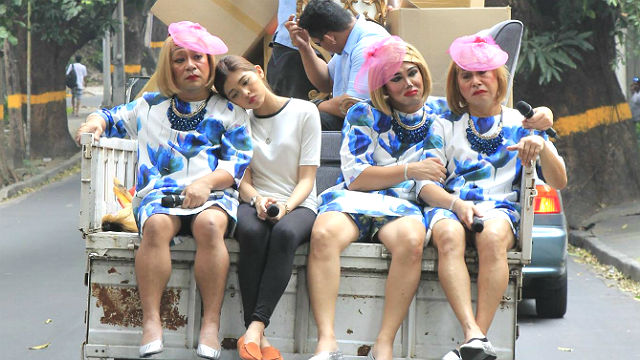 MANILA, Philippines – It's a sad week for Lola Nidora, her sisters, and Yaya Dub after they were forced out of the mansion for not paying the debt to Alden's grandmother.
Since meeting during the Tamang Panahon event last October, fans continue to monitor the blossoming romance between Alden and Yaya Dub onscreen. They were able to go out on another date in a theme park and managed to find the ring everyone thought was gone.
But trouble continues to test the relationship of the two. Here's what happened this week.
After their date at the theme park last week and finding the ring, Lola Nidora, Tidora, and Yaya Dub examined the ring, where in they discovered that it should not be sold as inscribed. All of them almost panicked when Yaya thought she lost the ring. Thanks to Doctora Dora, she was able to find out where she kept it. 
Meanwhile, Lola and her sisters received bad news. The mansion was taken from them. Alden said he's trying to talk to his grandmother, but it seems she's hiding from him as well. Lola Nidora also gave permission for Alden to come to the mansion on Friday to visit Yaya Dub.
On Thursday, December 10 in celebration of their 21st weeksary, Yaya Dub and Alden with the help of the AlDub Nation Singapore chapter, gave gifts to to children in Manila. Alden also gave Yaya Dub a couple jacket with Dub written in the back. Lola Nidora said that she will give an important message when Alden visits the mansion.
On Friday, Alden decided to pick up Yaya Dub from school. Tidora and Tinidora meanwhile were busy preparing at the mansion with Rihanna for Alden's visit. Alden and Yaya arrived at the mansion, with Alden giving flowers to all of the lolas. They had a small feast, and Nidora asked the Rogelios to come out with boxes, and announced the bad news – they were to move out immediately.
On Saturday, December 12, all 4 packed up their belongings and moved out of the mansion. Lola Nidora became emotional as they left.
Stopping at a barangay to look for a place to stay, Tidora and Tinidora talked about how they were going to get through the new chapter of their lives. Alden via split screen tried to cheer Yaya and the lolas up with his jokes. In between doing their spiels for sugod bahay, the lolas asked about houses that they can possibly rent. 
Meanwhile, the teasing between Alden and Yaya continued, with Alden joking that she can live with him in Laguna.
Highlights from today's EP – December Twelve #ALDUBWhereToGo pic.twitter.com/cMJiNMfn8K ©

— TINIDORA (@AKOSITINIDORA) December 12, 2015
Eat Bulaga host Joey de Leon took the opportunity to tease the two from Broadway.
AngPoetNyo: Knock knock aldenrichards02: Who's there? Joey: magKAHON na ba kayo? Aba! Speechless sila. mainedcm #ALDUBWhereToGo

— TINIDORA (@AKOSITINIDORA) December 12, 2015
Alden then asked Lola Nidora how she's doing. Nidora was sad, complaining that she really wished Alden's grandma would give them more time to pay the debt.  The episode ends with the lolas and Yaya Dub continuing to search for a place to live.
Will the lolas and Yaya Dub have a place to stay? Will Alden be able to speak with his Lola Baba? What awaits the characters as Christmas approaches? The saga continues in Eat Bulaga's kalyeserye. – Rappler.com
More on Maine, Alden, and AlDub:
AlDub's big day and beyond:
Other AlDub stories: