'My job becomes harder now because I have to lift up the spirits of people who may be afraid to go to a casino now,' says Martin, who is the the ambassador of Solaire Resort and Casino and also has shows in Las Vegas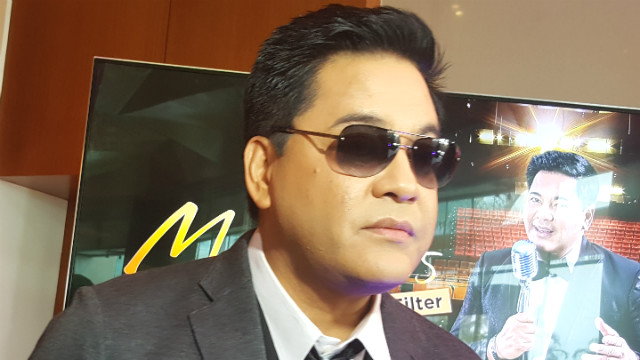 MANILA, Philippines – Martin Nievera said that he was saddened by the Las Vegas shooting, which killed at least 59 people during an open air concert on Monday, October 2. 
Known as the concert king of the Philippines, Martin has performed in Las Vegas for foreign and Filipino audiences.
"What happened in Las Vegas is really a true tragedy. Anywhere, anywhere in the world that happens. 'Pag hometown mo (When it's your hometown), you always think this is not going to happen here. it's going to happen somewhere else. But 'yung nangyari sa  (what happened in) Las Vegas and so close to home on the Strip, I was devastated noong nalaman ko 'yung nangyari sa (when I found out what happened in) La Vegas," he told reporters on Wednesday, October 4.
Nievera was fielding questions at the press conference on his "Martin @35 #NoFilter" concert scheduled on December 8 at The Theatre at Solaire.
"Unang-una (First and foremost), now that I am an endorser, the ambassador of Solaire Resort and Casino, even though we are all competitors in this casino business, we're also family. So what happens to the Mandalay Bay in Las Vegas, what happens to Resorts World, which was just recently, all of these things we're also affected. So being a singer, being an endorser, being the face and the voice of a resort and casino…my job becomes harder now because I have to lift up the spirits of people who may be afraid to go to a casino now," he added.
Earlier today Martin Nievera expressed sadness on the shooting in Las Vegas. The singer has performed there many times. pic.twitter.com/dpcqRiokyH

— alexa villano (@alexavillano) October 4, 2017
Martin shared that his colleagues have gotten in touch with him, asking for help in fundraisers and donations for those affected by the tragedy.
Asked if he was aware that the Filipino community was affected after finding out that the companion of the gunman, Stephen Paddock was reported to be a Filipino, Marilou Danley, Martin said: "Yeah, that's what they're saying. I don't even know how true these facts that are coming, these details coming in, but it seems to be that his partner, may be not partner in crime but partner in life was a Filipina. But even if she wasn't…there's so many Filipinos working in Las Vegas. We don't even know how many Filipinos were even affected in Las Vegas or even part of this disaster, this tragedy."
Martin said that as an entertainer, his job now is to make sure that people are comfortable despite the tragedy, which is difficult.
"As a people, terror cannot change our lives, it should not. We should move, we should go on as if nothing happened. I know that's easier said than done, especially for all of those lives changed and lost in Las Vegas and in every terrorist act. But we as entertainers, that's our job. We have to make you smile, we're the court jesters of the world. No matter what the tragedy is, we have to keep you positive, keep you always looking up," he said.
Martin on the role of entertainers in remaining positive despite the tragedies: "We have to make you smile." pic.twitter.com/DZ9KtVpJJm

— alexa villano (@alexavillano) October 4, 2017
Martin said that he is scheduled to do his annual concerts in Las Vegas on December 16 and 17. – Rappler.com