Remembering Jam Sebastian through Jamich's many funny moments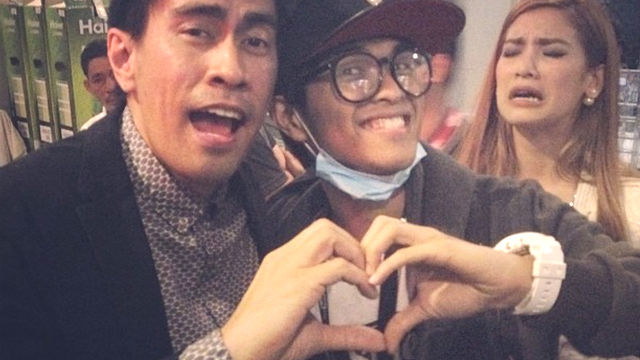 MANILA, Philippines – Jam Sebastian was many things: a son, a great boyfriend to YouTube and real life partner Mich Liggayu, an idol to his fans. He was also a fighter, pushing hard in his battle with lung cancer, hopeful for healing. 
Sadly, Jam died Wednesday, March 4, after battling the disease for about a year. His love story with Mich spanned over 8 years, with the couple sharing important milestones, including eventual updates on Jam's cancer battle, on social media.
We remember the story of Jam not only through his eyes, but through Mich's as well, in this series of light moments the couple shared with the public, right up to his final days. Though unquestionably sad, Jam and Mich still found pockets of humor, lighthearted moments shared with fans – gestures of love that their followers returned. 
1. The video that started it all
Fans fell in love with the couple's videos, telling romantic stories on every stage of love. The short film By Chance was the one that started it all. Jam and Mich started sharing videos on YouTube after people urged them to share their output more publicly, instead of just with family and friends. They began as a couple in 2008, but started making videos in 2011. They both wrote and later on made their own videos, inspired by Wong-Fu Productions' "Strangers Again." (READ: Jamich, a love story for keeps)
2. Teach me how to dougie with Jamich
Jamich gave their own performance of the song "Teach Me How to Dougie," showing off their dance skills – and that trademark sense of humor. 
3. Pick-up lines battle parody
Who had the best pick-up line?
4. Jam-ming to Chris Brown
Jam is a talented dancer, and his performance to Chris Brown's "Fine China" was indeed so fine. 
5. "Fish be with you."
Jam and Mich made their love ofFISHial with this cute underwater photo of them helmet-diving in Boracay.

6. #RaMich or #JaMon with Ramon Bautista
Jam, already sick, appeared in a funny set of photos that showed Jamich goofing around with fellow YouTube star Ramon Bautista. 
In the photos, both Jamich and Ramon were playing around with the Jamich moniker, by adding Ramon's name to it – but how well did that sit with the other half?
Jam and Ramon made the heart sign with their hands, while a "jealous" Mich looked on.
"JaMich o JaMon??? #SorryMichKamiTalaga#SumobrangPogiProblemsNagingPogay"
(JaMich o JaMon? #SorryMichitsRamonandI)
Jam feigned anger when Mich and Ramon made their own heart sign.
"JaMich o RaMich???#KuninMoNaAngLahatSaAkinWagLangAngAkingMahal#Lol @ramonbautista"
(#Geteverythingelsefrommejustnotmylove #lol @ramonbautista)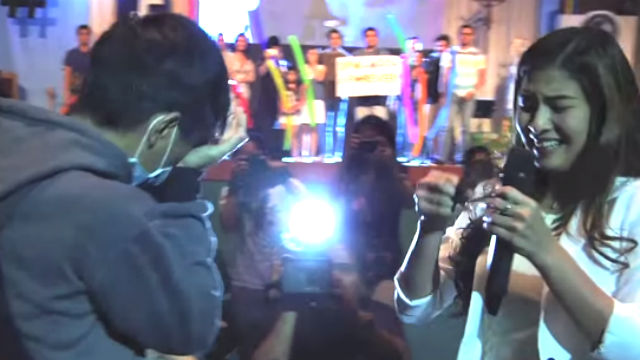 Who could forget Mich's proposal for Jam? Mich asked for an ailing Jam's hand in marriage in front of family, friends, and fans. Jam, taken aback by the surprise, gave her a tearful yes in reply.
8. Mich and Jam's Christmas portrait
The pair stayed strong, wishing fans well throughout the holidays. 
9. Mich's Valentine's surprise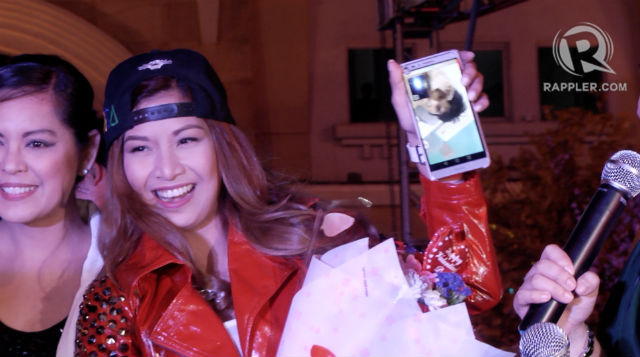 Valentine's Day couldn't get any sweeter when Mich surprised fiance Jam with a flash mob at Eastwood on February 14. Though unable to be physically at Eastwood, Jam joined in via Mich's mobile phone, waving to fans through the screen.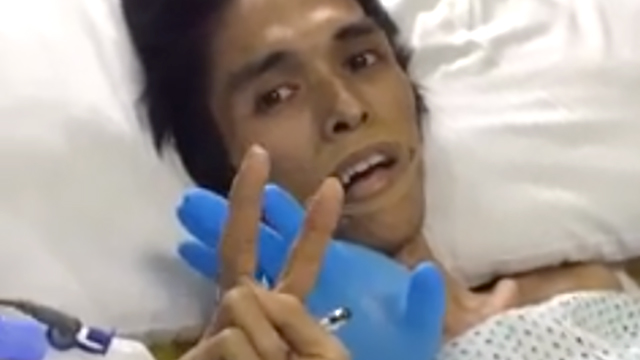 Jam had been on life support starting Thursday, February 26, but his fighting spirit wouldn't let him stay asleep for long. On Saturday, February 28, Jam woke up again to make a final social media video, gesturing to fans as brother Yexel interpreted his movements. 
Even near the end, Jam's message was full of hope: 
"Nag-hi siya sa inyo. Hi daw, okay daw siya. Kay Lord daw ok lagi…si Lord lang ang nagpapalakas sa kanya. Thank you…lahat po daw ng pagdarasal niyo…malaking tulong sa kanya. 'Yun po ang nagbibigay sa kanya ng lakas. 24 hours po siyang tulog e," said Yexel for Jam in the video on Facebook.
(He says hi. Hi, he's okay. With Lord, everything will be ok, the Lord gives him strength. Thank you…all of you who pray for him…it really helps. It's what gives him strength. He's sleeping, 24 hours.)
As family, friends, colleagues and fans say goodbye, there's no doubt that his silly grin, optimism, and sense of humor will be remembered, and deeply missed. – Rappler.com