The Final 4 showcase their respective icons. Let's take a look at each performance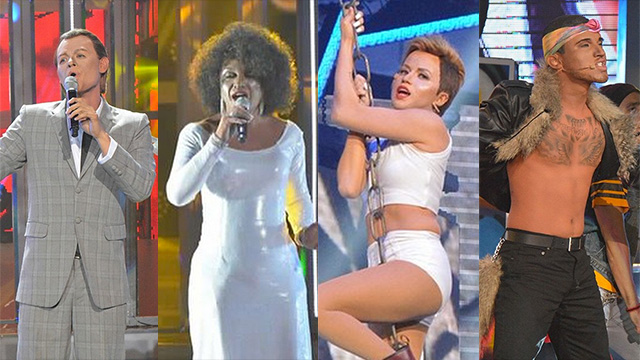 MANILA, Philippines – It was an exciting night as fans gathered at the Newport Theater in Resorts World for the grand finals of Your Face Sounds Familiar. 
Host Billy Crawford and the 3 jurors – Gary Valenciano, Sharon Cuneta and Jed Madela performed a song number, too. 
Unlike in the last 12 weeks of the competition where stars were assigned the icons they would be impersonating, the Final 4 – JayR, Edgar Allan de Guzman, Melai Cantiveros, and Nyoy Volante, chose the stars they would be transforming into. (READ: 'Your Face Sounds Familiar' final 4 open up about haters)
JayR was the first and he chose to become Frank Sinatra, as a tribute to his uncle who passed away and whom he credits his appreciation for the classics. 
Prior to transforming to Frank Sinatra, Billy asked him why he should win.
"I think I should win because hindi ako selfish na tao. Ibabalik ko sa OPM community natin, sa ating industry," he said.
Dressed in a grey suit with back up dancers, JayR rendered the hit "New York New York." Like in his past performances, the jurors were impressed.
Jed said JayR's performance gave him the goosebumps.
"I admire your purpose. The purpose of giving back to the OPM industry and entertainment, to everybody. Number two you, are the reason why this show exists because you put your heart and soul in what you do. You look and sound like the icons you are impersonating," he said. 
Sharon meanwhile commended him for begin courageous in choosing an icon such as Frank Sinatra. Gary V commended JayR's passion and energy.
After JayR, it was Edgar Allan de Guzman's turn. EA chose Chris Brown as the icon to impersonate, performing "Turn Up the Music." EA, who is known as a dramatic actor, showed off his singing and dancing skills. 
EA's supporters were not to be missed. Superstar Nora Aunor was present to watch and support him. The two worked together in TV projects.
Sharon said she was honored to have seen EA grow with his craft.
"I am very proud that I have been part of your journey," she said. 
Jed said that EA was a major revelation in the season, while Gary said that not only has he improved, but he was also a diamond that stood out in his performance.
Melai was the third performer in the show, impersonating Miley Cyrus. In her interview with Billy, Melai said she wanted the win to secure the future of her daughter. 
Clad in a white midriff top and shorts, Melai entered the stage and performed "Wrecking Ball," to pandemonium from the crowd.
After her performance, Melai said she could not believe she was still part of the Final 4. The jurors said that she indeed bought the house down.
"Manalo matalo, nakita mo ang pagmamahal sayo ng tao," Sharon told Melai. (Win or lose, you saw the love of the people for you.)
Gary V said it was Melai's performance that was the most unexpected, as what people have come to expect from her. 
Rounding out the Final 4 was Nyoy Volante who chose Whitney Houston as his icon. 
Onstage, Nyoy entered as Whitnoy Houston, dressed in a silver white dress. He performed the song " I  Will Always Love You," from the movie The Bodyguard. Like his previous impersonations of female icons, Nyoy showed how versatile he was.
Gary V said that he was courageous to take on Whitney.
"You pulled it off from the very beginning. the very first note pa lang, wow  [it was] Whitney Houston… you are an excellent professional," Gary told him.
Jed meanwhile said Nyoy was consistent in his performances.  "You put your heart and soul in every performance."
Sharon for her part said that there's nothing that Nyoy could not do, adding that she sees a bright future in his career as well as the career of the others.
After the performances, text voting began,  and will continue until Sunday night, June 7, before the winner is announced. 
It was also announced on the show that Your Face has been renewed for a second season. At the finale, the other artists – Tuttti Caringl, Karla Estrada, Maxene Magalona, and Jolina Magdangal will perform a special number. –Rappler.com