Online users, however, also point out that using slurs and elitism ain't the way to go when making arguments online
Following the announcement of an "NCR Plus" lockdown, actor Albie Casino took to social media on Saturday, March 27 to express his dismay over the government's COVID-19 response. 
"My face when they said ECQ season 2. Congrats to everyone who voted nung 2016, sana natutuwa kayo ngayon. Vote wisely sa 2022," Albie wrote on an Instagram post. (Congrats to everyone who voted in 2016, I hope you're happy now. Vote wisely in 2022.)
The actor's statement drew mixed reactions from followers, with some praising him for speaking out and others defending the government. One Instagram user praised him for not being "blind and deaf" on politics. "Thanks at hindi ka bulag at pipi. Buti hindi ka takot ihayag ang saloobin tungkol sa politics, hindi kagaya ng ibang artista takot ma-bash," the user said.
(Thank you that you're not blind and deaf. It's a good thing that you're not afraid to speak up about your opinion regarding politics, unlike other celebrities who are afraid to get bashed.)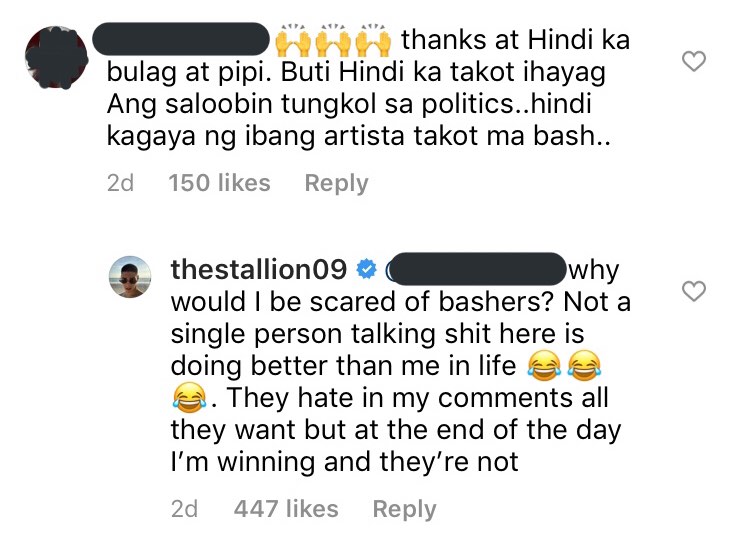 Others were quick to criticize the actor's sentiment. One comment read: "Control ba ng government officials 'yung virus? Galing mo din [mag] isip noh. Duh" (Does the government control the virus? Such a big brain. Duh.)
The actor replied: "Imma hit you with some knowledge so try to understand if you can. They obviously don't control the virus but they do have control over how they handled the virus (we are literally the [WORST] COVID RESPONSE IN THE WORLD) our neighboring countries should be used as a measuring point look at them and compare to us. Now alam kong bobo ka kasi DDs ka but if you still don't get it after this wala ka na pag-Asa please don't breed." (I know you're dumb because you're a DDS but if you still don't get it after this, you're a lost case. Please don't breed).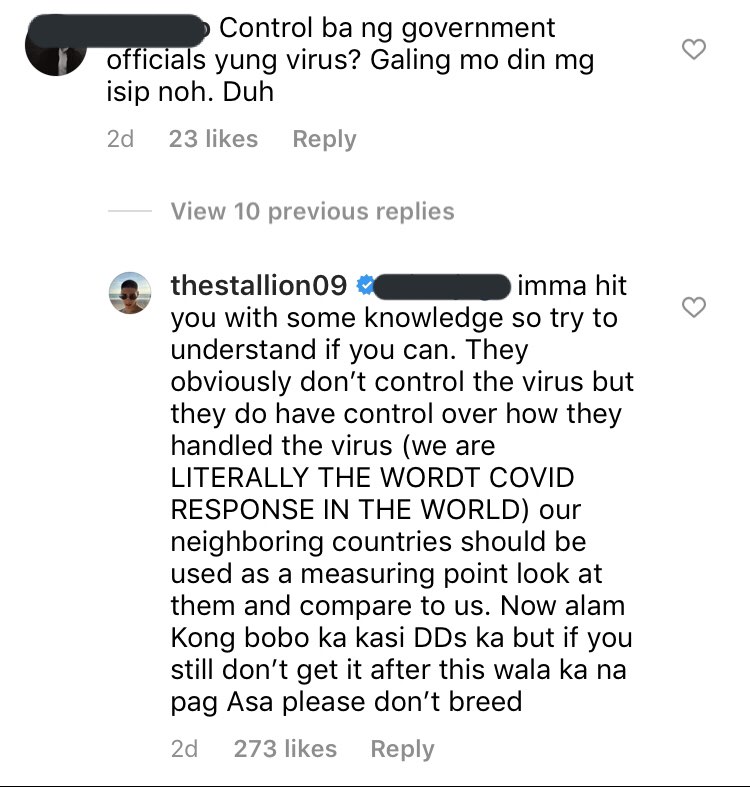 Not the way to go
But it was Albie's choices of words in responding to comments that also drew flak from online users. In replying to those who criticized his original post, Albie used the word "retards" and "mentally challenged" as insults.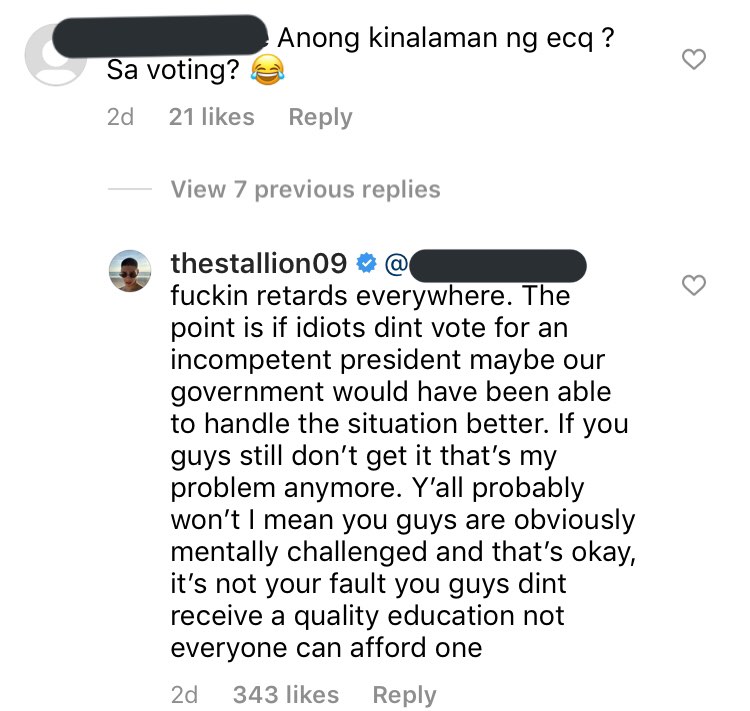 "The slur??? The classism and elitism??" Frankie Pangilinan reacted to the actor's replies, which have since gone viral.
"Not coming for Albie Casiño personally, but can we please not revere him for this and instead let him know just how awful many of these arguments are," she continued.
In a separate tweet, Frankie stressed that there's no need to be disrespectful during arguments: "Some of y'all forget the people you're fighting with are the people you are fighting for. Tapos gagamitin pa ang pera para makaflex?? Insensitive af ang daming nawalan ng trabaho? Ang daming hindi nakakain?" (Then you're going to use your money to flex? That's so insensitive. A lot of people lost their jobs and can't eat.)
Singer Janina Vela also echoed Frankie's sentiment. "It's great to be speaking up for what's right, but it's also important to do it the right way," she said.
Albie is only one of many celebrities who've expressed their frustration over the government's inadequate response to the COVID-19 pandemic. As of March 29, the Philippines has a total of 721, 892 cases.
Metro Manila and nearby provinces were again placed under the strictest version of a lockdown, following a surge in COVID-19 cases. – Rappler.com