Albie says he had never received an apology from Andi and that he was 'tired of covering up for her'
Stevie Eigenmann came to her sister Andi's defense by showing "receipts" that the actress had apologized to Albie Casiño, after the actor recently claimed that he had never received an apology from his ex-girlfriend for their paternity dispute in 2011.
Through an Instagram story on Saturday, October 30, Stevie shared a screenshot of what appears to be a private conversation between Andi and Albie from September 2020.
"Oops. Accidentally publicly posted receipts. Happy halloweekend! No ill will," Stevie wrote in the photo.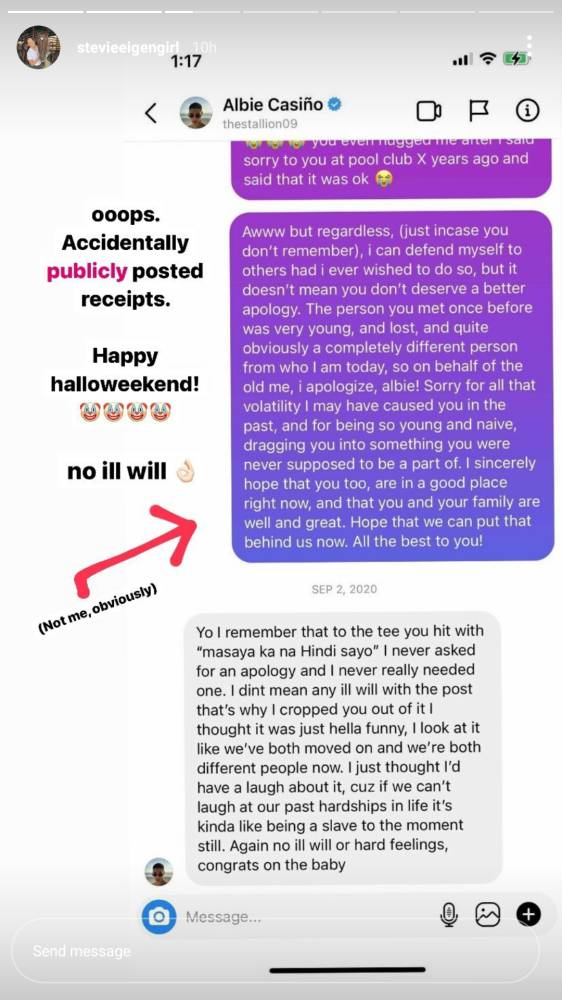 In the screenshot, Andi can be seen telling Albie that he "[deserves] a better apology." "The person you met once before was very young, and lost, and quite obviously a completely different person from who I am today, so on behalf of the old me, I apologize, Albie." 
She continued, "Sorry for all that volatility I may have caused you in the past, and for being so young and naive, dragging you into something you were never supposed to be part of."
The actress also sent well wishes to Albie's family. "Hope that we can put that behind us now. All the best to you."
It remains unclear when Andi sent the messages but Albie responded on September 2, 2020, saying that he "never asked for an apology" and that he "never really needed one."
"I look at it like we've both moved on and we're both different people now. I just thought I'd have a laugh about it, [because] if we can't laugh at our past hardships in life, it's kinda like being a slave to the moment still. Again, no ill will or hard feelings," he said then.
Stevie's post comes after Albie made remarks that Andi had never apologized to him after their dispute. During his last kumu live stream before entering the Pinoy Big Brother house on October 26, Albie said that he "can finally talk" about the issue and he will be "no holds barred" when asked about it.
"I'm kind of tired of covering up for her, bro, you know what I mean? I'm not gonna hold my tongue so you can look good anymore," he said. Albie added that he only received a lengthy "non-apology" from the actress.
He followed it up with, "I wanted to say some other stuff like, 'If you bash me publicly, the least you could do is apologize publicly right?' But nah, I guess it ain't in her. I guess, she ain't like that. But yeah, I hope she thinks about that at night before she goes to sleep. I'm not even joking."
Aside from Stevie, Andi's mother Jaclyn Jose also reacted to Albie's tirades.
In a now-deleted Instagram post, Jaclyn asked ABS-CBN production head Laurenti Dyogi to stop dragging her daughter Andi into their publicity stunt for PBB. "He has to keep his mouth shut. Don't use my daughter in your circus," she said. 
Andi has yet to address Albie's claims.
In 2011, Andi got pregnant and named Albie as the dad of her then-unborn child. At the time, Albie was just starting with his showbiz career and had gotten his breakthrough role in the television remake of Mara Clara, where he was paired with Kathryn Bernardo. The actor has constantly denied being the father of the child. 
In 2016, it was revealed that Jake Ejercito is the father of Andi's daughter, Ellie. – Rappler.com