Spoiler-free! Does the sequel to 2012's 'Rurouni Kenshin' live up to its promise to fans?
Kenshin Himura has a promise to keep.
After vowing to never kill again, Kenshin (Takeru Satoh) has retreated to a decidedly un-glamorous life under the roof of Kaoru Kamiya (Emi Takei), a fighting instructor and dojo owner in Tokyo. But as an infamous assassin, and a more than capable fighter, Kenshin has found it difficult to hide from the spotlight.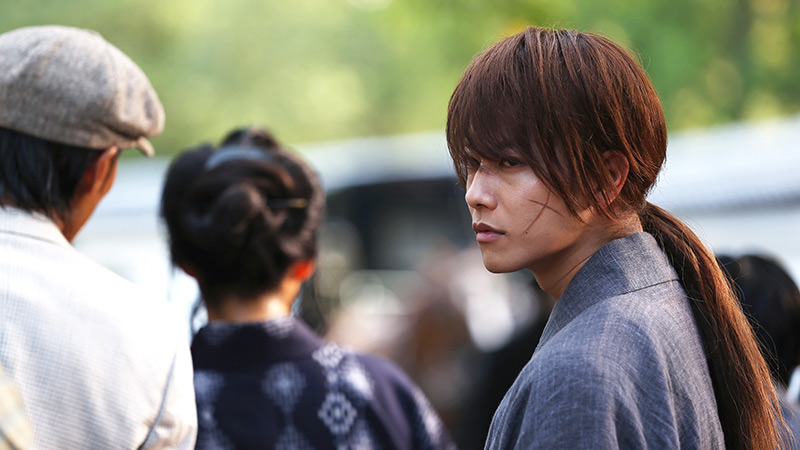 Kyoto Inferno is the sequel to the first Rurouni Kenshin film, and picks up where the original left off.  This time, the stakes are higher, and the story, for better or worse, is much larger. Kyoto Inferno is a film draped in the robes of ambition. It sets its sights high and wide in an effort to encompass hundreds of pages of manga and hours and hours of anime. (READ: Pooled reviews: 'Rurouni Kenshin' (Samurai X))
Though the film sags in parts, Kyoto Inferno never strays too far away from the path set by its main character, Kenshin.
Kyoto Inferno, as with the first Rurouni Kenshin film, has the blood of a modern epic running through its veins. It's a film characterized by action but brought to life by character. It strikes the remarkable balance between the fantastic and the credible, while successfully painting a world that feels much larger than what's on screen.
Based on the popular manga Rurouni Kenshin (known also by its Western name Samurai X), Kyoto Inferno has more than just a handful of fans eagerly anticipating its release.  Like Kenshin, director and co-writer Keishi Otomo has a promise to keep to its fans, and by the looks of Kyoto Inferno, he has no intention of breaking it. 
Against the odds
In Kyoto Inferno, Kenshin is once again at odds with his own bloodless vow. Despite finding peace alongside his newfound friends Kaoru, Sanosuke (Munetaka Aoki) Megumi (Yu Aoi) and Myojin (Kaito Ōyagi), Kenshin is once again asked to take up his sword when the renegade assassin Makoto Shishio (Tatsuya Fujiwara) is found to be amassing an army to overthrow the government.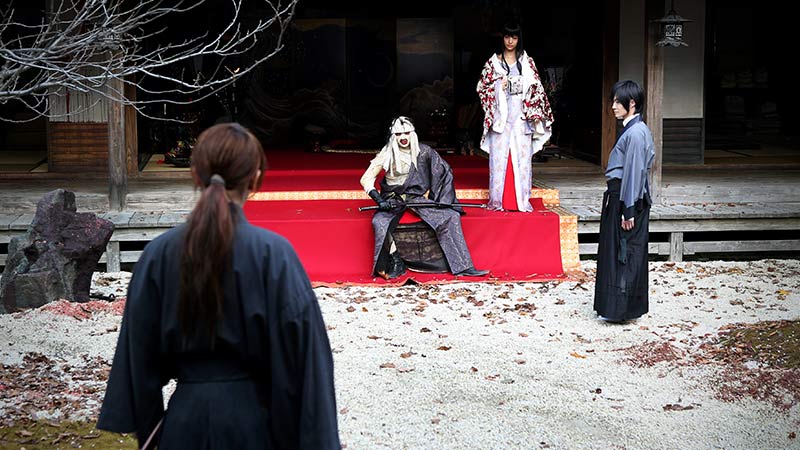 Honor and duty are common themes in the samurai genre, but they shine the brightest when put into conflict with personal principles. With Kenshin, his unwillingness to kill is directly at odds with his desire to protect the innocent. As Shishio continues his mad rampage uncontested, Kenshin's ability to defeat him comes into question.
In one of the film's more impressive fight scenes, Kenshin is forced to cross swords with Sojiro Seta (Ryûnosuke Kamiki), one of Shishio's most trusted servants.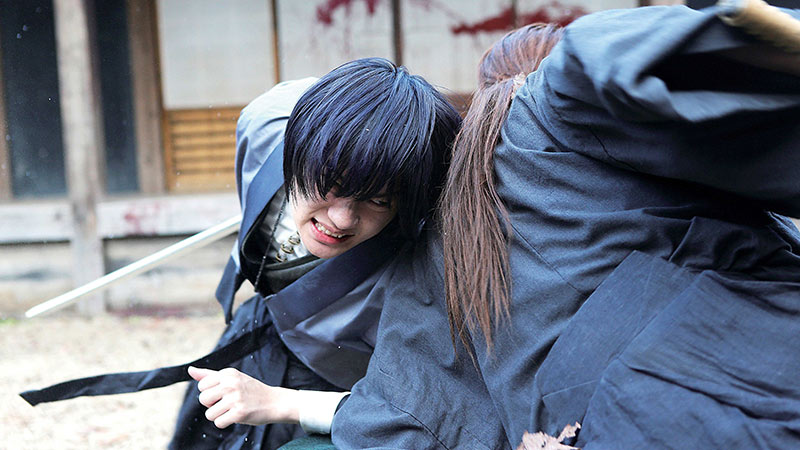 Shishio points out that their fighting technique is a square match, so their desire to kill is what ultimately decides the victor.
As a merciless killer that cannot be subdued, Shishio becomes the perfect nemesis for Kenshin.
And with every passing fight, and every beaten foe, Kenshin inches closer to his true test of identity.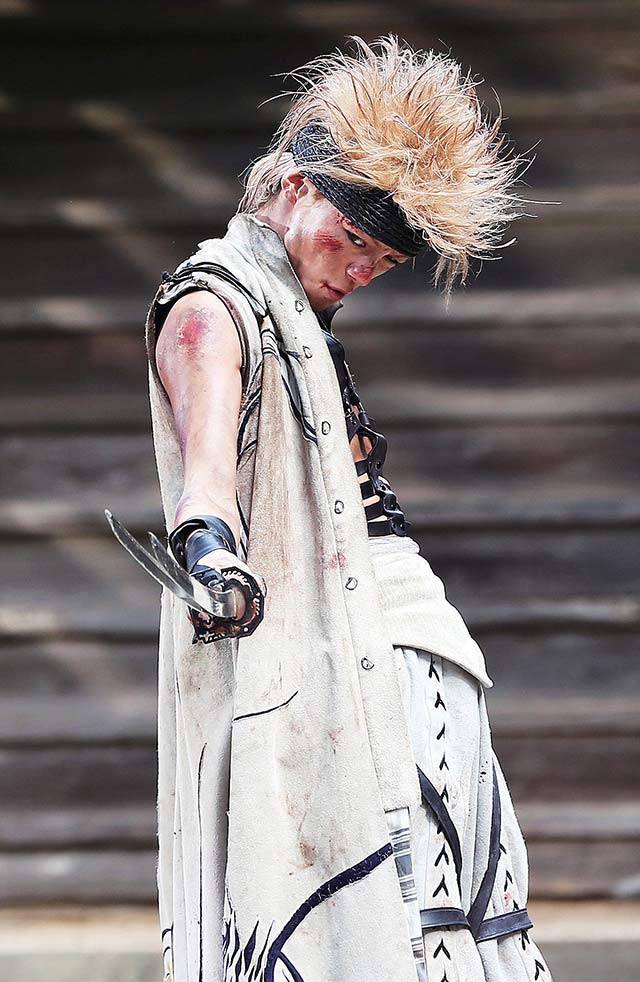 Staying true
The film stays true to the often quirky aesthetic of its source material but never betrays itself by apologizing for it.
Sanosuke still wields his enormous tower-sized sword and the vindictive Sawagejō Chō (Ryosuke Miura) still sports his platinum blond hair.
But instead of finding odd excuses for incorporating them in live-action 19th century Japan, director Keishi Otomo embraces all of them.
In the same way, the performances in Kyoto Inferno appear mostly cosmetic. But upon closer inspection, the cast shows off more than just costumed expressions.
Takeru Satoh fits comfortably into the role of Kenshin while Tatsuya Fujiwara acts as an imposing presence as the formidable Shishio.
Although their inevitable confrontation will have to wait until the next film, it's already easy to see just how one helps shape the formation of the other.
---
Insights into the making of 'Rurouni Kenshin: Kyoto Inferno'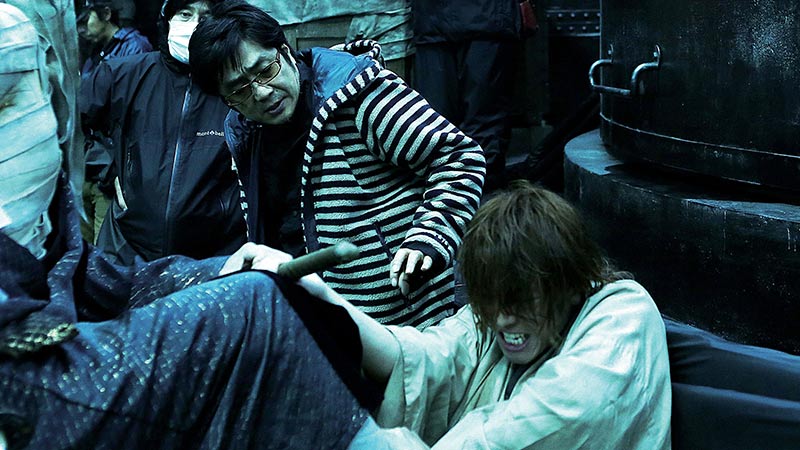 VIDEO:
Watch Rappler's spoiler-free 3-on-1 interview with 
Kenshin
 stars
---
Breaking no promises
In the opening scene of the first Rurouni Kenshin film, Kenshin stabs the blade of his sword into the ground, signifying the end of his days as a heartless killer.
The camera is set low, establishing Kenshin's dominance over the sword. Kenshin eventually leaves his sword behind, but its hilt remains sharply in focus. The shot lingers, if only for an uneasy split-second, and though Kenshin has long disappeared into the background, it's only his sword we see. 
It's a scene that rings with profound significance well into Kyoto Inferno. Kenshin tries desperately to walk away from his past, but he is unceasingly haunted by the curse of his transgressions.  It isn't long before we learn that Kenshin's true struggle is not with Shishio, but with himself. His unwillingness to kill may be his most valued principle, but it is also his greatest weakness – or is it?
Kyoto Inferno is marred by a number of side trips that do nothing but rob the film of precious momentum. The film never gives enough time to develop a handful of storylines, particularly the inclusion of the Ten Swords, the Hidden Watchers stories or the mysterious Aoshi Shinomori (Yûsuke Iseya). But there's still the upcoming third film, The Legend Ends, where we'll hopefully be able to see more.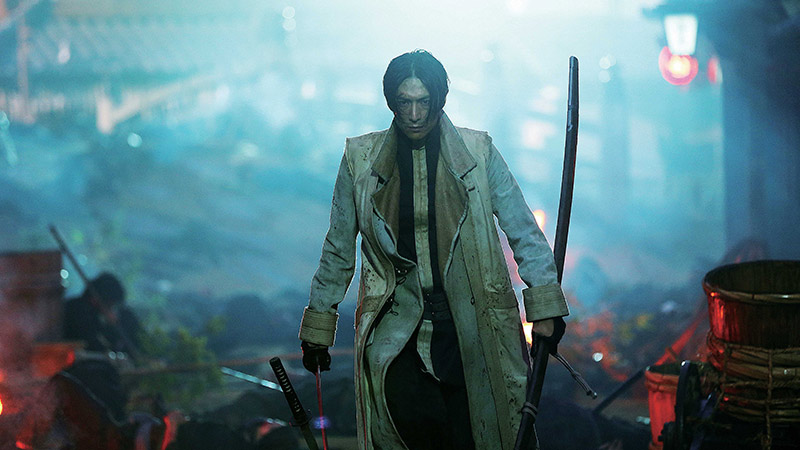 Even with the film's many narrative indulgences, it's difficult to pass judgment on half a story. Clearly, with the final chapter to the Rurouni Kenshin trilogy coming in only a few weeks time, director Keishi Otomo has grander plans for Kenshin and his feisty band warriors.
Kyoto Inferno never loses sight of its main character. And with one final film to look forward to, here's hoping that the promise of a satisfying resolution continues unbroken. – Rappler.com
Note: Recently, the Rurouni Kenshin stars visited Manila to attend the movie's Asian premiere. View this and the rest of our Kenshin coverage on Rappler: 

Zig Marasigan is a freelance screenwriter and director who believes that cinema is the cure for cancer. Follow him on Twitter at @zigmarasigan.