An encounter with Marty, a show-stopping encore, and an explosion of sound and color – plus a floating poo emoji, too – all at Katy Perry's 2015 Manila show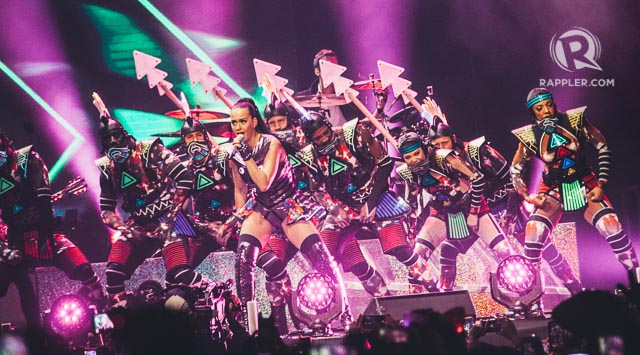 These days, pop stars try to outdo each other with in-your-face theatrics. In a post-postmodern world, the trend among these performers has been to appropriate icons from the parade of history and from pop culture.  (READ: IN PHOTOS: All of Katy Perry's PH concert outfits)
Katy Perry is a contemporary legend in this sense. She has always been known for channeling opposites: zany and uplifting, saccharine and suggestive. Case in point, as Pitchfork illustrates, "maybe the 6-year-old sitting behind us just thinks that Katy Perry is singing about popsicles and balloons and peacock-cock-cocks…" She is iconic in embracing her contradictions – rather than being a glorified social deviant. (READ: In Twitter pics: Katy Perry dazzles in Manila concert)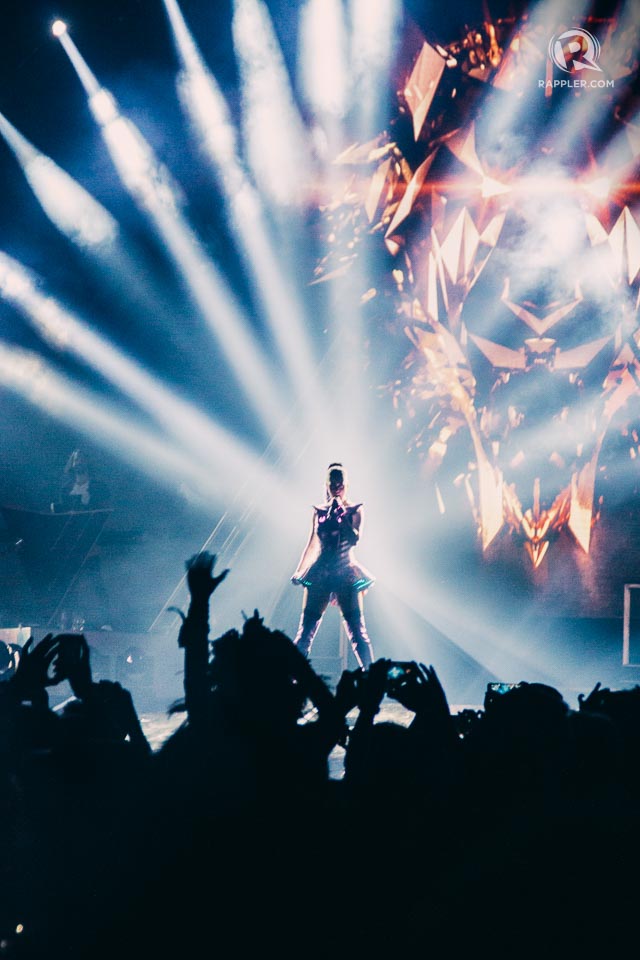 She has played the Philippines on a number of memorable occasions, including a charity concert after Ondoy (Ketsana) battered Manila. Last May 7, she auspiciously celebrated the 1st anniversary and 138th show of the acclaimed Prismatic World Tour at the Philippine Arena. (READ: Katy Perry celebrates 'Prismatic' tour anniversary in PH)
Although she performed a significantly pared down production (it's missing the daring aerial stunts from previous stops, among many other things), she still delivered and conjured an audio-visual feast.
The elaborate setup was the glaring clue that we were soon to be treated to an endless barrage of neon-colored imagery and pop culture references. It was neither gratuitous nor opaque, but rather a multilayered, joyous extravaganza. 
1. A history lesson in gladiators and mummies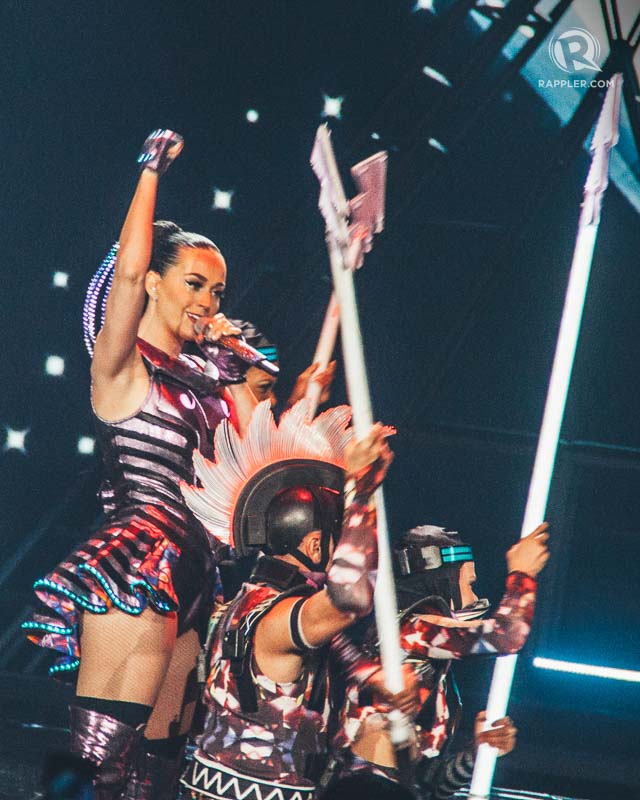 The Philippine edition of the Prismatic World Tour, as with the others, heavily relied on its high production values to frame Katy's songs. Honestly, there was the risk of overwhelming the audience with the concert's psychedelic theatrics. But the razzle-dazzle executed so well, to a T.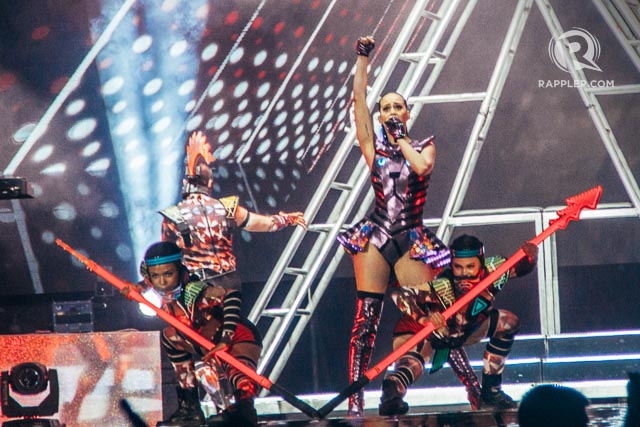 Katy marched with her beloved KatyCats through history. In this regard, she was the proverbial prism through which grandiose ideas were refracted in an accessible manner.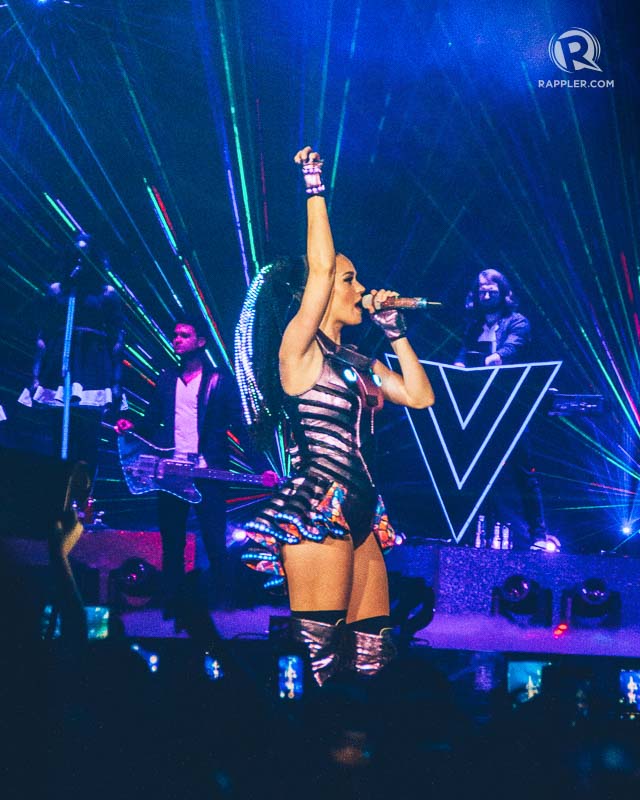 She first took us to ancient times with her neon-clad gladiators and performed a trio of her power anthems, including "Roar." We are also transported to the pyramids of Egypt (which at one point resembled the structure from Blade Runner), with Katy on a faux golden horse.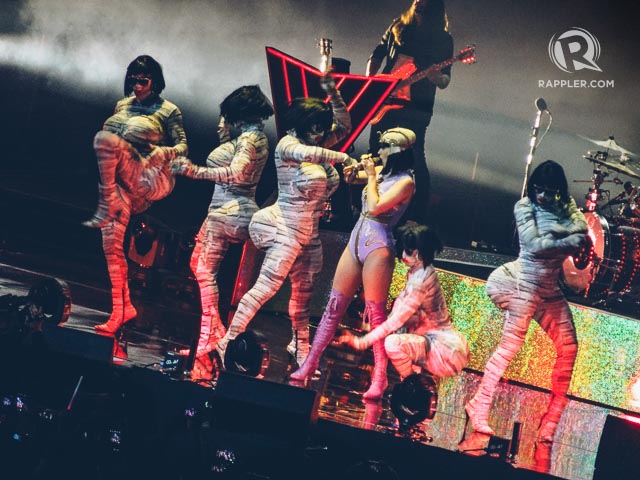 2. Cat-oure: 'Come on, Vogue' 
Katy went through several distinct costume and wig changes in rapid-fire succession. We expected her though to wear the more exhilarating and provocative getups that she has always been known for.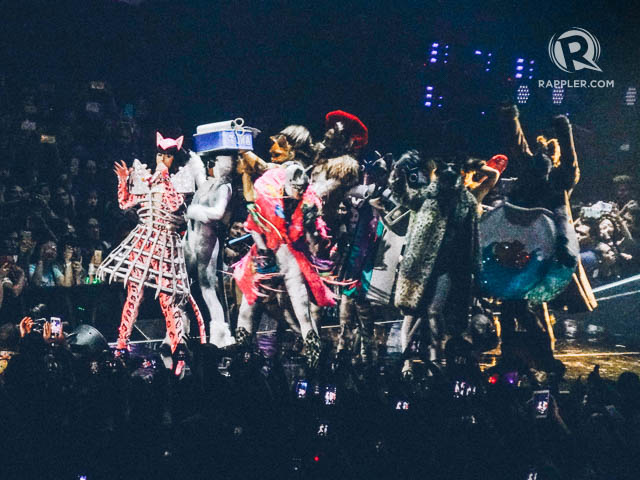 During an act she opened with a jazzy, noir version of "Hot n' Cold," the show was at its campiest when it channeled Andrew Lloyd Webber's Cats with Katy wearing a pink leopard suit – totally unlike Grizabella from the musical.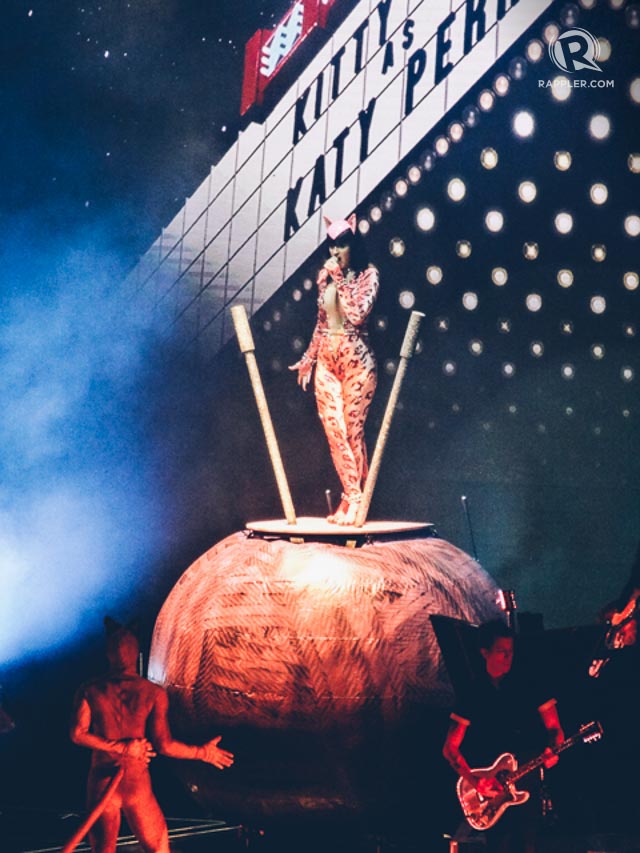 Fresh off Vogue editor Anna Wintour's Met Ball, Katy even paid homage to the original Queen of Pop, Madonna, with her cover of "Vogue." She definitely owned the stage, transforming into a catwalk (pun intended) with couture depicting consumerism. 
3. Marty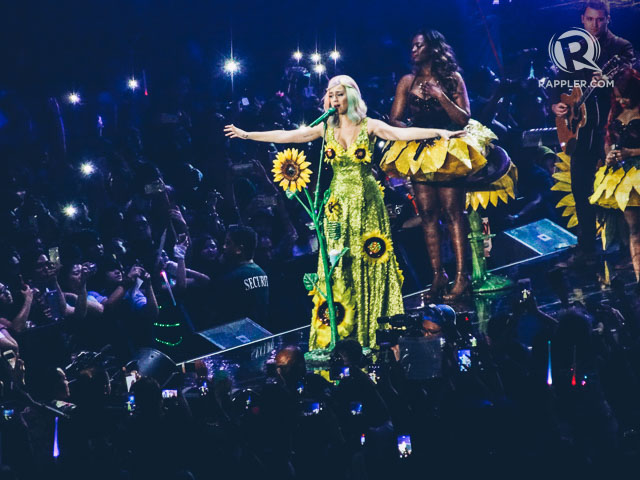 Katy baffled many people when talk about her seeming obliviousness, to how fluent in English Filipinos can be, spread like wildfire across the Internet. After all, this wasn't her first time in the Philippines; however, she certainly may have had her first taste of the infamous and infernal traffic situation. 
Donning a flowing gown with a sunflower motif, the pop star said, "I know some of you don't understand me right now, and unfortunately, I don't know much of your language either. So I'm sorry [it's] a little confusing. I wish we could speak the same language, all right? Actually, you know, can I just welcome you to the Prismatic World Tour right now!" (WATCH: Katy Perry thrills Pinoy fan onstage in PH concert)
It was a great excuse to bring someone on stage, though. She pointed to a lucky fan, "You in the fish suit, are you from the Philippines? Are you, yes? You promise? Can you help me learn this language a little bit?" 
KatyCat Marty, 20, from Rizal, clearly experienced a flurry of emotions; he was stunned and apparently on the verge of tears. Speechless, he was catching his breath, and Katy gave him her own bottle of water to gulp down.
He also was wearing a costume that Katy previously wore during the Cat-oure part of the show.
"Now Marty, before we get into this, I need you to teach me some words in your language, okay? How do you say the word 'Hello' in your language?" she said.  
Katy might have expected something more complicated, but she was wrong: "…I traveled all the way to Manila! And it's just 'Hello!?'" 
Her next question, however, was addressed with an unfamiliar word but has easy recall, as Marty translated "Thank you" to Filipino. She was definitely amused, "Ooh, I like salami, too! Salamat for the salami! Okay. Salamat—I can remember that, 'cause I think salami – I like salami and 'Salamat' is 'Thank you.'" 
"Now, one more, one more! Shh! How do you say, 'I love you?'" she continued. 
"Mahal kita. Like this [points to his handmade poster]: Mahal ka namin, Katy!" 
Marty was definitely thrilled as Katy gave him a parting gift; "I want to reward you for being such a great KatyCat. So, how do you say the word 'selfie' in your language? Should we selfie?" 
He tried to return the water, but Katy insisted that he keep it, "We already have each other's sweat on each other. What does he want—my kidneys!?" Marty, Marty…" 
Katy then toned the show down, going for a somber set and strumming on her guitar. She dedicated her song, "By the Grace of God" to the all the loyal Katy Cats.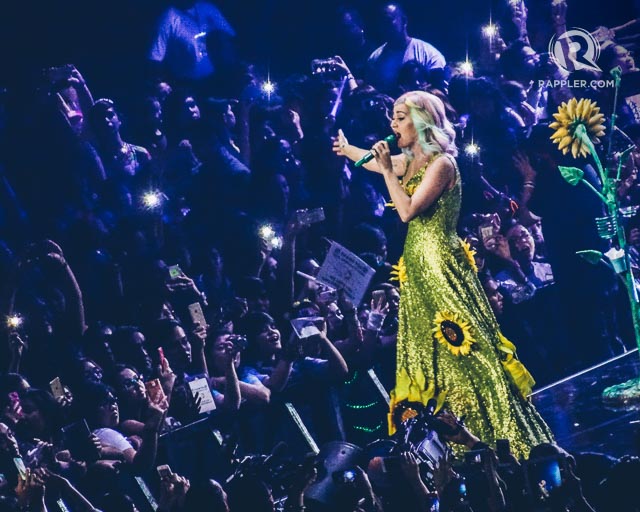 4. Trademark Katy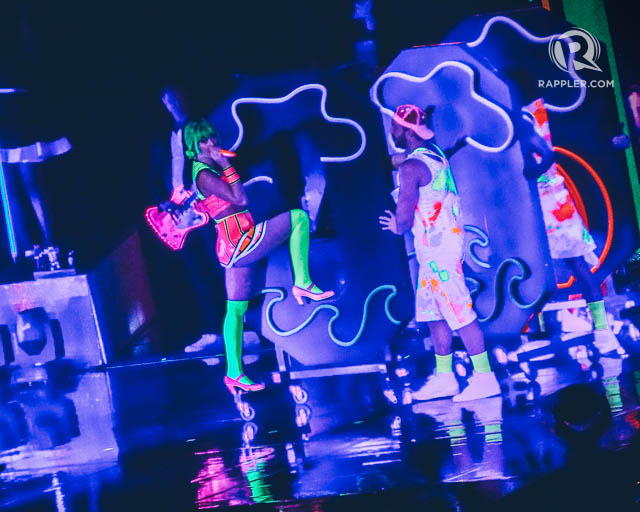 Katy Perry never disappoints when she goes full-on camp. Going for trendy 80s and 90s nostalgia with loud, fluorescent colors, the show's final act consisted of her most memorable and danceable singles. 
Her back-up dancers even tried to pump up the crowd with a cheeky tune. There was even a "Dance Cam," prompting everyone to have fun, regardless of their skill or the lack thereof – for a chance to be featured on the large screens. 
There were inflatables galore, suiting the buoyant mood. She rode an inflatable convertible onstage with her dancers as she performed a mash-up of "Last Friday Night" and "This is How We Do."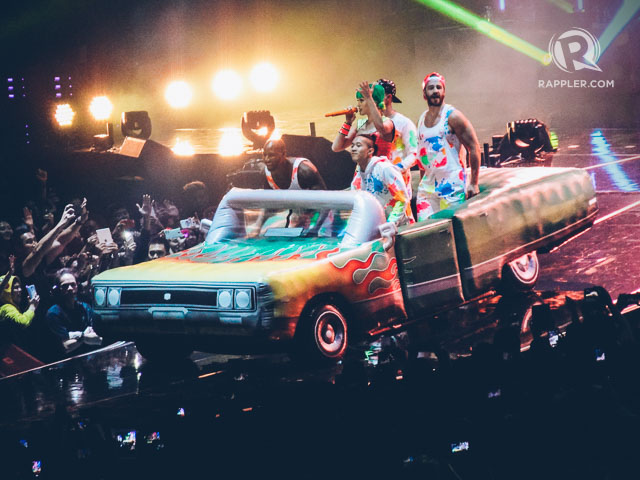 Floating representations of emojis (including the poo one!) even bobbed around the arena.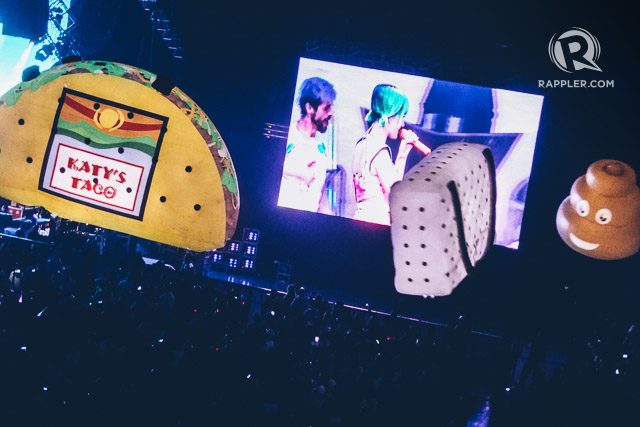 She ended her set with an ode to her sunny West Coast home state, "California Gurls," as her dancers shuffled around, forming different permutations of the letters H-O-L-L-Y-W-O-O-D: "YOLO," "OOOH," etc.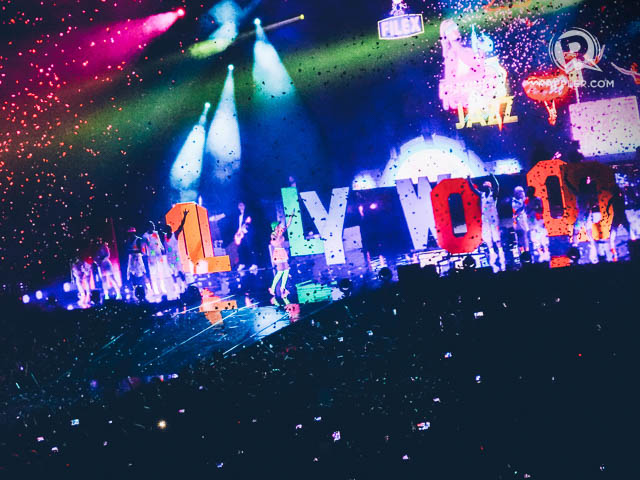 Unfortunately, Left Shark from her Superbowl performance was nowhere to be seen, but at least this pair was there to represent that bonkers icon:
5. 'Show up'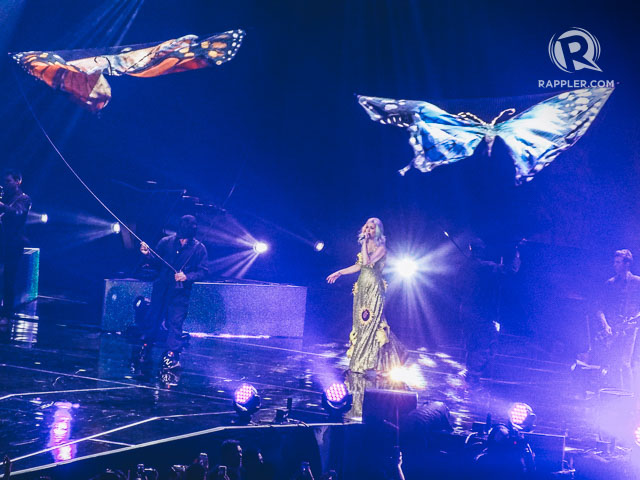 "It's been a long way, and we are so grateful, every night, that this is our job – that we get to come, and share, and celebrate music with you guys – and entertain you. And hopefully you have fun. Hopefully you leave here feeling uplifted. Hopefully you have a little bit more joy than you had when you came." 
The Prismatic World Tour can be undoubtedly taxing for the people behind the scenes, and Katy was at her most candid and sincere as she confessed, "[It hasn't] always been easy. Look, we've never canceled a show. Some of us have been sick. Some of us have been tired. Some of us have been lonely. Some of us have been homesick. But we know how important it is to show up."
Katy went out for an encore with the best known of her singles, "Firework."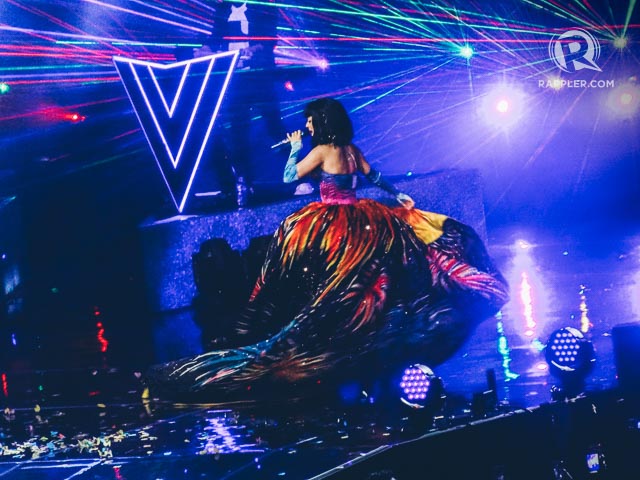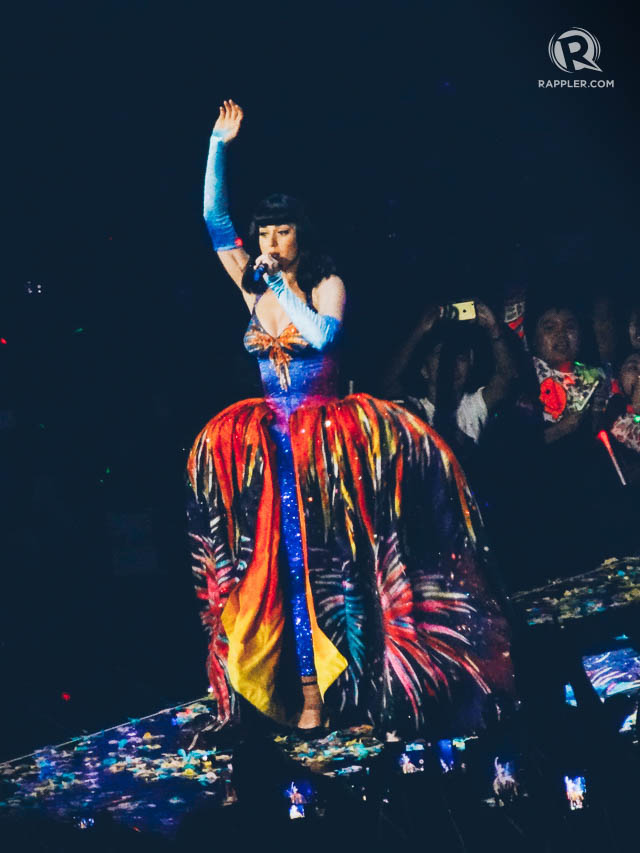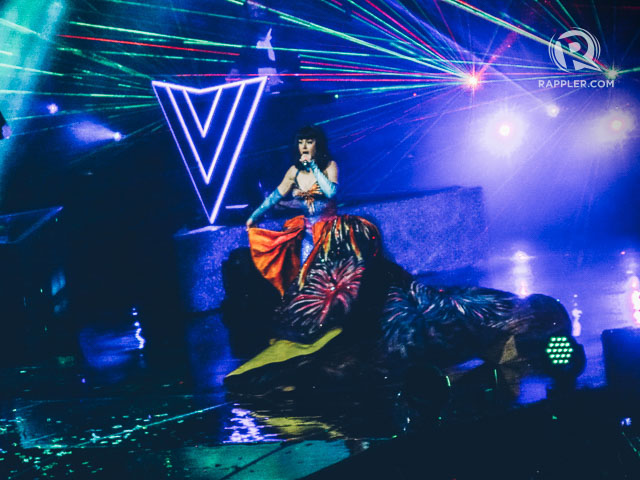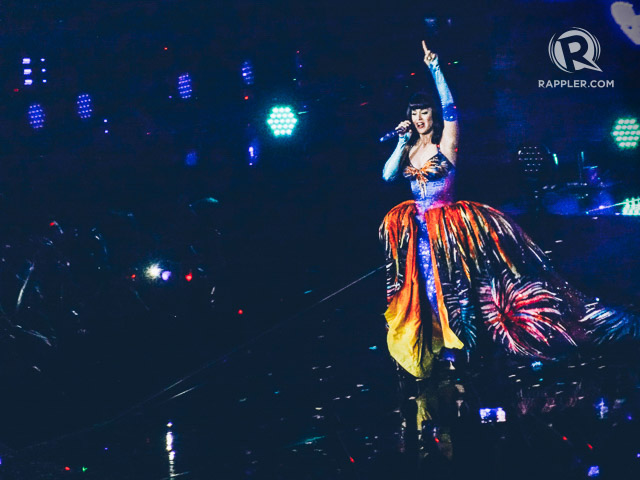 Together, we make that effort, and we have "no regrets, just love." – Rappler.com
Paolo Abad is a film/television editor and motion graphic designer. He is also a self-confessed concert junkie. Follow his Instagram for live music @outoftunephoto