The group is known for drawing from Filipino folklore and traditions in their music
MANILA, Philippines – Since their debut in 2021, P-pop boy group ALAMAT has championed Filipino culture at every turn.
From their debut single "kbye" which features verses in seven different Filipino languages, to their latest EP Pasulong which spotlights uniquely Pinoy experiences, the group puts the "P" in P-pop, in the most intentional way.
When the group formed in 2020, creative director Jason Paul Laxamana made sure that each member was fluent in the native language of their hometown. The idea from the start was "to genuinely embody the Philippines," as Jason said.
The result is music unlike any we've heard before – bringing together the freshness of pop and the familiarity of tradition, anchored on the percussive nature of Filipino languages.
For ALAMAT's members Taneo, Mo, Tomas, R-ji, Jao, and Alas, being able to show a more diverse picture of the Philippines is a source of both pride and pressure for them. 
"That's part of why we wanted to join," Taneo said in an interview on Rappler Live Jam.
"Sobrang nakakaproud po; at the same time, nakakapressure din siya kasi ang daming talented sa Philippines tapos kami yung napili magrepresent sa kanya kanyang lugar," Tomas said.
(It makes us proud; at the same time, we feel the pressure because there are so many talented people in the Philippines, and we were the ones who were chosen to represent our hometowns.)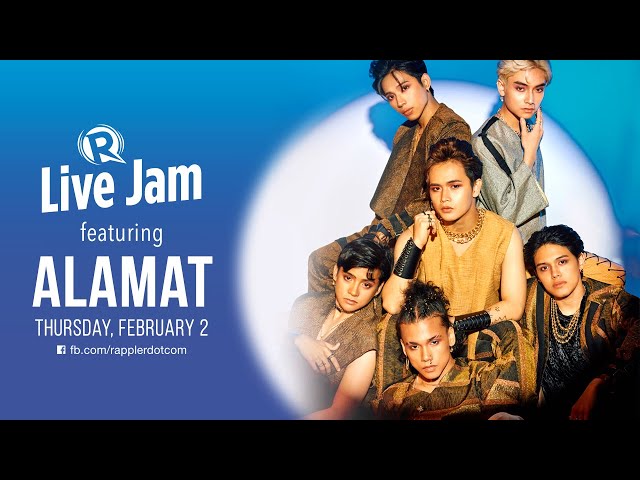 Drawing as much as ALAMAT does from Filipino folk culture, the group constantly treads the line between appreciation and appropriation – but they haven't crossed it. Their music feel like a celebration, not an exploitation, of Filipino-ness – and it can be owed to the earnestness with which the boys take on each song.
Mo admitted that even they weren't very familiar with their own hometown's culture to begin with, but they get guidance from Jason and also make sure to do their research.
Tomas added that they also make sure to ask locals whenever they borrow elements from a certain culture. For instance, their track "ILY ILY," which tells the story of OFW families, borrows a verse from a Hiligaynon lullaby where a baby is lulled to sleep while their mother is not home. 
As Tomas shared, when they were working on the song, they spoke to Hiligaynons themselves for more context.
"Ayaw po namin na may malabag. Kasi yung mga culture po, may mga rules din sila, so inaaral din po namin yun kasi ayaw namin na madisrespect yung culture (We don't want to violate anything. Because cultures have rules, so we study them because we don't want to disrespect the culture)," Tomas explained.
Ultimately, the group is proud to be doing what they're doing, especially as Filipinos are inundated with foreign media.
"Super nakakaproud po, lalo na po ngayon na parang mas inclined tayo sa mga foreign influences, and we don't usually get to hear our own culture and our own language. Napaka-wide po nito and napaka-beautiful. Now that we are able to represent it, we are super proud," Jao said.
(It makes us really proud, especially now that we seem to be more inclined towards foreign influences and we don't usually get to hear our own culture and our own language. [Our culture] is so wide and so beautiful. Now that we are able to represent it, we are super proud.) – Rappler.com