The band is poised to release their sophomore album 'Pebble House Vol. 1 Kuwaderno' on August 29
At this point, who doesn't know Ben&Ben? Whether you're a member of their dedicated fandom, or just a casual listener, chances are you will have heard at least one of their songs.
It is no surprise that Filipinos have taken so easily to this band. There is hardly any edge or angst to Ben&Ben's music. Their catalog is largely a wholesome affair, made up of the kind of songs you would play on a long drive, a rainy day, or any other moment that invites introspection.
Perhaps crucial to their success as an OPM band is their unapologetic sentimentality, their proclivity toward love songs.
From a song about looking forward to coming home to someone at the end of a journey (2016's "Ride Home"), to a song about wanting to press pause on a particularly tender moment with a lover (2017's "Maybe The Night") to a track about a love that could have been but never was, (2020's "Lifetime"), the band has managed to capture love and desire in all its iterations. It might be that no other band in recent years has written so much about longing.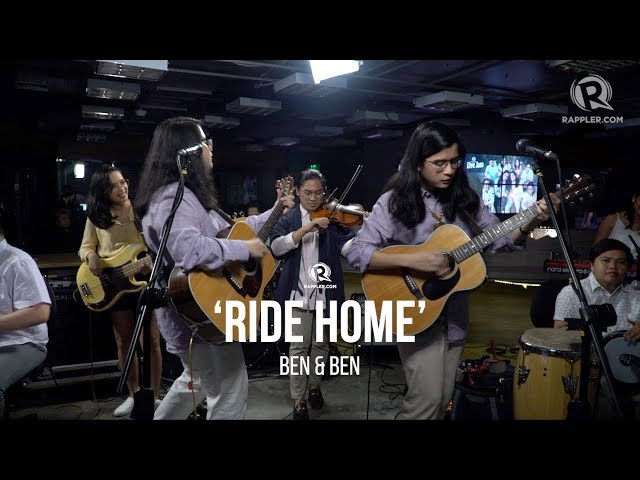 By now, the band is about to release their second album, and between their singles, music videos, and collab announcements, listeners are considerably hyped for what's to come, the next chapter for a band that only started playing together four years ago.
The Benjamins
Before Ben&Ben became Ben&Ben, they were The Benjamins, with twins Paolo and Miguel Guico sharing vocals and guitar duties, and Paolo also playing the keys.
Like many musically-inclined high school students in the 2000s, the twins would "jam" with their friends after classes and perform in amateur band competitions. That might have been as far as their music career had gone – they ended up pursuing engineering in college – but as chance would have it, they saw an ad for Elements Music Camp on Facebook and decided to join.
Their education at Elements soon bore fruit. In 2016, The Benjamins won 2nd runner-up and Best Music Video at the PhilPop Music Festival with the song "Tinatangi," which was performed by OPM legends Bayang Barrios and Cooky Chua.
Even as The Benjamins, Paolo and Miguel were already including all the elements Ben&Ben would become loved for: earnest lyrics, layered arrangements, soothing vocals, and even the background clapping that would reappear on many of their later releases.
Floppy-haired and still fresh from their PhilPop success, Paolo and Miguel launched their self-titled debut EP, changing their name from The Benjamins to Ben&Ben.
Expanding
It was only after they launched their EP that they expanded to become the band that people know today.
"It all started when we were recording our recently-released EP last December. And then once we finished the record, tinanong namin, so paano natin to gagawin ng live? Kasi sobrang dami naming pinatong na layers (we asked, how are we going to do this live? Because we added so many layers)," Miguel shared in an interview on Rappler Live Jam in August 2017.
"And it just so happened that we knew all these wonderful friends and musicians, and we all asked them if they would be game to play with us during our EP launch…as the months went by, we decided…naging clingy lang (we got clingy)…eventually, it got to a point na sabi namin, eh di maging banda na lang tayo (that we just said, let's just be a band)," he said.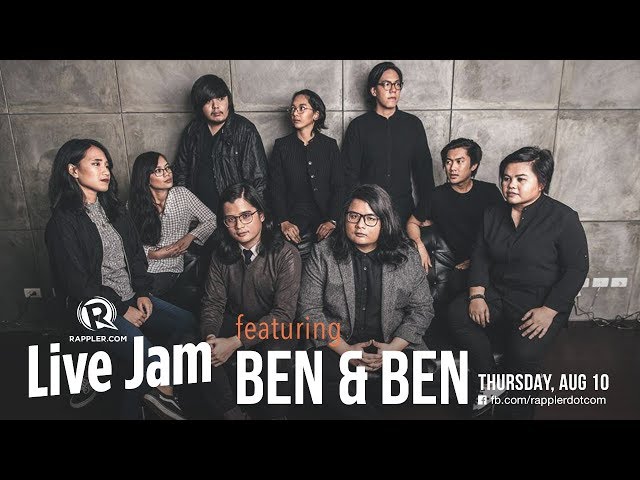 At that point Ben&Ben became Paolo, Miguel, Poch Barretto on guitars, Jam Villanueva on drums, Agnes Reoma on bass, Pat Lasaten on keys, Andrew de Pano and Toni Muñoz on percussions, and Keifer Cabugao on violin.
Making it in the mainstream
As a nine-piece band, the group quickly shot to commercial success. They already had the sound down pat; all they needed was to get people to listen – and thanks to a few choice opportunities, marketing savvy, and their relentless songwriting, people soon did.
In September 2017, they performed in Singapore's Music Matters festival, and regional ears perked up to the sound of this interesting new Filipino band. In October 2018, the band was featured in Coke Studio – a great gig for any artist, but especially up-and-comers.
They seemed to play all their cards right. By the time they released their debut album Limasawa Street in May 2019, the group already held the attention of the music industry and scores of listeners around the world.
In the same year, they took Limasawa Street on a nationwide tour, appeared in their first film LSS, performed at Clockenflap in Singapore, and also took the stage at the National Geographic Asia Explorer Festival in Singapore, where they were also named anti-plastic waste ambassadors.
As if to cement their mainstream fame, they appeared on ABS-CBN shows like It's Showtime and Tonight With Boy Abunda, and became endorsers for several big brands.
In 2020, they were meant to perform at the SXSW music festival in Austin, Texas – in what would have been the band's US debut – but of course, the pandemic happened.
The cancellation of that huge gig didn't get in the way of the band's success though, and as the pandemic raged on, they continued to find ways to make music, even if they were all stuck in their homes. In April 2020, they also peaked at #29 on Billboard's Social 50 chart – an international music chart that ranks artists based on their popularity on social networking sites around the world.
Through all that, Ben&Ben has managed to retain the same sincerity and joy that they exuded at the start of their career – though it seems they are much more comfortable in the spotlight these days.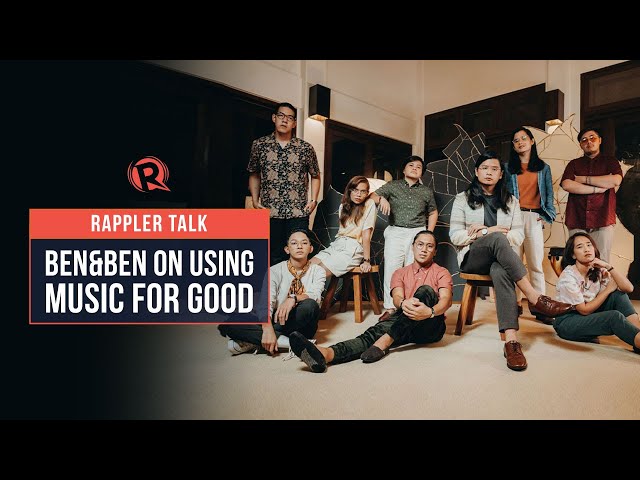 The band constantly connects with their fans, and have even given the fandom a name – Liwanag (Light). They've even written a song based on a fan's sad love story. They share their snippets of their life on social media and on their YouTube channel, and even let fans into the home they now share by the sea.
The band made the move in July 2020, in the middle of the pandemic, and it turned out to be another card played right. Being near each other made it easier for them to collaborate and keep making music.
In the months since they moved, the band continued to release songs that quickly racked up the streams on Spotify, including a re-recording of their song "Leaves" done with Young K of K-pop band Day6, and "MAPA," a collaboration with P-pop sensations SB19.
They've also been releasing singles from their upcoming sophomore album: "Upuan," "Magpahinga," "Pasalubong," and "Sugat."
The album, Pebble House Vol. 1 Kuwaderno, is undeniably a product of finding home together – though they've also invited a number of heavy-hitting collaborators to feature on some of the tracks – Chito Miranda, KZ Tandingan, and SB19, to name a few.
With the album slated for release on August 29, it seems like the perfect time for the band to pause, take a break, and bask in their success – but if their history is anything to go by, Ben&Ben will keep on creating, and the music scene will be all the better for it. – Rappler.com