What are Megan's chances of winning the Philippines' first ever Miss World crown?
MANILA, Philippines – Monsoon rains and flash floods all over the Metro could not stop actress and celebrity Megan Young from achieving what could be the coup of her career: winning the Miss World Philippines 2013 beauty title on coronation night, August 18.
Although Megan faced a handful of tough contenders who were each strong in their own right, none of them matched Megan on coronation night. Her star shone bright inside the Grand Ballroom of Solaire Resort and Casino as it stormed outside. 
AS IT HAPPENS: Miss World Ph 2013 coronation night
Out of all the contestants, Megan's 1st Princess (first runner-up) was her biggest rival: contestant #10, Janicel Lubina, a Pinay Cinderella from Palawan. Janicel's mother, a kasambahay, and her father, a gasoline boy, could never afford much, only food on the table for her and her siblings. Poverty did not stop Janicel from achieving her dreams. She became a teen queen when she won Mutya ng Palawan 2012, followed by Miss Scuba Philippines 2012 and Slimmer's World Miss Bikini Philippines 2013. 
Girls to watch: Miss World Ph 2013
Unfortunately for Janicel, all these were not enough to overcome typhoon Megan. But most pageant observers would agree that a Janicel loss is far less painful than a Megan one: Janicel is only 18 years old and her star is still rising; Megan has an entire career at stake — losing this pageant would not have only been embarrassing but could have also affected her growth in the showbiz industry.
IN PHOTOS: Ms World Ph 2013 coronation
Besides, there is so much to gain from a Miss World Philippines (MWP)-Megan Young partnership. Megan can bring the gloss of her celebrity to the franchise, and MWP can give her that coveted "royalty status" of being a national beauty queen — a match made in heaven.
Megan's victory opens the door to a shot at the Miss World 2013 title, an honor no Filipina has ever won before.
But can Megan win it? Pageant fans have high hopes. Here's why:
1. Megan Young has the complete package — beauty, body, brains and all the good things that come with fame minus the bad attitude
On the first day of screening at SM Mall of Asia, one of the judges, Mr. World Philippines 2012 Andrew Wolff of the Philippine Volcanoes, brought up her celebrity status. Megan made it clear that she was willing to work as hard as the next girl and did not expect special treatment.
It seems like she lived up to those words, simply because MWP would never let a brattinella (slang for female brat), no matter how beautiful, win.
2. Megan is pageant-ready
With only two weeks for her to train before representing the Philippines in Jakarta, Indonesia on September 28, there is little fear she can't handle it. Megan has mastered the art of the catwalk and can pose like it's nobody's business. When she opens her mouth, her brains spill out — she's no bimbo, that's for sure.
During the Top 5 question-and-answer at MWP 2013, the question asked was, "Why do you want to be Miss World Philippines?"
In a slightly tremorous but firm voice, Megan answered, "A Miss World Philippines is selfless, and to be selfless, you need the heart. If I become Miss World Philippines, I will pour my heart and my soul into helping others which is what Miss World is: beauty in giving."
Even with all the aforementioned assets, Megan will face a tough challenge in Miss World 2013.
First, there is pressure to match or outdo what fellow celebrity Ruffa Gutierrez did when she competed in Miss World 1993 and placed second runner-up (2nd Princess)

Second, it'll be a game of thrones with 133 other queens from all over the world competing for the crown. While that might sound insurmountable, Filipino pageant observers seem unanimous in giving their vote of confidence to Megan and believing that she's the one. 
But who is in Megan's way? There are more than a handful of favorites:
1. Elena Ibarbia Jimenez of Spain
Elena seems to be in the list of most Miss World followers. This brunette doll has a Katherine Heigl vibe going on. She fits the Miss World "beauty with a purpose" mold with her charity work involving senior citizens.
2. Sancler Frantz Konzen of Brazil
The dark blonde bombshell has joined and won more pageants than you would care to know. Sancler is also a professional model and journalist.
3. Michiko Tanaka of Japan
Feminine and sweet, this Japanese beauty is an early favorite among pageant fans. She studied Architecture and plays the harp.
4. Modong Manuela Mogga of South Sudan
Manuela is the most elegant among the African queens in Miss World 2013. Her serene smile and coffee-colored skin are her best assets.
5. Navneet Kaur Dhillon of India
This charmer is a media student who could easily make it into Bollywood, which happens to be her next target after Miss World 2013.
6. Tamar Shedania of Georgia
Tamar is an eye-catching 5'10" ash blonde model. She has modeled for big brands like Chanel, Dior, Prada, Calvin Klein, Armani,  Dolce & Gabana, Versace, Escada, Fendi, Hugo Boss, Yves Saint Laurent and many more.
7. Karen Soto of Venezuela
Venezuela never fails to send a stunner. Karen is a dark-haired 5'10" fashion model and Communications student.
8. Carranzar Naa Okailey Shooter of Ghana
Will Carranzar shoot past her competitors to win? The 22-year-old medical student has a bright smile that might just be worth the crown.
9. Anna Zaiachkivska of Ukraine 
Anna is 5'11" with the face of an angel. Speaking of angels, she is a Religious Art student who writes poetry and dabbles in theater.
10. Erin Holland of Australia
Erin is an opera singer who trained at the Sydney Conservatorium. After graduating with a degree in Music Performance in Voice, this blonde babe got into modeling.
With all these purposeful beauties in the running, Megan Young has stiff competition. But from what we've seen so far, she's got the looks, the goods and the moves to pull it off and give the Philippines its first-ever Miss World title.
About Megan
Megan Young is a Fil-American born on February 27, 1990 in Alexandria, Virginia, USA. She first entered Philippine showbiz via GMA 7's "Starstruck Season 2" then joined rival station ABS-CBN's "Pinoy Big Brother Celebrity Edition 2."
Megan was also part of Star Magic Circle Batch 13, and was one of 4 VJs chosen in the re-launch of Channel V in 2009. Megan is also an actress, having starred in several tele-novelas, most recently "Misibis Bay" where she plays a young socialite.
In early 2013, Megan tried joining Bb Pilipinas but was turned away due to a photo spread. Months later, she tried out for Miss World Philippines 2013, passed the screening and won the crown.
Megan is now set to compete in Miss World 2013 in Jakarta, Indonesia representing the Philippines. The coronation night is on September 28. 
Good luck to the MWP team and our girl, Megan Young! – With reports from Lex Librea, Raymond Golez and Ronald Villamor/Rappler.com
You can also read: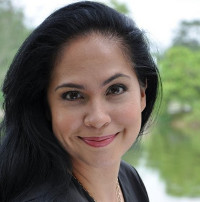 Joyce Burton-Titular is a Filipina beauty queen with two Binibining Pilipinas titles: Miss Young Philippines 1980 and Binibining Pilipinas-Universe 1985. She currently keeps a beauty queen blog calledAdventures of a Beauty Queen.
Joyce has more than a decade of experience as a news presenter. Her main work today is voicing — hers is the voice that reminds you to fasten your seatbelt and turn off your cellular phone when you fly Cebu Pacific.
Joyce is a mother of two, wife of one and the slave of 7 dogs and 7 cats.