' It was a long journey getting here,' says the new Miss Universe Philippines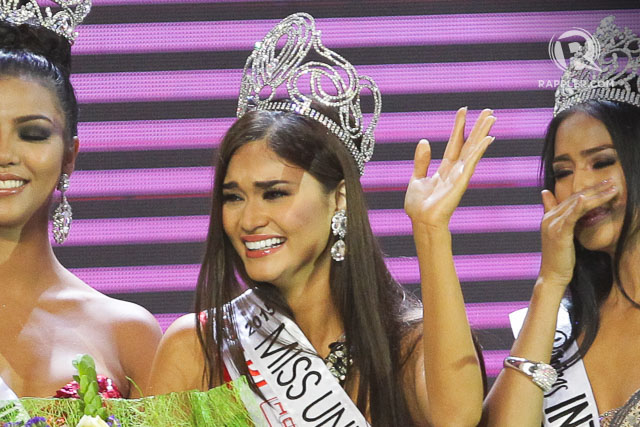 MANILA, Philippines – Newly crowned Miss Universe Philippines Pia Wurtzbach said she plans to make the most out of her reign, after a long journey to getting the crown. (IN PHOTOS: Pia Wurtzbach's 3-year Bb Pilipinas journey)
In an interview with ABS-CBN right after the coronation night, Sunday, March 15, Pia said she took her new role very seriously. 
"I'm very happy, obviously. I'm super excited. I always said that when I win, I'm going to be the busiest queen because I'm going to make the most out of the year, my reign. I was first runner-up in 2013 and I didn't make it last year. Now, I finally did. It was a long journey getting here. I'm not going to waste this," Pia said. (IN PHOTOS: Pia Wurtzbach's 3-year Bb Pilipinas journey)
Pia won the crown on her third try, after failing to place in 2014, and placing first runner-up in 2013. 
She added: "I always said to myself that after this, I'm going to have a celebratory meal, but it looks like that's not going to happen. I have to start training as soon as possible and I'm really excited."
Pia also encouraged those who have dreams never to give up on them , saying things will fall into place at the right time.
Hours after being crowned as Miss Universe Philippines, Pia posted her first selfie.
"Dreams do come true! In God's perfect timing!  #BbPilipinas2015 my first selfie as Miss Universe Philippines! " Pia captioned.
Emotional victory, preps for the big night
Prior to winning, this year's batch of Bb Pilipinas winners said that they made sure to emotionally prepare by talking to family and friends on the phone, and through prayer before the big night.
Janicel Lubina, who was crowned Bb. Pilipinas International 2015, said she was very happy to have received a video message from friends and family.  
"I can attest to that kasi roommate ko si Janicel (Janicel is my roommate). She was on the phone in tears – tears of joy because it was a video that her friends and family sent her. Ako naman nasa (Meanwhile I was in) bed, praying the rosary, I was crying also so that room was filled with tears last night," Pia said.
"But I think you have to let it out para pagising mo (when you wake up) the next day ready ka na. Sobrang (Really) happy."
Bb. Pilipinas Intercontinental 2015 Christi McGarry said she talked to her family and friends and even sent out messages to her pageant mentors.
"I was very anxious, talking to some of my relatives, friends and I checked my Facebook. I wanted to thank and congratulate the other ladies, mentors for the outcome, because I wasn't sure what was next that was going to happen and [on] about an half an hour of sleep," Christi said.
Bb. Pilipinas Tourism Ann Colis meanwhile said: "I think I only got about two hours of sleep. [I was] nervous, anxious, and I was calling my mom at the same time."
Along with Bb. Pilipinas Supranational Rogelie Catacutan, the ladies will represent the country in the upcoming international pageants, details of which will be announced soon.
The pageant was hosted by Xian Lim and Toni Gonzaga, with Venus Raj, Shamcey Supsup-Lee and Ariella Arida serving as co-hosts of the show. – Rappler.com
Follow Rappler for more on Bb Pilipinas 2015:
Pia Wurtzbach:
Coronation night:
Predictions: 
Leading up to coronation night:
Get to know the ladies:
Read more: