Ruben Nepales visits the set in Cardiff (before the pandemic) and immerses in the world of Cittàgazze
Back in early March, before the really dark world of the coronavirus pandemic surged, I was in the fantasy parallel world of His Dark Materials in Cardiff, Wales.
Jane Tranter, the executive producer of HBO and BBC's adaptation of Philip Pullman's epic fantasy trilogy, welcomed us, a group of journalists, to His Dark Materials' world of six huge sound stages at the Bad Wolf Studios.
"One of the things about His Dark Materials is that it's not made in a traditional way," said Jane, whose sterling credits include Succession and The Night Of. "It isn't made with a traditional show runner. That's in part based on the texture of the books by Philip Pullman."
"So we work in a slightly different way but post-production on His Dark Materials is absolutely huge. These are really complex stories and narratives to wrestle to the ground."
Jane, who showed us a footage of the series' season two, added, "His Dark Materials is one of the biggest fantasy pieces on television, outside of Game of Thrones. We've given you a glimpse of season two. We can't show you very much for season two because it's still in editorial. We're not picture locked on anything, yet alone put up a piece of VFX or anything other than a piece of music."
Asked how many more production days they have to go in Cardiff, Jane laughed as she quipped, "Twenty trillion?" Then she said, "About 130. We still have one episode left to film. The sets in the studio that you will be visiting are all the sets in the main that we are using for episode four of season two."
(Shortly after our set visit, the production was forced to shut down because of the coronavirus pandemic. Several members of the production staff fell ill with COVID-19. Filming resumed in September with strict health safety protocols. But plans for an additional standalone episode had to be ditched.)
"It is an interesting episode. It is a piece of work that is new to His Dark Materials cannon, that we have done with the blessing of Philip Pullman, which fills in a small gap (in the story)."
Our lunch break, with puppeteers working on the show providing the entertainment, was right on the set of this episode set in Cittàgazze, which was convincingly detailed. It was like being instantly transported from Wales to a place blending Spain and Portugal. We walked through Cittàgazze, an entire town built over almost six months, complete with winding cobblestoned streets, houses (some with working ovens) and shops.
Ruth Wilson, who plays the menacing Mrs. Coulter, enthusiastically agreed about the spectacular sets. "It's amazing. Having the studio that Jane has built is pretty formidable. The last time I worked in a big studio film was The Lone Ranger. The studios were the size of this and walking around, it's like, wow, this is really epic. We're making something grand, big and bold."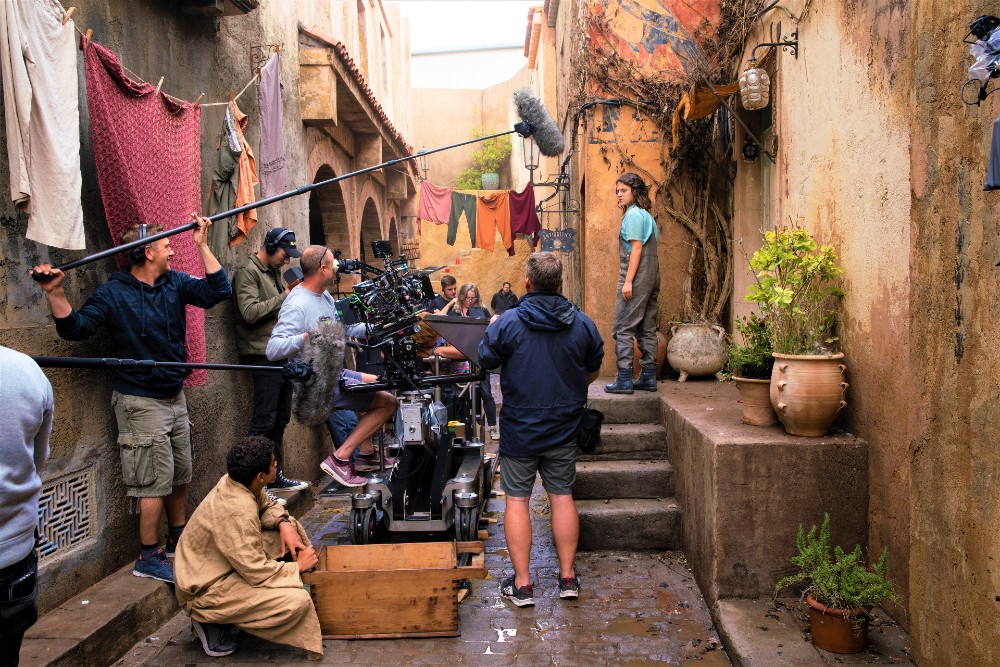 "But you always worry that with studio spaces, maybe it's going to feel a bit contained. Even if it's supposed to be outdoor scenes, it will always feel slightly like it's indoors. But it doesn't feel like that here. Because they're huge, epic stages."
"And Joel (Collins, production designer), what he does with those sets! Last season, we had some submarines. I could have spent all day in the submarines, pressing the buttons and pulling the handles. I felt like a 12-year-old. So it does help enormously because it creates the world for you."
"It's a playground for us to all do our scenes. Every day I go on set I'm like, what's Joel done today? I'm like, oh my God, this is amazing. Cittàgazze looks amazing."
The English actress noted for her brilliant performances in Mrs. Wilson, The Affair, Luther and Jane Eyre, among others, admitted her apprehension in acting in a fantasy series like His Dark Materials, where daemons, physical manifestations – in the form of animals – of the characters' souls, lurk.
"There was one thing I was really scared about," confessed Ruth, who wore a floor-length green corduroy dress for this set interview. "I'd never done fantasy before. The idea of working with a tennis ball kind of scared me. I remember early on, when we were workshopping the piece and trying to work out how we're going to shoot these daemons."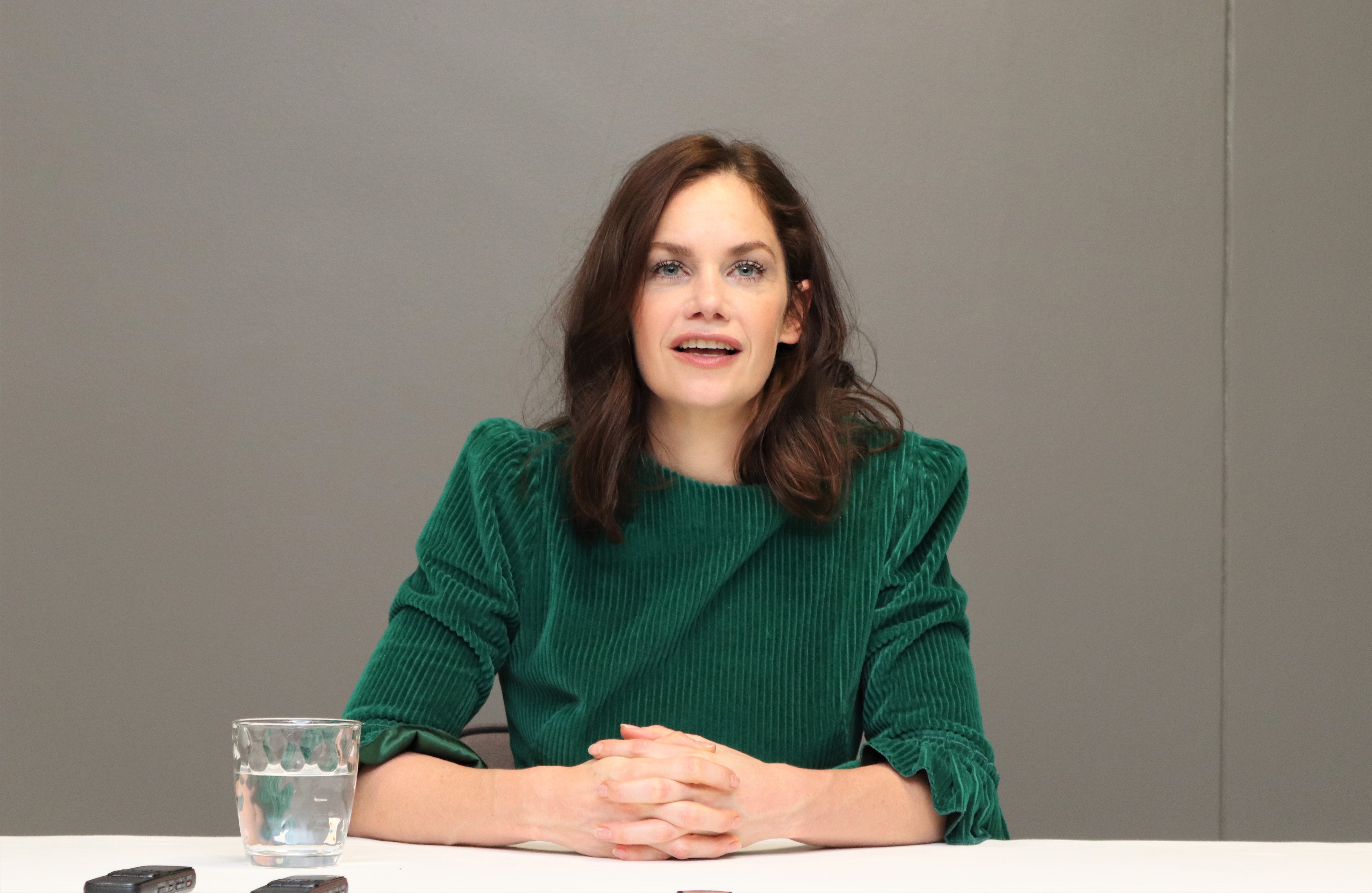 "At that stage, we decided to bring in puppeteers. I was so grateful because it's a living, breathing thing that you're working with. It's a real relationship. For me, it's the key to who Mrs. Coulter is. So I was really glad that they brought in these puppeteers."
"Brian Fisher is puppeteering my monkey. I am like, that's the key to the relationship. I've got to meet up with him and we're going to work out the psychology because that is me. Throughout the journey of the three books, you see her at the beginning hitting her daemon – hitting herself in other words."
"So I knew that I had to work that through the three seasons of the show. With Brian, we can have a collaboration on set doing that. And it's joyful working with him."
"Every scene, we're like, so what are we going to do? Where are you going to be? How am I going to interact with you? In the first season, that's what we really developed. They've written more of that into the second season."
Ruth elaborated on what viewers will expect from her wicked Mrs. Wilson in the sophomore season of the surreal fantasy series which also stars Dafne Keen (compelling as Lyra), Amir Wilson (Will), Lin-Manuel Miranda (Lee), James McAvoy (Lord Asriel) and Kit Connor (Pantalaimon).
"In the adaptation and the TV show, we've put Mrs. Coulter in every episode but it meant stretching her story and exploring sides of her that the book doesn't," Ruth began. "Philip Pullman gave us license to do that. So, with Jack Thorne and Francesca Gardiner, who also wrote on the second season, we explored."
"The origins of why Mrs. Coulter might be who she is or why she acts in the way she does, the compromises that she's made to get to where she is, and a woman being in a man's world – we explore lots of those themes in the second season, which helps pad out who she is and why."
"We feel out the first season. It's like Lyra enters her (Mrs. Coulter's) world and that's the huge turning point right at the beginning of the show. It kind of screws up her (Mrs. Coulter's) control. We have to see her get to a real peak of destruction and what she does by the end of season two is pretty horrific. So that by season three, we can redeem her but you have to sort of push her further in season two."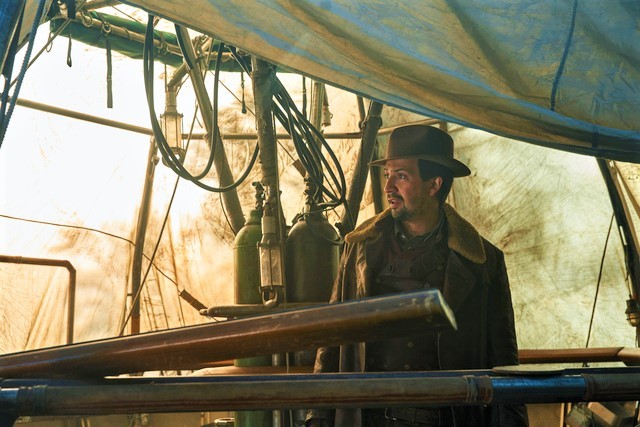 "You see her do even more horrific things in season two in pursuit of her child and the pursuit of control in some way. So season two is really fun. And you see me not with Lyra much. You see me with other characters."
"It's not that hard," Ruth chuckled when asked if it's tough to be cruel as Mrs. Coulter to Dafne's Lyra and other characters. "No, it's quite fun. That's the joy of being an actor. You get to do all the things you're not really allowed to do. We all know we're playing. I'm playing at being bad and Dafne's an amazing actor. She puts up with it, stands up to it."
"That's what's great about this dynamic between the two of them. They have this girl who I can't defeat. She can't be manipulated by me. She manipulates me actually in return. That's really fun to play."
"What I love about this character is that she is essentially an evil character and pitched as that. The things she does are pretty horrific. But it's always my job to try and find humanity in there, to see why she might be like that and understand who this woman is."
"In the second season, we dig into that a bit more. By third, you see her sort of start to love herself more and therefore, become a better person. You'll see her getting hopefully warmer and nicer as the show goes on. But she does a few horrible things in between. But no, I enjoy it. It's fun to be bad."
Just watch what Mrs. Coulter can do with a seemingly harmless pair of tweezers. You'll never look at tweezers the same way again. – Rappler.com