The two 'channeled all [their] adoration and love for each other through Ross and Rachel,' says Jennifer Aniston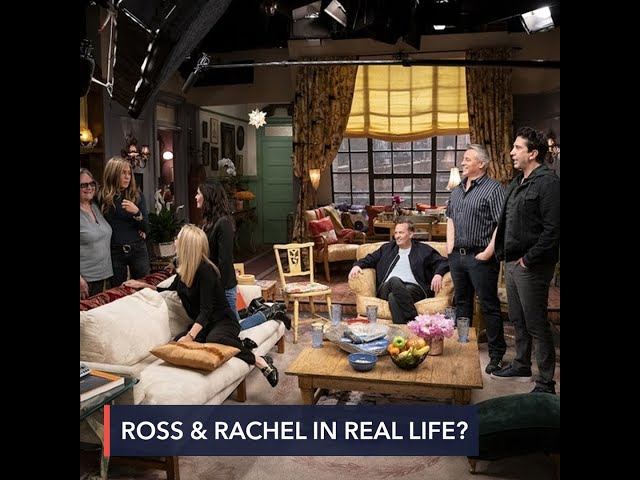 Actors Jennifer Aniston and David Schwimmer, to the surprise of even their biggest fans (but not their castmates), opened up about having crushes on each other in the early years of Friends.
Jennifer played Rachel Greene while David played Ross Geller in the iconic series. The two opened up about the early years of the celebrated series during Friends: The Reunion, a special featuring the entire cast of the hit '90s show.
The two, answering moderator James Corden's question about off-camera romances, said nothing came of it, because one of them always happened to be in a relationship when the other happened to be single.
David described it as "two ships passing."
The two found a way around it though and, in Jennifer's words, they "channeled all our adoration and love for each other through Ross and Rachel."
In an on-set conversation with the entire cast, David wondered: "How did everyone not know we were crushing on each other?" But the rest of the cast quickly pointed out that they did, in fact, know.
"It was a situation that we couldn't do anything about," added David. Courtney Cox, who played Ross's sister Monica, said it was a good thing nothing happened of their mutual crush on each other, since a failed relationship might have affected the cast's rapport.
"I remember saying one time to David if it's gonna be a bummer if the first time you and I actually kiss is on national television," said Jennifer.
They did, in fact, share their first kiss on national television as Ross and Rachel – a scene which the two actors reenacted in a table read.
In later seasons, Ross and Rachel become parents to their child, Emma. In the season finale, the two characters admit that they do love each other. Answering a question on how their characters would have aged, Jennifer surmised that Ross and Rachel would end up marrying, have more kids together, and that Ross would still be "playing with bones" (he's a paleontologist).
Friends premiered in 1994 and starred Jennifer, David, Courteney, Lisa Kudrow, Matt LeBlanc, and Matthew Perry. It went on to run for 10 seasons, several of which it was the top-rating comedy series on TV.
It was created by David Crane, Marta Kauffman, and Kevin S. Bright who also joined the reunion special.
The special can be watched in the Philippines via streaming on HBO Go and on TV via HBO. – Rappler.com