This is AI generated summarization, which may have errors. For context, always refer to the full article.
Ehrlich Ocampo stuns the judges with his unique 'leviwand' performance
Filipino performer Ehrlich Ocampo is advancing to the next round of reality talent competition America's Got Talent after he wowed the judges with his leviwand performance.
According to the Leviwand Dance website, leviwand is an "object manipulation discipline where the practitioner controls a seemingly floating stick." In Ocampo's audition clip, he is seen dancing with a "floating" baton and hula hoop.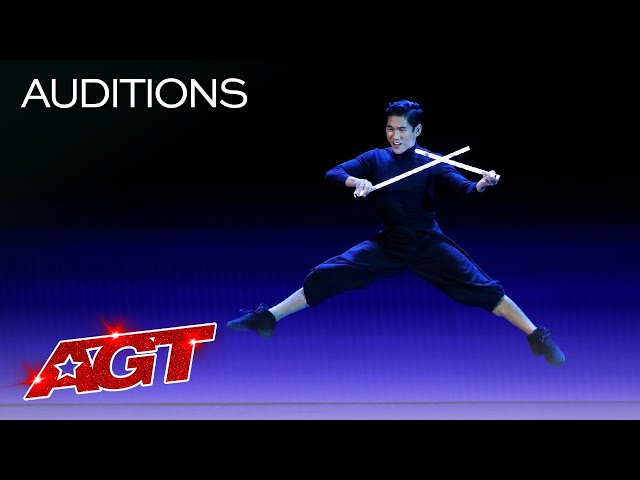 Ocampo's performance earned him a standing ovation from the audience and four yeses from the judges. Sofia Vergara said, "That was so much fun, beautiful. It was flawless. That was very special and it was different from anything I've ever seen."
"That is an art form that I don't think we've seen and I've been here for a long time. That was beautiful. I love it, thank you for being here," Howie Mandel said. 
Heidi Klum said that the performance was "very unique" and praised Ocampo for his skills. "You are mesmerizing to watch because we kind of wonder how you do it. And you move so beautifully and elegant." Ocampo then confessed that he's a fan of Klum, to which the supermodel replied: "I'm yours now."
Simon Cowell also agreed with his fellow judges that Ocampo's act was something they haven't seen before. "I think the fact that you've got the guts to do what you've done means in life, you're gonna do amazing. All the hours that went into this paid off. Fantastic. Well done!"
In a Facebook post on Wednesday, July 14, Ocampo expressed his happiness. "Up, up, up in the air! Literally levitating with leviwand joy onstage at America's Got Talent. I will never forget the thunderous applause of the audience, the faces of the judges Simon Cowell, Howie Mandel, Heidi Klum, Sofia Vergara, and the host Terry Crews," he wrote. 
Prior to his performance, Ocampo revealed that he only arrived in the USA nine days before auditioning for America's Got Talent. "I gave up everything to pursue my performing," he shared. 
"People thought I was crazy. I didn't think I'd make it here. But my friends and family, they supported me and they inspired me to fight. I am here fighting for myself, my family, my friends, my community, my country," Ocampo said.
America's Got Talent is a US-based talent show competition, created by Cowell in 2005. It is currently airing its 16th season. – Rappler.com