Hundreds of families affected by the planned construction of the New Manila International Airport are now scattered and coping in different parts of Luzon and the Visayas
Less than a month since the filing of a writ of kalikasan plea, the Supreme Court (SC) junked the petition of Bulakan, Bulacan fisherfolk and civil society groups against the construction of the New Manila International Airport (NMIA).
On January 5, the SC unanimously dismissed the 95-page petition for a writ of kalikasan – a legal remedy protecting the constitutional right to a balanced and healthful ecology – for being insufficient in form and substance.
The groups filed the petition last December 15, 2020, amid the coronavirus pandemic that has put a heavy burden on fisherfolk who were recently displaced to give way to the airport project.
"Fisherfolks in Taliptip have disclosed that San Miguel Corporation's personnel have been pressuring them to self-demolish starting December 2019 and which continued even during the pandemic despite the Department of [the] Interior and Local Government (DILG) issuance of a memo stopping demolition during the health crisis," the petition read.
A few days before the national government first declared the Luzon-wide coronavirus lockdown, Seraphina Ramos* was preparing to leave Sitio Dapdap, one of the fisherfolk communities in Barangay Taliptip in Bulakan, Bulacan.
Ramos had just demolished her home but was unable to get her relocation dues immediately because of the pandemic restrictions last March. For 3 months, she was left without resources and was in deep debt – all while adjusting to the rigid demands of city life.
Ramos, who fought to keep her home for more than a year, isn't alone. Fellow residents across the 7 affected sitios – Dapdap, Bunotan, Camansi, Capiz, Capol, Kinse, and Pariahan – already moved out of their coastal homes during the pandemic. Many of these displacements took place during the quarantine season, when residents have little to no options to survive the ongoing crisis.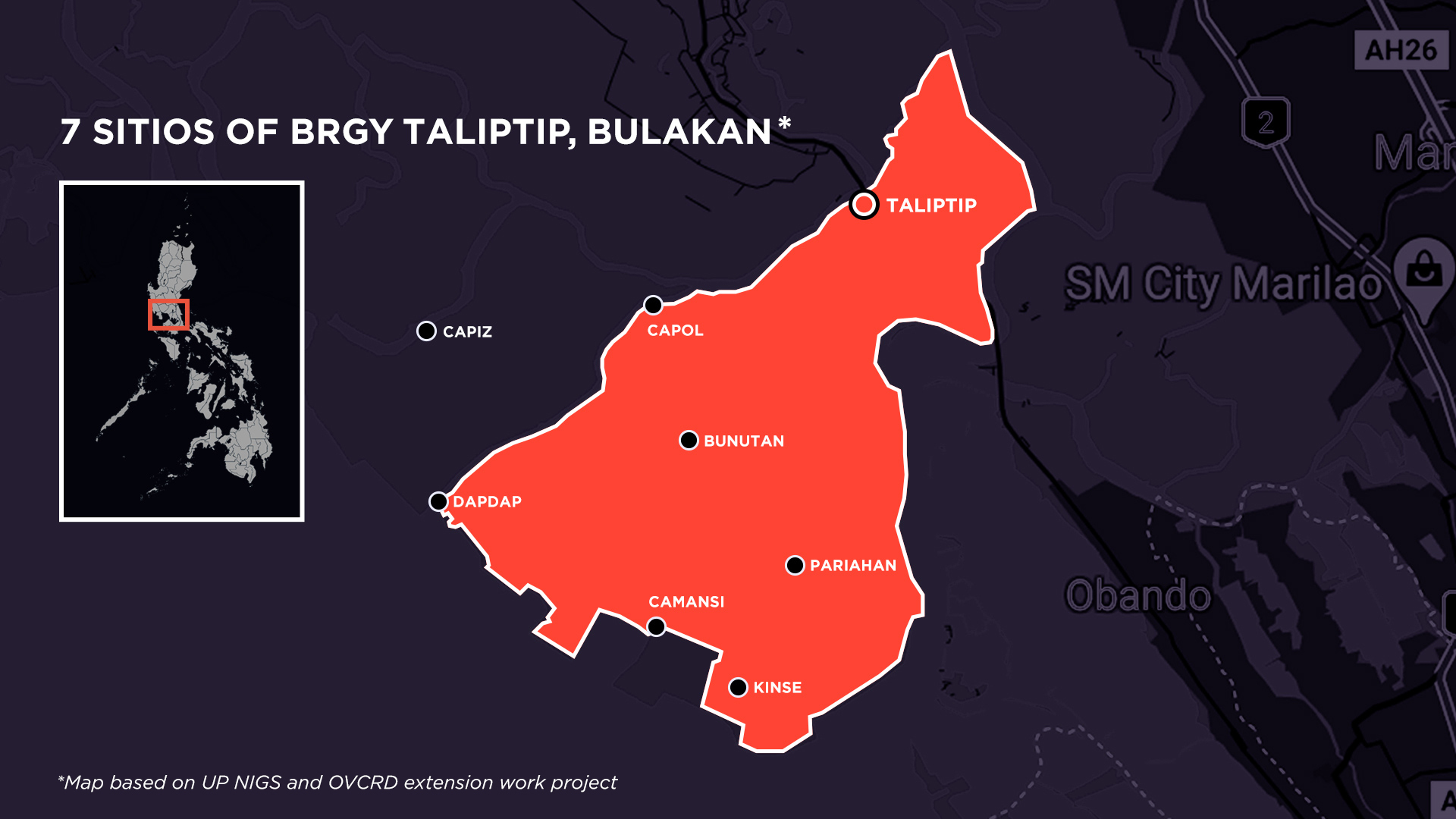 Today, hundreds of these displaced families are scattered and coping in different parts of Luzon and the Visayas. Adaptive yet struggling with the transitions, former Taliptip residents are clinging to San Miguel Corporation's (SMC) promise that its pioneer aerotropolis venture would eventually make jobs available for the communities.
Preparing for flight
In September 2016, San Miguel Holdings Corporation (SMHC), the infrastructure unit of the Philippines' largest conglomerate, SMC, submitted an unsolicited proposal to the Department of Transportation (DOTr). At the center of this project is the P740-billion NMIA, touted to be the most modern in Southeast Asia and one of the world's largest airports.
The public-private partnership gained ground in April 2018 after the National Economic and Development Authority gave its nod to the infrastructure project. In August 2019, the DOTr formally issued a notice of award to SMHC to build and operate the Bulacan airport. A month later, a concession deal was also signed between San Miguel Aerocity Inc – a company specially organized by SMHC to undertake the project – and the DOTr, granting the conglomerate a 50-year period to run the privately-funded airport.
During the signing, SMC president and chief operating officer Ramon Ang called the project a "game-changer" that would catalyze increased business opportunities and an improved life for Filipinos. He also assured communities that would be affected by the venture that there would be land, housing, and livelihood for them.
In several reports, officials said the construction of the NMIA will address the Ninoy Aquino International Airport's (NAIA) congestion problem. The project also aims to boost the country's economy by generating more employment, promoting local tourism, and providing a world-class travel experience for Filipinos, especially as the Philippines faces a recession – the worst economic performance recorded since 1981, according to the Philippine Statistics Authority.
Targeted to be completed within 5 years from the start of its construction, the international airport will feature 4 parallel runways, 8 taxiways, and 3 passenger terminals with an annual capacity of at least 100 million – approximately thrice NAIA's current design capacity.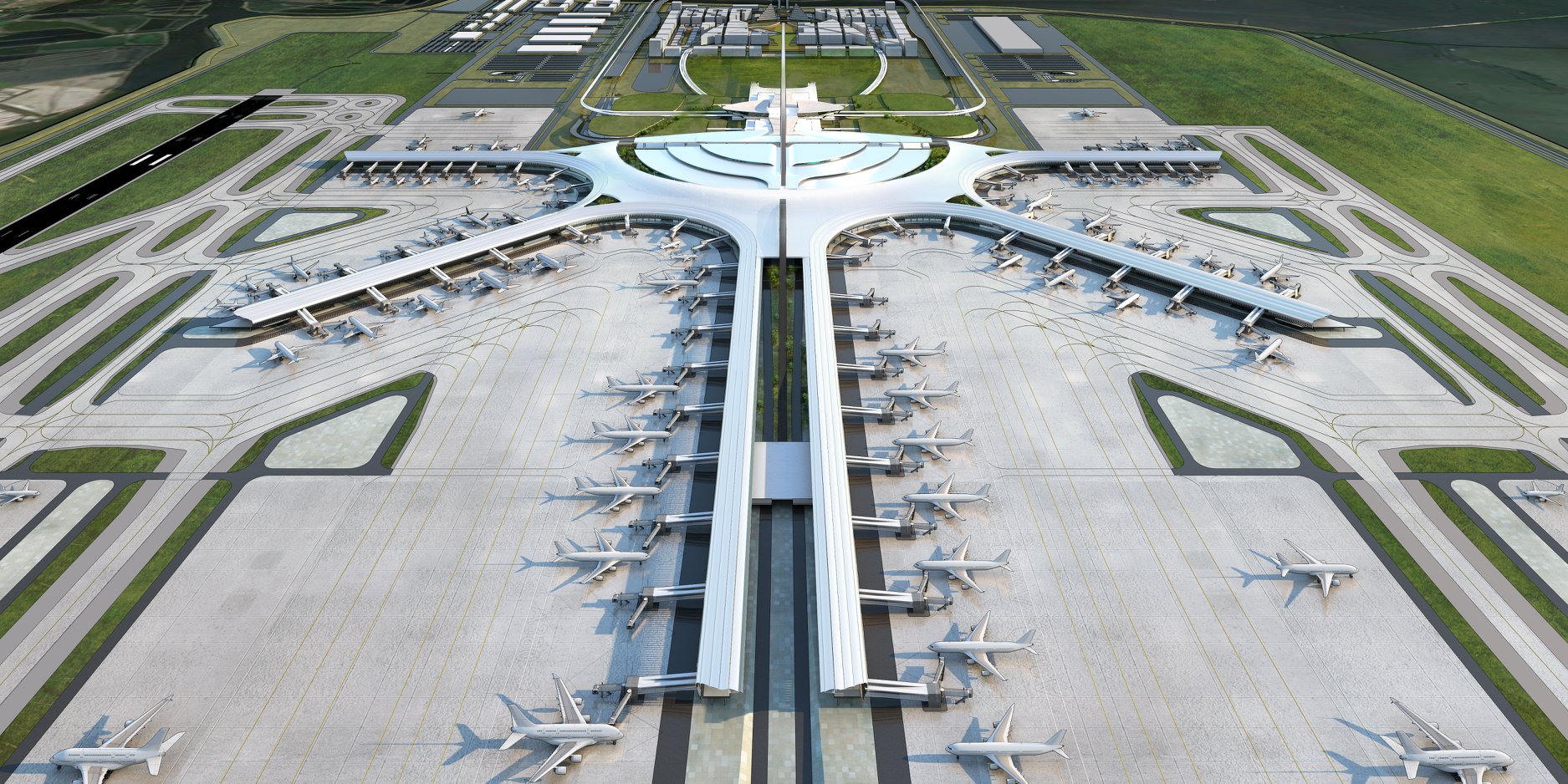 The aerotropolis project, however, has been heavily criticized by fisherfolk communities, environmental groups, and scientists as studies show it will reclaim around 2,500 hectares of Bulacan coastal waters – a part of northern Manila Bay that is home to critical biodiversity and at least 700 families.
Leaving homes behind
Before her life in Taliptip, Ramos worked as a farmer and a sari-sari store vendor in her remote hometown in Negros Oriental. But due to lack of opportunities for a better life in the province, she decided to migrate to Sitio Pariahan with her late husband, 3 children, and 6 siblings in 1986. Their family, which eventually moved to Sitio Dapdap, has almost doubled in number prior to displacement.
Ramos' brother-in-law, a local of the sitio, persuaded them to live there by listing down the kinds of livelihood available in the coastal area, such as catching crabs and shrimps (pangangapa), caring for fishponds (palaisdaan), and working in the salt beds (asinan).
This is a common origin tale of former residents of the familial sitios. Whether born and raised in the coastal village or a migrant from nearby and far-flung regions, they chose to make Taliptip their home for the work prospects and the quality of life it offers.
Residents would only need to buy rice and oil to prepare meals, as fresh food was easily accessible. Other basic necessities such as clean air, water, and electricity were free, given that they coexisted with nature, lived by the bay, and utilized solar power for light and equipment, Ramos said.
But these are now all bittersweet memories for her since the mid-March fiasco. Pressed to accept the conglomerate's offer of compensation due to pandemic circumstances and personal reasons, Ramos described the resettlement process as quick, smart, yet demoralizing.
She claimed that residents were called by sitios and in batches to attend a "meeting" at the Bulakan evacuation center. SMC employees detailed the project's benefits and requirements to compensate those who would demolish their own houses. Within 3 days, residents complied.
Photos of their wrecked structures were either submitted by the residents or taken by SMC employees. After the demolition, residents waited to be called again to receive their compensation, which was dependent on the material and size of their houses. The minimum amount given to residents qualified for cash assistance was P250,000 for wooden (kahoy) homes. This was the amount that Ramos accepted.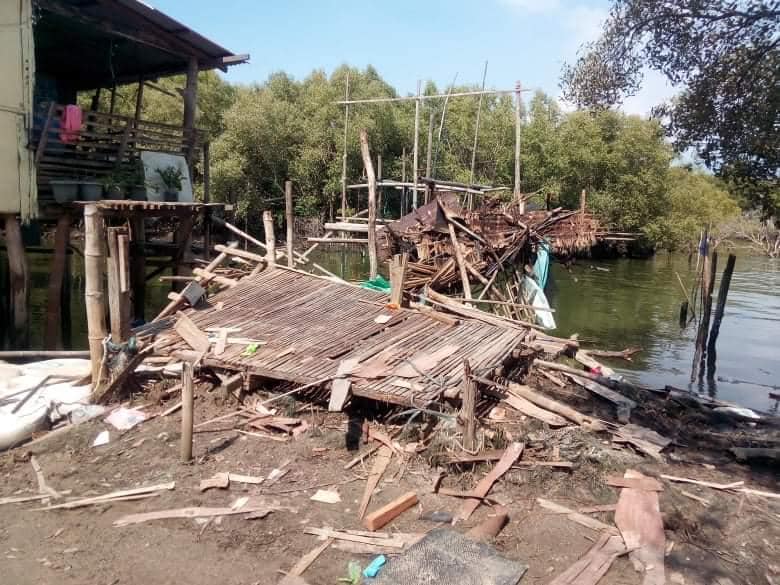 To receive their compensation, residents had to present valid identification cards and sign a "release, waiver, quitclaim" form that stated the terms of agreement.
Based on a copy of the two-page affidavit obtained and corroborated by Rappler with sources, the agreement required residents to give up their area for good, voluntarily demolish their houses, undergo screening for payment qualification, promise not to join any group or activity such as a rally that would defy the company and the project, not ask for additional compensation from SMC and the Bulakan local government, and continually support the aerotropolis venture.
Ramos' description of the sitio life and resettlement experiences was consistent with the accounts of at least 9 other former residents of Sitios Dapdap, Pariahan, and Bunotan.
Although some corroborated the quitclaim, several former residents remembered signing only a two-page document, unable to recall its contents since they can't read and write. The process of signing the papers was also swift, they recounted.
The former residents said they immediately relocated, mostly through personal efforts, after receiving their pay. They also said that the whole process – from the "meeting" to relocation – took about a week during the lockdown months of March, June, and July. It continued during the quarantine period amid the rising number of COVID-19 cases in the country, without aid from the local government.
In the DILG's memorandum circular in April, the agency directed all local government units (LGUs) to postpone demolitions and evictions during the state of national emergency.
Due to COVID-19, the national government declared a state of public health emergency in the Philippines last March 9, later on extending its validity until September 12, 2021 through Proclamation 1021.
Rappler reached out to the Bulakan LGU for an interview or a comment but the municipal government has not responded as of posting. We will update this story if, and when, they do.
By August, only 6 families remained in Sitio Kinse and in the Taliptip coastal. Most of these residents initially fought for their rights but have now conceded that they will be unable to stop the airport project due to the community situation, the pandemic, and their families' needs. They refused the monetary compensation and chose to stand by their demands for relocation. Last October 31, these families transferred to the housing prepared by SMC.
Other former residents asserted that only the last Sitio Kinse residents were provided with housing. They said this option was suddenly taken out of the equation for unstated reasons during their meeting with SMC, prompting them to just accept the cash compensation. Given the health crisis, they were afraid they would not be getting anything for resettlement.
In a written response sent by SMC to Rappler, the company said: "Informal settlers were given the option to choose either cash assistance or a new house and lot. Majority chose cash assistance. Those who opted for [a] house and lot were provided proper housing. New concrete houses were built in a subdivision with titles in the names of beneficiaries."
SMC also said there were a total of 364 beneficiaries who were identified by barangay officials and through a survey. Of this number, 277 settlers qualified for financial assistance. Each shanty house owner received P250,000, while concrete house owners got double the estimated value of their home plus P100,000. At least 87 settlers who were disqualified from the assistance were also given monetary aid.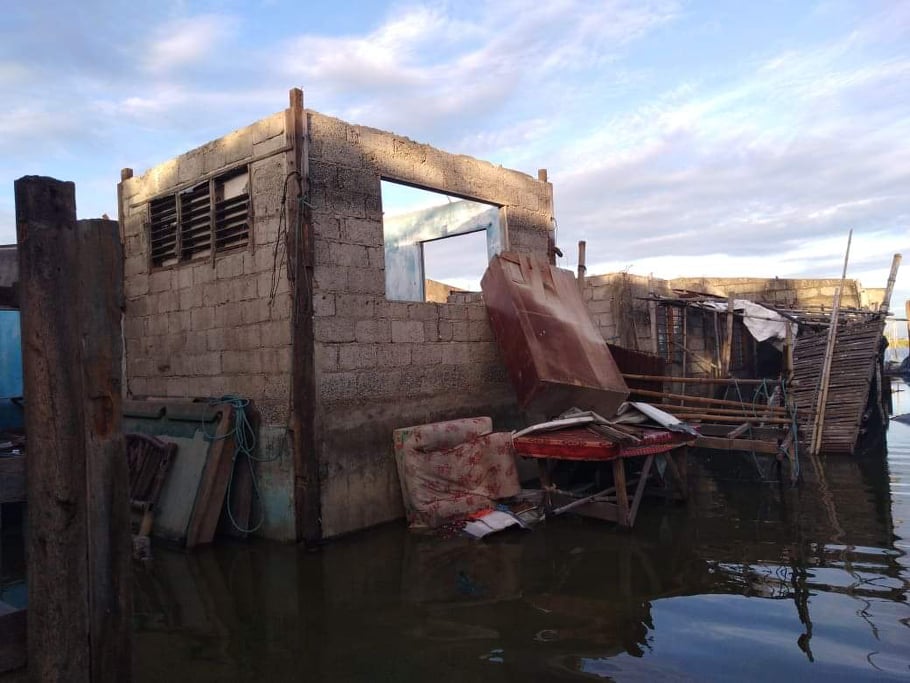 Leorae Valmonte, officer-in-charge of the Commission on Human Rights (CHR) in Central Luzon, said that amid the pandemic, their office received reports about the displacement and alleged harassment issues from various organizations.
But during the agency's initial investigation, Valmonte said the Taliptip fisherfolk didn't raise any complaints against SMC and only had praises for the company. This was a claim disputed by a former Sitio Kinse resident who said that after they expressed their concerns, CHR investigators told them their issues did not qualify as harassment and then proceeded to explain and give examples of plausible threats.
Valmonte asserted that based on their findings, no eviction took place as the residents voluntarily relocated given the attractive cash compensation that was offered.
Memories of resistance
Since 2017, the former residents were supported by Akap Ka Manila Bay or Alyansa para sa Pagtatanggol ng Kabuhayan, Paninirahan at Kalikasan sa Manila Bay, a network of fisherfolk, church clergy, and civil society organizations that came together out of concern for the massive reclamation projects adversely affecting the environment and coastal communities of Bulacan, Pampanga, and Bataan.
The group collaborated with the residents, other non-governmental organizations, scientists, and members of the academe to identify the multifaceted risks posed by the Bulacan aerotropolis.
Bulacan local and Akap Ka Manila Bay community organizer Giya Clemente, who closely interacted with the sitio residents throughout the years, said that since the start, the Taliptip fisherfolk were lukewarm to the project. This was a sentiment also shared by all the former residents whom Rappler interviewed.
Clemente observed that the Taliptip residents were divided on the issue. Some sitios were difficult to engage with, given their political affiliations with the barangay government. She also noted that economic status played a vital role in determining whether or not residents would speak out.
Residents who had a longer history with the place were less privileged, and those whose main livelihood depended on the bay – particularly those from Sitios Dapdap and Kinse – were more vocal in their opposition, Clemente added.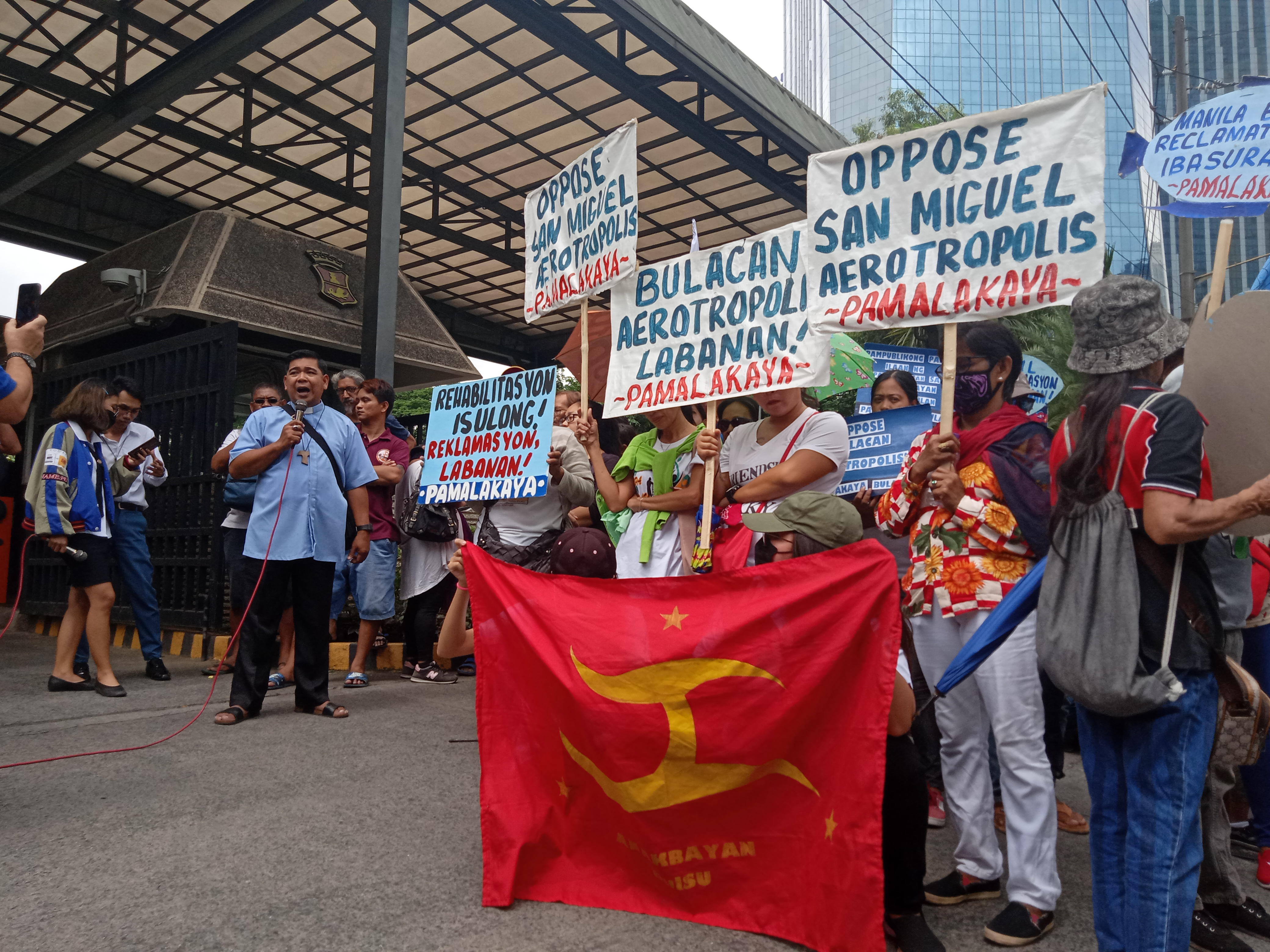 Amid the challenges, some residents and Akap Ka Manila Bay still mobilized and attempted to engage SMC, the Bulakan LGU, and other government agencies in several dialogues to gather more information about the project.
Fr Ambet dela Cruz of the Bulacan Ecumenical Forum (BEF), a group of church clergy that is part of Akap Ka Manila Bay, said that the network started reaching out to government offices in November 2017. In 2018, a few meetings were conducted with some national agencies, and SMC representatives attended once. But local government officials from the barangay to the regional levels were elusive, he said.
In November of the same year, a dialogue with BEF, the Taliptip fisherfolk, and SMC representatives was held, but the company, according to him, didn't present a clear design and scope of the aerotropolis project. He added that Akap Ka Manila Bay and other groups continuously and actively lobbied in 2019 for dialogue and the project masterplan itself, without success.
Former Taliptip residents, Clemente, and Dela Cruz all claimed there was lack of transparency and genuine community consultations – a required component of the Department of Environment and Natural Resources' (DENR) environmental impact assessment (EIA) framework. The EIA is a planning and decision-making tool used to evaluate potential environmental impacts of a project across all phases of its development. It's also used to determine if the project is worth pursuing, given environmental risks.
Akap Ka Manila Bay requested a full copy of the EIA that was presented during a 2019 public hearing where it wasn't made clear to stakeholders – even amid questions from the fisherfolk – if the proposed land development project at the time was connected to the Bulacan aerotropolis. But multiple document requests made by the group were denied by the Environmental Management Bureau (EMB) Central Luzon. They said the DENR's Freedom of Information manual does not cover the release of such data.
Rappler received a similar response after several inquiries. The EMB Central Luzon also denied a request for an interview given the ongoing EIA for the NMIA.
A few months after the public hearing held in February 2019, the EMB Central Luzon issued an ECC to the SMC subcontractor, Silvertides Holdings Corporation, for the land development project. The June 14, 2019 document said the proposed project would be located in barangays Taliptip and Bambang, Bulakan, Bulacan. It would span a land area of 2,017.63 hectares, with components such as a drainage system, a waste management system, and other utilities.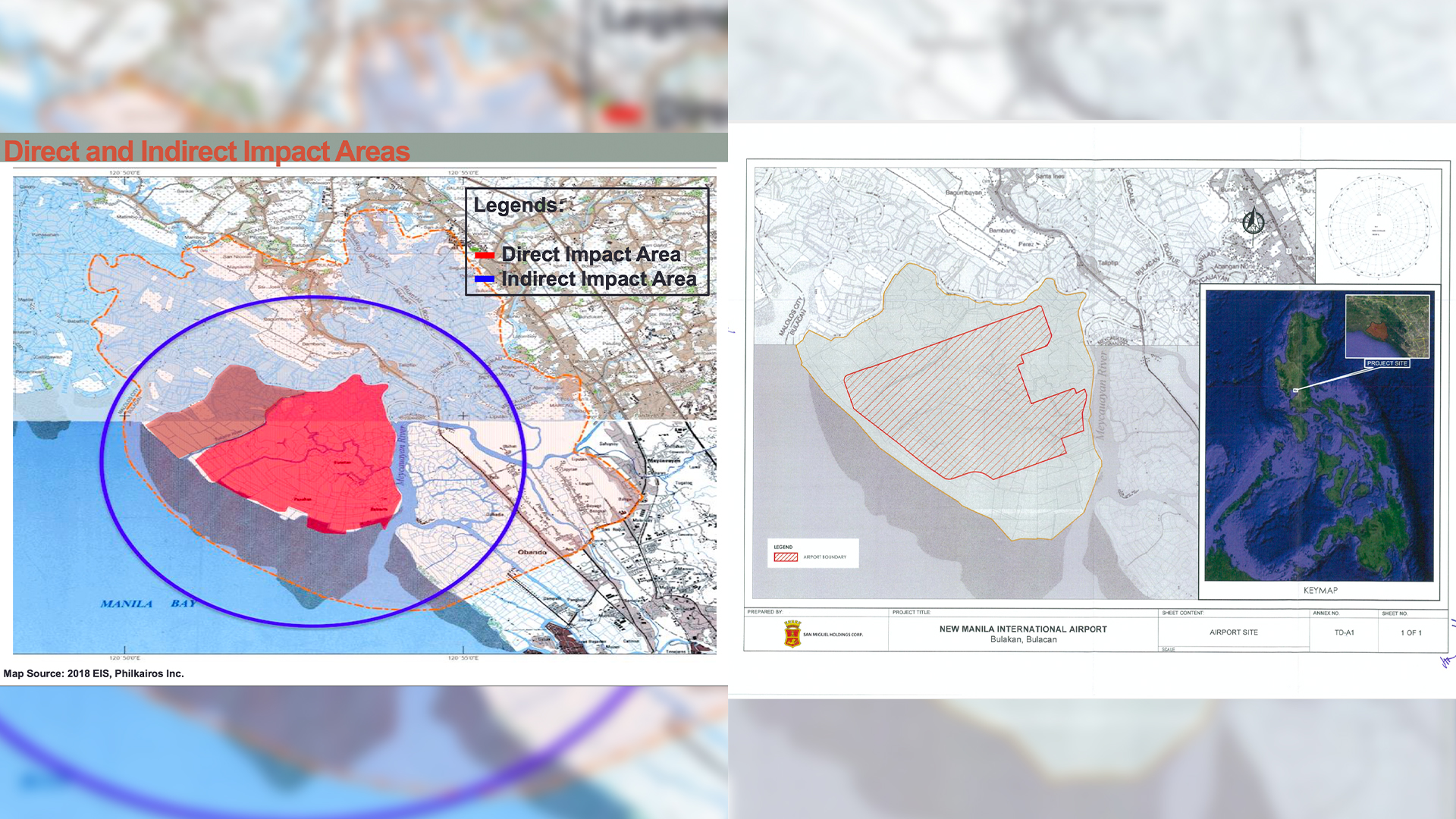 Military presence
"We opposed their aerotropolis project for more than a year, but nothing happened because the others were afraid," Ramos said in Filipino.
In 2019, the LGU continually backed the Bulacan aerotropolis. Ramos asserted that apart from their requests for dialogue not being granted by the municipal government, the barangay captain even called for a meeting to persuade them to accept the project. Residents were told that those who oppose it would not be relocated.
By December 2019, the military also started visiting the area for the first time, an occurrence observed by longtime residents of the sitios. Less than a month later, residents reported that the 48th Infantry Battalion (IB) under the Philippine Army's 7th Infantry Division (7ID) – known as the Kaugnay Division in charge of counter-insurgency operations – established an outpost in the vicinity.
In a phone interview, Major Amado Gutierrez, then-chief of 7ID's public affairs office, explained that the troops were deployed due to a barangay council resolution dated January 3, 2020. Local officials requested for military support to maintain peace and order within the Taliptip coastal.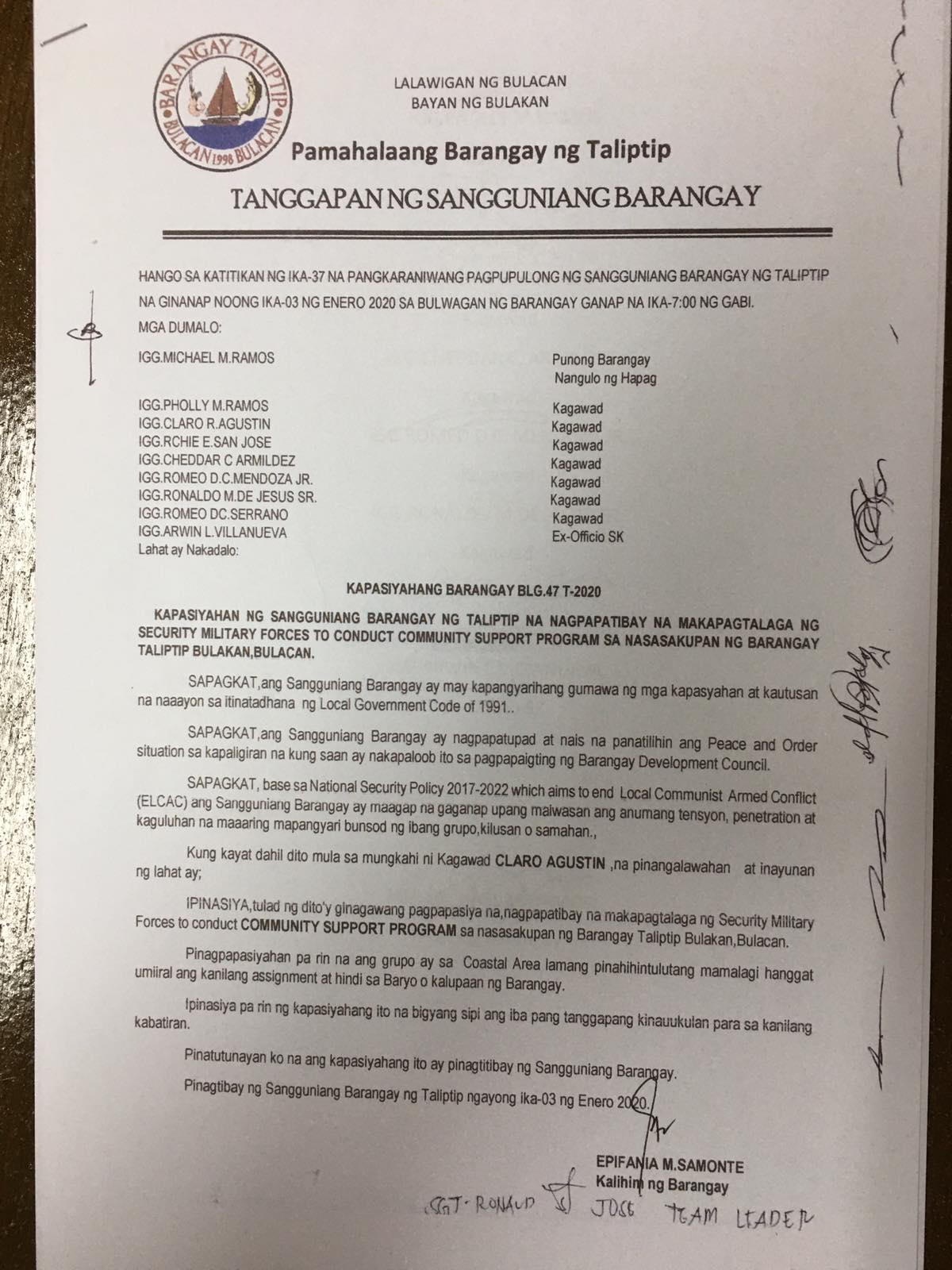 The barangay secretary said that the move was aimed at assisting residents in relocation as they anticipate the construction of the Bulacan airport. For the security of the barangay, soldiers would monitor the residents' movements, considering "outsiders" who visit the sitios.
According to Clemente, the military's presence in the area limited communication between the residents and environmental groups and scientists who had been helping them in their cause. These groups and some former residents alleged several cases of intimidation and red-tagging by the military.
Ramos told Rappler that she was identified as being "under observation" by a soldier during a community investigation, given her active participation in protests and campaigns.
"Nandiyan din 'yung takot ko sa sarili ko pero parang iniisip ko rin matanda na kako ako. 'Yung pinaglalaban ko, 'di lang para sa akin kundi para sa mga anak ko, sa mga apo…at mga kasamahan kong naninirahan doon," she said.
(I am afraid, but I have also thought about it – I'm already old. I am no longer fighting just for myself, but also for my children, my grandchildren…and my fellow residents who live there.)
Community organizers and science workers also found it difficult to return to the communities as the army conducted sitio visits, allegedly persuading residents to accept SMC's offer.
Gutierrez denied the existence of community investigations and reiterated the troops were only performing their mandate to help resolve community issues and protect critical infrastructure projects of the government like the Bulacan aerotropolis.
"Ang presence namin diyan sa vicinity ng itatayong airport is for the security of everyone and not to serve any private corporations," he said. (Our presence within the vicinity of the planned airport is for the security of everyone and not to serve any private corporations.)
Red-tagging
Red-tagging is a grave threat and issue for land and environmental defenders in the country.
According to a Global Witness Report released last July, the Philippines was the deadliest country in Asia for land and environmental defenders in 2019, and the second most dangerous in the world, behind Colombia. The report said that "almost half of the documented murders under Duterte's government were linked to armed forces or paramilitary groups."
Small fisherfolk federation Pambansang Lakas ng Kilusang Mamalakaya ng Pilipinas (Pamalakaya), one of the groups actively helping the Taliptip fisherfolk, has also experienced rampant red-tagging.
The federation has witnessed and struggled with the displacement of various coastal communities affected by reclamation projects in the Philippines, such as the project in Roxas Boulevard, Manila, during the late '90s which paved the way for the building of commercial business districts in the area. This includes the SM Mall of Asia, which displaced at least 6,000 fisherfolk families or 30,000 individuals.
Pamalakaya national chairperson Fernando Hicap observed that displacements frequently involved violent house demolitions, military presence, and lack of support from the local government.
In Taliptip, local fisherfolk leaders who have been lobbying for dialogues and their rights have faced intimidation, Hicap said, but these Pamalakaya members have since relocated and lost contact with the federation.
Gutierrez said that in the absence of formal complaints, they cannot respond and take action. CHR Central Luzon has also closed the case on the alleged military harassment in Taliptip since no resident spoke about it during their investigation.
For Ramos, the fight for their home seemed hopeless as community members, even those she stood with in mobilizations, began accepting the monetary offers. She, too, had to prioritize her family's needs and protection, driving her to reluctantly accept the cash compensation as well.
"Ako, kung saan-saan na ako nakarating, malalayong lugar, inaabot ng gabi, inaabot ng ulan. Eh hanggang sa dumating ang araw na 'yung mga anak ko nakikita nila ako sa TV, nakikita nila ako na nagsasalita. Nagagalit na sa akin dahil matanda ka na, ika [nila], eh tumututol ka pa," Ramos said.
She added, "Siyempre, bilang magulang, kapakanan ko na rin ang hinahangad nila. Tumigil na rin ako dahil sa edad kong itong 60."
(I've been through a lot in this fight. It reached a point when my children would see me talking on TV. They would get angry and ask me why I'm still protesting when I'm already old. Of course, as their parent, they're only thinking about my well-being. I eventually stopped since I'm already 60.) (To be continued) – Rappler.com
*Interviewees' real names have been changed to protect their identities.
This story was produced in partnership with Oceana Philippines.