Will President Duterte, a chief executive with a controversial bent for enforcement, overhaul the systems that have failed to adequately protect the Philippines' ecological treasures?
Forest guard Joselito Eyala staggered through mountain wilderness for five hours with two bullets in his body one night in August 2017.
One bullet from the homemade rifle of an illegal logger was embedded under his left armpit. The other entered through his spinal cord, but reached somewhere under his ear. The pain was unbearable.
Only the light from his watch and some fireflies lit his way. He had half a mind to give up, but the sight of his wedding ring on his finger kept him going.
"I was at the point of letting go because I couldn't take it anymore. I was just lucky and it was a miracle that I got down from the mountain," he told Rappler in Filipino.
Eyala would eventually be given the Medalya ng Bayani ng Kalikasan from the Department of Environment and Natural Resources (DENR) for confronting illegal loggers in Bacungan, Palawan.
Environment Secretary Roy Cimatu would even award him the Purple Heart, a recognition usually given to soldiers.
But though the government system has heaped honors on him, the same system's failures led to him getting shot in the first place.
Environmental defenders like Eyala remain vulnerable to such attacks because of a lack of resources, powers, and support.
At least 32 environmental law enforcers were attacked from 2001 to 2021, according to tracking by civil society group Kalikasan People's Network for the Environment (Kalikasan PNE) and the DENR. More than 40% of these attacks took place in Palawan, famous worldwide for its rich biodiversity and considered the country's last ecological frontier.
For years, environmentalists have called for stronger environmental law enforcement to protect hectares of mountain forests and nautical miles of seas – all biodiversity-rich – only to be disappointed administration after administration.
But Rodrigo Duterte is a president with a controversial bent for enforcement, and his environment secretary is a former military chief.
Cimatu has asked Duterte to certify as urgent a bill creating an Environmental Protection Enforcement Bureau (EPEB) under the DENR.
In both houses of Congress, bills have been filed to create either this bureau or a National Environment Protection Agency in the mold of the United States' Environmental Protection Agency.
But the bills are so far only at the committee level, too early for Duterte to certify as urgent, according to Presidential Legislative Liaison Office Undersecretary Jing Paras.
The DENR, lawmakers, military, and police have expressed support for such a bureau, in the hopes of giving environmental protection officers more teeth and protecting forest guards like Eyala.
But some conservation groups are wary of the proposal, especially the idea of arming government forest guards under an administration accused of turning a blind eye to police and military abuse.
What's at stake?
The Philippines hosts some of the most biodiverse spots and some of the rarest species of animals and plants on Earth, yet its forest guards are not allowed to carry guns or arrest violators of environmental laws.
"Our only weapons are a ballpen and paper," said Eyala, whose assignment is Palawan, home to 49 animal and 56 plant species threatened with extinction.
Meanwhile, the illegal loggers or poachers they often have to confront tend to be armed. Eyala's shooter used a homemade shotgun called a paltik or "toka-toka" (actually the Filipino word for a helmet or breastplate). But no matter how rudimentary, the gun still outmatched Eyala and his two other forest guard companions, who were unarmed.
House Bill 6973, filed by environmentalist lawmaker Antique Representative Loren Legarda, empowers the EPEB to issue firearms to rangers and enforcement officers.
It also creates an "Environment and Natural Resources Law Enforcement Academy" to train them, other law enforcers, and even local government staff in "advanced-level" environmental law enforcement.
The proposed EPEB would have more powers to stop environmental crimes immediately.
Whereas the DENR has had to wait for court action to punish certain environmental crimes (for example, only a court can order the eviction of someone who violates the law on protected areas, and the forfeiture of illegal logs or species collected), the power would be given to the EPEB.
The bureau could issue cease and desist orders by itself, order the removal of illegal structures, or evict an offender from a protected area.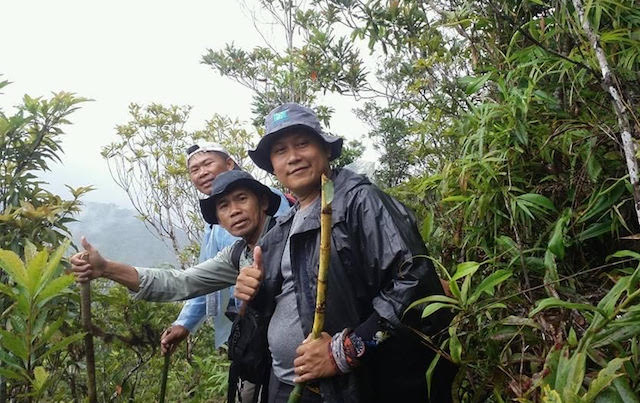 The proposed law goes further by protecting environmental law enforcers from legal harassment. Section 15 says the bureau must provide assistance to enforcers, complainants, and witnesses of environmental crimes when they are charged with Strategic Lawsuits Against Public Participation or SLAPPs – lawsuits filed by powerful actors, like corporations or syndicates, to silence or intimidate anyone who endangers their operations.
A person who attacks or seriously intimidates an EPEB enforcer or their deputy could be made liable for direct assault under the Revised Penal Code.
Eyala thinks it's high time government environment defenders get a leg up. He wholeheartedly supports the creation of an EPEB.
"Not to say that this is about striking fear, but they (criminals) will get out of your way or say, 'Let's not commit those crimes because the DENR is different now,'" said Eyala.
Strength in numbers
But improving environmental enforcement is not just about more legal powers. What's been plaguing biodiversity conservation in the Philippines for decades is the lack of guards for the country's vast protected areas.
According to Nilo Tamoria, executive director of DENR's Environmental Protection and Enforcement Task Force, the government employs only 2,500 forest rangers to guard the country's 14 million hectares of protected areas.
That means one forest ranger is in charge of protecting 5,600 hectares – an area the size of 2,200 football fields.
Forest guards are paid the smallest government salary – salary grade 4. Qualifications are low – high school graduates can become forest guards.
Tamoria, who has explained the need for an EPEB in congressional hearings, says the proposed bureau can fix green enforcement's lack of funds.
"Right now, the DENR gets a budget, but because the importance of enforcement is not at the forefront, it's subsumed under other programs which cover conservation, utilization, and regulation. So by creating a line bureau, it gets its own budget," he told Rappler.
The concerns on budget was one reason why Cimatu recommended that a law be passed, and not just an executive order signed by Duterte.
House Bill 6973 identifies sources of EPEB funding: the Integrated Protected Area Fund, environmental and user fees paid by tourists or companies, fees charged under the Electric Power Industry Reform Act, road users' tax, and administrative fines and penalties imposed by the bureau itself.
Tamoria said it's only fitting that environmental laws get their own enforcement agency, given the complexity and technical aspects of the country's myriad of green laws – like the Solid Waste Management Act, not yet properly implemented two decades after its passage; and the Wildlife Resources Conservation and Protection Act, where knowledge on the conservation status of wildlife is critical in filing cases against violators.
"For fighting drugs, we were able to put up the Philippine Drug Enforcement Agency despite the wide coverage of the Philippine National Police. What more if we add a science-based crime?" said Tamoria.
He acknowledged that the military and police can always be tapped by the DENR or local governments to catch poachers and loggers. There are even units of the police dedicated to fighting environmental crime. But these cops are still too few, and, according to Tamoria, most police personnel hesitate to take the lead in such operations because of their lack of knowledge on highly technical and science-based environmental laws.
The Philippine National Police (PNP) itself supports the creation of the EPEB. PNP-Maritime Group Director Brigadier General John Mitchell Jamili said during a March 3 House hearing that the bureau would complement efforts of police and other agencies to crack down on environmental crimes.
The PNP Maritime Group has been at the forefront of operations against illegal fishing.
Too many guns
But not all environmentalists are convinced.
Robert Chan of the Palawan NGO Network Inc. thinks creating an enforcement bureau would only complicate an already bloated bureaucracy.
"It's useless because the lead department is supposed to be the enforcement arm. The DENR is the enforcement arm. Why will you create another bureau?" he told Rappler on May 10.
To him, the DENR already has the power to reorganize its existing bureaucracy to boost enforcement. The Environmental Management Bureau is there to make sure factories don't pollute rivers and lakes. The Biodiversity Management Bureau is tasked with protecting flora and fauna.
As for making forest guards more effective, Chan said their NGO network of environmental para-enforcers are able to protect Palawan forests without guns or the power of a new bureau.
The "better way" to confront illegal loggers and poachers, he said, is to make sure the enforcers are prepared, come in big numbers to intimidate the encroachers, and time their operations right.
One technique their para-enforcers employ when they catch a group of illegal loggers is to wait for the violators to settle down for a meal before confronting them. Because the loggers have to put their weapons aside to eat, the para-enforcers minimize the likelihood of violence.
Kalikasan PNE national coordinator Leon Dulce is also very much against arming forest guards. But his reasons have more to do with lack of trust in the Duterte government.
"It would be prone to abuse. It's this government's penchant for military solutions that will most likely lead to more casualties," he told Rappler on May 5.
A 2020 Global Witness report, to which Kalikasan PNE contributed, showed the Philippines was the deadliest country in Asia for land and environmental defenders in 2019. A total of 43 were killed that year, mostly in Mindanao and the Negros Island. The list includes environmental and land reform activists, not just enforcers.
Almost half of such killings, which took place under the Duterte administration, were linked to military and paramilitary groups, said the report.
In Kalikasan PNE's tracking of such killings, guns appeared to heighten the tension in confrontations between criminals and enforcers and actually increased the likelihood that enforcers would get hurt.
In fact, holding a gun in no way assures an environmental enforcer will escape unscathed from encounters, as proven by deadly attacks on police deployed to arrest illegal loggers, he said.
Rather than arm forest rangers with guns, Dulce supports the establishment of an Environment and Natural Resources Law Enforcement Academy and training enforcers to use non-lethal weapons like taser guns. Like Chan, he thinks vastly increasing the number of forest guards in the country would already significantly improve their effectiveness.
Bureau to replace all task forces
Asked by Rappler for feedback on the nongovernmental organizations' inputs, there is no budging the DENR.
Tamoria, with nearly two decades of experience in the department behind him, said a major structural overhaul like a new bureau is necessary.
"Enforcement is not simple apprehension of environmental criminals. It starts with crime prevention, detection, apprehension, and prosecution. We cannot rely on the present structure of DENR, thus the need for a dedicated bureau," he said.
One symptom of the need for a bureau is the many task forces various administrations have had to create just to strengthen environmental enforcement, he said.
There was the Gloria Macapagal-Arroyo-era Task Force Sagip Kalikasan to stop illegal logging and the National Environmental Crime Task Force, as well as the present Environmental Protection and Enforcement Task Force headed by Tamoria.
Cimatu, a former military chief, included the creation of the EPEB in his recommendations to Duterte in December 2020 as a solution to widespread devastation wrought by typhoons. One of the findings of the typhoon task force Cimatu headed was that illegal logging, unregulated mining, and other environmental violations made typhoons Rolly and Ulysses more damaging.
Cimatu believes task forces are not sustainable and, being short-lived, are "merely tactical, not strategic," said Tamoria.
"The secretary saw that, though DENR's mandate is so wide, from conservation to utilization to regulation to development, there are so many laws the DENR has to implement, yet you don't see the enforcement mandate. All enforcement is subsumed under conservation, development, regulation," said Tamoria.
Whether through the creation of a new bureau or the improvement of existing agencies, environmental enforcement in the Philippines is in sore need of a boost. From 2002 to 2020, the country lost 151,000 hectares of humid primary forest, according to Global Forest Watch. That's the size of 2,600 Rizal Parks.
At least 700 of the country's native species of flora and fauna are threatened with extinction.
It's a situation that calls for more effective enforcement and the convergence of military, police, local governments, and civilian agencies to catch violators. Duterte, who has claimed to have a better appreciation of law enforcement than other politicians and who has sought to empower law enforcement agencies, could do a lot of good by channeling his political will to improving how the government protects the country's natural wonders.
He's already promised to do so, with his constant threats against abusive mining companies and orders for the government to investigate illegal logging.
But until Duterte addresses the systemic and structural gaps in environmental enforcement, these will remain lip service. Mountains and forests teeming with rare wildlife will continue to be vulnerable, and so will forest guards like Joselito Eyala. – Rappler.com