The Philippines is the 3rd most disaster-prone country in the world, making hazard maps a necessity for Filipinos
MANILA, Philippines – Monday, November 29, 2004, is a day that will probably live long in the memory of many residents of the towns of Real, Infanta and General Nakar in Quezon province.
For two weeks, the area had been drenched with heavy rains brought by successive typhoons. But in the evening of that day, things went from bad to worse.
As families gathered for dinner, floodwaters, thick with mud, began to rise swiftly, submerging many homes in their wake. Over a thousand perished in a deluge of mud, rock, and logs.  
The disaster was blamed on illegal logging. New research mapping hazards and risk exposure in the country draw an entirely different picture of factors that contributed to the disaster that killed over 1,000 people that late November day, 11 years ago.
Successive cyclones
To begin with, 4 consecutive weather disturbances which struck the country one after the other from mid-November to early December that year and affected 8 regions (I, II, III, IV, V, VIII, NCR and CAR) set the stage for the brewing catastrophe:
Typhoon Unding (Mufia)  – November 14-21, 2004

Tropical Storm Violeta (Merbok) – November 22-26, 2004

Tropical Depression Winnie – November 28-30, 2004

Typhoon Yoyong (Nanmadol) – November 30-December 3, 2004
Tropical Depression Winnie, was the final straw. It was the tipping point. But it was a fairly weak weather disturbance compared to other storms that had passed through the area.
Experts said, however, that what sealed the doom for many in the towns of Real, Infanta and General Nakar (collectively known as REINA) was that these towns – all located along the side of the Sierra Madre Mountain Range that faces the Pacific Ocean – also happen to be prone to landslides.
With the soil heavily saturated with water due to over two weeks of incessant rain, portions of the mountain came crashing down the steep slopes into the towns located along the river delta. Post-disaster assessment reports estimated that some 20 million cubic meters of sand, mud, and rocks were carried down the mountains by the Agos, a huge river winding through the provinces of Rizal, Laguna, and Bulacan.
Learning from the past
The REINA tragedy played a pivotal role in boosting support for hazard mapping in the Philippines.
After the disaster, the Collective Strengthening on Community Awareness on Natural Disasters, or the CSCAND agencies, which was formed in 2003 under the National Disaster Coordinating Council (now known as NDRRMC), regrouped to address disaster management problems.
The CSCAND agencies are composed of the Office of Civil Defense (OCD), Philippine Institute of Volcanology and Seismology (Phivolcs), Philippine Atmospheric Geophysical and Astronomical Services Administration (PAGASA), Mines and Geosciences Bureau (MGB), and National Mapping Resource and Information Agency (Namria).
While hazard mapping started 20 years ago prior to the 2004 REINA disaster, the program badly needed a budgetary boost.
From the 3 municipalities, Phivolcs director Renato Solidum said the agencies were asked to scale up the hazards mapping to 27 more provinces.
Efforts by different agencies were harmonized. Experts in hydrometeorological hazards started working with experts in the geosciences.
"We did flood hazard, storm surge hazard, landslide hazard, and earthquake hazard. Why do flood hazard maps only when we can do all hazards simultaneously?" Oscar Cruz, senior weather specialist of PAGASA, said.
Hero scientists
Mapping hazards and monitoring warning signs may not seem as risky an effort compared to rescuing people in raging floodwaters, but the hazard-mapping program also produced its own heroes and martyrs.
The agencies also perennially lost personnel because wages for science personnel are not competitive as those in the private sector.
In 2005, Phivolcs lost several of its own people to this endeavor when the aged Huey helicopter that was carrying a hazard mapping team crashed on Mt Namat in Nueva Ecija on April 28, 2005. The group was on its way to a research mission in Dingalan, Aurora.
Among those who died: former Phivolcs Director Raymundo Punongbayan. 
More recently, Typhoon Yolanda (Haiyan) took the lives of 42-year-old PAGASA weather forecaster Salvacion Avestruz and 3 others because they refused to abandon their posts at the Tacloban City station. (READ: Families of 4 Yolanda heroes to each get 100k)
Here is a timeline of how hazard and risk mapping in the Philippines has evolved over the past 3 decades:
                                       TIMELINE
1982 – Dr. Raymundo Punongbayan of Phivolcs started including hazard mapping and assessment in their activities, focusing particularly on volcanic hazard maps.
1984 – "Seismology" (science that deals with earthquakes) was transferred from PAGASA to Phivolc, which is now renamed Phivolcs.
With the change of name came an additional mandate: "to identify how and which areas will be affected when earthquakes, volcanic eruptions and other related events would happen." That same year, the agency started mapping hazards related to earthquakes as well.
Camiguin Island was among the first provinces to be visited for hazard mapping.
Early 1990s – Namria started using remote sensing technology (the use of sensors, typically from aircrafts or satellites, in obtaining information about areas from a distance) in making topographic maps which PAGASA then used for hazard mapping.
Hazards were determined by the features or key elements present in an area. Hazard maps in low-resolution for few areas like Taguig City, Marikina City, Bicol, and Bataan, were produced.
2002 to 2004 – Through a Grant-in-Aid (GIA) from the Department of Science and Technology (DOST), Phivolcs developed the Rapid Earthquake Damage Assessment System (REDAS).
This is a simulation software that has the capability to simulate earthquake hazard scenarios for any given earthquake. It allows users to generate hazard (ground shaking, liquefaction, earthquake-induced landslide and tsunami) and risk maps immediately after a quake.
Disaster managers, local planners, and policy makers, who need to include earthquake hazards in the local development planning, are the target users of the software.
November to December 2004 – Four succeeding typhoons flooded parts of the Philippines especially Infanta, Real and General Nakar in Quezon, killing at least 1,000 people. CSCAND agencies convened to help the flooded areas.
2005 – CSCAND agencies started the REINA project. Among its 3 components was the hazard mapping of flood, storm surge, landslide, and earthquake in Quezon province.
2006 – From 3 Quezon municipalities, hazard mapping scaled up to 27 more provinces, those determined to be high-risk were included as targets of what became known as the READY Project.
The provinces covered by READY included: Zamboanga Sibugay, Rizal, Zamboanga del Sur, Ilocos Norte, Isabela, Bohol, Aurora, Cavite,  Pampanga, Laguna, Northern Samar, Eastern Samar, Zambales, Antique, Iloilo, Ilocos Sur, Benguet, Catanduanes, Abra, Quirino, Agusan del Sur, Nueva Vizcaya, Cagayan, Southern Leyte, Leyte, Surigao del Sur and Surigao del Norte.
The project produced high-resolution (scales of 1:50,000 and 1:10,000) provincial, city and municipal level maps through air photos from radars such as the European Remote Sensing satellites and Satellite Pour l'Observation de la Terre (SPOT) or Earth observation satellite.
The project, which is funded by the United Nations Development Programme (UNDP) and the Australian Agency for International Development (AusAID), determined the depth of different hazards present in an area.
In the same year, the MGB also initiated its National Geohazard Assessment and Mapping Program to prevent disasters such as the Cherry Hills subdivision landslide in 1999.
From indicative maps at a scale of 1:250,000 that determined which areas should be prioritized for geohazard mapping with the help of Geographic Information Systems (GIS) technology, the bureau created barangay level maps nationwide at a scale of 1:50,000 showing the areas that are susceptible to landslide and flood.
The maps produced were given to the local government units for planning references and were integrated with the READY Project.
Also in that same year, Phivolcs conducted tsunami hazards assessment nationwide, funded by the AusAID and released tsunami hazard maps.
Phivolcs also started providing REDAS training and software to different provinces, cities, municipalities and government institutions to mainstream disaster risk reduction in development plans. The READY hazard maps were also incorporated into the REDAS software.
2010 – CSCAND agencies started the Greater Metro Manila Risk Assessment Project Risk Analysis Project (GMMA-RAP), a 3-year project funded by the AusAID through the UNDP. 
This project allows agencies to create maps that determine the depth of hazards present in an area, the extent and the frequency of hazards, and also the worst case scenario through modeling.
Light Detection and Ranging (LiDAR) technology, which captures high-resolution images on the ground is used in data-gathering. GMMA-RAP focuses on Metro Manila only, but also includes portions of Bulacan, Rizal, Cavite and Laguna.
2011 – Typhoon Sendong (Washi) hit and devastated Iligan, Cagayan de Oro and other areas in Northern Mindanao, prompting President Benigno Aquino III to call for a responsive program for disaster prevention and mitigation.
Also in this year, the MGB started its multi-year program on the detailed mapping of areas which are frequently hit by intense rainfall and typhoons nationwide. The hazard mapping now included purok-level (smaller division of barangay) landslide and flood susceptibility maps. These maps were more detailed, with scales improved from 1:50,000 to 1:10,000.
July 6, 2012 – Responding to Aquino's instructions, the Department of Science and Technology launched the Nationwide Operational Assessment of Hazards (Project NOAH). It is designed to help solve existing problems caused by ill-informed decision during disasters.
The project involves detailed barangay level landslide, flood, and storm surge inundation maps that identify safe areas for people through the use of LiDAR and Interferometric synthetic aperture radar (IfSAR) that capture high-resolution topographies.
Accurate display of the coverage of the rain clouds in a smaller area are determined by Project NOAH through data from PAGASA's Doppler radar. Images from the radar are also used to identify the origin of rain clouds. For instance, through the Doppler radar images, the origin of rain clouds, which caused Habagat (southwest monsoon) in 2012 and 2013 floods, were determined to come from volcanoes. 
To help local government units and communities nationwide, near real-time sensor, Doppler, satellite data and hazard maps are made public via the DOST-Project NOAH website.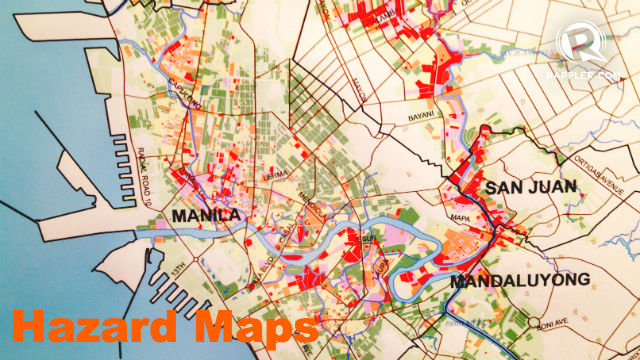 October 2013 – The GMMA-RAP maps were handed to each local government unit in Metro Manila. (READ: Metro Manila hazard maps challenge LGUs to take action)
2014 – Information and Education campaigns for the GMMA-RAP maps were conducted for each Metro Manila city.
Planning aids
Current efforts now focus on consolidating risk exposure data to determine how hazards could potentially affect different communities.
Mapping hazards and risk exposure is just the first step. To prevent disasters that could result from these hazards, experts say it is critical to take the maps into consideration in regular development planning activities.
"Though undervalued sometimes, information is extremely important in project management," says Project NOAH's Chief Science Research Specialist Oscar Victor Lizardo.
The maps, for instance should guide planners on where houses, buildings, schools, hospitals and evacuation centers should be built.
"If I were a planing head of an LGU, I have a big responsibility. I wouldn't know where to build certain types of establishment but with the help of hazard maps, I would then be able to identify [safe areas]," Cruz explained. Schools and hospitals, for instance, should not be built in highly susceptible areas, he added.
Hazards, according to Solidum of Phivolcs "can be addressed by avoidance."
This is easier said than done. Population and political pressures normally tend to get in the way of good planning and project implementation.
Despite the new information made available through the hazard mapping projects, not all local government units have been using hazard maps for their land use and development plans yet.
Here the public plays a critical role of monitoring and making sure that leaders perform the roles they are required to play, and holding these leaders accountable if they fail to perform their duties according to law. – with reports from Gemma Bagayaua Mendoza, Gwen de la Cruz and Sarah Jayne Olan/Rappler.com