'Kapag nawala kami, katumbas noon ay mawawala ang pagkain sa hapag-kainan ng mga Filipino'
Municipal fisheries have increasingly contributed to the value of fish production in the Philippines, earning more than P100 million in 2019, according to a Philippine Statistics Authority (PSA) report.
However, the lives and livelihood of the municipal fisherfolk are increasingly at risk. This is due to dwindling fish stocks and the overall decline in catch per unit effort due to overfishing, illegal fishing practices, and various reclamation projects nationwide, among others.
Most recently, environmental groups such as Oceana have warned against a House bill for being at odds with the country's national fisheries law. The measure seeks to entirely allow domestic commercial fishing vessels to enter all of the Philippines' municipal waters without conditions. House Bill 7853, they say, poses a challenge to resource management for artisanal fishers.
To understand the stake of municipal fishing in the country, Rappler takes a look at the different roles and challenges in municipal fisheries, as well as the local process of fish production that secures the food on the plates of many Filipinos.
Challenges in artisanal fisheries
According to studies, the Philippines is situated within the "apex" of the Coral Triangle, one of the most biodiverse globally. Given this geographical advantage, the country has the second largest coral reef area in Southeast Asia that is home to 915 reef fish species and nearly 500 scleractinian coral species.
Among its vital purposes, coral reefs serve as habitats for various fish species and sustain the health of marine ecosystems. Many coral reefs are located within municipal waters or 15 kilometers from the shoreline, where artisanal fisherfolk and coastal communities thrive for their daily subsistence and livelihood.
Given this, small fisherfolk play a huge role in the constant fisheries supply in local markets, a staple source of food for many Filipino households. But throughout the years, illegal, unreported, and unregulated (IUU) fishing practices, such as the use of dynamite and cyanide, have largely degraded reefs and others that make up the country's marine biodiversity.
This, together with other factors such as overfishing, reclamations, and climate change, threatens coastal biodiversity and sustainability. According to the artisanal fisherfolk Rappler spoke with, the situation forces them to fish in other waters and, at times, leaves them jobless, pushing them to find alternative work away from the sea.
The amended Philippine Fisheries Code, also known as Republic Act 10654, aims to address these issues on marine environment protection and the dire conditions of municipal fisherfolk. It also seeks to implement stricter mechanisms to prevent, deter, and eliminate IUU fishing, including the registration and licensing of fisherfolk and promoting compliance with and enforcement of fisheries laws.
The Bureau of Fisheries and Aquatic Resources (BFAR) launched in 2013 a national program called FishR to promote the registration of municipal fisherfolk across the country and guide the national government in determining what assistance is needed to improve the lives and livelihood of fisherfolk. By 2014, the BFAR reported that more than 1 million fisherfolk had registered with FishR.
Despite these efforts and the small fisherfolk's contribution to food security, the sector remains one of the poorest and most vulnerable in the country. In 2018, the PSA estimated that Filipino fisherfolk had a 26.2% poverty incidence, considered to be one of the highest among the basic sectors.
For municipal fisherfolk interviewed by Rappler, this situation continues to worsen due to several issues, such as their meager fishing equipment and capacity, the uncertainty of livelihood due to more frequent and more severe typhoons brought about by climate change, and the lack of government support and subsidy amid the COVID-19 pandemic and local restrictions.
All of these concerns come against the backdrop of the country's eminent problem of overfishing in its seas. This has resulted in the deterioration of the marine environment and depletion in fish catch, especially within municipal waters, further marginalizing small fisherfolk.
"Hindi totoong kumikita ang mga mangingisda sa panahon ng pandemic dahil hindi naman niya madadala sa malayong lugar at hindi niya naibebenta ang kanyang huli. At kailangan nang huminto [sa trabaho] dahil gumagastos ang mangingisda sa paglaot. Sa halip na gastusin niya [ang kaunting pera], ilalaan niya na lang sa [pangangailangan ng] pamilya niya," said Pablo Rosales, national head of small fisherfolk organization Pangisda Pilipinas.
(It's not true that the small fisherfolk earn during this pandemic since they can't transport and sell their catch. Instead of working and investing their resources to go out to the sea, they just use them for their families' needs.)
Rosales also explained that other environmental issues, such as pollution and waste, act as barriers to protecting natural resources on which the livelihood of small fisherfolk depends. With these mounting concerns, he questioned how the government views and values the role of artisanal fishers in the country's food security.
Beyond fishing
Municipal fishing is defined under Philippine law as "fishing within municipal waters using fishing vessels of three gross tons or less, or fishing not requiring the use of fishing vessels."
Municipal fisheries contributed over half of the annual 2 million metric tons in capture fisheries, based on PSA data from 2017 to 2019.
Although fisheries work is traditionally viewed and recorded as a labor by men, a gender roles study across the country's local fishing communities revealed that women – particularly the fishermen's wives – have an under-documented yet significant role in the fisheries value chain.
"'Pag sinabi mong fisheries…hindi lang 'yung capture, 'yung pagpunta sa dagat. Lahat ng activities related to preparatory hanggang sa ma-harvest siya [at] processing, kasama siya sa fishing," said Jovelyn Cleofe, program director of NGOs for Fisheries Reform.
(Fisheries work doesn't only cover actual capture and going out to sea but also all related activities, from preparatory to harvesting and processing of catch.)
She added that men and women play different roles and use different spaces in fisheries labor depending on the family situation, especially for women who primarily have care work at home. Cleofe emphasized that this partnership has been a longtime arrangement in local coastal communities but is yet to be fully recognized on a national level due to traditional perspectives and cultures.
What's a day in the life of the small fisherfolk like? Here's a sample fisheries value chain based on various studies and Rappler's interviews with small fisherfolk. It shows how fishing in the Philippines is a family labor that secures food both for their homes and local markets.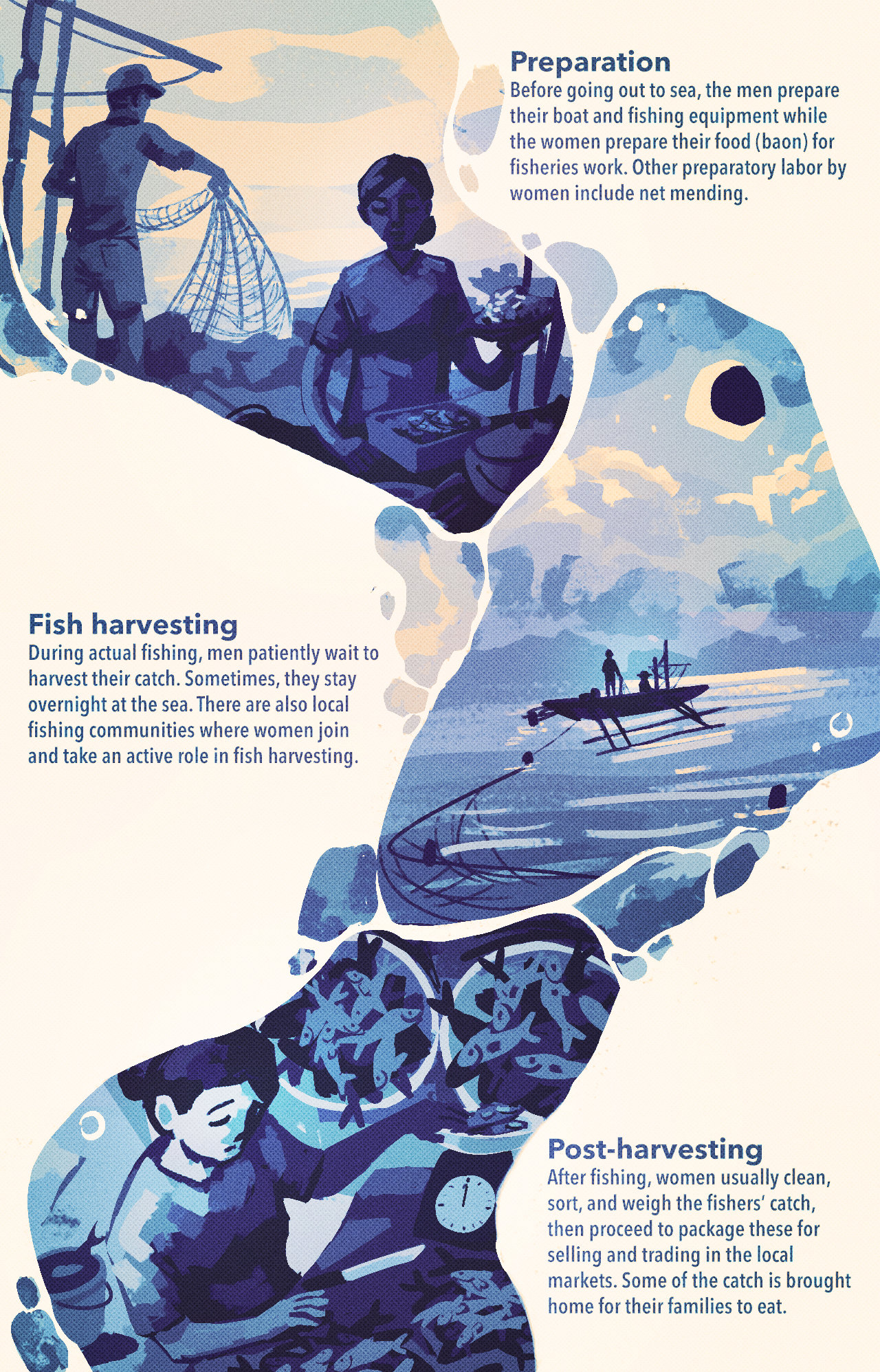 "Ultimong ang maliliit na mangingisda ang magtitiyak na ang kanilang nahuhuling isda o anumang bagay na nakukuha sa karagatan na nagsisilbing pagkain ay dinadala sa ating lokal na pamilihan. Kaya, ibig sabihin, eto ang pagkain ng ating mamamayan na pangmatagalan, dahil ang tagapaglikha ay lokal," Rosales said of the importance of strengthening municipal fisheries rather than depending on foreign fish imports.
(The small fisherfolk ensure that any catch from the sea that serves as food is delivered to our local markets. This means that our fellow citizens are assured of a sustainable food source because the producer is local.)
"Kapag nawala kami, katumbas noon ay mawawala ang pagkain sa hapag-kainan [ng mga Filipino]," he shared. (If we are gone, there won't be food on the table of many Filipinos.) – Rappler.com