Without proper segregation at the household level, garbage collectors worry that the waste they manage may contain the virus
Anthony Jumadiao shook his head in worry at the sight of the pile of unsegregated face masks mixed with empty cans, sachet packs, and other household waste.
According to Jumadiao, along with the pandemic came the numerous face masks mixed with household trash that he and his fellow garbage collectors have to deal with.
"Marami pong nagkalat na face masks, mga gloves, mga face shields po, mga nakakalat lang po. Hindi po nakabukod (There are many face masks, gloves, and face shields scattered about. They're not segregted)," Jumadiao said.
With two kids and a wife to feed, Jumadiao relies on waste collection as his only source of income. But the work comes with a risk: He worries that in collecting these used face masks, he may contract COVID-19 and transmit it to others, especially his family.
"Hayun po ang kinakatakot namin, 'di namin po alam kung may virus po 'yung hinahawakan namin. Kung may dala po kaming virus pag-uwi po namin sa bahay," Jumadiao said.
(That's what we're afraid of. We don't know if what we're touching has the virus and if we're bringing it with us when we go home.)
Jumadiao collects waste in the city of Manila, which is under enhanced community quarantine until August 20 due to the increasing number of COVID-19 cases and the threat of the Delta variant.
Jumadiao is one of the thousands of waste collectors in the country who handle waste that are accumulated in each household, including healthcare waste.
The World Health Organization (WHO) classifies healthcare waste into two general categories: hazardous and non-hazardous or general healthcare waste.
Face masks, face shields, gloves, and other similar equipment that people use to protect themselves from COVID-19 infection belong to the hazardous category. These are considered infectious waste – known or suspected to have pathogens and carry the risk of disease transmission.
According to the Department of Environmental and Natural Resources (DENR), Transporters, Storage, and Disposal (TSD) facilities across the country transport, treat, and dispose of infectious waste such as COVID-19-contaminated waste from healthcare facilities.
These TSD facilities ensure that the healthcare waste in health institutions get properly treated and disposed of so that they would not pile up in our environment.
However, these TSD facilities only cater to healthcare institutions. For households, local waste collectors like Jumadiao are responsible for collecting and disposing of healthcare waste.
Increase in healthcare waste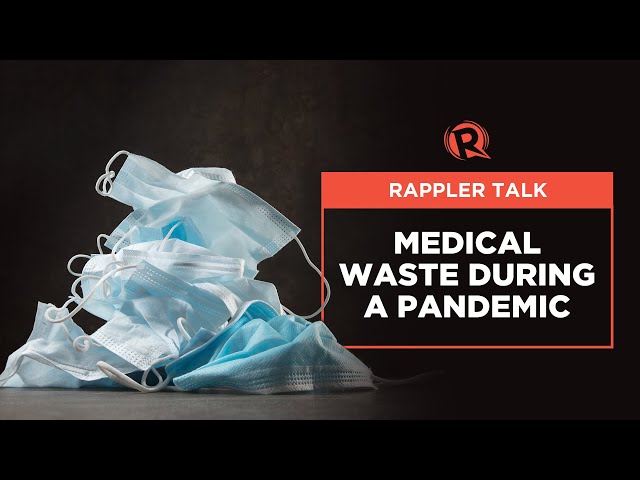 In an interview with Rappler, DENR Hazardous Waste Management Section chief Geri Sañez said the Philippines has produced 634,687.73 metric tons of healthcare waste from June 2020 to June 2021.
This means the country produced about 52,890 metric tons of healthcare waste month – equivalent to over a million sacks of rice.
This increasing volumte of waste is alarming due to the insufficient number of TSD facilities in the country, according to DENR Undersecretary for Climate Change Annaliza Teh.
Teh said that considering the volume of healthcare waste being produced across the country, TSD facilities struggle to treat, store, and dispose of healthcare waste from healthcare institutions because most of the facilities are located in Luzon.
"Unfortunately, not all garbage collectors also practice segregated waste collection, so we don't know how they are really segregating this. Just inside households, they're not segregated, and the collection is not properly done, it will again result in dumping even in the sanitary landfill," Teh explained in a mix of English and Filipino.
Laws such as the Ecological Solid Waste Management Act of 2003 and the Toxic Substances and Hazardous and Nuclear Wastes Control Act of 1990 mandate the proper treatment and disposal of hazardous waste.
Ideally, waste that could contain infectious diseases or viruses should have a separate container in households so that when collectors pick up the waste, they would be properly segregated and disposed of.
A 2020 study noted the importance of proper healthcare waste disposal, saying that because it has been proven that the coronavirus can survive on material surfaces like metal and plastics for up to nine days, the need for a proper healthcare waste disposal is important so as to prevent the further spread of COVID-19.
Harm to environment
Greenpeace Philippines campaigner Marian Ledesma said the increasing amount of healthcare waste, especially those made up of single-use plastics, could potentially harm Philippine ecosystems.
"[Single-use face masks] are essentially made from plastic fibers and when they break down, it's not as if they're going to degrade. They're just going to break down into smaller pieces and back into microplastics," said Ledesma.
In a 2020 study in the journal Environmental Science and Technology, it was estimated that globally, about 129 billion disposable face masks and 65 billion gloves are used monthly.
This is alarming, according to Ledesma, because these microplastics may be mistaken as food by marine creatures that could potentially choke on them. She added that humans could eat these fishes that have small plastics inside them.
Teh, meanwhile, said that the production of face masks contributes to increased greenhouse gas emissions, which in turn contributes to the warming up of the planet.
Handling the waste problem
Sañez said that together with the DENR Solid Waste Management Division, they have crafted an administrative order that aims to promote repurposing used face masks in the production of cement.
This initiative, according to Sañez, aims to address the increasing volume of healthcare waste being produced in the country.
For her part, Teh suggested the use of biodegradable masks that are made from natural plant fibers as an alternative to single-use face masks. Teh said the plastic components that make up single-use face masks could be replaced by biodegradable materials like plant fibers.
She also emphasized the importance of segregating waste at the household level. For face masks, she suggested allotting one bin for used ones, as it is the most used medical supply during the pandemic.
Ledesma also noted the importance of proper healthcare waste segregation. According to her, this should be done not just for the environment but for the waste collectors' safety too.
"We really need to follow [the] isolation and proper segregation of these medical waste not only to ensure that we're not impacting the environment but also to protect our waste collectors and waste pickers because they're also at risk when collecting these infectious wastes," Ledesma said.
For garbage collectors like Jumadiao, what they simply ask is for households to practice proper waste segregation.
"Sana po…ibukod nila ang mga basura nila. Pakisinop na lang po, paki-plastic, nakatali po sana, hindi 'yung nasa kalye lang po, kalat-kalat. Basta makapagtapon sila okay na eh, hindi nila iniisip 'yung naghahakot," Jumadiao said.
(I wish people would segregate their trash. I hope they'd wrap it in plastic and tie it, and not just leave them scattered on the road. They just throw their trash however they want, without thinking about those who pick up after them.) – Rappler.com
This article was written by Luisa Sandoval, an intern for Rappler. The article went through a reporter and editors before publication.