A quick and complete guide to voter registration in the Philippines. Sign up at your local Comelec office before September 30, 2021.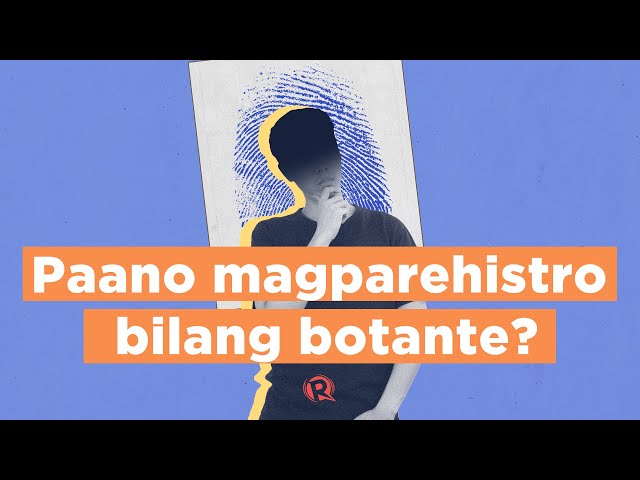 There's still a little less than a year left to register for the 2022 Philippine presidential election. However, given the additional hurdles posed by COVID-19, it's best to start early.
To save you from all the stress, we at Rappler Hustle bring you this quick and complete guide to voter registration during a pandemic.
Preparation ~1 week for scheduling
Most of the work happens even before you step outside. Accomplish all these steps to ensure a smooth visit to your local Commission on Elections (Comelec) office:
1. Ensure you meet these eligibility requirements
Filipino citizen
At least 18 years old on or before Election Day (May 9, 2022)
A resident of the Philippines for at least one year and a resident of the place in which you intend to vote for at least 6 months
2. Find your Comelec office and book an appointment
For many areas, this is your city hall. If you're unsure, just run a quick search of "(your city) Comelec" and click on their official website or Facebook page. They will most likely have a booking system for appointments.
Make sure you check their specific office hours, as this varies across locations. Due to the high volume of requests and limited space, it's best to book appointments at least a week in advance.
3. Print and fill out Comelec forms at home
You can find the official Comelec forms here.
Whereas most people need only fill out the CEF-1 and Coronavirus Self Declaration Form, there is also a supplementary data form for persons with disabilities (PWDs) and indigenous peoples.
We highly advise filling everything out before your visit, leaving just the signatures and thumbprints left to accomplish at the Comelec office.
4. Photocopy your valid ID
You will need to submit a copy of at least one of the following valid IDs:
Employee's identification card (ID), with the signature of the employer or authorized representative
Postal ID
PWD Discount ID
Student's ID or library card, signed by the school authority
Senior Citizen's ID
Driver's license
NBI clearance
Passport
SSS/GSIS ID
Integrated Bar of the Philippine (IBP) ID
License issued by the Professional Regulatory Commission (PRC)
Certificate of Confirmation issued by the National Commission on Indigenous Peoples (NCIP) in case of members of ICCs or IPs
Any other valid ID
You've conquered half the battle, and now you're ready for your registration appointment! Make sure to bring the following to your Comelec office:
Accomplished forms
Valid ID and photocopy of ID
Own ballpen
Face mask and face shield
Alcohol or hand sanitizer
Water (to stay hydrated)
Registration ~2 hours
Some procedures may vary between municipalities, but here's what to expect for your Comelec visit:
1. Contact tracing
Visitors tend to be limited, so you'll likely be placed in an additional queue outside to fill out contact tracing forms.
Since you already filled out your application, this could be the longest part of the process.
2. Application review and signature
An electoral officer will review your application, indicate any errors, and have you sign in front of him or her.
3. Logging application into the system
Your application will be digitized and entered into the Election Registration Board's (ERB) system.
4. Biometrics capturing
Have your photo taken and leave your digital signature and fingerprints.
5. Stub collection
And this is your takeaway from the whole process. Comelec personnel will detach, date, and stamp your acknowledgment receipt.

Make sure to hold on to your receipt and keep it in a safe place. This is to acknowledge that you have applied for voter registration, but it hasn't necessarily been approved.
Approval can take months, and you may be asked to come back with the receipt.
For now, you can relax and research on how to make the most out of your vote. More voter information can be found on the We the Youth Vote, which will be conducting webinars and information sessions leading all the way up to the 2022 election.
Voter registration ends on September 30, 2021. – Rappler.com