Planning for summer parties? These tapas recipes could come in handy!
MANILA, Philippines – The word "tapas" always brings pleasant memories to me.
It reminds me of good friends, great conversations and sangria (anything that involves sangria couldn't possibly be a bad thing). I adore these Spanish appetizers not only because they're delicious but also because they usually come in small plates. The size of the plate allows you to try a little bit of several things when having tapas with company. If you're having them alone, it's a great way to tide you over until the next meal. 
I attended a tapas class at Enderun led by Chef Jordi Martinez, the corporate chef of Barcino. Barcino happens to be my favorite tapas bar so I was thrilled. When I got there and learned that Chef Jordi looked like Justin Theroux I was giddy as a schoolgirl. I managed to listen to the short lecture he gave and even cooked up a creation of my own.
The latter was not easy – there was a sea of ingredients to play with, from Manchego cheese to baby eels in oil. It was quite the accomplishment. 
Before long, class was over and it was time to go. I thanked him for the "best tapas class ever!" (ugh) and asked him for tips on making tapas at home. (Double ugh. So predictable! But the other question on my mind was, "How does one get your number?" so cut me some slack.)
I'm not sure what I was expecting him to say, really. Always use fresh ingredients? A good quality olive oil does wonders? Something sensible and chef-like, I guess. But his answer surprised me. In heavily accented English he said, "Everything you need to make tapas, you can find in your refrigerator." It sounded like a challenge. 
I'm of the opinion that challenges are overrated but I do like taking one on from time to time. Prior to my clumsy creation in the abovementioned class, I had never made tapas in my life but that's exactly what I did. I raided my fridge and "pantry" (a small shelf of supplies) for ingredients that can be turned into tapas and finally settled on garlic, conch, bananas, bacon and sambal oelek.
Relax. I'm making two kinds. Both serve two and are made more delicious by a wine of your choice.
With only my food memories from Barcino to guide me, my mantra through all this was: "Keep it simple. Make it work." 
Conch in garlic
This is a dish usually made with octopus but I only had conch. Conch is the meat found in those large spiral seashells. Not the most common kitchen item, I know, but my mom makes a mean spicy Korean noodle dish with it and likes to keep it on hand. The canned meat tastes very much like clam.
To make, I used:
About 4 T olive oil

4 cloves sliced garlic

About ¾ cup sliced conch

Salt and freshly ground black pepper to taste

A dash of paprika
1. Heat the olive oil in a medium pan on low. Add in sliced garlic and let cook until they soften, 3 to 5 minutes. Be careful not to burn the garlic slivers.
2. Add in sliced conch. Season with salt and freshly ground pepper and let cook for another two minutes. The canned conch is pre-cooked so I really just had to warm it through in the garlic-infused olive oil.
3. Transfer to a small bowl and garnish with a dash of paprika.
It doesn't get any simpler than this. This one is all about the conch's flavor and pleasantly chewy texture.
Bacon-wrapped bananas
One of my favorite tapas in Barcino is bacon-wrapped dates. The dates in this dish are the preserved kind and they're hard to find so I tried making it with bananas instead. I also tried sambal oelek, a chili paste commonly used in Thai and Malaysian cuisine, for a little kick.
All in all, I used:
2 small bananas 

4 strips bacon

Sambal oelek as needed

8 toothpicks
1. Preheat the oven to 180 C/350 F. Lay out parchment paper on the baking tray and top with strips of bacon. Crisp the bacon in the oven for about 8 minutes.
The goal is to cook them long enough to render most of the fat and achieve some browning around the edges. When done, transfer the bacon strips on to a plate with a paper towel to drain but keep the oven going.
2. When the bacon strips are cool enough to handle, cut them in half. (Not all bacon is created equal. You might have to skip this part and use 8 bacon strips instead.)
Smear sambal oelek on the bacon strips. 
3. Slice the bananas into bite-size pieces. Place a piece of banana on a bacon strip and roll. Secure with a toothpick.
When done, place them back on the baking tray with a fresh sheet of parchment paper and crisp up some more in the oven, about 3 minutes.
I'm pretty sure I've gushed about the winning-ness of salty-sweet before so I'll spare you by simply saying YUM. My only regret with this dish is that, as fiery as it looks, sambal oelek barely registers in the spice meter. I think I'll try sriracha or even labuyo sauce next time.
So I guess Chef Jordi was right. Everything you need to make tapas is in your refrigerator (and pantry) after all. But after having made them, I think what he really meant was that tapas isn't just about the right flavor combinations and technique but more importantly about being creative and resourceful.
Working with what you have and enjoying the experience – it's the Spanish way! 
I didn't think it was possible for me to warm up even more to tapas but it looks like I have. I dream of gobbling them up in Spain with friends but in the meantime, my kitchen will have to do and that's just fine. – Rappler.com
Check out our other recipes: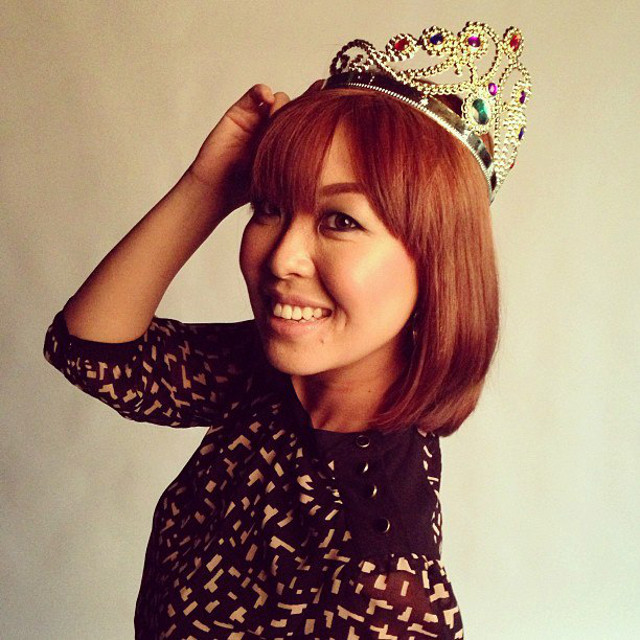 Sam Oh is a professional TV and events host, radio jock, and foodie wannabe. Catch her on radio at 99.5 PlayFM, Monday to Friday, 6am-10am in "The Playground" with Tim Yap and Nikko. She is also a food blogger at Sam Likes It Hot. If you have questions or recipe requests, email desk@rappler.com with subject heading SAM LIKES IT HOT.