Only a person without feelings has not felt the summer heat! Beat it with this dish!
MANILA, Philippines – I want nothing to do with a hot shower. In fact, I fantasize about bathing in a big tub of berry yogurt smoothie.
The thought of stepping out during the day strikes terror in my heart. The heat is on, people. The heat is ON.
I don't know about you but scorching hot days make me lose my appetite. This is noteworthy because I boast of an almost-unfailingly healthy one. All I want to do is down liquids – preferably sugary, most definitely ice cold. 
While hydrating is obviously a good idea (and no, not with sugary liquid calories), apparently we should all be eating healthier in the summer, too. Fruits and vegetables not only help hydrate but also help keep a dreaded but common occurrence when you're constantly in and out of air-conditioned places – the summer cold. Double whammy if you catch it and you're on vacation.
And so in an effort to feed my body on a hot day and keep it well, I whipped up a noodle salad with tons of vegetables for lunch. This recipe serves 4-5 so I also fed my family of 3 and had leftovers.
To make Soba Salad with Sesame Miso Dressing, you'll need:
1 pack 270 g soba noodles

1 liter water

1 medium carrot

½ a small red cabbage

1 medium cucumber

About 3 cups salad greens of your choice 
For the sesame miso dressing:
2 T soy sauce

4 T sesame oil

3 T tahini (available in specialty stores)

2 T miso (available in Japanese and Korean grocery stores)

4 T rice wine vinegar

3 T water

2 T grated ginger
To garnish (optional):
1. Get a liter of water boiling and prepare the soba noodles according to package instructions. Mine were done pretty fast once they were in; about 5 minutes.
2. While waiting for the water to boil and the soba noodles to cook, prep the vegetables by slicing everything into thin strips. Salad greens can be torn by hand.
I used a variety of vibrantly colored vegetables because a) they're aesthetically pleasing and b) apparently, you get a variety of nutrients this way.
I love hitting two birds with one stone. Set aside when done.
3. Whip up the sesame miso dressing by adding everything into a medium bowl and whisking well. Squeeze the grated ginger to add its juice to the dressing. Whisk and set aside. 
4. When the soba noodles are cooked, drain on a mesh strainer under cold water. This will not only stop the noodles from cooking further but also cool them down so we get a nice and refreshing noodle salad.
5. Time to plate! Now this is something I do when trying to cut down on carbs (all the time but almost never successfully) – I fake myself out by piling on the veg. I find that, because we eat with our eyes first, just looking at a full plate of food helps me feel more satiated.
So I plated with vegetables as the main component and the noodles as a sort-of garnish and toasted sesame seeds as the real garnish. It made a big plate of food that was heavy on nutrients and fiber and light on carbs.  
Isn't this just the picture of wellness? And in case you're wondering what greens I used, they're wormwood herbs which are commonly eaten in the motherland.
My Mom went to this Korean restaurant down the street from where we live and the nice lady who owns it gave her vegetables she grows in a little farm. The wormwood herbs were part of the bounty; it's really heartwarming but, oh gawd, I don't want to utter the word "warm" right now so let's get back to the noodle salad. 
The sesame miso dressing is awesomesauce (and it's really sauce!). It's nutty and very flavorful, a burst of Asia in your mouth. I also really love how the tahini gives it a light creaminess. Paired with fresh crunchy vegetables and cold soba noodles, it makes for a refreshing and energizing summer meal for any time of day. 
Let's get through this summer alive and well. Stay hydrated, eat (mostly) healthy and flying-kick this heat in the behind. – Rappler.com
Check out our other recipes: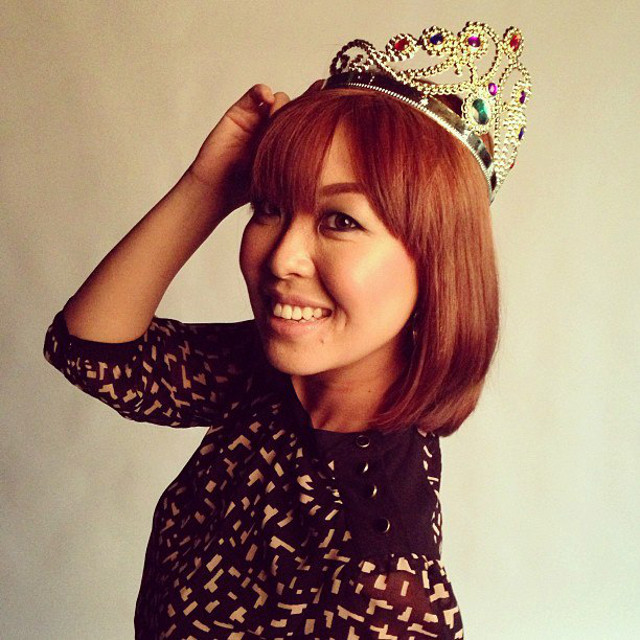 Sam Oh is a professional TV and events host, radio jock, and foodie wannabe. Catch her on radio at 99.5 PlayFM, Monday to Friday, 6am-10am in "The Playground" with Tim Yap and Nikko. She is also a food blogger at Sam Likes It Hot. If you have questions or recipe requests, email desk@rappler.com with subject heading SAM LIKES IT HOT.