Collectible figurine company Funko estimates that up to three quarters of its artists are Filipinos
This story is published in partnership with SoJannelleTV, a magazine show about Filipinos in North America
Mike Becker, founder of the collectible figurine company Funko, knows the value of the Filipino audience. He said that one of the biggest markets for the pop art collectibles are Filipinos, and estimated that up to three quarters of artists employed by the Washington-based company are Filipinos.
Funko has catered to that market with the special issue "pop vinyl" of popular figures, including a Jollibee figurine in a Barong Tagalog that was released for Philippine Independence Day in 2019; boxing legend Manny Pacquiao (in his basketball uniform and boxing gear); and Filipino American comedian Jo Koy, whom Becker said he gained an appreciation for after attending one of his shows.
More than that, he just loves Filipino people.
"Have you ever met a Filipino person that was negative, mean, or angry? I haven't," Becker told Filipino-American media pioneer Jannelle So Perkins for a segment called "So Cool" in the latter's SoJannelleTV show.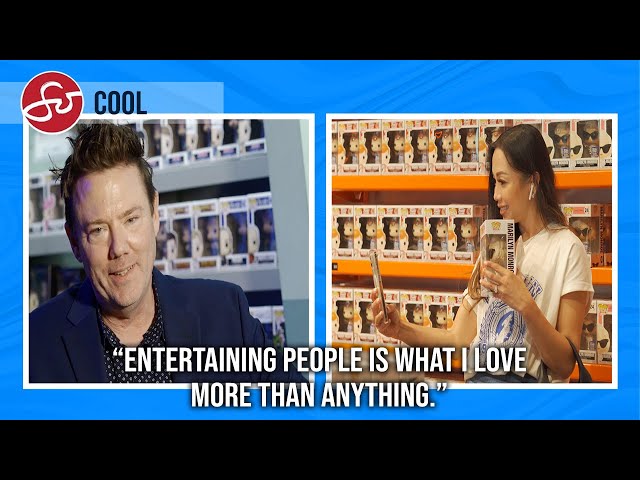 Becker, who founded the company in 1998, sat down with So Perkins at Funkon 2021, which took place August 4 through 6 at the company's store in Hollywood. In the same interview, Becker admitted his success didn't come overnight. He told So Perkins that he had tried and failed many times with different business ventures before finally finding success. The company is now traded publicly on the Nasdaq stock exchange and has signed licensing deals to produce figures of Disney and Marvel characters, among many others.
"I had a lot of ideas, a lot of things that I started and I'd get to a certain point and then something happened. With Funko, I sort of did that old adage, you do what you love and the success just seemed to follow. I didn't think with my head, I went all in with my heart, and it worked out," Becker said.
Becker listed three primary roadblocks that he and other entrepreneurs often face and must overcome: not having enough time, not having enough money, and not having the background to accomplish the goal. While it's important to overcome the roadblocks, Becker emphasized that it's just as important to greet the difficulties so one can prepare for them and meet them head on.
He shared that fear and uncertainty were the dominant emotions he confronted while embarking on this business venture as he pondered whether to leave his day job to devote his time and energy to Funko.
A big part of success also comes with picking the right people to surround yourself with in the business setting, So Perkins pointed out.
Becker said it isn't always about finding the candidate with the best college degree, but rather, one who shares the company's vision.
"It's usually people that have that go-getter type spirit, the kind of people that I feel are willing to do whatever you have to do. It isn't sometimes about having massive experience," said Becker.
After the interview, So Perkins got the opportunity to tour Funko Hollywood, the company's second brick-and-mortar store location, which opened in 2019 and is fast becoming a must-see place for those visiting Southern California.
The 40,000-square feet facility is divided into different sections that span the entertainment world, including a Marvel section with a giant Thanos watching over guests; a Wizardly World section featuring Harry Potter; and a sunken ship where visitors can meet The Little Mermaid. It shows just how large the company has grown since its inception when Becker marketed a vinyl figure of the Big Boy restaurant mascot.
The company's success and cultural influence is a testament to what can happen when a vision is carried out to its maximum potential. – Jannelle So Productions | Rappler.com
Rappler is partnering with Jannelle So Productions Inc (JSP), founded by Filipino-American pioneer and Los Angeles-based journalist Jannelle So, to publish video and written stories from SoJannelleTV about the journeys, successes, and challenges of Filipinos living in America.
Check out So Jannelle TV daily for stories that make you pause, reflect, and appreciate who we are and what we are as a people.
Fridays, 5 PM on KSCITV-LA18
Saturdays, 7:30 PM PT on ANC
Sundays, 3:55 PM PT / 6:55PM ET on TFC
Or any time on YouTube.com/SoJannelleTV