This is AI generated summarization, which may have errors. For context, always refer to the full article.
How did the project start? Why the decision not to name names in the video? And was the team afraid of getting trolled for it?
MANILA, Philippines – We've all seen the video by now: Angelica Panganiban going about her day, asking you – yes, you – whether you've been fooled by someone before. She assures you she's been through it, too – she's been hurt just like you, robbed of all hope, her heart ripped to shreds.
And she also reminds you – yes, you – that you don't deserve this kind of treatment from anyone. She's learned her lesson, and advises that in the coming 2022 presidential elections, we should all be discerning of the sweet-talkers coming our way, to be wary of thieves and empty promises.
The video, uploaded on the Facebook page of the organization Young Public Servants (YPS), has garnered 1.3 million views and 42,000 shares since its premiere on Tuesday, February 1. Netizens were quick to latch on to its swipes at corrupt politicians (who, cheekily, remain unnamed), hidden in just the right mix of hugot and humor. It was a pleasant anomaly amidst the contrived campaign videos and nasty partisan squabbles typical of election-time social media.
But who are the Young Public Servants, and how did the video come to be produced in the first place?
On Thursday, February 4, Rappler sat down with Smile Indias, a board member of Young Public Servants, and the video's producer, Alemberg Ang, to talk about the video's origins, what they hoped to accomplish with it, and how they felt about its overwhelming reception.
(Responses edited for brevity and/or translated from Filipino to English.)
Rappler: Could you tell us a little bit more about Young Public Servants?
Indias: YPS is an organization committed to promoting governance and democratic citizenship among the Filipino youth. It started in 2008, and in the past elections it's had many projects to really try to encourage young people to be more mindful and discerning about who they choose as their leaders, and to be better engaged in the socio-economic development of the nation.
Rappler: How did this whole video project start? Where did the idea to make this video come from?
Indias: We really saw a need to cross over into a more pop culture approach for our messaging, a fresh take. The fight has gone digital. We had to figure out how else we could emphasize that the personal is political and the political is personal – that your personal hugot has an impact on the national hugot. And who else is the Queen of Hugot but Angelica Panganiban? So through our networks, we were connected with Alemberg's team.
Ang: A friend asked me if I wanted to help this group making a video on voters' education. I'd worked with Angelica Panganiban already before, and I had friends who were very good at hugot scripts. I then learned that the group didn't have a proper production team just yet, so I pulled people in who wanted to volunteer. It's quite easy to get people to volunteer if it's a good cause, and I really loved the narrative, the way it was presented.
What I really loved about the campaign was how it was trying to get people to relate more to election issues without feeling like these topics were too lofty or too far removed from their everyday lives.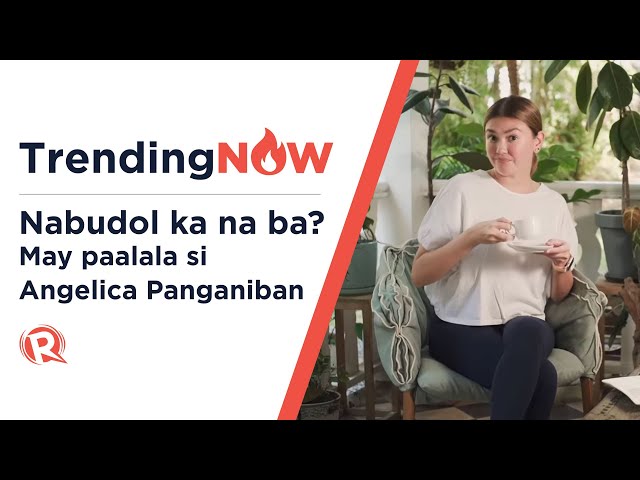 Rappler: Campaign messaging in the Philippines is always very loud and in your face. Why decide to do something more subtle and satirical instead of straightforward?
Indias: Especially for YPS, when the concept was being built, we imagined that people were already sick and tired of the same talking points on voters' ed. And voting is very personal. So, instead of the usual "talking down" to voters, telling them what they should do, we instead went for a "reflective" approach.
Ang: I grew up watching shows like T.O.D.A.S., Champoy, Sic O'Clock News, and I remember there would be Rock Da Vote comedy sketches before the elections. Filipinos were ahead of the times – even before The Daily Show, Stephen Colbert, John Oliver, we were already able to talk about politics in a smart yet funny way.
It's just that, in the past few years, everything became so dark, so negative, and it's just so disheartening to know that we Filipinos are supposed to be the second happiest people in the world, and somehow this light was snuffed out of us and made us so angry. It's so annoying that the people who are calling for unity are the very ones sowing disunity, are the ones behind what has divided us.
So I felt like the best way to get Filipinos interested in politics and to unite everybody was through humor. When disasters strike, for instance, Filipinos still trade jokes, right? So it was a good way to do this – and to bring back those kinds of satirical shows we had before.
Rappler: Why the decision not to name names, whether in a positive or a negative light?
Indias: YPS as an organization is non-partisan, so we value the idea that, at the end of the day, your vote is an individual choice, so we just need to remember the things that matter to us: it matters to us that we don't get swindled; it matters to us that we're happy.
Ang: The point of this video is not to promote any candidate at all. That's really not our intention. The intention is: come on, the presidential elections happen every six years. We need to think wisely about the people we vote into power. If they're bad public servants, we're going to have to suffer under them for six years! This is a collective thing; it's not a class thing. We're all in this together.
We want people to be smart, to not be misled by fake news, false assumptions, and revisionist history. If we can be so critical of the gowns our beauty pageant queens wear, why can't we be as critical of the people we vote into public office? It's not about, "Vote for this." It's really just: "Think about your vote."
Indias: We've been so divided already, but there are still certain experiences that are universal, that we share with everyone regardless of who we vote for. We all don't want to be fooled or scammed; nobody wants to get robbed. We keep getting pushed into different camps, but there are things we value as a collective, as humans, so that's what we wanted to highlight in the narrative.
Rappler: How did Angelica Panganiban come to be part of this project?
Ang: I know Angelica's personality. She's real, she'll tell you like it is – and in a fun way. So the script that was written, that's really who she is. So when we approached her, she really wanted to do it. She didn't think twice about it, even though she knew she could be bashed.
We're all volunteers here. Our desire to help comes from the heart. Nobody was forced into this, and nobody got paid for this. This was something we really just wanted to do, because we see the impact of our contributions on what will happen to our country.
Rappler: These days, anything that remotely jabs at a politician is met with a flood of hatred online. Were you worried about that? Was it something you took into consideration?
Indias: For YPS, this was something we all discussed as a board, as an organization. We wanted to take care of the mental health of our Facebook page's community manager. But at the end of the day, we had the resources and the platform to stand up for our advocacy. We stand against fake news and disinformation; we stand for truth and transparency and accountability in government, and we really wanted to engage with a wider audience, so we agreed as an organization that the benefits outweigh the risks. We went through with it fully knowing what we were going to face; it's just part and parcel of standing up for something.
Ang: We wanted to make sure that Angelica was comfortable with everything she would do and say in the video, that she knew what would happen. And as for the rest of us on the production side, we were one of the hardest-hit industries during the pandemic – so many of us lost our jobs – so we were one of the groups most "swindled" by public servants in the past few years. So we felt it was our responsibility to do something. And it's not just our lives and our families involved; it's just really good for the nation. We see why it's really important to speak up. There were so many of us in the industry who just kept on helping, volunteering for this particular election, and I'm just so proud to be part of this industry.
Admittedly, a lot of us were offered a huge, huge amount of money to work on certain people's campaigns before, in 2016, and while some have admitted to taking this money then, now, they're definitely not taking it this time. That's a hard no. A full-stop no. We've seen the effect of the work that we do – how a small act could help our own family at this time, but can badly affect people over the next six years.
Rappler: How do you feel about the overall reception of the video? It got super viral right away.
Indias: We at YPS are happy, very thankful to Angelica, Alemberg, and the team, to everyone who helped make this happen. The digital space is so saturated already, so it takes so much more for a video to go viral these days, to have an impact and deepen the conversation. Our goal was to get people talking and for the people to be more discerning about the process of choosing their candidate.
Ang: Like I've said, we're just volunteers, so to see our work, which we've put so much effort in, get such a positive reception is good validation. At the same time, it made us feel like we weren't alone in our sense of obligation to the country.
Rappler: Will there be succeeding videos?
Ang: Well, as one favorite satirical comedy show I used to watch would say, "Abangan ang susunod na kabanata (Stand by for the next chapter)." – Rappler.com