Eclair Bar's assorted boxes feature up to 12 flavors of their freshly-baked eclairs!
The eclair, a traditional French dessert, is a sweet treat made of choux pastry and filled with cream, shaped like an oblong, and usually topped with chocolate ganache.
It's a treat local bakery Eclair Bar has perfected – and with a variety of unconventional and delicious flavors. The delicate pastry is baked until golden-brown. It's pillowy, thin, soft to the bite, and still sturdy enough to hold in the silky, creamy custard inside, which overflows immediately at first bite.
Eclair Bar's premium assorted boxes are a sight for the eyes and a feast for the palate – each box has up to 12 of their signature flavors, making it a fun dessert to try out with your household.
The eclair isn't very sweet on its own, which is just right, since the different toppings and creams make all the difference.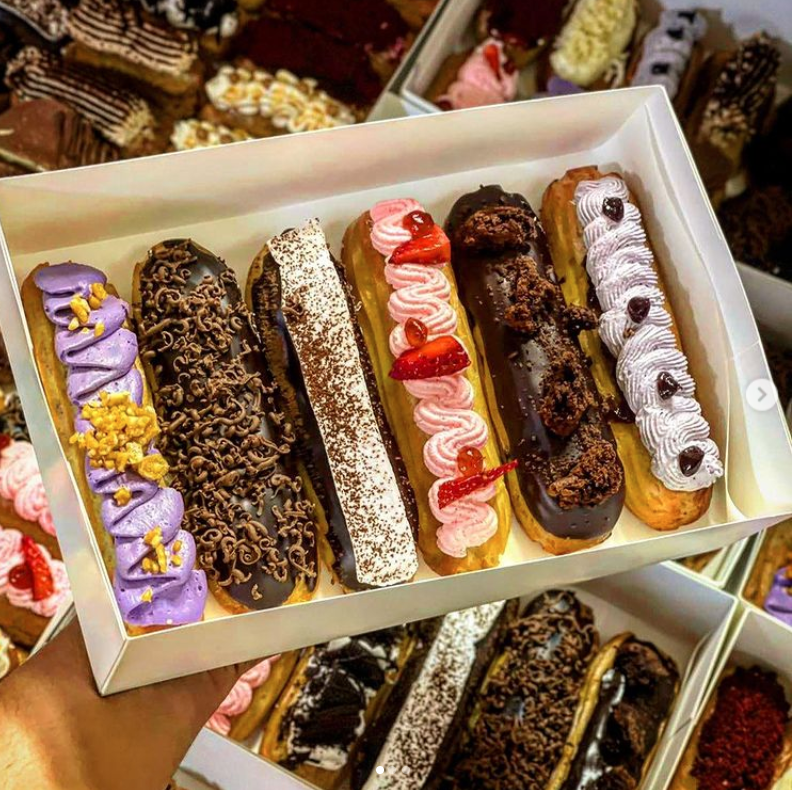 Eclair Bar has classic choices, like the Traditional Eclair, made with a creamy bavarian custard and chocolate icing; the decadent Triple Chocolate for the chocoholics (chocolate custard, chocolate ganache, and chocolate shavings); and the rich Coffee Fudge Brownie, topped with moist chunks of a fudgey brownie.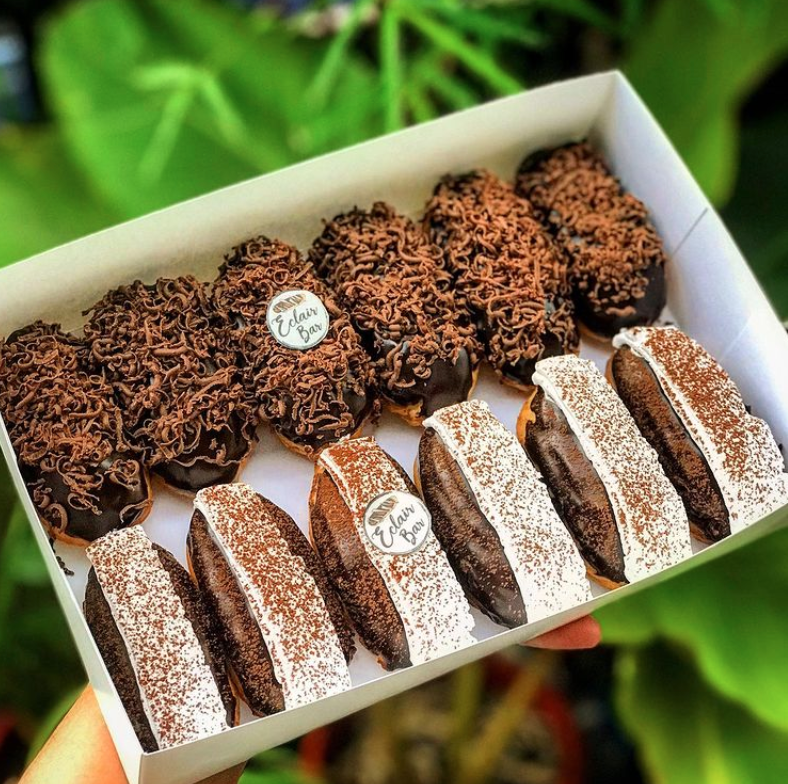 Coffee lovers may like the Cappuccino, made with an espresso-based custard, coffee cream, and cocoa powder dust, while caramel enthusiasts may gravitate towards the Dulce De Leche, filled with the thick sweetened custard, topped with vanilla whipped cream and a caramel drizzle.
Nutella fans aren't forgotten, because Eclair Bar's Nutella Hazelnut variant is stuffed with a hazelnut custard, topped with a crisp Nutella chocolate chip, and more chocolate sauce. Oreo fans will be glad to see an Oreo Madness flavor, too.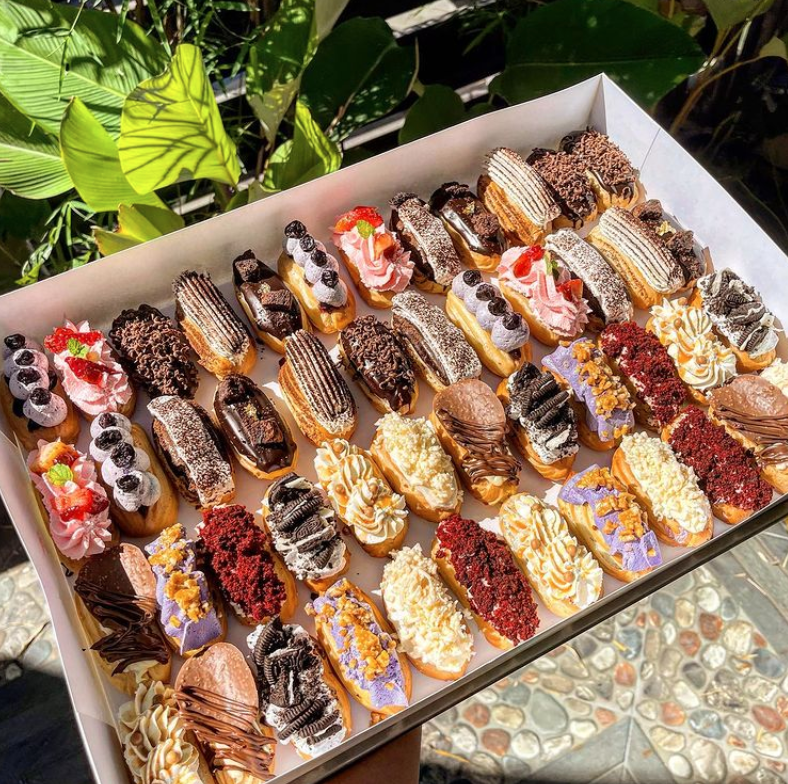 Their Filipino-inspired flavors include Ube Halaya, made with a homemade, sweet ube custard, ube whipped cream, and salty, caramelized peanut brittle on top. Their Ensaymada flavor is both sweet and savory, too – it's made with a buttercream custard and grated cheddar cheese on top.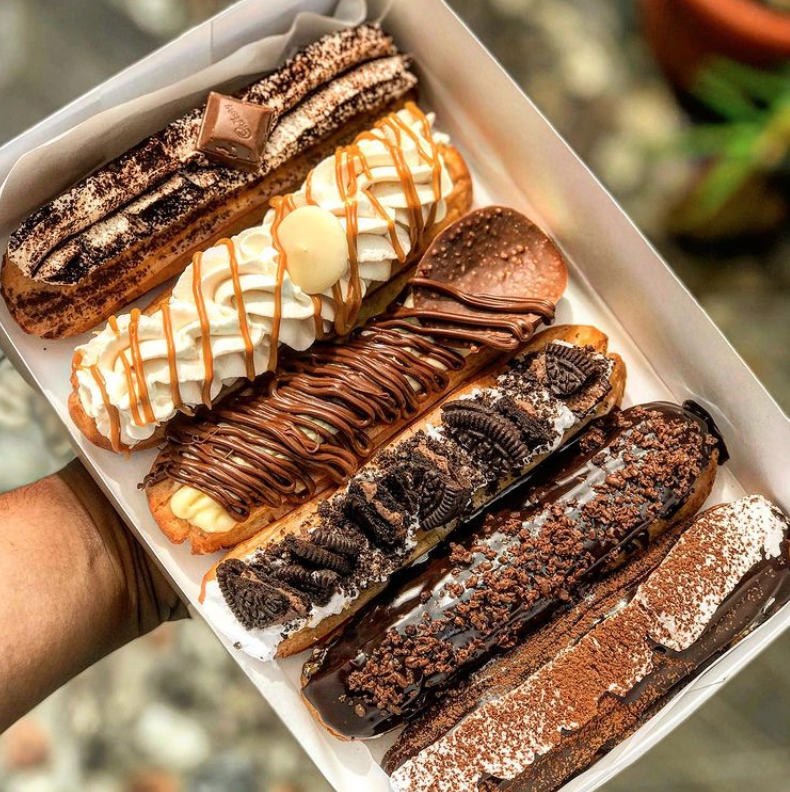 There's Red Velvet too, filled with a cream cheese frosting-like custard, topped with white chocolate ganache and red velvet cake crumble.
If you like fruity flavors, try the tangy-sweet Strawberry Cream and Blueberry Cream – they're stuffed with tart fruit jam, topped with a light, berry flavored cream and fresh blueberries or strawberries.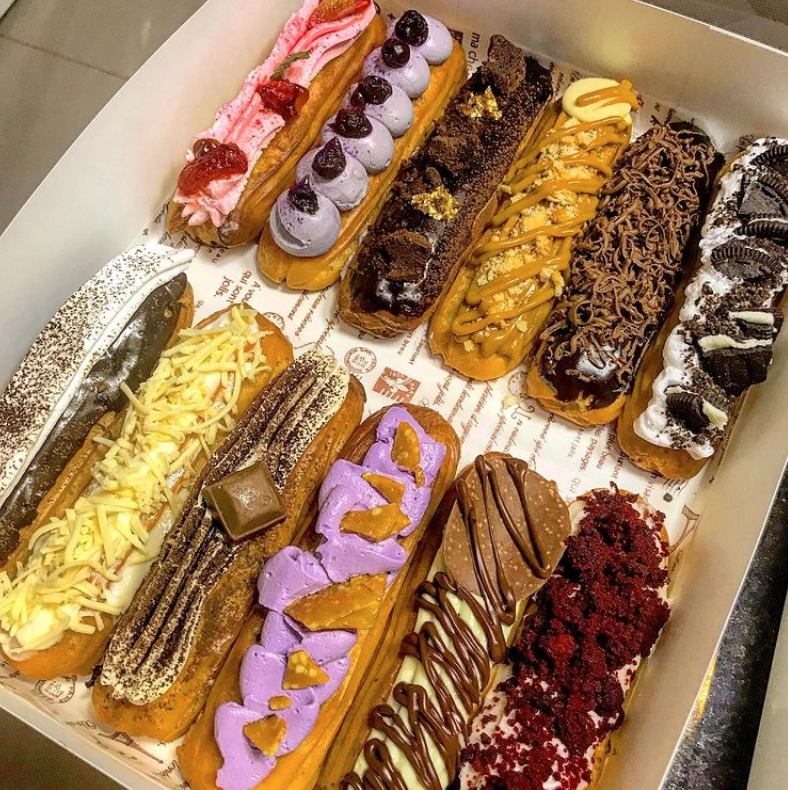 Eclair Bar sells their 5″ pieces in boxes of 6 (P380) and 12 (P720). You can also get 2.6″ pieces in boxes of 6 (P255), 24 (P985), 12 (P485), and 48 (P1,985).
Eclair Bar is based in Cainta, Rizal. They're open from Mondays to Saturdays, 10 am to 8 pm. Customers can order via Instagram or via Viber at 09153142287. – Rappler.com