Hey plant baes, great news – plant-based brand Harvest Gourmet is finally in the Philippines!
Great news for vegans, vegetarians, and budding flexitarians! The country's plant-based movement continues to gain traction as another multinational company joins the meat-alternative market – Nestlé Philippines has introduced their plant-based brand, Harvest Gourmet.
Nestlé launched Harvest Gourmet on World Vegan Day (November 1) in hopes to shine a light on the need for healthier eating, the environmental impact of meat consumption, and the commitment to sustainability.
Harvest Gourmet currently offers three meat-free hero products so far – Chargrilled Pieces, Sensational Burger, and Schnitzel – all sold in two-kilogram frozen packs ranging from P2,300 to P2,430. The items are only available in wholesale sizes as of the moment, due to Nestlé's B2B priority in getting restaurants, major chains, and hotels in on the plant-based demand first.
The vegetarian Chargrilled Pieces uncannily look like grilled chicken nuggets; they've got the smoky, chargrilled marks down pat. The texture is "meaty" – firm with a slight chew – and has a golden-brown, crunchy exterior when fried perfectly.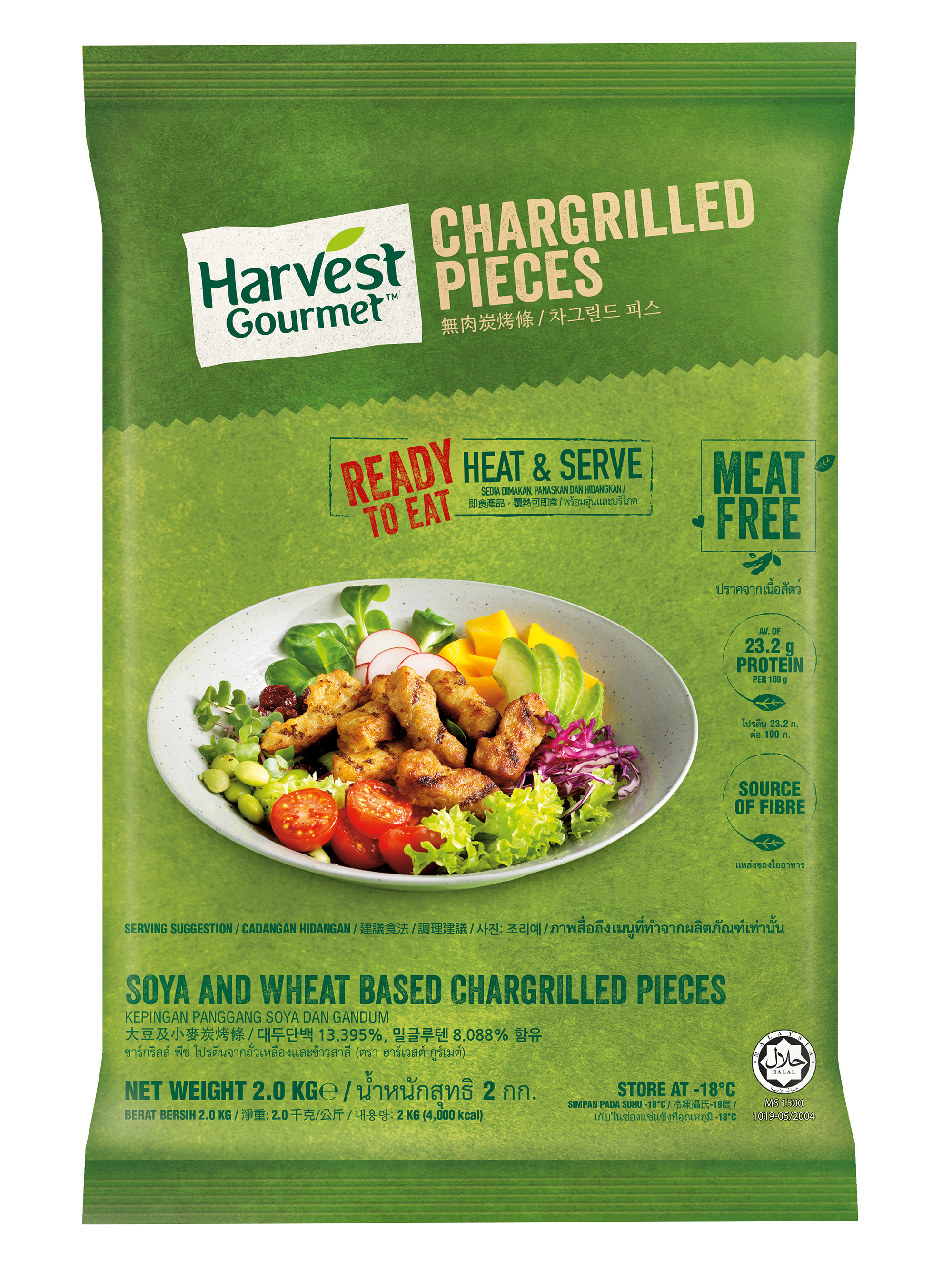 The flavor is just right; not too salty or bland, which makes them a good, versatile addition to salads, buddha rice bowls, pasta, wraps, sandwiches, or even on their own, dipped in aioli, barbecue sauce, or ketchup. These can easily be a kids' favorite!
They are already pre-cooked, so all you have to do is remove them from the freezer and re-warm them in an oven, in an air fryer, or on the stove.
Harvest Gourmet also has a vegan Sensational Burger, a thick, 113-gram meat-free burger patty that's substantial in flavor and hefty in serving size, with texture similar to a well-cooked, juicy patty.
It has a good savory flavor profile, but it does taste like a plant-based product – for those familiar with that "meat-free" aftertaste, there's a hint of that here. It's good used in a vegan or vegetarian burger though, or used as a base for mushroom gravy and other sauces.
The Sensational Burger is sold raw, so it must be cooked as you would a normal patty (feel free to add spices and herbs to it beforehand).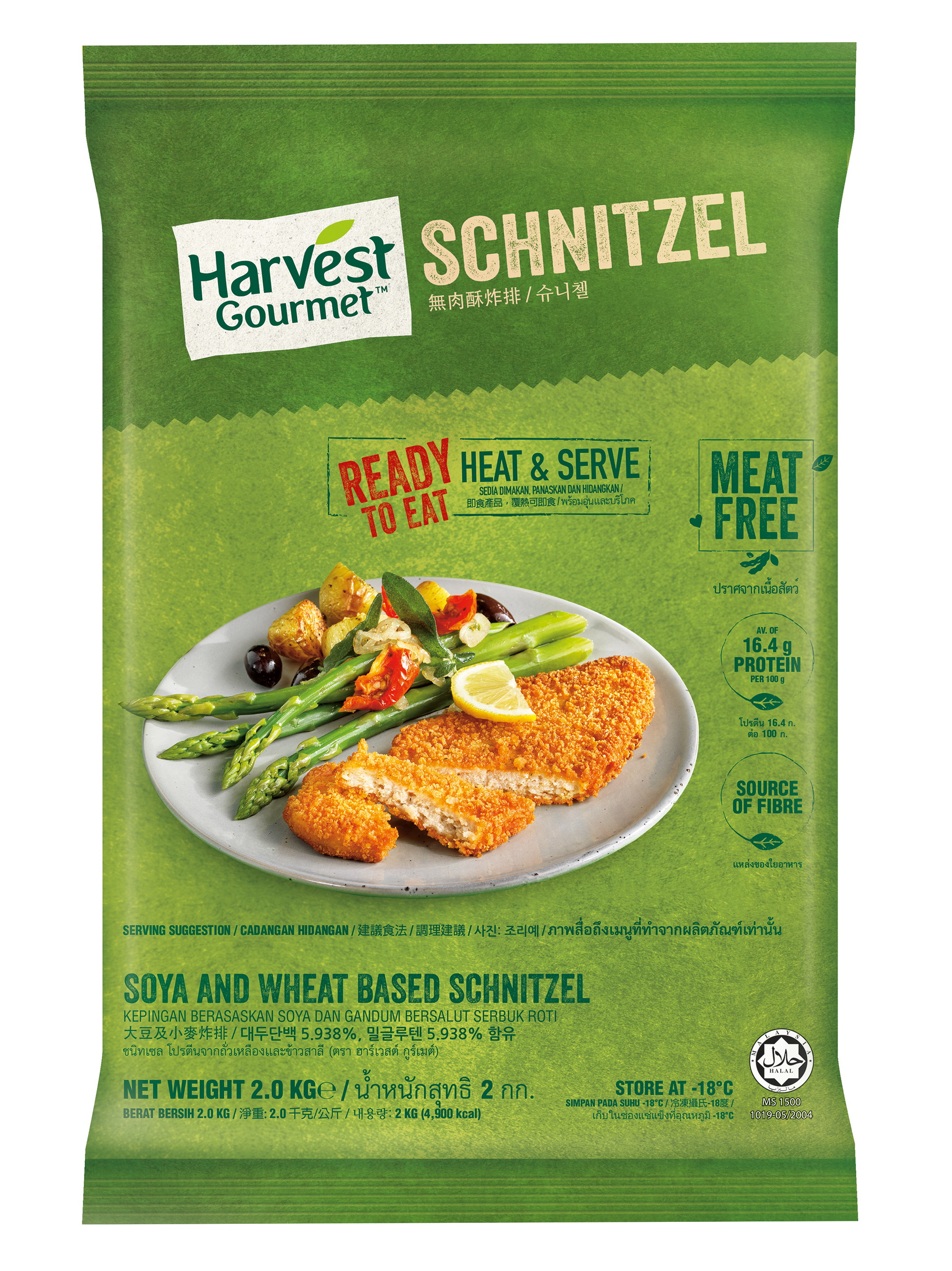 Lastly is the vegetarian Schnitzel – a thin chicken chop coated in breadcrumbs, which turns out crisp and golden-brown when re-fried in the oven, in a pan, or in an air fryer. It tastes similar to the chargrilled pieces, and is just as versatile – you can use the schnitzel for vegetarian versions of chicken parmigiana or katsudon, or as an entrée, and in sandwiches, wraps, and more.
Each halal-certified product is rich in fiber and plant-based protein, and made with non-GMO soy and wheat which are "responsibly sourced," according to the company.
Harvest Gourmet plans to launch other plant-based items by 2022, like meat-free mince, another form of nuggets, balls, and others.
According to Nestlé Philippines CEO Kais Marzouki, switching to plant-based food and beverages is not only beneficial to the consumers' health, but also for the global fight against climate change.
"Accelerating consumption of plant-based alternatives will help us attain our company's commitment to achieve net zero greenhouse gas emissions by 2050, contributing to the aim of the Paris Agreement to limit global temperature rise to 1.5°C," Marzouki said.
Customers can order Harvest Gourmet's products online via Rare Food Shop, Nestle Professional's Facebook page, and Prime Pacific Foods Corporation.
Nestlé Philippines is the latest company to join the plant-based commercial market – Century Pacific Food launched unMEAT in March, while San Miguel Foods came out with their Veega line in July 2020. – Rappler.com