Michelle Sterling wants readers to appreciate family bonds and Filipino culture through her book 'When Lola Visits'
Filipino-American author Michelle Sterling said she wanted to share the warmth of Filipino culture to foreign readers through her debut children's book, When Lola Visits, which is based on her own childhood summer memories with her grandmother.
Sterling's book, which hit bookstores on May 18, celebrates the heartfelt bond of Filipino families. It tells the story of a young girl who spends a fun-filled summer with her lola (grandmother) who has come from the Philippines for an annual visit. In the coming days, the two spend time together baking, going to the beach, catching fish, and sharing all sorts of wonderful moments.
In the online event streamed by Fully Booked via Facebook, Sterling, who lives in Southern California, said the story was inspired by the things she loves about summer and was based on real experiences she had with her family.
"Some of the story is inspired by memories I had with my own lola and my family growing up, so my childhood memories. And then some of it is inspired by memories with my family now, and some of it is inspired by things I hope we'll do together as a family in the future," she said.
Sterling also wanted Filipinos living abroad to celebrate their culture through her book.
"Stories about family are a great reminder of the joy that they are in our lives, and just the beauty of family. For Filipinos living in America, I wanted them to have a book that celebrated our culture. There's so many Filipinos all over the globe living in other countries, a huge Filipino diaspora, so I wanted a book for all of us, whether we live in the Philippines or whether we live in the US," Sterling said.
"For people who are not Filipinos, I wanted them to see our culture and see Filipinos in the pages of a book. I wanted them to see the warmth of Filipino culture. I really think that our culture is such a warm, hospitable culture, like such a loving culture and such a giving culture," she added.
Sterling said her favorite scene in her book was when the granddaughter and her lola made making calamansi pie during Independence Day in the US, stating that it symbolizes the "coming together of two cultures".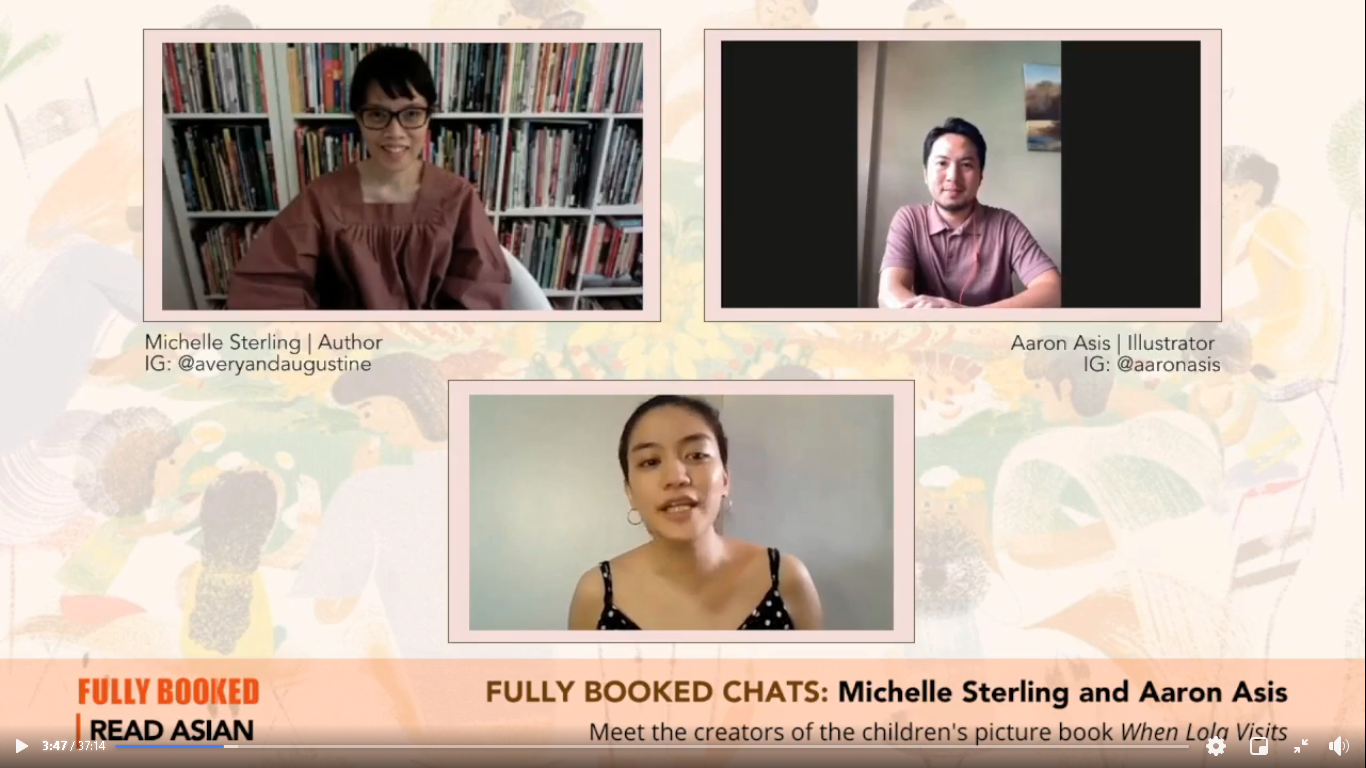 When Lola Visits was illustrated by Aaron Asis, a Filipino illustrator who utilizes vivid colors in his works. The Bicol artist said that Sterling's book helps give readers a better appreciation on the importance of familial love to Filipinos.
"Isa sa mga values na kilala tayong mga Pilipino ay 'yung pagiging close natin sa ating kapamilya, and for me, it's worth celebrating para mas lalo pa nating mapagtibay at maappreciate 'yung pagmamahal natin sa isa't isa," Asis said.
(One of the values that we Filipinos are known for is how close we are to our families, and for me, it's worth celebrating in order to strengthen and give more appreciation to the love we have for each other).
"It's also important to tell our own stories and show them who we are, and it's equally important to be exposed to other cultures and voices as well for us to appreciate and understand each other more," he added.
The event, titled Fully Booked Chats: Michelle Sterling and Aaron Asis, is a part of the Read Asian lineup organized by Fully Booked. For the month of June, the bookstore put the the spotlight on Asian authors and literature ranging from cookery to fiction through several online events. – Rappler.com
When Lola Visits is available on hardcover on the online store of Fully Booked.
John Patrick Magno Ranara is a Rappler intern.
Order your next read online using this Shopee coupon.