Through age-appropriate, open conversations about sex, relationships, and where to access reproductive health services, advocates say we can help stem teenage pregnancies in the Philippines
In the Philippines, teenage pregnancy rates have been alarmingly on the rise – even before the coronavirus pandemic came and put thousands of couples under lockdown. What got us here? Is there hope for children to stop having children?
Despite the passage of the Reproductive Health (RH) Law in 2012, there are still 150,000 adolescent-led families that lack support as of 2019.
In their 2019 RH Law annual report, the Commission on Population and Development (PopCom) and the Department of Health (DOH) found that the number of girls getting pregnant and giving birth for the first time at a young age has been increasing.
In the final episode of Rappler's webinar series "Spilling the Tea," panelists talked about empowering women and girls with information about their sexuality so that they can make informed choices about when and if they want to start a family.
The guests included Precious Llasos, a young mom, and LGBTQ+ advocate Cha Roque, who got pregnant at 17 and is now 35. The discussion was also joined by Roots of Health executive director Amina Evangelista Swanepoel, Louriajoy Paragon from the Family Planning Organization of the Philippines, and Erick Bernardo from the Likhaan Center for Women's Health.
Ana Santos, Rappler's sex and gender columnist, hosted the discussion together with Jona Turalde from SheDecides.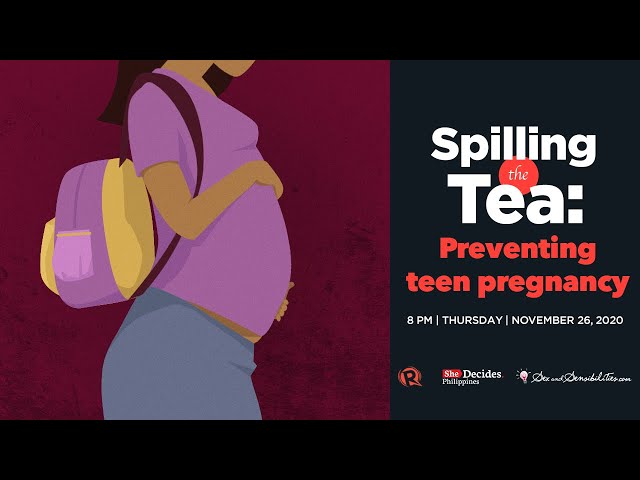 Being a young mom
Cha Roque faced pregnancy when she was 17, in her 2nd year of college. At the time, her family was planning for her debut birthday party.
While her parents made Roque feel she was supported, Roque said she could not help but feel a "tinge of regret," as she wished she could be with her friends as they journeyed through college.
"I was taking Communication Arts, tapos habang pregnant ako, nagkukuwento 'yung friends ko na nagfi-film production, video producation na sila. 'Yun 'yung mga major subjects that I was looking forward to," she said.
(I was taking Communication Arts, and while I was pregnant, they were telling me that they were taking up film and video production already. Those were the major subjects I was looking forward to.)
Two years later, Roque was able to go back to school, and her teachers and peers were open-minded in welcoming her back. It was a pleasant surprise, since Roque attended a Catholic school for college.
Meanwhile, young mom Precious Llasos got pregnant with her live-in partner at 20 years old, a time when she temporarily stopped studying to work. Personally, it was her dream to have a baby, but the couple's mothers met the news with shock. Eventually, their parents accepted it, and gave Llasos the support she needed.
Llasos considered herself lucky for having a support circle that was free of shame.
"I'm very happy. Although hindi naman siya dapat lucky, kasi dapat talagang sinusuportahan 'yung mga teenage [mothers] (But it shouldn't have to be lucky, because supporting teenage mothers should be a norm)," she said.
The cases of Llasos and Roque are fortunate. But there are plenty of teen mothers in the Philippines who face stigma, judgment, and blame from the people around them.
Access to information, services
How many young people know the first time they have sex, that it was sex? What is consent? Does everyone know where exactly to go if they need sexual and reproductive health services? The panelists said the answers to these questions may not always be clear to young people.
Roots of Health executive director Amina Evangelista Swanepoel said there are unique challenges that young people in rural areas face due to limited accessibility. Swanepoel said many of them are unaware about contraception, and how pregnancy happens.
In school, their sex education was as much as how a sperm cell meets an egg cell. But there were no discussions about the context of how those cells meet – like relationships, how to have safe sex, and the many reasons people have sex.
After giving birth, Roque expected her OB gynecologist would explain birth control services, but the doctor only provided information when she asked. Roque felt that there could have been a thinking that even though she had gone through a pregnancy, she was still a minor. And the OB gynecologist giving information freely would be like she was "encouraging (kinukunsinte)" a child to have sex.
Swanepoel said healthcare service providers still vary in how progressive they are in providing sexual and reproductive health services to young people. The older ones may be more judgmental, which discourages young people from asking questions.
And when they do, they are sometimes subject to judgment and scolding.
Swanepoel said to help lessen the culture of judgmental healthcare workers, Roots of Health conducts youth-friendly clinic assessments for barangay health centers and trainings for nurses and midwives.
The trainings' main messaging is if the workers don't provide contraception now, they'll come back pregnant and ask for pre-natal medications. Swanepoel said this usually sways them to be more open about it, but it remains a challenge since their personal values hold that young people should not be sexually active.
"We tell them 'you don't need to change your beliefs, but as a health provider, you are required to provide services even if they're doing something you don't approve of,'" said Swanepoel.
The Philippines being an archipelago also makes it geographically difficult for services to be available everywhere. Swanepoel said implants are great for places like this, since these are contraceptives that prevent pregnancy for 3 years.
Government support
Through the implementation of the RH Law, the PopCom said 2.8 million unintended pregnancies, 669,000 unsafe abortions, and 1,470 maternal deaths were averted in 2019.
In addressing the teen pregnancy dilemma, the panelists said NGOs and the government should work hand-in-hand. Erick Bernardo, adolescent sexual and reproductive health program coordinator for the Likhaan Center, said the government does exert preventive efforts, but it could still do more.
For instance, all women about to give birth are entitled to enrollment in the Philippine Health Insurance Corporation (PhilHealth) so both the mother and child can avail PhilHealth benefits. But these benefits can only go so far as the family can pay for premiums.
Meanwhile, Swanepoel said the DOH should work with the Department of Education to help girls go back to school. Even as the Magna Carta for Women holds that schools cannot kick out students for being pregnant out of wedlock, many pregnant girls still don't feel comfortable attending their classes.
Swanepoel also said while there are plenty of passionate advocates in the government, it is mostly focused on preventing repeat pregnancies. "I'm always the one in the room saying, can we please prevent the first one?"
"Nobody wants to deal with the fact that young people are having sex. I just feel like if we just accept that, and stop with the narrative that we're a conservative culture, if you look at the data, we're really not…. If we keep pretending that it's not an issue, hindi natututukan (it's not paid attention to)," she said.
"I feel like realistically, they're having sex, let's teach them to do it safely, so they're not going to have an unplanned pregnancy and sexually transmitted infections."
Family, peer support
As her child grew older, Roque wanted to stop the cycle of treating the topic of sex as taboo in her household. She engages in open, age-appropriate talks with her daughter, where she is free to ask questions without judgment.
Meanwhile, Llasos said her parents reassured her that she could go back to school, since there were plenty of people at home who could look after her baby. Llasos also answers her younger brother's questions about sex.
According to Santos, research has found that the more parents open communication lines about sex education and informed choice with their children, the more responsible children will be about their decisions in intimate relationships.
Swanepoel said one way to foster healthy communication about sex is by starting early, like parents teaching their kids to call genitals by their real names and not things like "flower" or "birdie."
Youth volunteers also play an important role in supporting teen mothers. Louriajoy Paragon, national youth representative for the Family Planning Organization of the Philippines (FPOP), said a 17-year-old girl who was pregnant and scared felt better when she opened up to Paragon, who was around her age.
Where can you access information?
Paragon highlighted the importance of making services visible. Young people, for instance, could share resources on social media to increase awareness among their peers.
Roots of Health, meanwhile, has several online groups for such as for youth advocates, parents, and teachers. Here, they post materials on how to talk to kids about sexuality and other relevant resources.
Likhaan has 8 clinics in Metro Manila, Bulacan, and Eastern Samar where women and girls can avail of contraceptive implants for free. Likhaan continues to operate despite the coronavirus pandemic, and also provides free tele-consultation on weekdays. It even developed a chatbot for teenagers to ask their questions in confidence.
In Puerto Princesa, Palawan, Roots of Health provides implants, IUDs, DMPA injections, pills, and condoms in their two clinics.
Meanwhile, FPOP has numerous clinics nationwide for door-to-door sexual and reproductive health services. People can also course their inquiries through their Facebook page.
"When women are empowered to make decisions about their bodies, they can control their future and their lives," said SheDecides' Turalde. – Rappler.com