'We cannot allow the present administration to tolerate impunity by giving hero status to a dictator who has so wronged the people,' the groups say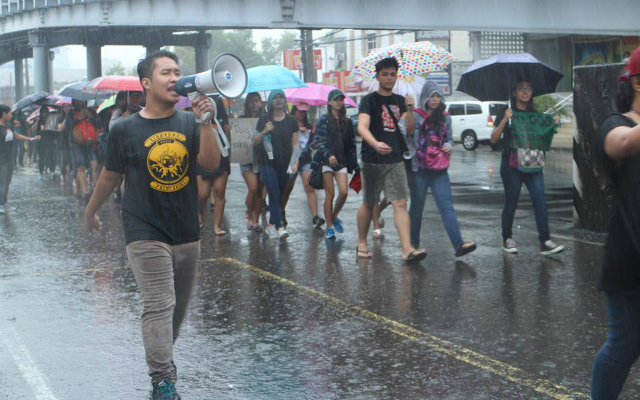 ILOILO CITY, Philippines – Hundreds of Ilonggo activists, and youth and sectoral leaders braved heavy rains on Friday, November 25, to join the national protest of solidarity against the burial of the late dictator Ferdinand Marcos, calling the event a "Day of Unity and Rage against Marcos Hero's Burial."
Despite the heavy downpour due to Tropical Storm Marce, Ilonggos continued to march along General Luna street chanting, "Tuloy pa rin ang laban (The fight is not yet over)," and encouraging drivers to honk their horns for justice.
Led by the Campaign Against the Return of the Marcoses to Malacañang (CARMMA), along with human rights group Karapatan and Bagong Alyansang Makabayan (Bayan), the protest started at the University of the Philippines Visayas-City Campus and ended at the Iloilo Provincial Capitol where they gathered for a short program.
In a statement, Bayan-Panay said that "the Marcos burial at the Libingan ng mga Bayani on November 18, even with the surrounding haste and secrecy, has brought the Filipino nation to rage. "
The group added: "The dubious political agenda of the Marcoses has become even more manifest. In trying to restore the image of the dead Marcos from being the worst among the world's tyrants and plunderers, they only succeeded in opening the wounds suffered not only by the direct victims of Martial Law but by the Filipino nation as a whole. In the process the people came together and united behind the resounding call: MARCOS IS NO HERO!"
Hope in millennials
Seigfred Deduro of Makabayan Panay, a Martial Law victim, urged millennials to continue the fight against historical revisionism, while Elijah Estante, Student Council chairperson of the University of the Philippines Visayas, called for his fellow youth to correct history.
"We cannot allow the Marcoses to reverse the judgment of history to pave the way for their return to the highest seat of power. The Filipino nation suffered during Martial Law and eventually drove the dictator and his family – Imelda, Bongbong, Imee and Irene – out of Malacañang and out of the country in 1986," the groups said.
Bayan-Panay added: "We cannot allow the present administration to tolerate impunity by giving hero status to a dictator who has so wronged the people."
CARMMA and Makabayan also staged a protest against Bongbong Marcos during his Iloilo campaign sortie in April 2016.
The protest peacefully ended with the UPV-College of Management Cultural Group Rhapsody singing their version of "Bayan Ko" and the crowd singing along with their fist raised in the air. – Rappler.com
Related stories:
From Manila
From the provinces