'It creates an avenue for appreciation for original Pinoy music and at the same time, an avenue for UP students to come together in unity calling for social change,' says Julie Corridor on the significance of UP Fair in the UP culture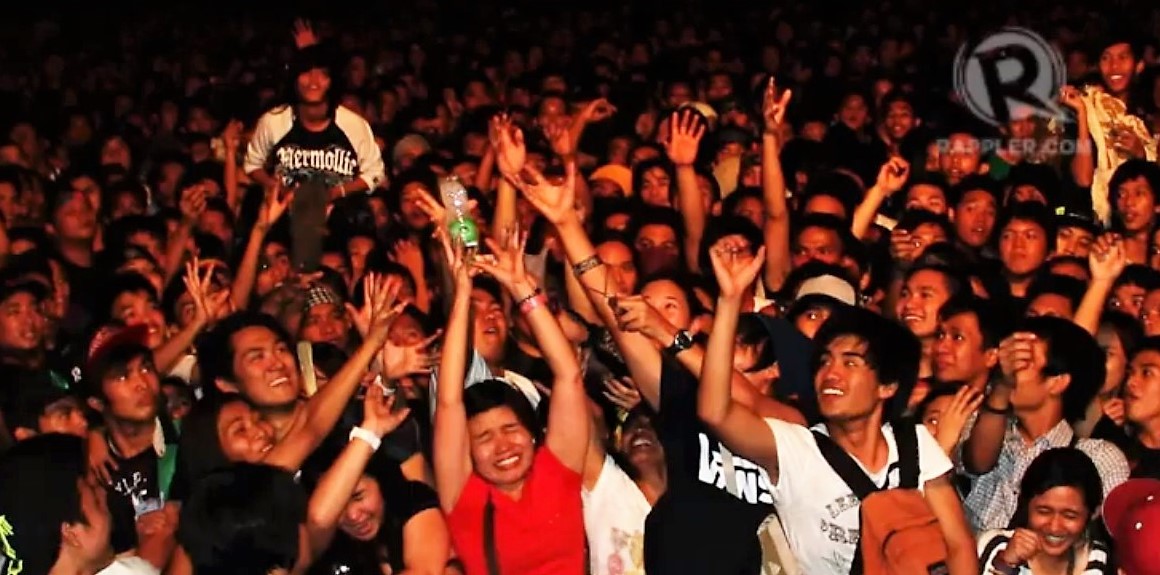 MANILA, Philippines — What comes to your mind when you think of affordable yet hardcore concert?
Yep, it is UP Fair.
The 5-day musical fest annually held at the University of the Philippines – Diliman is considered as the "biggest student-initiated" activity led by university student council (USC) together with several organizations.
For Belle Ginez and Jeff Galban, overall heads of UP Fair 2018 organizing committee, the event is a venue for families and friends to bond and learn about different societal issues at the same time. 

"UP Fair has promoted several homegrown bands and talents to not only the UP community but also to non-UP students. More importantly, it is a platform for change – a platform to campaign for issues that UP students have been fighting for over the years," they said.
The fair, traditionally held at the Sunken Garden, is more than just a showcase of talent. Originally held in September, the fair started as an avenue for dissent against the declaration of Martial Law era in the '70s. 
More than a concert
There are many variations of the story behind the beginning of UP Fair. According to some, it started out as a form of protest and dissent towards the existing Martial Law regime decades ago. Others claimed that concert served as a front to hide UP student leaders and activists who were secretly conducting meetings at the backstage. 
In the years that followed the Martial Law, the fair has been moved to February. 
"Late 80's when the USC started having a UP Fair that looks close to what it is now and the themes were always anti-dictatorship. At first nag-alangan pa sila given the polticial climate then na kakatapos palang ng Martial law na magsastart na sila agad ng malaking UP fair, pero tinuloy nila to engage students and non UP students din," said Corridor.

While there may be different accounts surrounding the beginning of UP Fair, what is clear among students of the premiere state university is that the UP Fair is more than just a mere showcase of talent. For them, the tradition also serves as a platform for protest and campaigns.
Every year, according to Raymond Rodis, former councilor at USC, UP Fair aims to raise social consciousness on various issues.
"There was so much other activities in the UP Fair. Many of us felt UP Fair should also be about highlighting pertinent social issues because UP should serve the people. Concert was just an extra," shared Rodis.
At present, the fair also serves as a fundraising activity for the beneficiares chosen by involved student organizations. 
This year, the proceeds from the UP Fair will be donated for the Maranaos in Marawi.
"At the time UP Fair 2018 was being planned, yun yung time ng Marawi seige. We want this year to remember Marawi, to call for peace and to help them financially. For us kasi gusto din namin mahighlight yung Filipino resilience in times of war," said Corridor.
(At the time UP Fair 2018 was being planned, that's the time when Marawi siege started. We want this year to remember Marawi, to call for peace and to help them financially. For us, we want to hightlight the Filipino resilience in times of war)
On May 23, the military entered Marawi City and turned the city into a full-fledged war between the military and the terrorists Isnilon Hapilon, the so-called emir of ISIS in Southeast Asia and the homegrown Maute Group. 
According to the provincial government, the war which lasted five months displaced about 400,000 people in Marawi City and nearby towns. The military announced the official end of war on October 23.
Advocacies
Every year, UP Fair carries a banner advocacy. This year, it is all about "Highlighting the resilience of the Filipino spirit towards progressive change."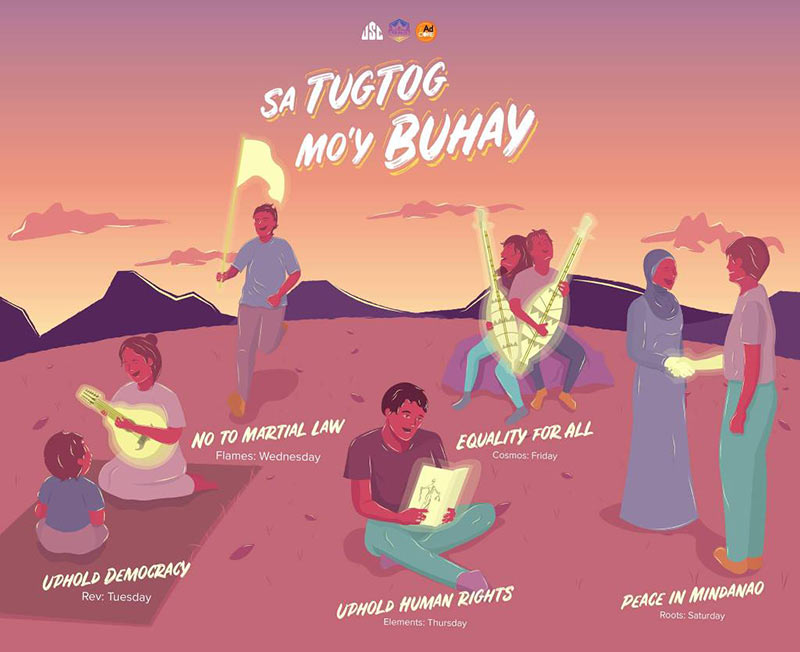 According to the organizing team, "in a time where our democracy is under attack by the government, UP Fair believes in the strength of the Filipino people that can uphold our rights, preserve and protect our freedom and democracy, and achieve lasting and genuine change."
Below are the details of the daily concerts during UP Fair 2018: 
Tuesday, February 13 — As an introductory call for the entire week's stand, the concert organizers Sigma Kappa Pi and Sigma Delta Pi aim to highlight the importance of upholding democracy through an ultimate "throwback concept."
To set the tone of the week-long concert, the Rev UP Fair will introduce to fairgoers all pressing issues that have been existing over the past 5 decades. Their goal is to remind the audience of the role of OPM and youth organizations in the country's colorful history. 
Wednesday, February 14 — In line with its 25th anniversary, UP Babaylan is set to celebrate love and struggle on Valentines' day with. The longest-running and premiere Lesbian, Gay, Bisexual, Transgender (LGBT) student organization in the Philippines aims to highlight the definition of love — that love that does not discriminate sexual orientation, gender identity, and expression. 
During their first time to join the roster of UP Fair organizers, UP Babaylan wants to celebrate the continuous struggles that love has brought within all sectors of the society, especially the struggles in claiming freedom.
On February 7, the Supreme Court approved the extension of Martial Law in Mindanao until December 31, 2018. It was after President Duterte declared martial law in Mindanao on May 23 through Proclamation 216 after homegrown terrorists from the Maute Group and Abu Sayyaf Group clashed with government troops in Marawi City.

Thursday, February 15 — Elements, organized by UP Junior Philippine Institute of Accountants, has been part of UP Fair line up since 2015. Transparency and integrity are the core of the organization. Their primary goal for this year's activity is to raise awareness on human rights issues and encourage everyone to be responsible for respecting and implementing human rights in our society.
In the Philippines, extrajudicial killings, torture, enforced disappearances, and human trafficking, among others are some of human rights violations that may have decreased in the past years but cases still exist and remain unsolved, according to Human Rights Watch. (READ: Things to know: Human rights in the Philippines)
Friday, February 16 — UP Fair Friday continues to elevate UP Fair to new and exciting frontiers by featuring the best of mainstream and emerging Filipino talent along with the advocacy of equality for all. Cosmos has always been a celebration that welcomes people from all walks of life – both in and out of the UP community. This year, the organization aims to take it further by amplifying our advocacy through various promotional channels in order to empower people to actively support our cause for equality.
According to World Economic Forum, 56% of millennials believe that biggest driver of inequality in their countries is corruption.
Saturday, February 17 — It's the 6th year of Roots as part of the UP Fair line up. The UP Economic Society and UP Underground Music Community stands mainly for peace in Mindanao. Through music, the organization aims to promote peace to oneself, peace with nature and peace to all humankind.  
On May 5, 2017, President Duterte admitted that he's a bit pessimistic about Mindanao peace talks because of  the persistent tensions between the rival groups Moro Islamic Liberation Front (MILF) and Moro National Liberation Front (MNLF).
Lines going into UP Fair grounds get long and crazy easily. So prepare early, head up to the concert ground with your buddies and enjoy the music of celebration.—Rappler.com
This year, tickets are sold at P80 for UP Diliman Student Discount, P160 for General Admission and P200 for walk-ins. For more details, kindly check UP Fair Facebook page.