Protesters stress the importance of standing in solidarity with the Filipino fishermen, even as the Duterte administration echoes China in downplaying the sinking of the boat as a 'maritime incident'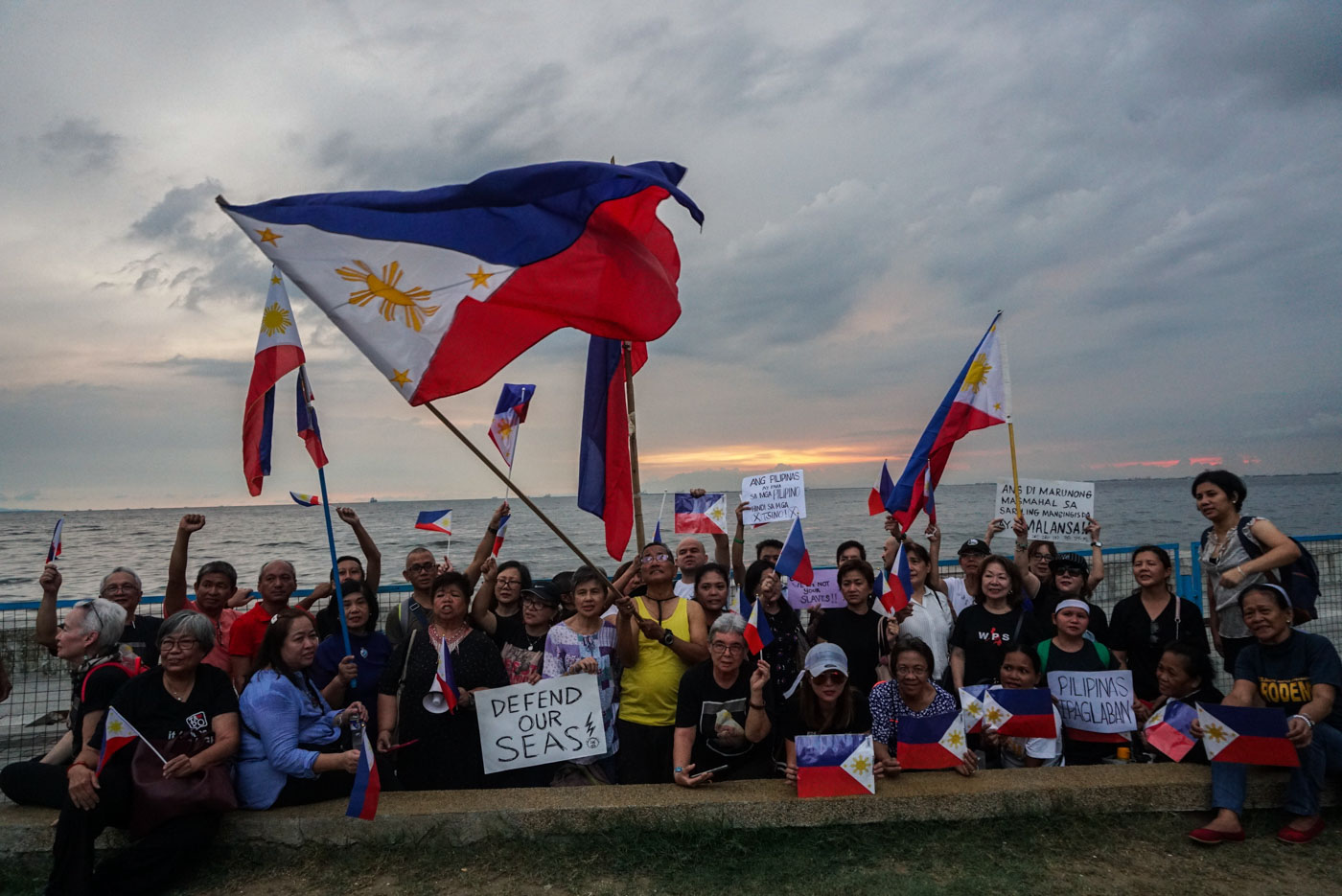 MANILA, Philippines – After the sinking of a Filipino boat in the West Philippine Sea, various groups echoed the call to defend the country's territory as they held a protest at the Rajah Sulayman Park in Manila on Saturday, June 22.
Clad in black, protesters carried Philippine flags in a bid to show unity and take a stand for the country's territorial and sovereign rights.
They stressed the importance of standing in solidarity with the Filipino fishermen, even as the Duterte administration echoes China in downplaying the sinking of the boat as a "maritime incident."
"Hindi dapat tayong magsawang ihayag ang katotohanan. Nilapastangan na tayo. We have to educate. Kailangan malaman ng gobyerno na may taong katulad natin na ipinaglalaban ang Pilipinas," said activist-comedian Mae Paner, popularly known as Juana Change.
(We should not get tired of revealing the truth. We are already being disrespected. We have to educate. The government needs to know that there are people like us who will fight for the Philippines.)
Some Philippine officials have held back in condemning China for the boat sinking, while others cast doubts on claims made by the Filipino fishermen. (READ: Owner of sunken boat: I feel like we're slaves of China)
Bart Guingona of the Art Forces of the Philippines, a group of artists, emphasized that the Duterte administration's handling of the incident should serve as a wake-up call for Filipinos. (READ: Youth groups slam government's 'inaction' on sinking of Philippine boat)
"Simple lang, binangga ang ating mga mangingisda. Ngayon, sinasabi ng gobyerno na walang kasalanan ang mga bumangga. Kailangang magising ang mga mamamayan sa realidad na niloloko tayo ng kadiliman," he said.
(It's simple, our fishermen were rammed. Now, the government is saying that the one who hit us is not at fault. The people have to wake up and face the reality that we're being fooled by those with ill intentions.)
Nitz Gonzaga of Kilusang Mayo Uno also denounced the alleged pressure on the fishermen to reverse their account of the incident.
Gem-Ver captain Junel Insigne had backtracked on his earlier assertion, saying that he was now unsure that a Chinese ship intentionally sank their boat. This was after a closed-door meeting with Agriculture Secretary Emmanuel Piñol at a house heavily guarded by cops.
"Pataksil ang ginawa ni Agriculture Secretary [Piñol]…. Ang gamitin niya ang posisyon niya [at] ang mga militar para takutin ang mga mangingisda, mali 'yun. Tinuturuan niya ng kataksilan ang mga mamamayan. Tuta siya ni Duterte. Kitang-kita ang pagpanig nila sa China," said Gonzaga.
(What Agriculture Secretary Piñol did is a betrayal…. It's wrong for him to use his position and security forces to threaten the fishermen. He's teaching acts of treachery to Filipinos. He's a blind follower of Duterte. It's obvious that they're siding with China.)
Anabelle Lee, a first-time protester, underscored that they are not after war, but only the rights of the fishermen and Philippine sovereignty.
"Nag-alab po ang aking damdamin dahil naawa po ako sa mga kababayan nating mangingisda sa Mindoro. Halatang-halata na binangga ang kanilang barko pero parang kinampihan pa po ng gobyerno natin ang Tsina…. Hindi naman tayo naghahangad ng giyera. Ang gusto lang natin ay ipakitang meron tayong boses at hindi tayo sang-ayon sa ginagawa ng gobyerno natin," she said.
(I got fired up because I felt pity for our Filipino fishermen in Mindoro. It's obvious that their boat was rammed, but our government seems to be siding with China…. We're not seeking war. We only want to show that we have a voice and we don't agree with what our government is doing.)
Carol Araullo of Bagong Alyansang Makabayan echoed her sentiment, and added that she hopes millions of Filipinos would also show solidarity, similar to the protests in Hong Kong.
"I hope in due time, we would be as many as the rally is in Hong Kong. I hope more people would be outraged." – with reports from Patricia Angela Echano/Rappler.com
Related stories, in-depth reports, analyses, videos, podcasts: The sinking of a Philippine boat in West Philippine Sea