This is AI generated summarization, which may have errors. For context, always refer to the full article.
Studies show that HIV prevalence is estimated to be 1.5 – 2 times higher in urban areas than in rural ones. Up to 60% of the 35 million people living with HIV live in cities.
MELBOURNE, Australia – His Excellency Ratu Epeli Nailatikau, the president of Fiji, wears his emotions on his sleeve, or more appropriately, his lapel. Nailatikau can be seen wearing the red ribbon that symbolizes the HIV struggle every day, even when it is not World AIDS Day in December.  
It was not surprising to see him wearing it during a local government officials' session organized by the Joint United Nations Programme on HIV/AIDS (UNAIDS) at the AIDS 2014 Conference in Melbourne.
Studies show that HIV prevalence is estimated to be 1.5 – 2 times higher in urban areas than in rural ones. Up to 60% of the 35 million people living with HIV live in cities. 
The government officials were gathered to discuss city-based government led HIV interventions in their home countries.
In the case of Nailatikau, the HIV/AIDS prevention begins in school.
FIJI: Students get schooled on HIV by the President
Nailatikau takes HIV and AIDS seriously and personally – the president personally goes around the different secondary schools in the country to "tell the kids how it is." And how "it" is says the president is, if you have sex without a condom, you could get pregnant and get HIV.
He says he has a simple formula: he speaks to the secondary school students about HIV / AIDS and condom use for about an hour, then he takes questions from both parents and students for about another hour. 
"They can ask me anything and I will answer everything," said Nailatikau whose casual and factual approach to sex comes from his early days as a soldier. 
"I had to talk to the soldiers about syphilis and gonorrhea," said the 73-year old. "Back then, that was the worst you could get. At least, you could see a doctor and take a pill for that. But HIV has no cure."
In a population with less than 1 million, going around the schools is not a problem, it's the criticism from others who question his means that is.
"My friends have told me they heard I went to their granddaughter's school. When they ask me why I did it, I tell them because they didn't," said Nailatikau. 
That was when he started. Now, during his morning walks, the question he gets asked most now is, "When?" Parents (and now, occasionally, grandparents) want to know when they're going to visit their children's school.
Fiji is classified as a low HIV prevalence country, but this is beside the point says the president. "The countries with a high rate of the epidemic now started with a low rate. We can't wait to get to that," he said.
KwaZulu-Natal, South Africa: No to sugar daddies, yes to circumcision
South Africa ranks first in HIV incidence in the world. In 2012, there were more than 400,000 new HIV infections recorded in the country. 
The South African province of KwaZulu-Natal has the highest HIV prevalence at 16.9%.
The KwaZulu-Natal health department launched aggressive measures to curb the rate of infection. In the process, they noticed that young girls between the ages of 14-19 were becoming HIV positive but their male counterparts were not.
A 2012 behavioral survey and report revealed a trend of "age-disparate relationships."  Teens from ages 15 to 19 years olds were having sex with partners that were up to 5 times older than they were. These May – December affairs were more common among young girls and older men compared to young boys and older women. 
The report also showed that HIV infection among teen girls was 8 times more than boys of the same age. 
 "That means they were probably getting infected by sleeping with a much older man because if they were sleeping with boys their age, they would only get pregnant and not HIV," said Sibongiseni Dhlomo, executive member of the KwaZulu Natal Health Department.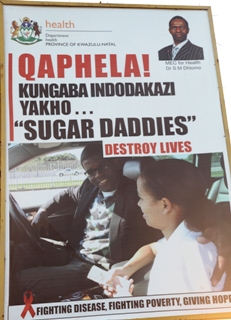 About 28% of men between the ages of 35 to 39 are living with HIV.
The city health department launched an anti-sugar daddy campaign that talked about the dangers of having sex with a much older man. About 89 billboards told the same message in various ways: young girls + older man = teen pregnancy and HIV.
Making the cut: Reviving circumcision 
The government also revived the custom of circumcision to combat HIV with a mass circumcision campaign launched by the King, Zwelithini ka Bhekuzulu. 
In 2007, the World Health Organization (WHO) and the Joint UN Programme on HIV/AIDS (UNAIDS) recommended that males undergo voluntary circumcision for countries with high HIV rates and low circumcision rates. If done on a scale to reach up to 80% of men, voluntary circumcision could prevent an about 3.4 million new HIV infections.
The KwaZulu Natal health department performs about 5,000 circumcisions a month and since the program started in 2010,more than 78,000 men have undergone voluntary circumcision.
"When the King spoke, there was little resistance from the men to undergo circumcision," said Dhlomo. "And the women love it. They say the men became more responsive after it."
There are 6.4-million people living with HIV in South Africa, some 1.2-million more than in 2008.
Quezon City, Philippines: Getting tested at sundown
Quezon City is a city that never sleeps. Avenues are lined with blinking lights and marques that offer entertainment of all kinds, restaurants and cafes are tucked into the suburban enclaves and it is the center of government and many major businesses.  
It is also the city where HIV infection among MSM has reached 6%, which is 3.5 times higher than the national average. (WATCH: Love in the time of HIV)
Globally, the Philippines is among 9 countries in the world where rates of HIV infection continue to rise.
Cities for Social Change Ending AIDS by 2030 by Rappler Philippines
Using data from the Integrated HIV Behavioral Serologic Surveillance (IHBSS), the Quezon City Health Department profiled the MSM in Quezon City and identified them as young, mobile, tech-savvy, urban professionals with a high disposable income – and largely hidden. 
The city decided they had to make their health services MSM – friendly, starting with a testing clinic that opens in the evening and remains open until the wee hours of the morning. 
"In our sundown clinics, MSM can come and get tested privately for free. They can also get their test results immediately," said Belmonte.
The city health department also found that because of the hidden identities of MSM, this group is also most likely to meet sex partners on-line rather than the bars. There is now an imperative for the government to shift gears and go high-tech with their HIV programs.
"We also need to look at technology – based interventions that we can employ. Right now, the government is not used to using technology for information dissemination." 
The battle for HIV will be won or lost in cities
According to the Joint UN Programme on HIV/AIDS (UNAIDS), evidence shows that over a 25% (1.2 million) of the epidemic is concentrated in 30 cities in our region. City-led HIV interventions are the key to the ending of AIDS by 2030.
Thailand's aggressive and ubiquitous approach to HIV in the 80s combined mass media campaigns with condom distribution that included police officers giving out condoms during traffic. The campaign reduced HIV infection by 90%, with the number of new infections falling to 17,000 from 170,000 in a year.  
According to a UNAIDS Gap Report, of the 35 million people living with HIV around the world, about 19 million do not know their status. – Rappler.com
Ana P. Santos is a regular contributor for Rappler apart for her DASH of SAS column, which is a spin off of her website, Sex and Sensibilities (SAS). In 2012, Ana was awarded a media grant to write about women who are most affected by the absence of an RH Law. Read the complete story onRosalie Cabinyan and Laura Jane Duran here. Follow her on Twitter at @iamAnaSantos.
Rappler columnist Ana Santos is in Melbourne, Australia covering the AIDS Conference 2014. Check her other stories here: