This street kid is alive. But nobody knows his age, his address, his family, and his name.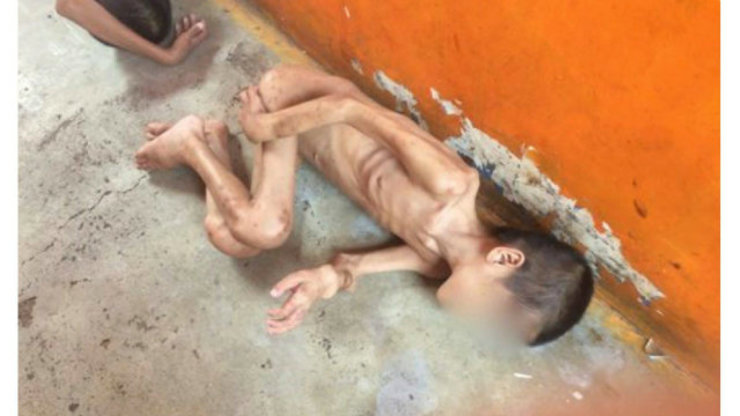 MANILA, Philippines — The street kid in the photo is alive. But nobody knows his age, his address, his family, and his name. So he was called "Frederico," named after the police officer who found him.
The Reception and Action Center (RAC) managed by the Manila Department of Social Welfare (MDSW) took him from the streets.
The photograph was taken not when Frederico was still a street child, but nearly 7 months after his admission into the RAC or on October 12. It has been circulating on Facebook for almost a week.
Bahay Tuluyan, a non-governmental organization (NGO), posted the photo online and sent copies to President Benigno Aquino III, former president now Manila Mayor Joseph Estrada, the Department of Justice, the Department of Social Welfare and Development (DSWD), and the Commission on Human Rights.
"We haven't heard back from them," said Catherine Scerri of Bahay Tuluyan. 
"Nothing has been done in the past week nor in the past 6 years since we started advocating for better conditions in RAC," Scerri said.
Bahay Tuluyan said on Facebook: "The conditions inside RAC are abysmal. Children are detained in this center without (charges) are treated worse than criminals. They are denied the most basic rights – adequate food, clean water, bedding and even clothing. Moreover, not only are children denied contact with their families but their families are often not even notified that they are being held inside RAC."
It added: "Most of the time, the children do not even know why they are being taken to RAC, with workers there citing various reasons for admission; 'rescue,' curfew or commission of an offense. Accordingly, children accused of committing offenses are detained in the same quarters as those who have supposedly been 'rescued' for protective purposes."
Bahay Tuluyan urges the Manila government to either upgrade or shut down the RAC until it follows DSWD standards. It also launched a change.org petition which has already received 1,000 signatures as of October 28.
"Kung may reklamo sa facilities gaya ng RAC, ayusin ito (If there are complaints with facilities like RAC, fix it). Better food and management. Remove abusive staff, train them," Social Welfare Secretary Corazon Juliano-Soliman said on Wednesday, October 29, at a summit on street dwellers.
"Ang MMDA tutulungan kaming pagandahin ang Fabella Center, para 'pag puno na ang mga RAC, doon sila (The MMDA will help us improve the Fabella Center, so if RACs are full, they can stay there). This can help lessen reported cases of abuse or limitations," Soliman added.
Temporary shelter
RAC describes itself as an "institution designed to cater and provide a temporary shelter for the less-fortunate individuals who may be found loitering in the streets of the city as well as to those who may have been victims of domestic conflicts."
It serves as a processing center providing initial interventions, until the child is referred to another institution that can provide its needs better – government residential care facilities, DSWD centers, or NGOs.
RAC has been operating for 30 years, according to its acting chief Gloria Antonio. It is divided into 3 sections: living quarters for minors, adult street dwellers, and street children with special needs.
Across the RAC is the Manila Youth Reception Center which caters to children in conflict with the law (CICL).
"Our capacity is 50 clients; however, we reach 250 clients sometimes," Antonio said. 
"Children overstay because it's hard to look for institutions where we can turn them over to. Most are already full," according to Antonio.
The usual stay lasts for only 3 to 5 days, but some children stay for months. 
"We can't say no to children who are in danger; we're a government entity," she added.
"Currently, we have 6 special children. We can't find facilities to take them in since they also don't have proper facilities," Antonio said.
On Friday, RAC will turn over one child to the National Center for Mental Health.
RAC has 20 houseparents, 6 social workers, 3 cooks, and 10 security personnel. In total, they have 60 staff members, including nurses, medical, dental, and dietary staff, and a rescue team tasked to reach out to street children and bring them to the center.
"We actually need 39 houseparents. It's true we lack staff, but we're doing what we can," Antonio said. (READ: A social worker responds to Manila's care of street kids)
She added that many students and NGOs visit RAC to either volunteer or donate supplies.
Complaints
Bahay Tuluyan sent Estrada a letter in February, requesting the Manila government to address the following:
Torture, bullying, inhumane treatment inflicted by RAC staff

Condoning violence and bullying done by children to other children

Lack of coordination with parents

Lack of segregation, neglected children, CICL

Overcrowding, lack of supervision, facilities and services
The MDSW replied in March and promised to take action. Bahay Tuluyan, however, argued that conditions have remained the same.
Bahay Tuluyan on Tuesday, October 28, consulted with children who used to stay at RAC. This was in partnership with advocates from the Asian Human Rights Commission, Child Hope, Verlanie Foundation, Kanlungan, and Assumption College.
The stories revolved around experiences of hunger, physical and sexual abuse, shame, and discomfort.
The teenagers accused some RAC staff of abuse. In fact, RAC faced two rape cases in 2008 and 2010.
As for food, the usual menu included rice and miswa (rice noodle) soup. "Minsan, 'di luto kanin o panis (Sometimes rice is uncooked or spoiled)." They claimed to sleep on the floor, eat with their hands, pee in buckets, and wear the same set of dirty clothes.
"'Pag naliligo kami, isang sabon lang. Isang toothbrush lang. Bibilangan kami, 20 seconds lang pwedeng maligo." (We all use the same soap for bathing; only one toothbrush. They give us a countdown – you can only bathe for 20 seconds)
These claims, however, were denied by Antonio and Jean Joaquin, MDSW Assistant Head.
Antonio said that children are given sleeping mats, but they choose to sleep on floors. Utensils are available, but children choose not to use them. Clothes are provided, but they choose to wear their old clothes.
Shortcomings, efforts
Antonio stressed that it is not only hard for the children, but also for the RAC staff.
"We have limitations in resources, houseparents, and facilities. But we're doing our best," Antonio said. "Everyone's here. Mga sakit sa ulo ng barangay (community headaches), the sick and dying who are supposedly brought to the hospital, mga baliw (people with mental problems), mga tinakwil ng pamilya kasi pabigat (family cast-offs), hamog, solvent boys, and children who committed petty crimes."
Antonio admitted that RAC houseparents — those tasked to look after the children — are not fully trained. "Apparently hindi gaanong na-train. Parang on-the-job training na (Not all are trained. It's like an on-the-job training)."
She added that just like regular families, fights erupt among children. "There are older kids who fight with the younger ones. We don't condone this."
RAC's budget for food and house supplies is P4 million/year, according to Antonio. She said that RAC serves rice plus either fish, meat, or vegetables. "We don't lack food, but yes, some facilities are too old like washing machines and electric fans."
In 2015, RAC will undergo a renovation, Antonio said.
'Frederico'
"We're pleased to say that through our intervention the child in the photo is now in the care of an excellent institution working with sick children and we are hopeful he will be on the way to recovery very soon," Bahay Tuluyan said.
This issue is not new.
RAC has been at the center of criticisms for years, yet there has been little to no change, advocates say.
Frederico only pushed the public to revisit RAC, and the vicious cycles of poverty, neglect, and abuse experienced by street children.
Antonio argued that the Facebook picture is misleading, since Frederico was actually up and about the day Bahay Tuluyan visited.
"We thank Bahay Tuluyan for their concern. Pero sa picture, parang gulay na si Frederico. Masyadong below the belt itong FB post (But the picture depicted Frederico like a vegetable. The FB post is below the belt)," she said.
Some of Bahay Tuluyan's staff and volunteers are foreigners, mostly from Australia. Antonio saw this as a factor. "Sobra naman dinidiktahan ang gobyerno. Parang hawak nila ang gobyerno sa leeg. Nasa bansa natin sila, pero parang sila pa ang magaling. Meron namang tamang proseso. Kung gusto talaga nila tumulong, dapat noon pa."
(They're dictating on the government too much. It's as if they're holding the government by the neck. They're in our country, yet it's as if they're the ones who know best. There's a right process. If they really wanted to help, they should've done that before.)
At present, the photo has received 1,325 shares, with over 200 comments. The people are demanding only one thing, the assurance that these children will really be safe after being "saved from the streets." – Rappler.com
Bahay Tuluyan, alongside other NGOs and advocates are organizing a "peaceful day of action" on November 10, in front of the Manila City Hall, starting at 7am. 
To learn more on how you can help children like Frederico, read this follow-up story: 'Frederico' found home.