Netizens call out the way gender expression is being taught to children, specifically in learning modules produced by the government
Which toys are for boys and for girls?
For grade 1 student Ayesha, any child can play with jump ropes, robots, motorcycles, castles, and dolls – regardless of their gender identity.
In Ayesha's school worksheet, students were instructed to encircle toys that are for girls and box those meant for boys. She encircled and boxed all toys.
Wary of the mark that Ayesha might get, her sister tried to correct her answers.
But Ayesha argued for what she thought was right.
"Ate, ang laruan, laruan kasi. Puwede naman lahat 'yan sa babae at sa lalake eh. Ako nga 'di ba naglalaro naman ng kotse kotse-han at dinosaur, lalaki ba ako? 'Di ba hindi naman? E 'di puwede 'to sa babae. Parang damit Ate, 'di ba? 'Pag ang lalaki nagdamit ng dress, hindi naman bakla agad?" Ayesha said.
(Big sister, toys are toys. They can be for boys or girls. I play with toy car and dinosaur. Does that mean I am a boy? No, right? Then girls can also play with these. Just like clothes: if a boy wears a dress, that doesn't mean they're gay, right?)
Netizens applauded Ayesha's progressive way of thinking at a very young age.
Meanwhile, Ayesha's parents were also commended by social media users.
More than 'clerical errors': sexism in DepEd's learning modules
Netizens have called out the way gender expression is being taught to children, specifically in learning modules produced by the government.
A screenshot from the Department of Education's module made rounds on social media. The activity asks the student to attribute certain activities to male, female, or both.
Netizen Zandrick Reverso pointed out that the content of the module was not surprising, citing the dated sources used for the learning module on health.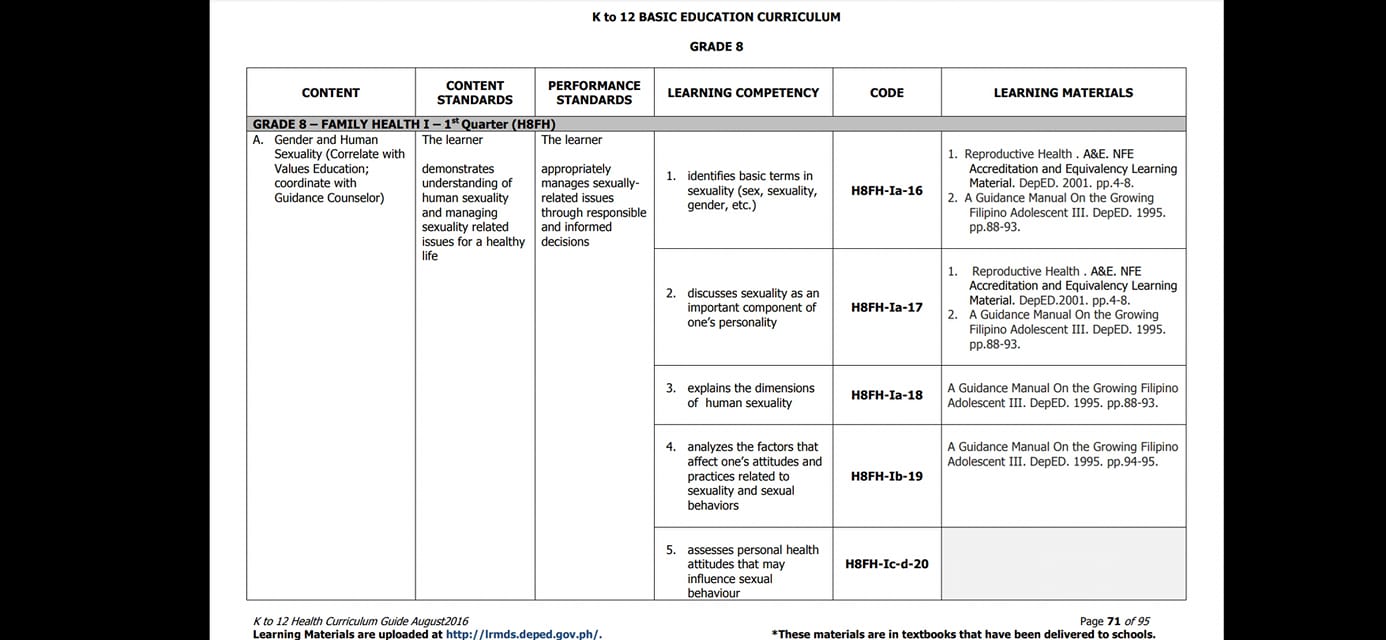 In the same module, another learning activity sparked netizens' outrage.
Amid the major backlash, netizen Winlove Mojica appreciated the existence of "both" as an answer in the learning module activities, which avoided the gender expression dichotomy.
In a television interview with One PH, Undersecretary for Curriculum and Instruction Diosdado San Antonio acknowledged the fact that gender stereotypes in learning modules need to be rectified.
Way before the opening of classes, Filipinos online called out the errors on the modules coming from DepEd — from a wrong math equation to an ungrammatical English questionnaire. The Education department eventually apologized for the mistakes, citing the agency's "imperfection."
Forwarding gender-sensitive education, eliminating discrimination
Human rights lawyer and law professor Ryan Jeremiah Quan said DepEd must address gender-stereotypical content in learning modules and note the Philippines' commitment to the United Nations Committee on the Elimination of Discrimination against Women (CEDAW).
Article 10, section (c) of CEDAW stipulates that State Parties, such as the Philippines, must take measures to ensure:
"the elimination of any stereotyped concept of the roles of men and women at all levels and in all forms of education by encouraging coeducation and other types of education which will help to achieve this aim and, in particular, by the revision of textbooks and school programmes and the adaptation of teaching methods;"
Meanwhile, women's group Gabriela said progressive and gender-sensitive education should be in place of sexist themes and gender stereotyping in learning materials.
Read more sentiments about this issue from Twitter netizens.
What are your thoughts on the content of the learning modules? – Rappler.com