This is AI generated summarization, which may have errors. For context, always refer to the full article.
Several advocates and groups join the coalition's campaign to help independent media hold the line
Rappler CEO Maria Ressa and reporter Rambo Talabong went to court on Thursday, March 11, for a scheduled arraignment in a cyber libel case filed against them in connection with a Rappler investigative story that exposed a "thesis-for-sale" scam.
Through counsel Theodore Te, both asked the Manila Regional Trial Court Branch 24 to reconsider its earlier decision not to dismiss the case. The motion prompted a rescheduling of the arraignment to April 8.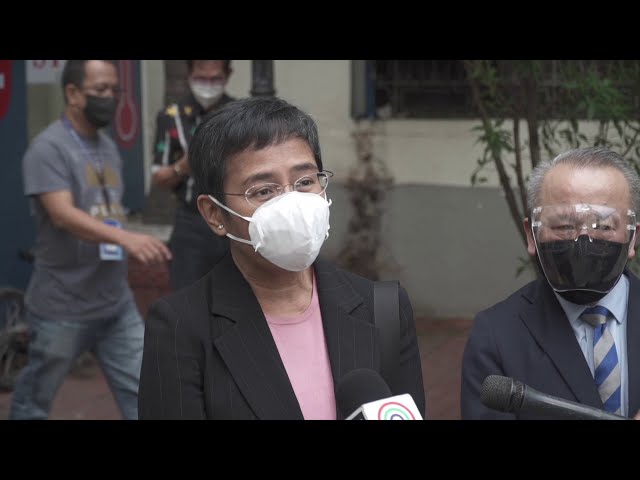 This is the 10th criminal case filed by the Philippine government against Ressa, 3 of which – this one included – are related to cyber libel.
Standing by Ressa and Rappler, the Committee to Protect Journalists (CPJ) and the #HoldTheLine coalition renewed calls to defend independent media in the face of state-fueled attacks.
More than 80 press freedom groups, journalism institutions, filmmakers, and advocates from countries including Kenya, Finland, Canada, and Pakistan have banded together for the #HoldTheLine coalition in support of Ressa and independent media.
"Maria Ressa is at the bleeding edge of the global fight for press freedom – emblematic of the struggle everywhere against disinformation, online harassment, and abuse of the law to smother free expression. We can't let her, or Rappler fail," CPJ Asia Program Coordinator Steven Butler said.
To take part in the campaign, one may change their cover photo or profile photos into any of the materials prepared by CPJ. There's also an option to personalize profile photos on Facebook by choosing among any of the 4 Facebook frames. Those participating in the campaign are encouraged to use #HoldtheLine in combination with #DefendPressFreedom and #CourageON.
Others may also share a donation link to support Rappler: rplr.co/donate. They may also sign and share this petition calling on the Philippine government to drop all charges and cases against Ressa, Rappler, and its staffers and directors, and end threats to journalists in the Philippines.
The International Center for Journalism recently released a first-of-its-kind study – done through the collaboration of ICFJ, the University of Sheffield, and Rappler – on online violence against journalists, focusing on the case of Ressa.
At least 30 international organizations, including 22 media companies, have also banded together to share "The Forbidden Stories of Rappler," a series of 5 videos featuring Ressa and the work of Rappler, particularly its investigative stories that have drawn the ire of President Rodrigo Duterte. – Rappler.com