As the world deals with a disease, the young Lumad in the Bakwit School turn to their culture and community for support
Since the COVID-19 lockdown in Metro Manila was announced mid-March, 17-year-old Katkat* has been spending more time sitting alone on the pavement of the Bakwit School's backyard as she waits for the moon to come out.
"I think of my mother when I look at the moon. Before I left Mindanao, she told me to look up every time I miss her, because she would be looking at the same moon too," she said in Filipino.
Katkat is a former student at Mindanao Interfaith Services Foundation Incorporated (MISFI) Academy, a Lumad school in Mindanao. After President Rodrigo Duterte threatened to bomb Lumad-run schools in his State of the Nation Address (SONA) in 2017, she camped out at the University of the Philippines Diliman as part of Lakbayan ng Pambansang Minorya, an annual march and camp-out by representatives from the country's indigenous communities.
The Bakwit School was established alongside the annual march, to reinforce their stand.
Far from her home in North Cotabato, Katkat has been staying at the Bakwit School in the University of the Philippines (UP) Diliman to get access to a learning institution that accommodates the Lumad's needs, culture, and struggle to defend their ancestral lands amid increasing attacks.
Every year, the Bakwit School brings Lumad children to Metro Manila, so they can learn in safety, be closer to the heart of government, and voice out their demands while informing Manileños of the real situation of Lumad communities in Mindanao.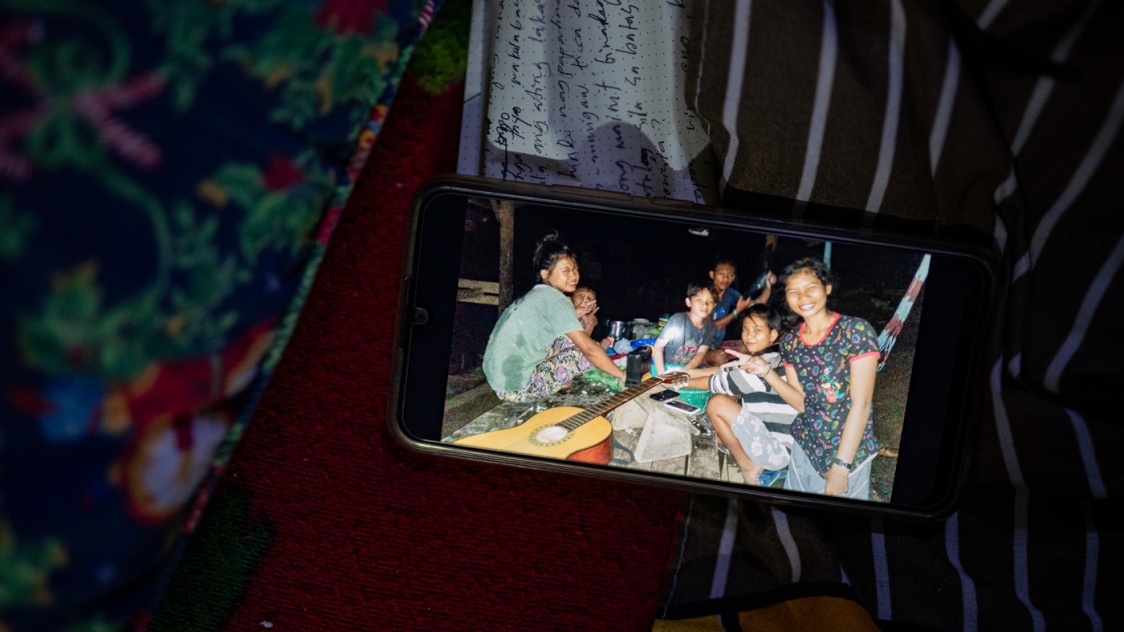 "Leaving behind their loved ones was a sacrifice they had to make, because they are determined to pursue their education despite the ongoing attacks on their communities," said Rius Valle, national spokesperson of the Save Our Schools (SOS) Network that oversees Lumad education. (READ: Trauma haunts Lumad students after attacks on their community)
"Another motivation that the children have for coming here is that they also see education as their defense [against] the exploitation that their people are experiencing in Mindanao," he added.
The Lumad students' education in the Bakwit School was cut short in March due to the pandemic. Their much-anticipated moving-up ceremony, which closes each academic year, was also canceled.
Since then, the students and the teachers have been trying to make sense of how they can move forward with their education during the pandemic.
Aside from doing occasional special classes on issues such as the coronavirus outbreak to pass the time, they have also employed a no-visitors policy that covers even their Manila-based teachers who are volunteering to teach there.
A cultural shift in lockdown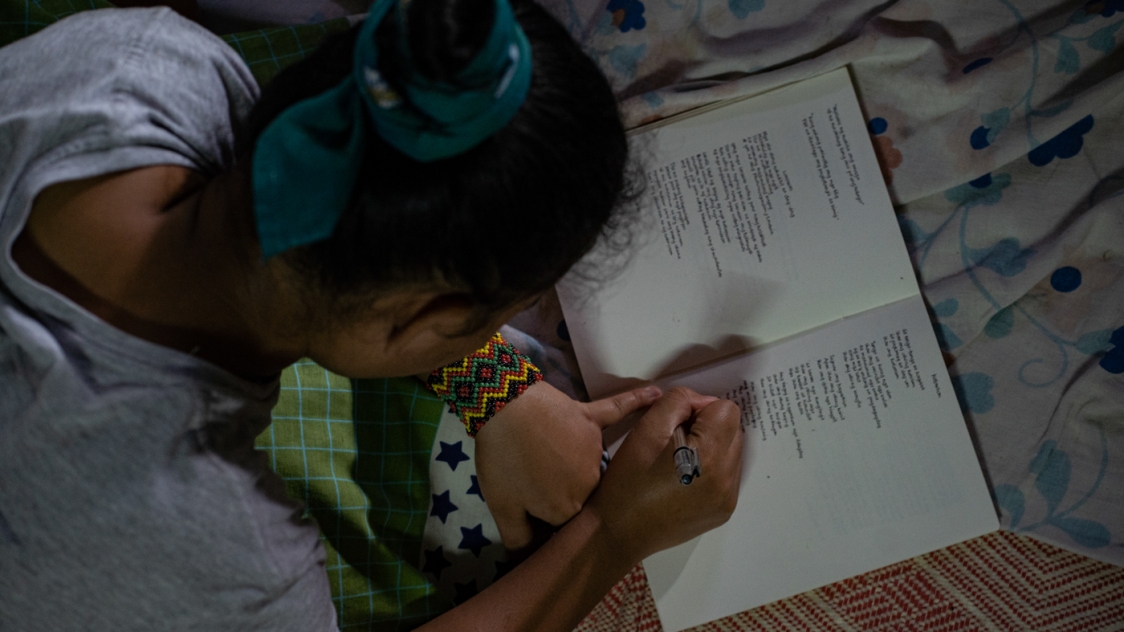 The teachers have had to come up with creative ways to keep the children preoccupied during the quarantine. Film viewings and zumba sessions – where the children dance along to mainstream music – have become frequent during this time. The use of mobile phones has also been allowed. A handful of the young males play all day, and have even created their own deck of playing cards.
In addition, the school received several boxes of foreign fiction and nonfiction children's books from private donors.
In the process of adjusting to a new culture, Bryan*, a 22-year-old student from Davao, observed that his classmates' attitudes have begun to change as well.
"It's like they are forgetting our heritage, letting the culture of the city take over their minds," he said in Filipino. "What if they just play cards back home instead of tilling the fields?"
While the teachers shared his concern they are more patient with the children in consideration to the ongoing crisis.
Anthropologist Andrea Ragragio, who had worked with the Manobo Lumad in Pantaron, explained that this change is because the young Lumad are caught between "trying to 'catch up' to the requirements of living in a modern world" and integrating what they learn in the city with their understanding of what Lumad culture is about.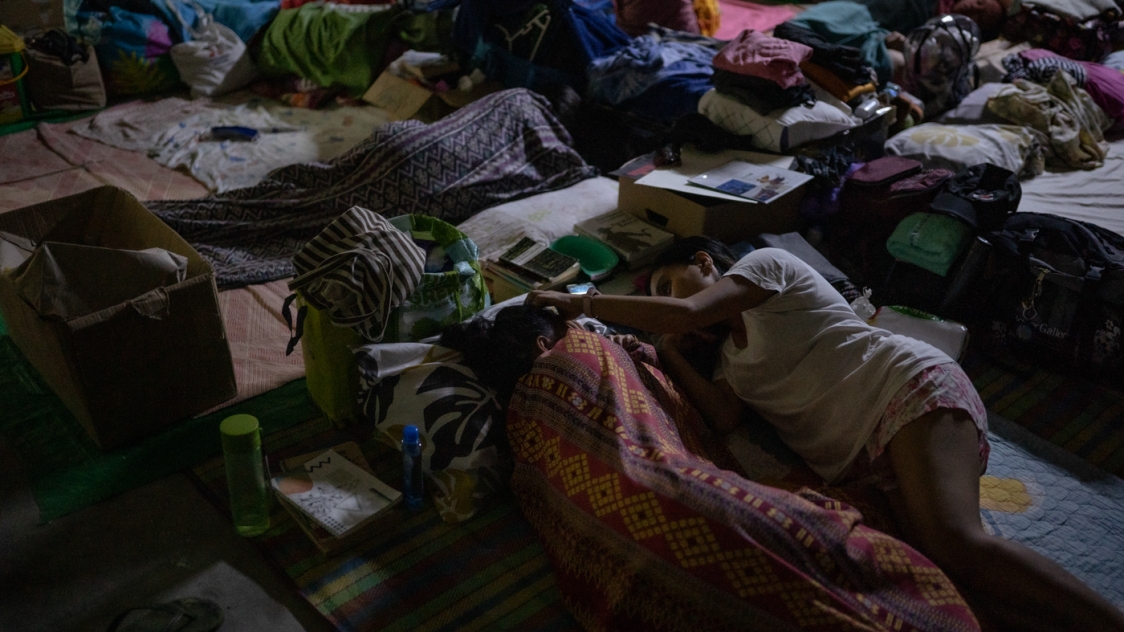 Dasig!
Valle shared how the health crisis has aggravated their fight for the protection of the Lumad and their culture. Unforeseen circumstances – like the forced closure of 33 Lumad schools in Northern Mindanao, Davao, Soccsksargen, and Caraga since January this year, and the passage of the controversial anti-terror bill – became an additional burden for the children.
Prior to the pandemic, Lumad communities were already experiencing military harassment and development aggression as their fertile ancestral lands have long been the target of various capitalist ventures. In the most recent attacks paramilitary group members in August, two buildings of MISFI Academy in Bukidnon were destroyed.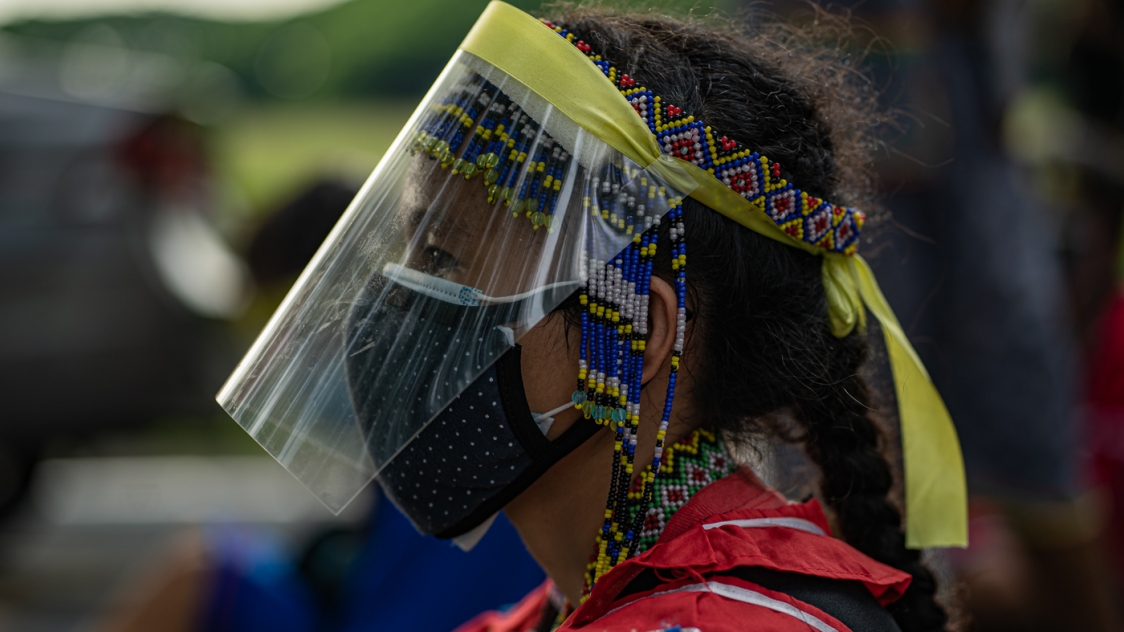 Many students of the Bakwit School are worried about their families back in Mindanao, after the SOS Network documented 32 attacks on Lumad schools and their communities from March to May this year.
Through it all, the children found strength in each other and in their people's struggle for justice and peace.
They have found creative ways to express their emotions, like Julius, who wrote a song about making sacrifices. Children also manage to keep their morale high by participating in activities like cultural nights – a 3-hour program where the youth perform traditional Lumad songs and dances – and activism.
Ritual of prayer
As a response to the changing behaviors of the children, Bai Bibyaon Ligkayan Bigkay, a respected Lumad elder who has been living with the young Lumad, performs a daily panubad-tubad, the Manobo term for ritual or prayer, which she offers for the children's constant guidance and safety.
"I chose to come here to remind the young ones of who and what we are, and what we stand for. Even if we are away from our communities, our culture must continue to thrive. Padayon lang (Continue on)," she said in her native Manobo.
Not all of their traditions seem to have been affected by their stay in the city. The Lumad's deep reverence for the earth remains strong, best exemplified by the students' urban farm located just a few meters outside camp.
"Growing up, we learned to value our ancestral lands, because these nurture us in return. Land is everything to us, because our livelihood and culture are tied to, and our future generations depend on it," 11th grader Julius* said in Filipino.
The soil here is inarguably not as rich as that in Mindanao, where they enjoy hectares of fertile farmlands. Even so, the children enjoy cultivating it, because it reminds them of their own crops back home.
Agriculture is an essential part of the Bakwit School curriculum, which has been tailor-fitted to respond to their own needs, explained sociologist Arnold Alamon.
The Lumad in Mindanao also possess a deep sense of community, which the young ones brought with them to the city. At their temporary shelter, house work, school work, and farm work are always a group effort.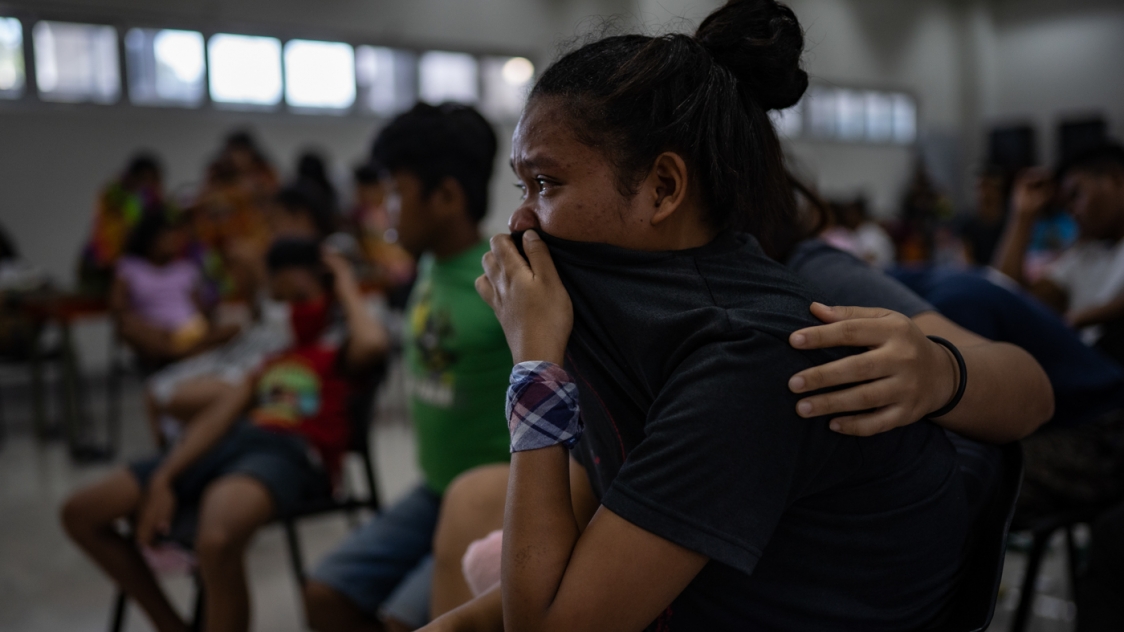 Even grief is shared in this small community.
It has been a practice for the teachers to allow their students to sleep beside them whenever they are unhappy or unwell.
"A lot of our kids here are desperately longing for parental love, and we do our best to provide this to them. But it's hard for most of the teachers here, who are only in their early 20s, like myself. Being a parent is not the kind of experience most people my age have," 22-year-old teacher Rose Hayahay said in Filipino.
Rising up
Aside from relying on their community, the Lumad youth have also tried to keep their activism alive to ensure their culture and right to education continue to be fought for despite the pandemic.
Even though safety protocols dictate that people remain indoors to avoid coronavirus infection, the young Lumad have continued to attend protests in UP. Wearing their kinaraan, the traditional Lumad attire, and their beaded accessories and placards, Lumad youth join these public gatherings, proving that they have the agency to stand up for their rights.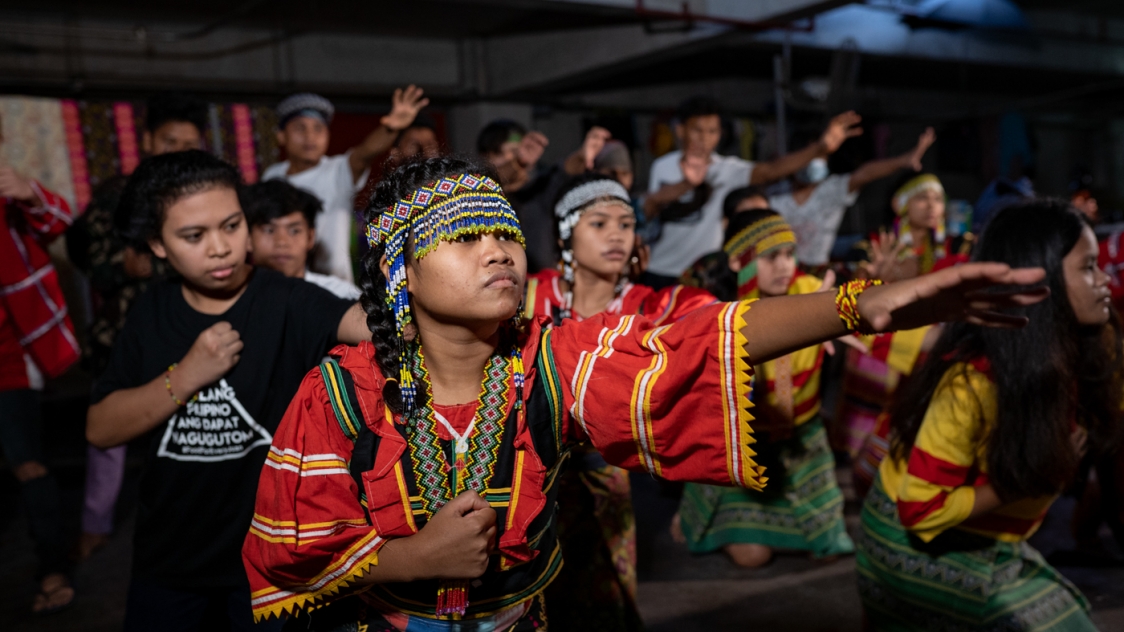 "If others find consolation in their individuality, these children cope through their unity, especially in a crisis like this," said Valle. "No pandemic can stop these children, because they really want their voices to be heard."
As the whole country continues to deal with COVID-19, so do these young Lumad's struggle for self-determination, their education, and their land.
Their only wish is to restore peace in their communities. They want to be able to play with their friends, go to school, and be with their families.
The Bakwit School will also remain steady in its mission to educate future generations of Lumad children, as it is the highest form of resistance they can take against injustice. – Rappler.com
The SOS Network calls for assistance for hundreds of Lumad evacuees in Metro Manila, Cebu, and Davao in light of the COVID-19 global pandemic and its spread all over the Philippines. Contact the following numbers for more details on how to help: Metro Manila (09090128952), Cebu (09453549620), and Davao (09462336527).
This project was supported by the National Geographic Society through the COVID-19 Emergency Fund for Journalists.
*Names have been changed for their privacy.