The rise of a community pantry puts premium to kindness at a time of tragedy and hate
When I arrived at the Maginhawa Community Pantry in Quezon City on Wednesday, April 21, hundreds of residents were already in line for a chance to receive free goods. The pantry that has inspired a whole nation and wowed the world has just re-opened, a day after it temporarily shut down.
I immediately saw 26-year-old Ana Patricia Non, the woman of the hour, wearing a dark lavender sleeveless shirt and shorts while carrying a megaphone. Non, whose simple act of kindness sparked a nationwide movement, is the organizer of the Maginhawa Community Pantry.
At the time, she was handing out bananas to everyone, including me. She asked, "Kumain ka na ba?" I haven't even introduced myself to her yet, but she was already offering me food.
"No, not yet," I wanted to say (I was starving), but before I could answer, she already handed me a piece of banana. That simple gesture made me see why she's now a community rock star.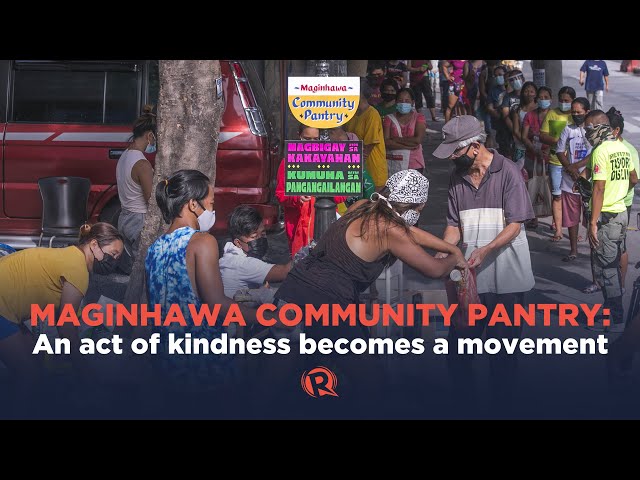 Just the day before, I was watching her in a Zoom press conference, where she said that the temporary closure of the Maginhawa Community Pantry hurt her because many more families could have received help if not for the baseless red-tagging claims of some government forces against her.
"Masakit kasi natigil kahit isang araw lang, kasi isipin mo, ilang pamilya, ilang meals sana iyong ihahanda ng pantry natin (Stopping operations hurts when you think about how many families we could have helped)," Non said.
On the ground, some residents who didn't know about the temporary closure still lined up on Tuesday as early as 4 am.
Josephine Bitara, 58, was one of them.
A wife seeks ways
Bitara, a housewife and a resident of Barangay San Vicente, sought relief at the Maharlika-Mayaman Street Community Pantry. She needed to get free food because her husband has just lost his job due to the pandemic. That makes them two in her family jobless.
Asked if she had something to say to the government, she said: "Dapat hindi masamain ng gobyerno dahil tumutulong na nga sila eh tapos binibigyan pa nila ng ibang kahulugan. Dapat hindi gano'n, dapat tumulong na lang o lalo nilang tulungan."
(The government should not see these efforts in a negative way because these people are helping us. They're just giving these actions a different meaning. It shouldn't be that way. They should just help too or help the organizers even more.)
Contrary to the "pasaway" narrative that some government officials continue to hurl at the poor, the residents who lined up followed social distancing, which stretched the line further to the adjacent street. They were there simply because they were hungry.
Compassion knows no color
I took a video of the long line – from the first person on the line to the last – and all of them were patient enough to wait for their turn. And, no, they didn't hoard the items from the cart. They took just enough items for themselves, knowing that others also needed food on their tables.
After my interview with Josephine, she showed me the items that she took: a small kilo of rice, a few bundles of vegetables, some pack of noodles and canned goods – enough to last them a day or two.
The donors I talked said everyone should set aside any political leanings during these times. Compassion knows no political color – or distance.
Father Arnold Abelardo, a priest from Nueva Ecija, travelled all the way to Quezon City on Wednesday to drop off the donations of farmers from his province. The farmers, he said, offered to give their harvest for free for the beneficiaries of the different community pantries in Metro Manila.
"Sa gitna ng trahedya, sa gitna ng pangangailangan, ang dapat na manguna ay pagmamahal – pagmamahal sa Diyos at syempre sa, kapwa," he said. (In the midst of tragedy, amid a time of need, the thing that we should all aim for is love – love for God, and of course, love for others.)
And that's what Non and the movement she sparked exemplify.
At the re-opening, we asked her how she's feeling after the red-tagging incident. Non admitted being concerned about her safety, but stressed she has not done anything wrong. Non posed a challenge to her critics: Why look for motives when you can just volunteer and help? – Rappler.com