For human rights defenders in the country, 'Nay Tessie's story is all too familiar: some suffered the same fate, while some never got to see the light of day again
Every harvest season, human rights defender Teresita Naul would visit her home in Lala town, Lanao del Norte, to help with farm duties. On the morning of Sunday, March 15, 'Nay Tessie, as friends and colleagues fondly call her, was planting monggo (mung beans) seeds in time for the next harvest.
What was otherwise a fair morning took a dark turn: The police took 'Nay Tessie.
"'Day, si nanay mo, dinakip, ('Day, your mother was arrested)," Ana Naul, 'Nay Tessie's daughter, recounted the dreaded phone call from her aunt. At the time, Ana was in Cagayan de Oro City (CDO), where 'Nay Tessie and her family are based.
'Nay Tessie and 22 other human rights defenders in Northern Mindanao were arrested on charges of kidnapping, destructive arson, robbery, and destruction of property.
According to her lawyer, Union of Peoples' Lawyers in Mindanao (UPLM) Secretary General Czarina Musni, the charges arose allegedly from a raid by the New People's Army (NPA) at a military camp in Sibagat, Agusan del Sur, on December 19, 2018.
'Day, si nanay mo, dinakip.
'Nay Tessie – a 62-year-old asthmatic who battled other health conditions – is facing supposed trumped-up charges of kidnapping, arson, among others. For family and colleagues, it sounded preposterous at best, and fatal at worst.
But for human rights defenders in the country, hers is a story all too familiar: some suffered the same fate, while some never got to see the light of day again.
Thousands of activists in the country had been arrested and killed under President Rodrigo Duterte's administration, which had been repeatedly targeting human rights groups and defenders in its war on dissent.
Longtime peasant leader Randall "Randy" Echanis, killed in cold blood in his own home on Monday, August 10, was the latest known casualty among activists under his regime. (READ: Human rights defenders also killed under Duterte administration)
Human rights groups sounded the alarm over 'Nay Tessie's arrest, slamming the administration's intensified efforts to stifle political dissenters.
CIVICUS, an international alliance of civil society organizations, launched a global campaign dubbed #StandAsMyWitness. The campaign sheds light on embattled human rights defenders around the world who have been "imprisoned, persecuted, and harassed for their stand for freedom, rights, and democratic values."
In the campaign, 'Nay Tessie puts a face on the harrowing plight of activists in the Philippines.
Life's work in human rights
Those who have known 'Nay Tessie for years could attest to one thing: her only crime was to spend her life in service of the poor.
Even young Ana would say that Nanay was passionate to a fault – she often felt as though her mother valued her work more than her family.
Ana recalled feeling jealous of other children whose parents had regular work shifts and days off.
"Weekend is for family days…. So parang naisip ko na, 'Akala ko ba family day (So I would always think, 'Isn't it supposed to be family day)'?" she recounted.
But understanding came with growing up for Ana, as she gradually saw in a better light her mother's impassioned commitment to the marginalized.
'Nay Tessie's work as an activist began in the 1970s, during the regime of the late dictator Ferdinand Marcos – a grim time for Mindanao as land claims at the expense of indigenous communities and farmers were rampant, as were extrajudicial killings. (READ: Marcos and Mindanao: The non-Moro zones)
In her hometown Lala, a migrant from Manila was asserting claims over their land, which had long been cultivated by over 200 farmers including her family. Joining the farmers in protests, 'Nay Tessie led the youth sector to participate in the struggle.
She and the farmers successfully defended their land which, to this day, remains in their possession.
Her current work largely involves providing aid to political prisoners and victims of human rights violations. After graduating from college, she moved to Cagayan de Oro and worked for Task Force Detainees of the Philippines (TFDP), where she organized calls for the release of political detainees and persecuted members of marginalized sectors.
In 1995, she led the establishment of the Northern Mindanao unit of human rights group Karapatan. There, she would ensure that political prisoners are well-looked after, as well as organize human rights lawyers from UPLM to handle their cases.
"Intense" is how Father Rolando Abejo, her longtime colleague in human rights work, would aptly describe 'Nay Tessie's dedication to her work.
According to Musni, 'Nay Tessie would go to all the trouble to visit the detainees in various provinces in the region, go to court, provide records to lawyers, visit each of their families, check up on them, and get what the lawyers need – and then some.
With a passion for human rights work that has withstood decades, 'Nay Tessie has already "mastered the work of human rights development," Musni said.
Behind bars
On Sunday, August 16, 5 months since her arrest, 'Nay Tessie would spend her 63rd birthday behind bars, away from her loved ones.
'Nay Tessie spent her first days in detention in Cagayan de Oro. Ana, together with family and lawyer Musni, made efforts to visit her then despite stricter protocols due to the coronavirus pandemic.
She was transferred 3 days later to Agusan del Sur, where the charges were filed. Her family had not seen her since.
With 'Nay Tessie's existing health conditions, family and colleagues have been constantly worried about her situation in jail.
In fact, on the day of the alleged NPA raid in 2018, 'Nay Tessie made a visit to the doctor due to her health issues, her sister Apolonia Atrigenio shared.
Add to that the looming threat of a COVID-19 outbreak in prison – where 'Nay Tessie would be vulnerable with her chronic asthma and old age – the congested cells seemed to be a bigger problem than it looked.
While stringent COVID-19 protocols restricted visits from family and friends, Musni said it also helped protect 'Nay Tessie from risks of exposure.
Tagged in 'hit list'
"Top ranking communist terrorist of Northern Mindanao nabbed in Lanao del Norte." A Facebook post on 'Nay Tessie's arrest opened with such a jarring statement, even going as far as branding her as "terrorist."
The post was made by the Philippine Army's (PA) 4th Infantry Division.
Even before she was apprehended, red-tagging had long been hounding 'Nay Tessie as well as other human rights defenders in Northern Mindanao, said Abejo.
"Dito sa Northern Mindanao, parang kinakain na namin 'yung pag-red-tag (Here in Northern Mindanao, we eat red-tagging for breakfast)," said Abejo. "Kumbaga talagang nakilala na kami na kami'y mga recruiter ng NPA…so mismong kami natatakot na [para] sa aming buhay (We're known as recruiters of the NPA, so we fear for our lives)."
Both Abejo and Musni had received brazen harassment through materials branding each of them as enemies of the state.
But red-tagging did not end in human rights defenders and activists. Their families also fell victim to rife vilification and threats. (READ: Ibon Foundation: Duterte gov't 'red-tagging' meant to silence dissent)
"Kahit nga kami ng papa ko, may nag-post na [nagsasabing] ito 'yung mga employees ng city hall na mga komunista, ganoon. Tapos may mga picture namin, full names namin," explained Ana, who worked for the Cagayan de Oro city government.
(Even my father and I were included in social media posts saying we are communist employees at the city hall. It had our photos, our full names.)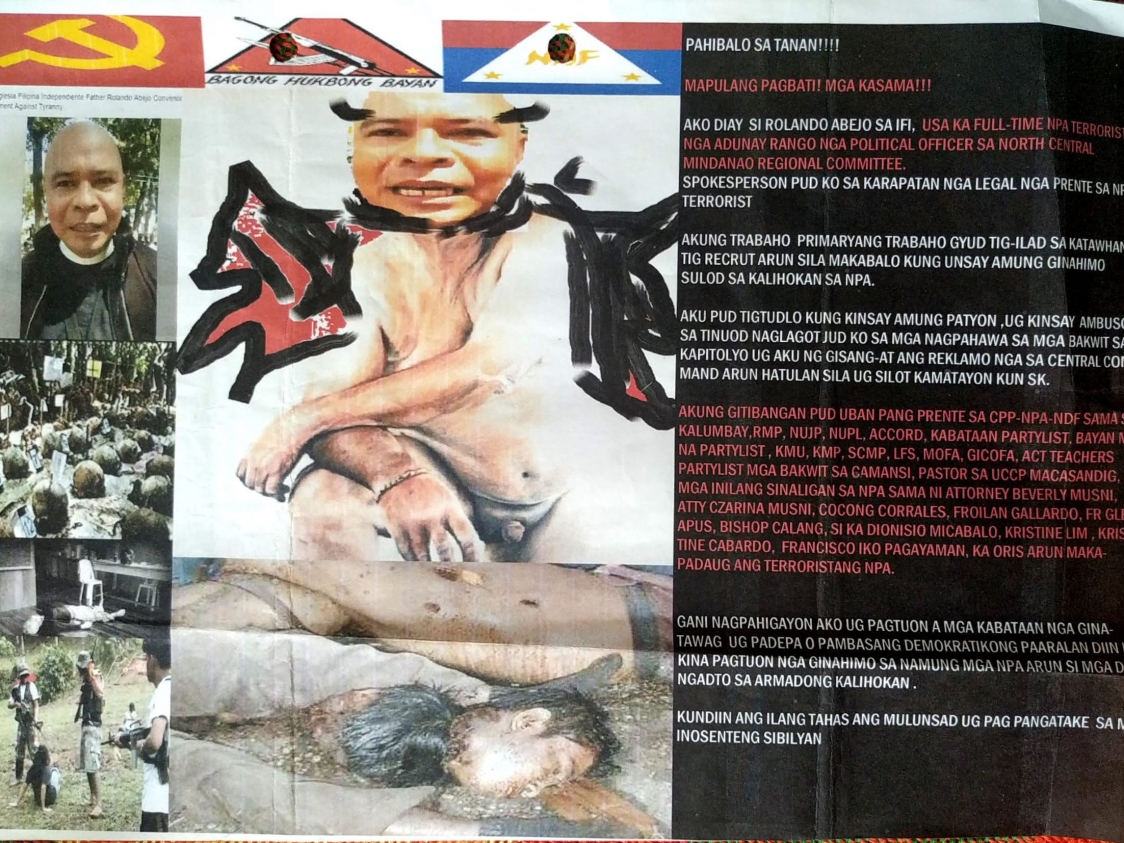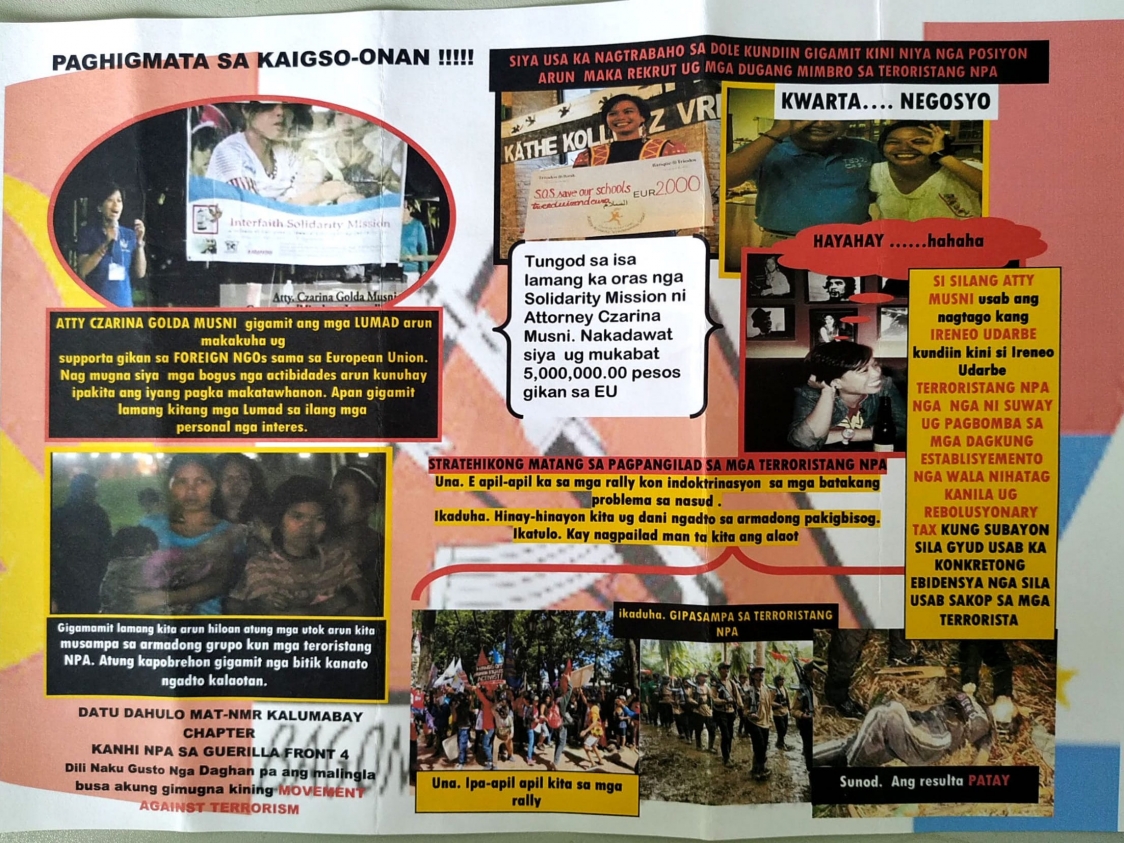 The Commission on Human Rights (CHR) had warned the government of the implications of its crackdown on activists, pointing out that linking dissent and criticism to efforts against the government is a "very limited view of how a democracy works." (READ: CHR reminds government: Activism is a right)
Musni emphasized that red-tagging poses a grave danger to human rights defenders, likening it to being included in a "hit list."
"Once you're [red-tagged], you're already in the hit list. Sooner or later, God forbid, you would find yourself 6 feet under the ground," she said.
For Ana and 'Nay Tessie's family, the question of fear is one of degree, not of frequency; fear never leaves.
"I know what happens to people like her. I know what the pattern is. If they don't retire early, they either die, they go missing, or they go to jail," Ana lamented.
In August 2019, the Iglesia Filipina Independiente (IFI), the National Union of Journalists in the Philippines (NUJP), UPLM, Kadamay, and the Makabayan bloc filed a petition with the Cagayan de Oro City Council to seek protection against red-tagging.
While incidents of vilification and harassment decreased after the petition was filed, Musni said that the propaganda had seeped its way through new platforms and materials apart from leaflets and tarpaulins – red-tagging found a thriving space in social media.
"Intense rin 'yung vilification (The vilification is intense), not only [against] our persons, but mostly [of] the institutions that we are connected with," she added.
Even as martial law had already ended in Mindanao in December 2019, Abejo said militarization in the island persists, especially in Lumad communities, and with the Duterte administration's militaristic response to the coronavirus crisis. (READ: FALSE: Martial law in Mindanao ended without abuses)
"The presence of the military in the streets, in the highway, 'yun ang nakakatakot [para] sa mga tao kasi kahit wala na 'yung martial law, gano'n pa rin 'yung pag-harass sa civilian (it's what incites fear among the people, because even if there's no martial law, civilians still experience harassment," he said.
Looming terror
Lives of human rights defenders are already marred by a grim reality, but with the enactment of the "draconian" anti-terror law, activists fear that the worst is yet to come.
"We fear much more [for] the safety and security not just of human rights defenders but [of] everybody in general; it cuts across political beliefs, it cuts across religion," said Musni.
Under the law, the Anti-Terror Council is allowed to authorize the arrest of suspected terrorists without warrant and detain them for as long as 24 days. (READ: Feared anti-terror law takes effect in the Philippines)
Musni added that the law could also mean worse for activists who are already detained, including 'Nay Tessie.
"Kami nandito pa sa labas (We who are on the outside), we are exposed to a greater danger of being tagged as terrorists…how much more [for those already detained] like 'Nay Tessie," she said. "[She] could be facing prolonged imprisonment and perhaps additional charges against her just for being a human rights defender."
Retired Supreme Court Senior Associate Justice Antonio Carpio earlier raised that with the anti-terror law, the Philippines could be facing a situation "worse than Martial Law," referring to the Martial Law years under Marcos which was marked by rampant government abuses.
As of writing, a total of 25 petitions have already been filed against the anti-terror law, the latest filed by the Concerned Lawyers for Civil Liberties (CLCL), among whom were former vice president Jejomar Binay and former Bayan Muna representative Neri Colmenares.
'Stand as my witness'
'Nay Tessie's family and colleagues remain hopeful that justice will be served with the help of CIVICUS' #StandAsMyWitness and World Organization Against Torture's (OMCT) #FacesOfHope campaigns amplifying their calls.
Not only do these campaigns show the grave persecution of human rights defenders, they also magnify the prevalence of such cases especially in countries where human rights violations are rampant, said Musni.
"It would give us strength in solidarity. Marami pala tayong ganito, kaya sana hindi tayo matako. (We are not alone, so we should not be afraid)," she said.
Musni urged the public to "open their eyes" to the reality that activists and human rights defenders are neither terrorists nor enemies of the state, and that they have been constantly under threat.
When you see people who are downtrodden…habang nakatayo ka pa, tulungan natin sila tumayo.
She also sought support for the release not only of 'Nay Tessie, but of political prisoners facing "fabricated and malicious" charges.
"Submitting letters of support, letters demanding the government, the Department of Justice, the courts, to release 'Nay Tessie and other political prisoners," she said, citing how CIVICUS' letters of support and request for 'Nay Tessie's case had reached Justice Secretary Menardo Guevarra.
Ana echoed the sentiment, urging people to appreciate the efforts of those "who fight for the oppressed."
"When you see people who are downtrodden…habang nakatayo ka pa, tulungan natin sila tumayo (while you're still on your feet, help the others get up)," she recalled one of the most valuable life lessons given to her by her mother.
"She's not trying to [create] a world that's better for us alone; she's trying to create a world that's better for us in general," Ana added.
Ana reiterated that all 'Nay Tessie wants is a system that is fair to the poor and the marginalized sectors of society, and a show of support could go a long way in advancing the cause of human rights and justice.
"Start defending our defenders," she said. – Rappler.com