(UPDATED) Data show that police pages habitually publish disinformation or amplify content from fake news purveyors and hate-mongers. This could put targets in harm's way.
Research
Loreben Tuquero, Raisa Serafica, Gemma Bagayaua-Mendoza, Camille Elemia
AT A GLANCE
Police pages and accounts habitually share content from dubious, anonymously-managed pages known for perpetuating lies and for red-tagging individuals and groups.
The propagation of disinformation and harmful content violate social media guidelines for police personnel and the code of conduct for government employees, which prohibits fake, libelous, hurtful, and discriminatory posts, among others.
A human rights lawyer says targets of these false claims and hateful content are vulnerable to harm that may range from trolling to extrajudicial killings.
The police and military have sought tighter control of social media in the middle of the pandemic and the new anti-terror law. But what if enforcers are themselves spreading lies and hate against perceived enemies of the state?
Facebook accounts and pages of police have been sharing false information and hateful content against these so-called state enemies, posing a graver threat to critics following the expanded definition of terrorism in the new anti-terror law.
Data collected by Rappler from social media and from the PNP website show that many of these authorities' pages and accounts have spread false claims and misleading content that incite hate against activists and critics.
These pages and accounts either directly posted these or shared them from dubious, anonymously-managed pages that habitually circulate content against left-leaning personalities.
These violate PNP social media guidelines and Republic Act No. 6713 or the Code of Conduct and Ethical Standards for Public Officials and Employees. It states that public officials, including the police, must uphold professionalism and political neutrality, among others.
A significant number of posts also violates Facebook policies against content that "incites or facilitates serious violence."
Coordinated behavior in spreading harmful content
A closer look at the dynamics between the anonymously-managed pages and the official channels reveals an apparent coordinated behavior.
Through Sharktank, a database that tracks publicly-posted content in Facebook groups and pages, Rappler tracked hundreds of posts from red-tagging pages that were shared by local police station channels. The network graph below shows which police pages and accounts shared these pages as indicated by arrows. Pages and users are selected if they shared at least 3 of the top red-tagging pages. (Hover over the circles to see the names of the pages and who they connect to)

One target of repeated attacks has been Kabataan Representative Sarah Elago – often a subject of memes containing fabricated quotes and misrepresented and/or manipulated images.
In one instance, the Facebook page of the PNP's Police Community Affairs and Development Group (PCADG) appeared to be the source of a quote card which made it appear that Elago called for People Power to oppose the COVID-19 lockdowns.
In April, PNP PCADG Director Brigadier General Joselito Daniel said that the incident would be investigated. However, despite repeated follow-ups, there still has been no update on the supposed investigation until today.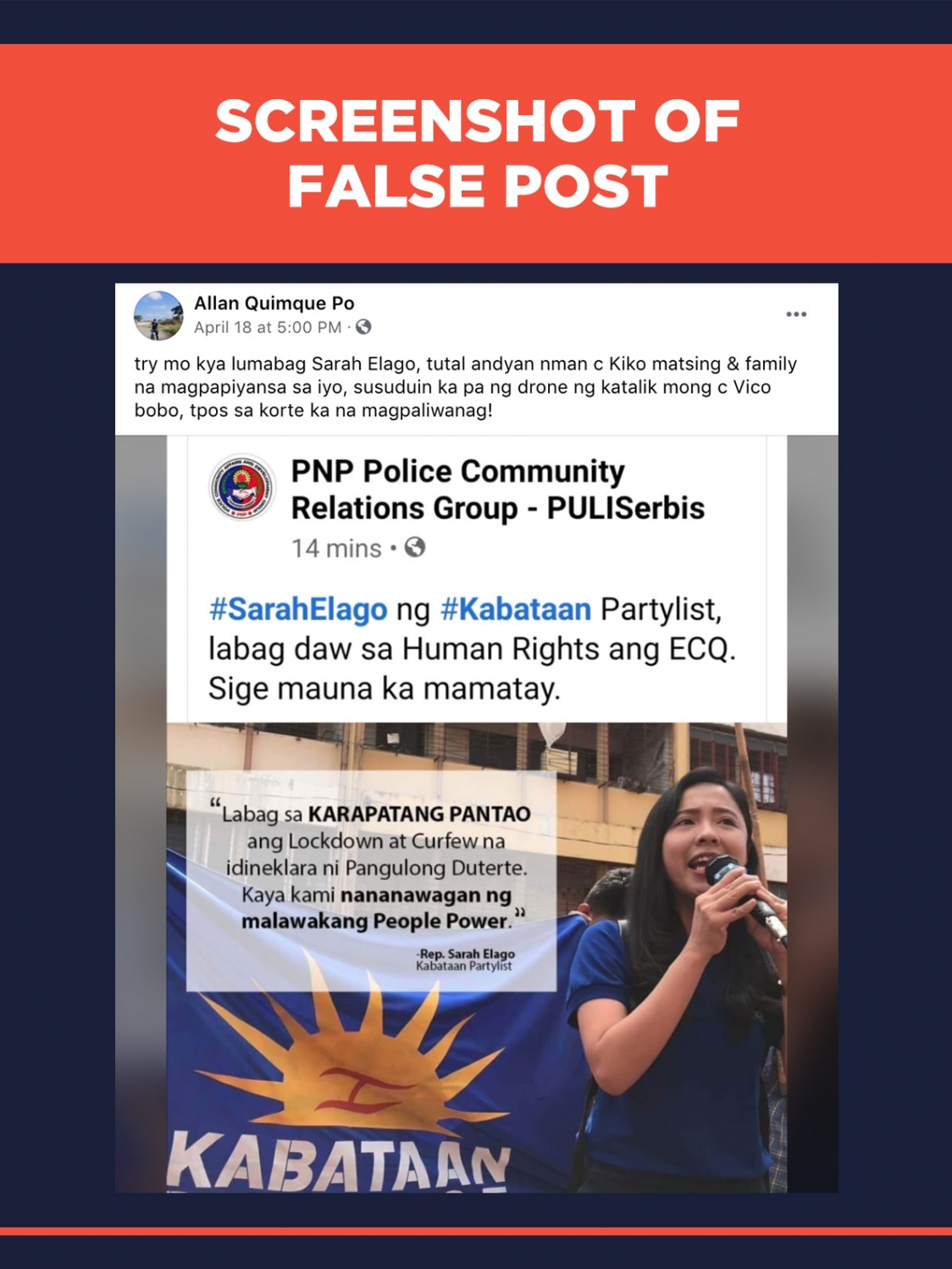 A screenshot of the supposed post by PCADG Facebook page was shared by Facebook user Allan Quimque Po at 5 pm. A few minutes later, the same graphic was posted with similar captions by Facebook page Tipong Makabayan at 5:14 pm and by Enlightened PINOY at 6:01 pm.
These, in turn, were shared by multiple police pages and accounts – pointing to seemingly coordinated efforts in spreading disinformation.
Tipong Makabayan's post was shared by at least 18 local police channels, while Enlightened PINOY's post was shared by at least 2 police accounts and one police page.
Facebook user Agta Malansi also posted the same graphic and a similar caption on the same day at 6:49 pm – a post later on shared by 10 other Bicol-based police pages and accounts.
Tipong Makabayan and Enlightened PINOY are among the Facebook pages that have repeatedly posted and shared dubious claims against members of left-leaning organizations – many of which were already debunked by Facebook third party fact-checkers.
Tepid response
Even when police channels do not directly post false claims, many of them amplify content from these disinformation peddlers and red-tagging pages, lending credence to these dubious pages.
PNP spokesman Brigadier General Bernard Banac told Rappler they do not condone pages sharing false information. Yet, he said, the PNP cannot monitor the harmful posts shared by its units every day.
"Whenever they perform their duties, we always give them the presumption that they are doing all these following the strict adherence to the guidelines…Whenever we share posts, these should be within the ambit of the law," Banac said in a video call with Rappler.
Banac said they rely on reports and complaints from the public and that they release weekly reminders on proper social media use. But given the amount of false information peddled by police channels, are these measures enough?
The PNP, in fact, knows some of these questionable pages – Ang Aking Bayan, BUKAS ISIP, Enlightened PINOY, and Tipong Makabayan – and has included them in its 2019 Freedom of Information (FOI) inventory report, in which their content is described as "public advisories on CTGs (communist terrorist groups)," "NPA propaganda," and "information operation," among others.
When asked why these were included in the PNP's 2019 FOI inventory, Banac only said he will ask the Directorate for Police Community Relations to look into these pages.
Even the PNP PCADG's PULISerbis Facebook page has a history of sharing posts from questionable pages. Social media monitoring tool CrowdTangle showed PULISerbis shared 1 BUKAS ISIP post, 7 Enlightened PINOY posts, and 25 Tipong Makabayan posts in a span of 2 years.
Some of these pages, like Enlightened PINOY, appeared to have been served warning notifications for violating Facebook Community Standards, according to a screenshot the page posted in 2019.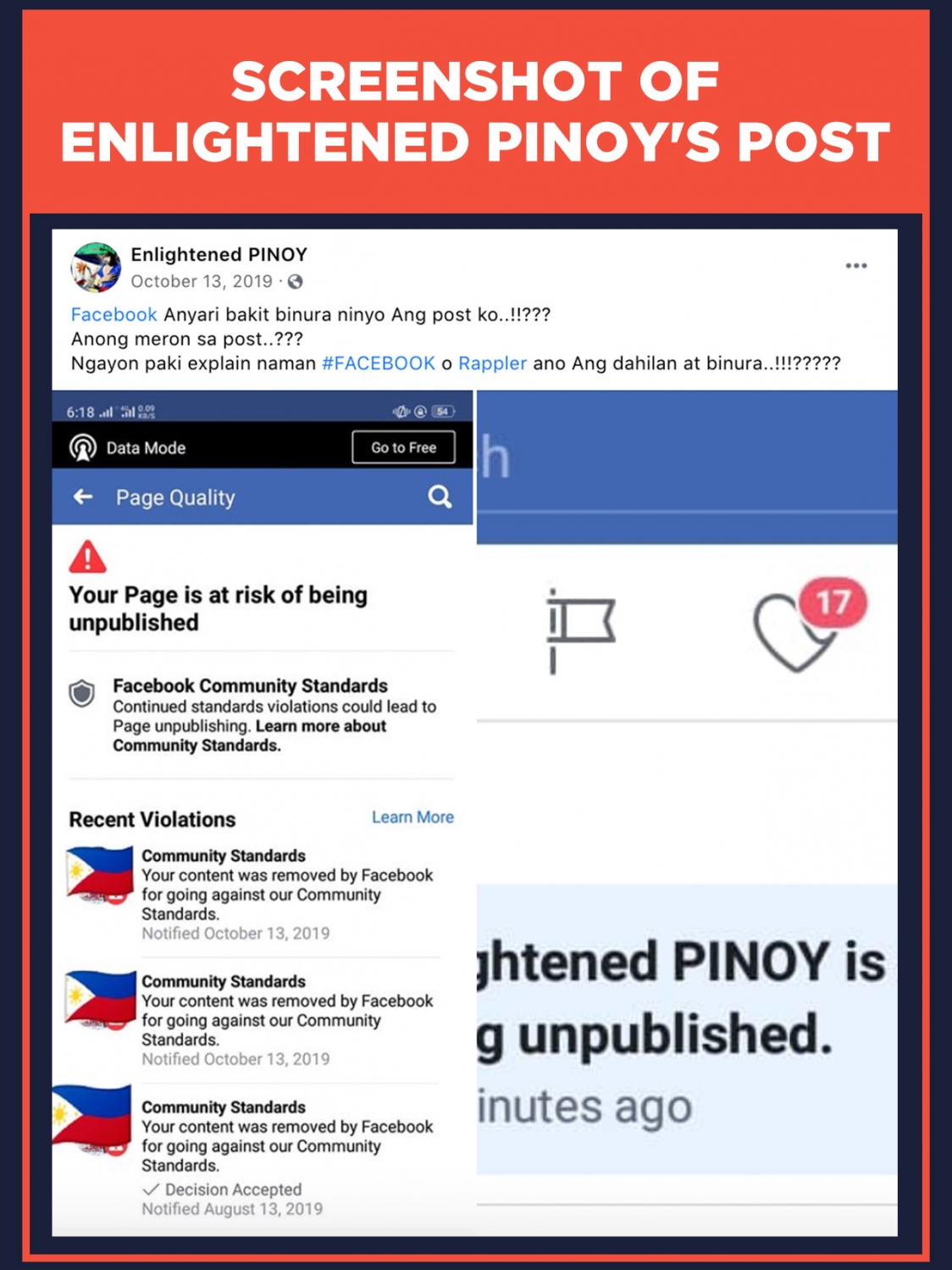 Facebook's approach to posts like these is not a far cry from the PNP's. They, too, rely on the public to "report content they feel may be breaking our rules."

"We do not allow people to make credible threats of violence, bully or harass, or mock the premature death of others, and we remove this content when we're made aware of it," a Facebook spokesperson said.
Most of these pages have significantly fewer followers, like Tipong Makabayan (19,622), compared to the PULISerbis page (240,525 as of writing). This means the PNP page helps boost false and hateful messaging to a broader audience whenever it shares from them.
As tracked by Sharktank, the following are the top 10 police pages and accounts that shared the most number of content from channels known for perpetuating false content:
Ligao City Police Station
2nd Albay Provincial Mobile Force Company
Camarines Sur 1st Provincial Mobile Force Company
Malinao Municipal Police Station
Guinobatan Municipal Police Station
Virac Municipal Police Station
Tabaco City Police Station (now unavailable)
2nd Palawan Provincial Mobile Force Company
1st Bataan Provincial Mobile Force Company
2nd Sorsogon Provincial Mobile Force Company
Pattern: Seeing red
Data analyzed by Rappler show patterns of police pages and accounts sharing and even creating their own content that either label critics as terrorists or link them to rebel groups.
For instance, in January, Rappler debunked a false claim posted by Enlightened Youth and BUKAS ISIP, attributing a fake quote to Senator Risa Hontiveros praising rebels as "heroes of the land." This was shared by the Marcos Municipal Police Station and Gerona Municipal Police Station Tarlac PPO, as spotted in CrowdTangle.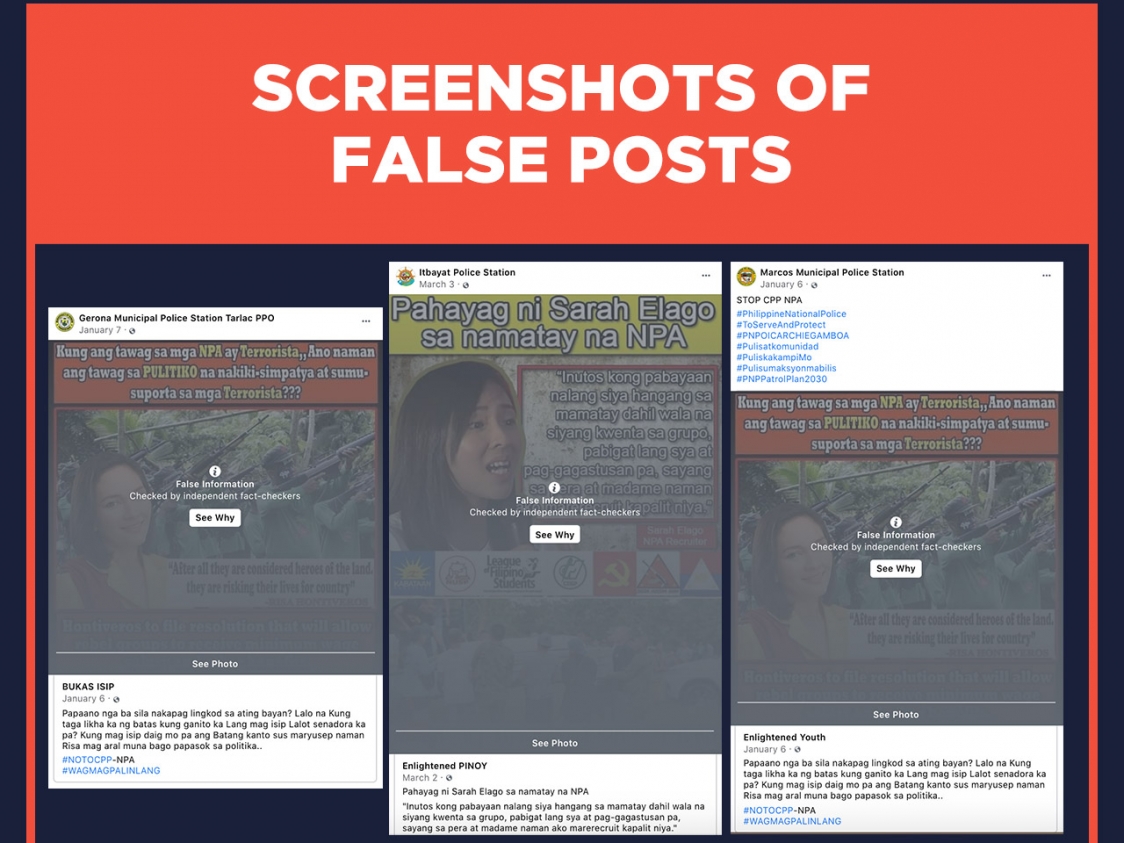 Rappler also fact-checked a post of Enlightened PINOY that attributed a fabricated quote to Elago, saying that an alleged slain NPA member should be left alone to die. CrowdTangle showed that this was shared by the Itbayat Police Station page.
On July 15, the Malaybalay City Police Station page posted a graphic depicting protestors against ABS-CBN's shutdown with the text: "Malalaman mong sila ay para sa terorismo. Papatulan lahat ng isyu, basta laban sa gobyerno," (You know they support terrorism when they take all issues against the government.)
After the post drew flak on social media, Banac said the Malaybalay City Police Station chief was administratively relieved from his post to make way for the investigation.
The PNP has yet to either comment or act on the other similar cases that have not been widely reported by the public.
These documented instances of police channels amplifying harmful content from dubious pages raise a vital question: apart from having the CPP-NPA-NDF as their common enemy, how else are the police and purveyors of fake news connected?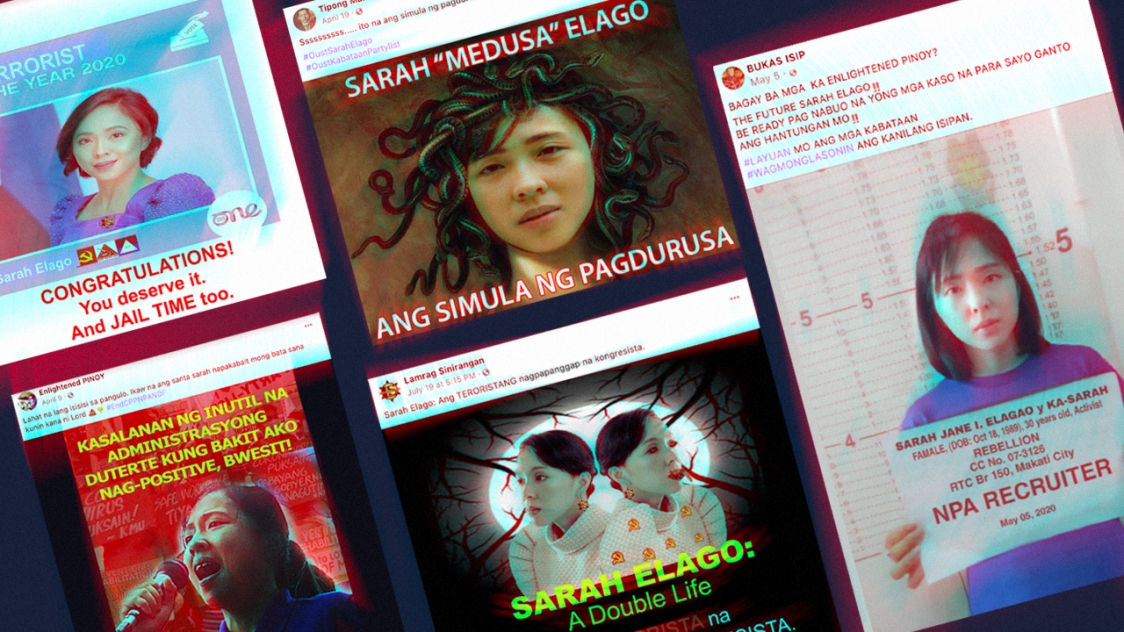 The act of red-tagging, or accusing people of being communists or terrorists, is not particularly new, as militaries under past presidents had used such a strategy before.
Red-tagging online, however, muddles the fact that, even with the recent passage of the anti-terror law, mere adherence to left-leaning beliefs or communism is not illegal in the Philippines. What is prohibited by the law, under the Revised Penal Code, is taking up arms or, in essence, being part of the New People's Army.
Human rights lawyer and former Supreme Court spokesperson Ted Te questioned what state forces are really after. He pointed out that the anti-subversion law was already repealed and association with left-leaning groups is no longer a crime.
Under a cloud of terror
These cases of online red-tagging that are rooted in lies and hate become more dangerous in the context of the anti-terror law as it casts a wider net, targeting other critics of the government.
Even celebrities, youth leaders, and journalists – who criticized the passage of the anti-terror law and ABS-CBN's shutdown – were not spared from red-tagging.
For example, a post by Enlightened PINOY that has been amplified by the San Teodoro Municipal Police Station, targeted viral sensation Aling Marie. "Lumalaban ang kabataan so 'pag nag CPP-NPA, okay lang ganon? (The youth are fighting back so if they join CPP-NPA, it is justified?)" the post said. In her statements at the rally, Aling Marie never mentioned supporting the CPP-NPA.
Another post by Facebook page Pinoy Expose insinuated that petitioners against the anti-terror law like Sister Mary John Mananzan, Bayan Secretary-General Renato Reyes, and Karapatan Secretary General Tinay Palabay are terrorists. "Petition pa more. Mga terorista talaga siguro kayo," the post said. (Go file petitions. This is probably proof that you are terrorists.)
Te said those that are singled out and targeted by state forces can then become targets of something as "benign" as trolling to actual – possibly fatal – harm.
"The problem is it becomes amplified, because it is not just red-tagging that happens… it can actually spill over to surveillance, to search and seizure, and even to, perhaps, these EJKs (extrajudicial killings)," Te told Rappler in a phone interview.
Just this week, Randall "Randy" Echanis, chair of left-leaning group Anakpawis and political consultant for the National Democratic Front of the Philippines, was killed in his own home, further raising alarm over the lengths that state-aligned forces will go to stifle dissent.
When asked about red-tagging posts shared by police channels, Banac said that the police, as a member of the National Task Force to End Local Communist Armed Conflict (NTF-ELCAC), have to do a "balancing act" of being apolitical and performing their mandate.
But the NTF-ELCAC has had a history of circulating posts attacking the media, with these posts then being amplified by other official government Facebook pages.
Online activities violate PNP rules, code of conduct law
There is an apparent mismatch between what the officials say and what the police are doing.
Interior and Local Government Secretary Eduardo Año ordered the police to immediately investigate and arrest those spreading false claims, especially about the coronavirus.
"We need to put a stop to their nuisance activity. Let's not propagate erroneous information that is more viral than the virus itself," he said.
Several policies also mandate higher ethical standards for enforcers.
Amplifying false information and legitimizing disinformation peddlers violate PNP Memorandum Circular No. 2020-034, dated May 20, 2020, on handling PNP social media accounts as well as those used by individual personnel. It also says that social media officers are responsible for ensuring that their online posts are reliable "by verifying information from reliable and authorized sources only."
PNP personnel must also ensure that all posts are "not libelous" and "do not trigger cyber-bullying." The social media guide found on the PNP website also states that handlers must avoid endorsements and hostile or derogatory posts.
Banac said they "welcome any complaints from anyone" about violations that their field units may have committed on social media.
This, however, is not enough. Te said these measures are easier said than done.
"The problem really is in the implementation, and the implementation is sort of far from the reality that they want to project," he said in a mix of English and Filipino.
He also cited how the PNP could not properly enforce its simple rules among its ranks. Te added that the anonymous nature of dubious pages makes it difficult for people to file their complaints, as doing so requires identification of the culprit.
On July 17, Elago and other youth group leaders filed a complaint with the National Bureau of Investigation against alleged threatening and red-tagging posts by netizens. It included some content posted by police and military accounts that incite hate and harm against youth and student groups.
Question is, will the PNP act on this complaint and go after personnel involved in circulating these false claims? – with reports from Ira Marasigan/Rappler.com