Emergency relief officials and doctors have been deployed to flood devastated communities to prevent outbreaks of disease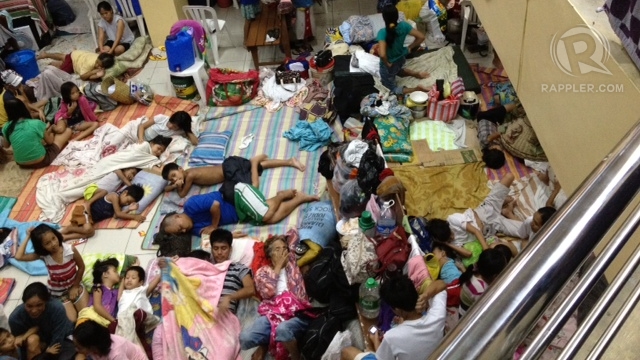 MANILA, Philippines – Emergency relief officials and doctors deployed to flood devastated communities in the Philippines Sunday to prevent outbreaks of disease.
While floods have gone down significantly around the capital Manila, many areas in nearby provinces remained inundated as overflowing dams continued to release water, the national disaster coordinating agency said.
"As the waters receded they left behind clogged pipelines and trash everywhere. Sanitation has emerged as a key problem," Philippine Red Cross secretary general Gwendolyn Pang told AFP.
"We have deployed health officers in evacuation centers and in flood-hit communities with the likelihood of diseases erupting."
The Red Cross put up huge rubber bladder tanks for clean water, while local officials sent portable latrines to packed evacuation centers.
Food packs were also rushed to some 769,999 people displaced by the floods that submerged about 80% of Manila last week.
Dire conditions in evacuation centers
Civil defense office head Benito Ramos said more than half were living in dire conditions in 948 evacuation centers, which are mostly schools and churches converted into temporary shelter areas. 
"Many have returned to their homes as the waters subsided, but it is far from a normal situation," Ramos said.
"We are trying to help them return to their normal lives with a massive clean-up operation. There is muck everywhere, and it would take some time."
The health department said water purification tablets were being distributed, while mass immunizations were being carried out to prevent an outbreak of colds, flu and other diseases.
'Lepto' alert
Of particular concern is a possible outbreak of leptospirosis, a bacterial disease caused by exposure to water contaminated by rat urine. (Read more: 'Lepto alert' due to floods)
More than 3,300 people were infected and 249 died of the disease in the aftermath of similar flooding in 2009, the biggest casualty figure for leptospirosis in the world, health authorities said.
"Many may have escaped the floods, but many could still die from leptospirosis or other diseases," Ramos said.
He said 19 more people were reported to have died, raising the death toll to 85 Sunday, with most of the casualties due to drowning.
On Thursday, President Benigno Aquino III criticized an unnamed company for allegedly overpricing medicines for lepleptospirosis during his visit to an evacuation center in Caloocan. (Read more: Aquino hits 'lepto' drug overpricing) – Rappler.com, with reports from Agence France-Presse
For more weather updates, visit the #WeatherAlert Microsite.
More in #WeatherAlert: