Augusto Syjuco Jr, who himself faces graft charges, says this is his 26th complaint against the Aquino administration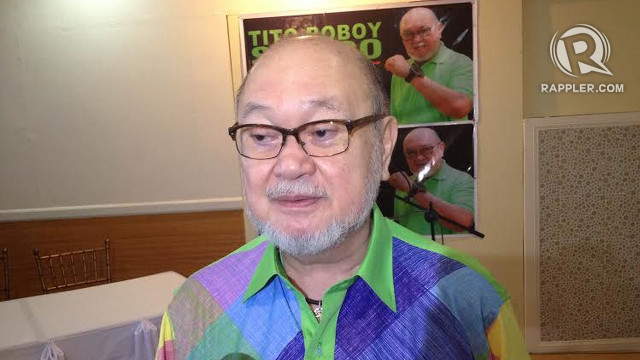 MANILA, Philippines – Controversial former Technical Education and Skills Development Authority (TESDA) chief Augusto Syjuco Jr filed his latest complaint against the Aquino administration on Friday, October 30, this time focusing on alleged corruption in the Department of Agriculture (DA).
In his complaint-affidavit filed before the Office of the Ombudsman, Syjuco reiterated the Commission on Audit (COA) findings alleging that the DA has not accounted for P14.4 billion ($307 million) in public funds, including those sourced from the pork barrel and Disbursement Acceleration Program.
It echoed previous COA findings that P439.4 million ($9.37 million) in Priority Development Assistance Fund passed through the department and its attached agencies before part of the funds were released to dubious non-governmental organizations.
Citing COA documents, Syjuco said the funds went through the following DA agencies:
National Livelihood and Development Corporation: P235 million ($5.05 million)

National Agriculture and Fisheries Council: P199.4 million ($4.25 million)

National Agribusiness Corporation: P5 million ($106,654)

The DA-attached agencies are among the implementing agencies endorsed by some lawmakers implicated in the PDAF scam. The NLDC and Nabcor had been abolished.
"I accuse President Aquino and his brood of pigs for continuing to do this to our people especially to the agriculture sector," he said during a press conference.
Syjuco, who filed his Certificate of Candidacy to run for president in 2016, said his complaint has nothing to do with elections.
He said this is his 26th complaint against the Aquino administration and that there will be a 27th complaint.
Drumming interest of Ombudsman
Agriculture Secretary Proceso Alcala faces other PDAF-related corruption charges  from other groups but the Ombudsman is yet to act on the complaints.
"It seems the Ombudsman has no interest in looking at this so we hope to be able to encourage interest on the part of the Ombudsman to look at these terrible tragedies," Syjuco said.
But Syjuco himself faces graft charges. In May, the Office of the Ombudsman filed a case with the Sandiganbayan accusing Syjuco of purchasing P9 million worth of books without a public bidding when he was still TESDA director-general under the Arroyo administration. 
Syjuco and his wife, a former Iloilo congresswoman, also face graft charges for allegedly funnelling pork barrel funds into an organization they founded.
In response to these allegations Syjuco said: "They have filed 8 cases against me. When you fight graft and corruption, graft and corruption fights back."
DA reforms
Alcala is yet to respond to Rappler on his reactions to the complaint. A copy of the complaint has been received by his deputy chief-of-staff.
But in previous interviews, he admitted P39 million ($831,900) in pork barrel went to NGOs of pork barrel queen Janet Lim Napoles in 2012 but that this was not intentional. 
Another COA report showed that P759.1 million ($16.19 million) in pork barrel went to another network of fake NGOs, this time headed by a Godofredo Roque.
But Alcala has won praise from Aquino for instituting reforms that reduced chances of pork barrel ending up in the hands of fake NGOs.
One of these reforms is the release of pork barrel in tranches, with the second tranche withheld if the NGO is not able to implement the projects or liquidate expenses.
The DA has also abolished the National Agribusiness Corporation (NABCOR), one of its agencies mired in the pork barrel scandal. – Rappler.com
$1 = P46.88