'I can bet that...probable cause will be established, hence a warrant for her arrest will be issued by the court,' says Senator Panfilo Lacson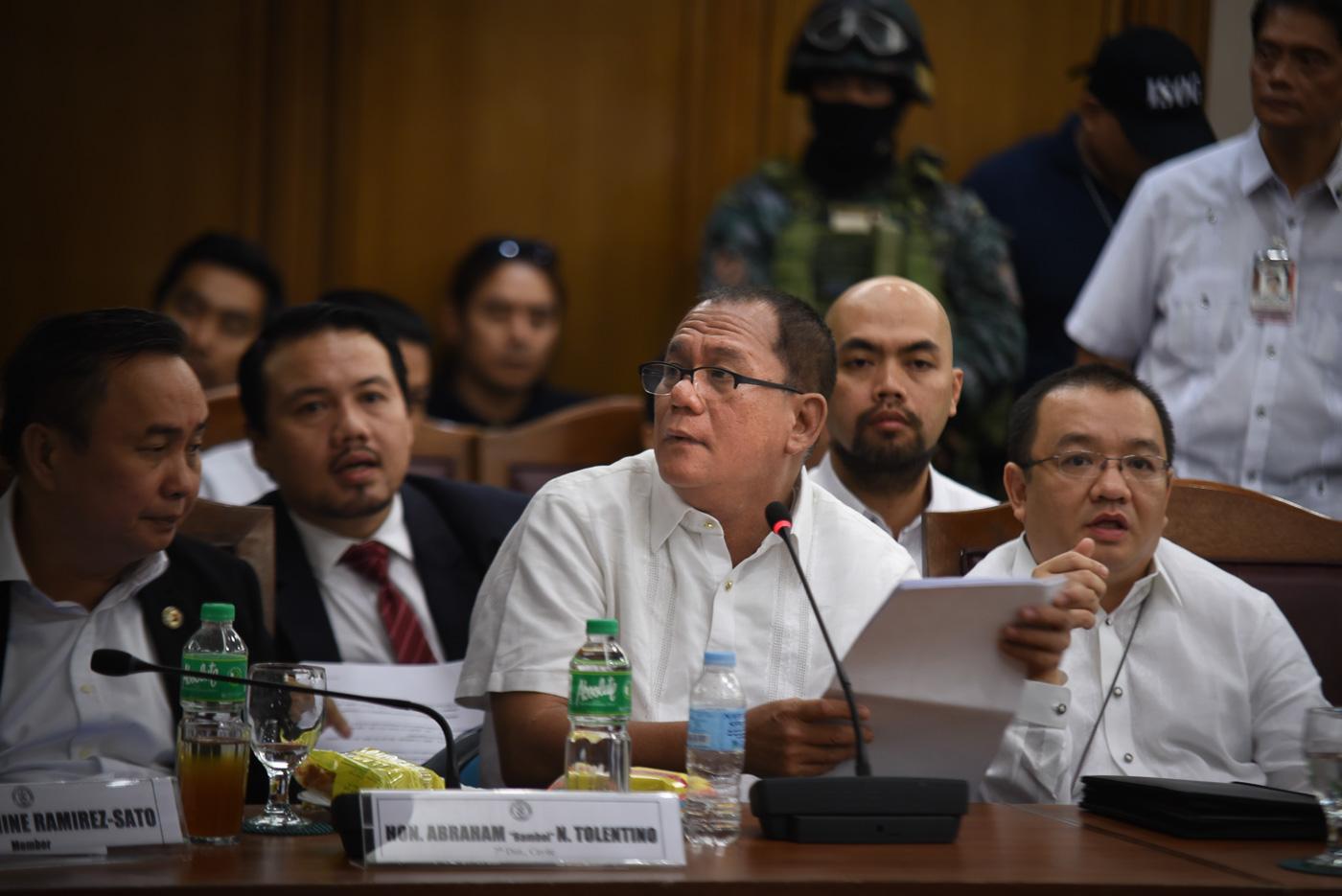 MANILA, Philippines – Senator Panfilo Lacson believes that the evidence presented against Senator Leila De Lima in the House probe into the proliferation of illegal drugs in the national penitentiary is credible enough to merit a case against her.
Lacson is confident that with all the witnesses' testimonies and other evidence he knows against the senator, De Lima could be arrested.
"I can bet that once the preliminary investigation to be conducted by the Department of Justice against her is concluded, probable cause will be established, hence a warrant for her arrest will be issued by the court," Lacson said.
Senate Majority Floor Leader Vicente Sotto III, for his part, said the evidence against De Lima are "strong," as there are "corroborative" testimonies.
"Mabigat, may corroborative evidence/testimonies kasi (It's strong because there are corroborative evidence/testimonies)," Sotto said.
Out of all the witnesses, Sotto said what stood out for him were the testimonies of the two National Bureau of Investigation officials.
Sotto is referring to former Bureau of Corrections officer-in-charge and now National Bureau of Investigation director Rafael Ragos and NBI agent Jovencio Ablen Jr. Both claimed they brought P5 million in drug money to the residence of then justice secretary De Lima.
"They are not inmates. Nothing to lose, nothing to gain," Sotto said.
Asked if he thinks a case would easily prosper against De Lima, Sotto said it's for the DOJ to assess.
Doublespeak?
De Lima expressed dismay over Lacson's statement, calling out the latter for saying he knows how it feels to be accused wrongly. (READ: De Lima: Witnesses in House probe 'pressured, tortured')
"Akala ko ba pinagtatawanan lang ni Sen Ping itong persecution and harassments being done to me, as he recalls his own harrowing experience with the Mawanay episode. Why is Sen Ping saying now, based on media reports, that there's enough basis to now file charges against me prescinding from what transpired at yesterday's House hearing?" De Lima asked.
"Is he convinced of the authenticity and veracity of the "stories" of those obviously perjured witnesses? I'm aghast by some people's propensity for doublespeak!" she exclaimed.
Lacson, in response, said De Lima "got it all wrong." What he was laughing about was that De Lima's experience is far better than what he had to endure during the time of then president Gloria Arroyo.
"When I said pinagtatawanan ko lang 'yung pinagdadaanan niya ngayon compared to what I experienced before. (When I said that, I meant I was just laughing at her experiences now compared to what I experienced before.) I wasn't referring to the credibility of evidence being presented against her now and against me before (by Mawanay and others) but the degree of harassment that ex-PGMA and her cohorts in practically all the agencies of government were throwing against me," he said.
Angelo "Ador" Mawanay is a former whistleblower during the Arroyo administration who tried to link Lacson to crimes but eventually retracted his claims.
Lacson then slammed De Lima for "twisting" his statement. During his ordeal, Lacson said he was all alone while De Lima now has her Liberal Party allies with her.
"She shouldn't be twisting my statement to suit her purpose. Between us, I wonder who's double speaking?" Lacson said.
Lacson and De Lima had a bitter past when De Lima, then justice secretary, launched a manhunt against the former for being implicated in the murder of publicist Salvador Dacer and driver Emmanuel Corbito.
In 2011, the Court of Appeals dismissed the double murder case lodged against Lacson. – Rappler.com