'He's goading people to kill people. That's a problem,' Ombudsman Conchita Carpio Morales says of President Rodrigo Duterte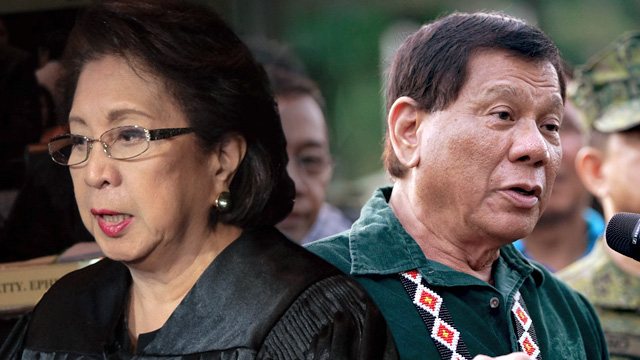 MANILA, Philippines – It appears Ombudsman Conchita Carpio Morales has taken a stronger stance against President Rodrigo Duterte's tough talk on killing criminals and drug users.
In an interview with Japanese television network NHK on Thursday night, July 13, Morales said it's "not acceptable" that the President threatens to kill criminals. (READ: Shoot to kill? Duterte's statements on killing drug users)
"He's goading people to kill people. That's a problem.The directive to kill people under any situation irrespective to the context, to me that's unacceptable," the Ombudsman said.
This is a much stronger statement from the one Morales made in December 2016, when she dismissed as mere words Duterte's public threats to kill criminals.
"It's not illegal to say, 'I will kill you,'" Morales said in a forum with the Philippine Daily Inquirer last December.
"But whether he makes good on that intention, again, it's a different story," she said then.
Now, the Ombudsman seems to be giving more weight to the President's words.
"His communications people say, 'That's hyperbole.' You know, they try to rationalize whatever he says so whether or not the police or whoever he addresses these words [to] believe him, that's a different story," Morales told NHK.
Complaints vs Duterte
Morales is handling at least two complaints against the President. The Ombudsman previously said she would inhibit from Duterte-related cases but this statement was made before self-confessed hitman Edgar Matobato filed his complaint.
Matobato's complaint before the Ombudsman accused the President of murder, kidnapping, torture, and crimes against humanity over the alleged Davao Death Squad (DDS). (READ: Will Ombudsman's Davao Death Squad probe affect ICC complaint?)
The Office of the Ombudsman is also handling a plunder complaint against Duterte filed by opposition Senator Antonio Trillanes IV. The plunder complaint stems from an alleged P2.4 billion in deposits to Duterte's bank account in a scheme involving supposed ghost employees of the Davao City government.
Murder complaints have also been filed before the Ombudsman against police accused of killing drug suspects while conducting the Duterte-sanctioned Oplan TokHang.
The police's Oplan TokHang was stopped by Duterte last January to give way to an "internal cleansing" of the police force, and then later relaunched as Oplan Double Barrel Alpha Reloaded.
"In our case, there have been some complaints which have a bearing on extrajudicial killings, which have a bearing on drugs, especially the complaints against the detained senator (Leila de Lima). So we try to consolidate all these complaints and conduct fact-finding investigation," Morales said.
'Moral compass'
Morales' family has ties to Duterte, by marriage. The Ombudsman's brother, lawyer Lucas Carpio Jr, is married to Court of Appeals (CA) Associate Justice Agnes Reyes Carpio. The Carpios are the parents-in-law of Davao City Mayor Sara Duterte-Carpio, daughter of the President.
In past speeches, Morales has alluded to the President's hardline policies on criminality.
In November 2016, amid growing criticism against Duterte's war on drugs, Morales said people should not cheer human rights abuses out of blind loyalty.
"When leaders seem to send the message of promoting rather than condemning reprehensible acts that transgress basic human rights, the people ought to be concerned about it, rather than cheering for it either out of sheer ignorance, callous conscience, blind loyalty, or gorgonized fanaticism," the Ombudsman said then.
In December 2016, Morales said failure to uphold the rule of law disregards human dignity. 
"We need leaders who strengthen public institutions, who serve as a moral compass, and the beacon of righteous public service," she said.
Morales, appointed as Ombudsman by Duterte's predecessor Benigno Aquino III, will retire in June 2018. – Rappler.com