This comes as President Duterte blasts the commission for supposedly meddling in his anti-drug campaign, and as his allies at the House of Representatives practically want the human rights body abolished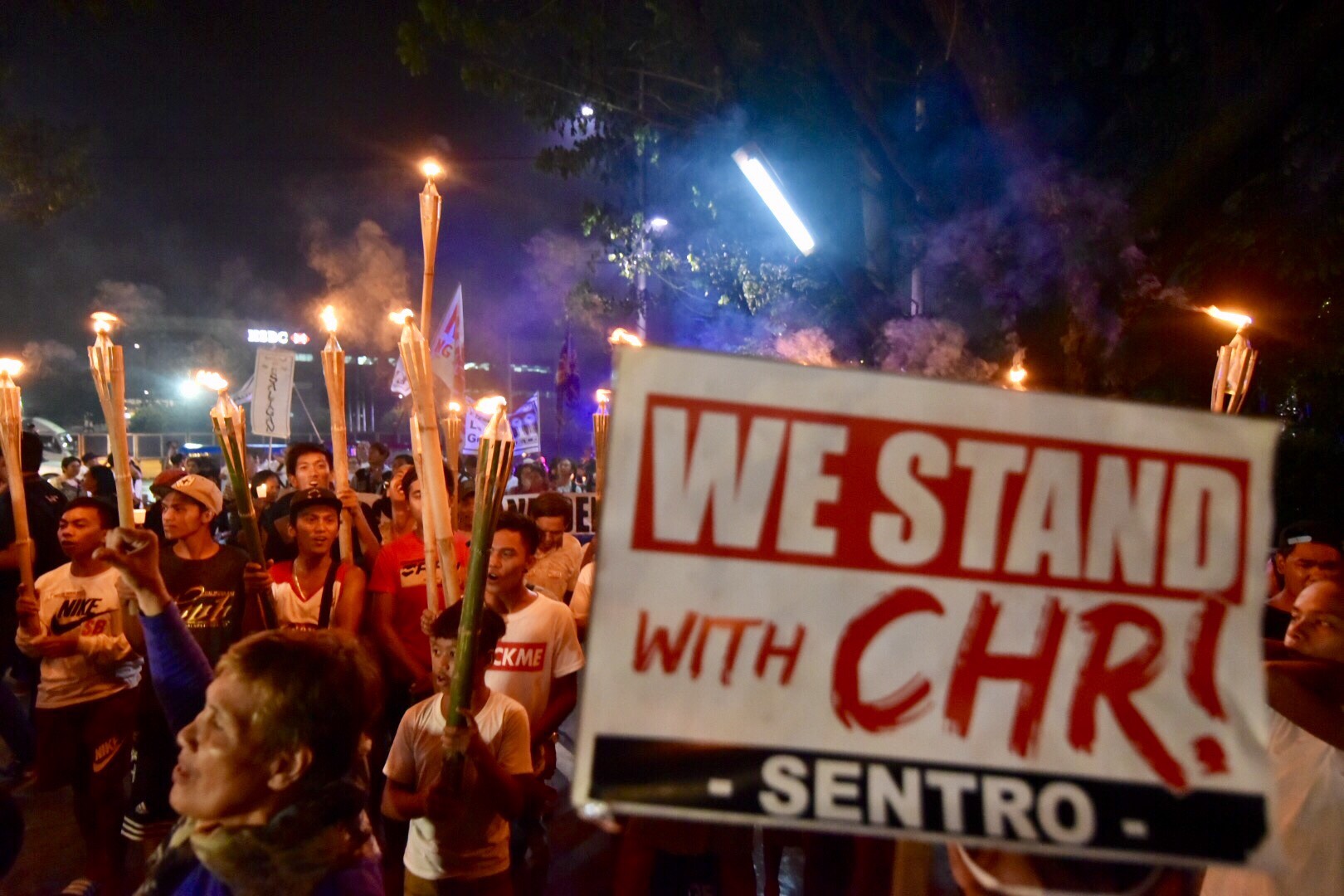 MANILA, Philippines – The Philippines boasted of its own Commission on Human Rights (CHR) to counter Iceland and 38 other countries that criticized the killings and the "climate of impunity" in President Rodrigo Duterte's war on drugs. 
The Philippine Department of Foreign Affairs (DFA) cited Ambassador Maria Teresa Almojuela, Philippine deputy permanent representative to the United Nations (UN) in Geneva, in a statement Friday, September 29.
The DFA issued this comment after Iceland delivered a statement on behalf of 38 other countries at the UN against the "climate of impunity" in the Philippines. The Philippine government denounced these countries' statement "sweeping and politicized."
"Unlike some states that joined Iceland, Ambassador Almojuela said the Philippines actually has a functioning and independent Commission on Human Rights that is also fully compliant with the Paris Principles," the DFA said.
Almojuela explained, "There is no culture of impunity in the Philippines. We have internal mechanisms to investigate all law enforcement operations that lead to deaths."
This comes as Duterte blasts the CHR for supposedly meddling in his anti-drug campaign, and as Duterte's allies at the House of Representatives practically want the CHR abolished. (READ: 'Demonizing' human rights in the first year of Duterte) 
Almojuela also said, "It is ironic that many of these states joining the statement are the very same states that are the sources of arms, bombs, machines, and mercenaries that maim, kill, and massacre thousands of people all over the world, not only during their colonial past, but even up to today."
"These are also the same states that trumpet the right to life, but would at the same time, flaunt their disrespect for the rights of the unborn," she added. 
The following 39 countries joined the statement read by Iceland at the UN:
Australia
Austria
Belgium
Bulgaria
Canada
Croatia
Cyprus
Czech Republic
Denmark
Estonia
Finland
France
Georgia
Germany
Greece
Iceland
Ireland
Italy
Latvia
Liechtenstein
Lithuania
Luxembourg
Macedonia
Malta
Moldova
Montenegro
Norway
Poland
Portugal
Romania
Slovakia
Slovenia
Spain
Sweden
Switzerland
The Netherlands
United Kingdom
Ukraine
United States
(Watch Iceland's representative delivering their statement below)
Philippine Foreign Secretary Alan Peter Cayetano said, "It is very unfortunate that instead of engaging us constructively, some western countries would rather criticize and impose conditions as if they can do a better job than the Philippine Government in protecting the Filipino people."
Ambassador Evan Garcia, the Philippines' permanent representative to the UN in Geneva, pointed out that "some parties refuse to understand certain aspects" of the Philippines' human rights efforts.
"The Philippines will always be happy to accept the help of our foreign friends but we will never accept dictation on how we are managing our own internal domestic processes," Garcia said. – Rappler.com